DISCLAIMER: This content is provided for informational purposes only and is not intended as legal, accounting, tax, HR, or other professional advice. You are responsible for your own compliance with laws and regulations. You should contact your attorney or other relevant advisor for advice specific to your circumstances.
Food cost is one of the biggest operating expenses in running a restaurant. Ingredients are often perishable, and wholesale food prices have increased more than 25% in the past five years, according to the National Restaurant Association's Industry Report. And while you can raise your menu prices and try to work with a leaner staff, both these options are band-aid solutions that can have negative impacts on your guest's experiences.
It might be time to explore other ways to manage your restaurant's food cost.
You can implement sales forecasting, goal setting, menu engineering, staff training, employee meal policies, theft prevention, and next-level inventory management to keep food cost in check. Check out the guide to calculating food cost percentage if you're not sure of yours, and then implement the following steps to get those percentages under control.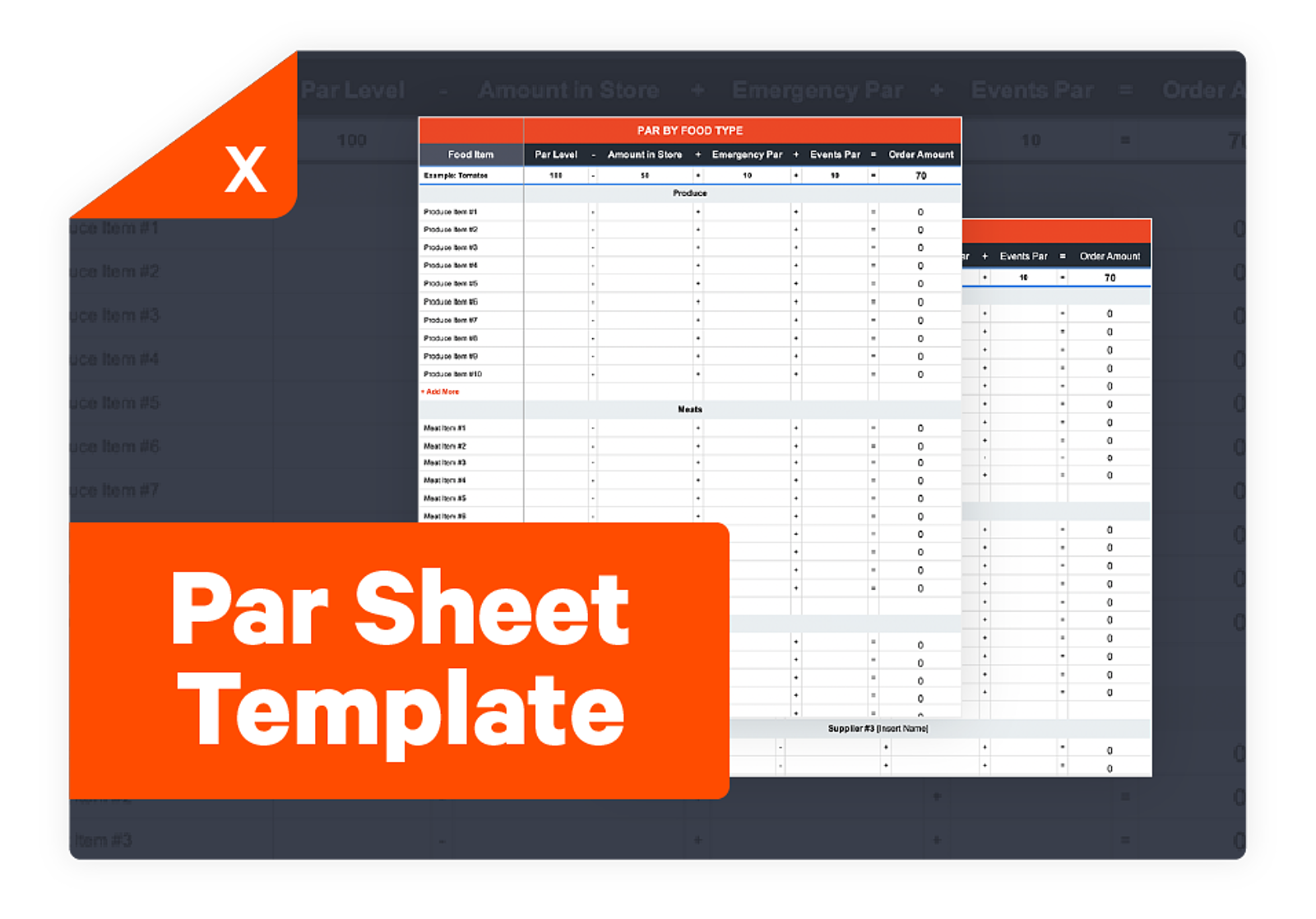 Par Inventory Sheet Template
Track inventory seamlessly with the help of this customizable par inventory template.
Download
1. Forecast Sales All Year Round
Sales forecasting is a critical planning task in every restaurant business. In essence, all it involves is looking at your past sales and using that data to predict your sales in the upcoming weeks. Not only does this help managers control food waste, it also results in better management of employee scheduling, ordering, and food prep. However, getting the forecast right requires more than a quick glance at your four-to-six-week sales average.
Recent sales trends may lead you to think you need a certain amount of food and staffing for the coming days or weeks, but that could change greatly if you're approaching Memorial Day weekend, for example. And the consequence of missing your forecast can be costly — anyone who's worked in restaurants has experienced the chaos of an understaffed long weekend shift.
Consider seasonal changes, holiday and community calendars, competitor activity, and weather when forecasting your sales.
2. Set Goals and Track Progress
One way to manage food cost is through the establishment of thresholds and ideal food cost variances for your restaurant.
By monitoring the variances in ideal food cost versus actual food cost, you can pinpoint operational weaknesses, identify loss and theft, and combat rising commodity costs. Finally, do not underestimate the cost of food waste; controlling waste is a key component in controlling your cost of goods sold.
Aim for your ideal food cost and keep track of what is and isn't working to push your restaurant's food cost closer to your goal.
3. Re-Engineer Your Menu
Take a long look at your menu and learn to use the basics of menu engineering to eliminate the menu items that are costly to prepare and unpopular. These are the items that are sending your food cost way up without bringing in any extra profit.
Then, figure out which items are most profitable and find a way to upsell them.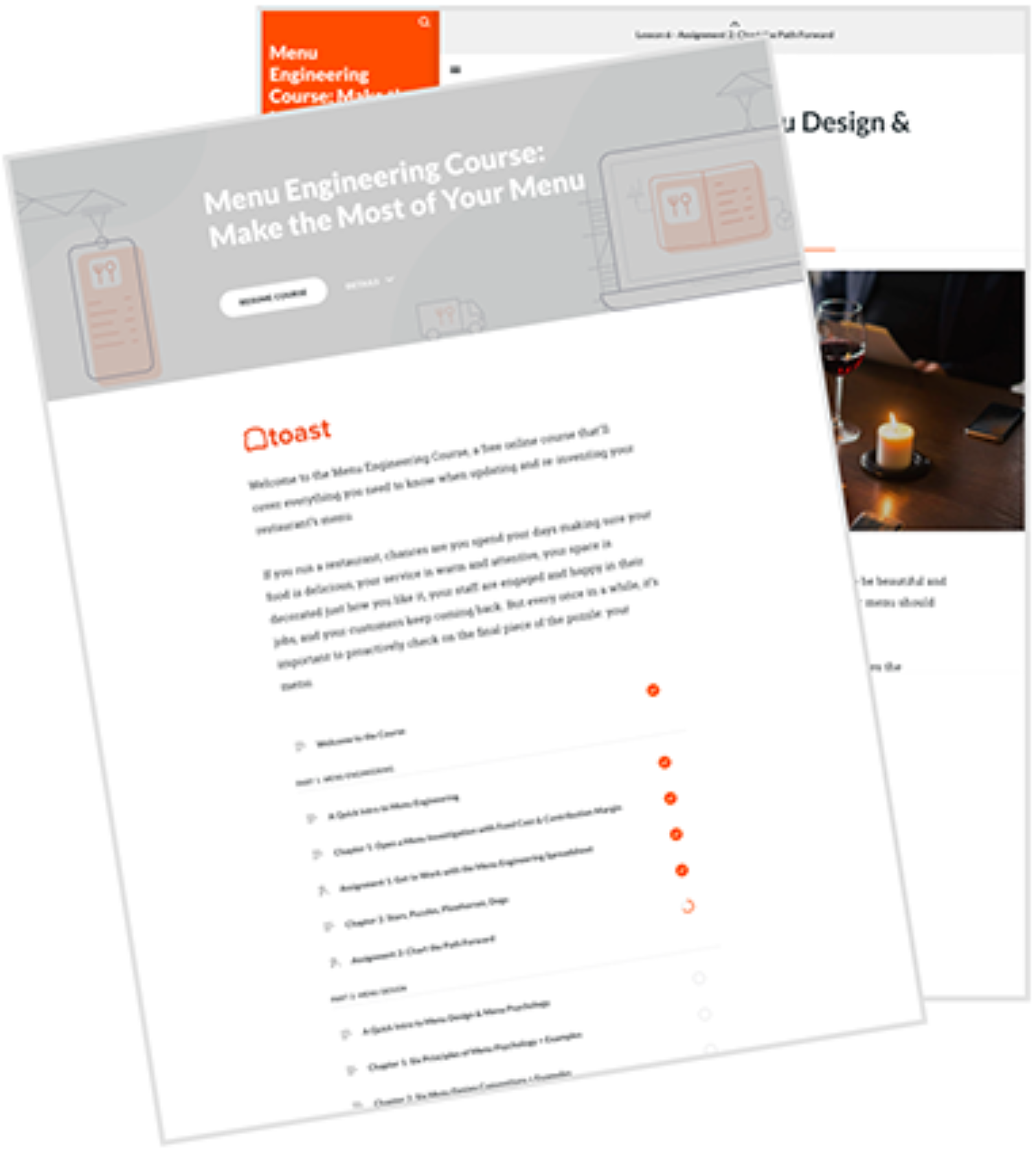 Menu Engineering Course
Take this course to make the most of your menu. Learn about menu psychology and design, managing your menu online, and adapting your menu to increase sales.
Download
4. Train Your Staff with Food Cost in Mind
When new team members enter your restaurant business, how do they contribute to keeping food costs low? If you run a quick-service restaurant, are your cashiers properly trained and equipped to answer guest questions and navigate the POS to prevent waste and mistakes? You'd be surprised how much waste comes from orders that were either punched or prepared wrong.
Train your cooks and line personnel on portion control, and make sure that following recipes is top of mind. How do you measure sauce, cheese, or meat? Are employees required to use a ladle, a scale, or some other specific measuring unit? It's one thing to require a process for putting together menu items, but it's another to uphold that process. With labor management software, operators today can match their employees with restaurant performance and see firsthand who might be over-portioning. These insights can help managers or chefs focus on coaching staff members who need it most.
5. Provide Clear Standards for Employee Meals
Most restaurants have a policy when it comes to free or discounted employee meals. Some provide a basic staff meal for free to all employees while others have staff choose their meals and pay for them at a discounted rate. While it may seem tempting to cut employee meals as a quick way to lower your food cost, you will see an inevitable dip in employee morale. Your staff works long hours in a fast-paced environment, so sitting down for a free or discounted meal every day is a crucial part of team building.
That being said, make sure you set thresholds for free meals and discounts and communicate those expectations to your staff. Make it clear that staff meals are meant to be delicious, filling, and balanced, not extravagant — filet mignon won't be making an appearance except on special occasions.
6. Watch Out for Theft
It's one of the least fun aspects of restaurant management, but dealing with (and preventing) theft is a crucial piece of keeping your food cost in check. Little snacks here and there really add up, as do drinks comped for friends.
Employee discounts can also contribute to problems with theft, and it's not just cooks or servers: Studies show that four out of 10 manager discount codes are used fraudulently, indicating unauthorized, discounted food is served to friends or family.
7. Manage Your Inventory
Restaurant managers may not reconcile inventory as often as they should, and mismanaging inventory can have a big impact on your food cost. Inventory is money on the shelf, and wasted or stolen inventory is money down the drain. Implement the following inventory practices to improve your cost of goods sold and sustain it over time.
Change inventory responsibility every week or two. This practice keeps the team trained and up to date, and it keeps employees honest.
Keep clean, well-organized shelving throughout the back of the house.
Implement a First-In, First-Out (FIFO) system to ensure freshness and prevent waste.
Prioritize your inventory management: Implement a daily inventory for the critical few high-cost / high-usage items, like proteins and produce. Take a full and accurate food inventory each week and month end, with a check and balance system in place to ensure accuracy.
Establish inventory goals in dollar amounts.
Monitor inventory levels by total dollars. Beginning inventory and ending inventory dollars should be relatively close to each other every period.
Use a restaurant inventory management tool to obtain inventory data on a regular basis.
It's crucial to keep tabs on your food costs so that when you see them go up, you can take action and get costs under control. Any of these methods can help you reach a more sustainable food cost.
Related Restaurant Operations Resources