DISCLAIMER: This content is provided for informational purposes only and is not intended as legal, accounting, tax, HR, or other professional advice. You are responsible for your own compliance with laws and regulations. You should contact your attorney or other relevant advisor for advice specific to your circumstances.
Cafes offer simple, cozy eats with energizing beverages like coffees, teas, and spirits.
This article is a guide to different kinds of cafes, and considers the unique demands and logistical hurdles of each business model. We'll also share some advice about how to market your cafe in ads and online.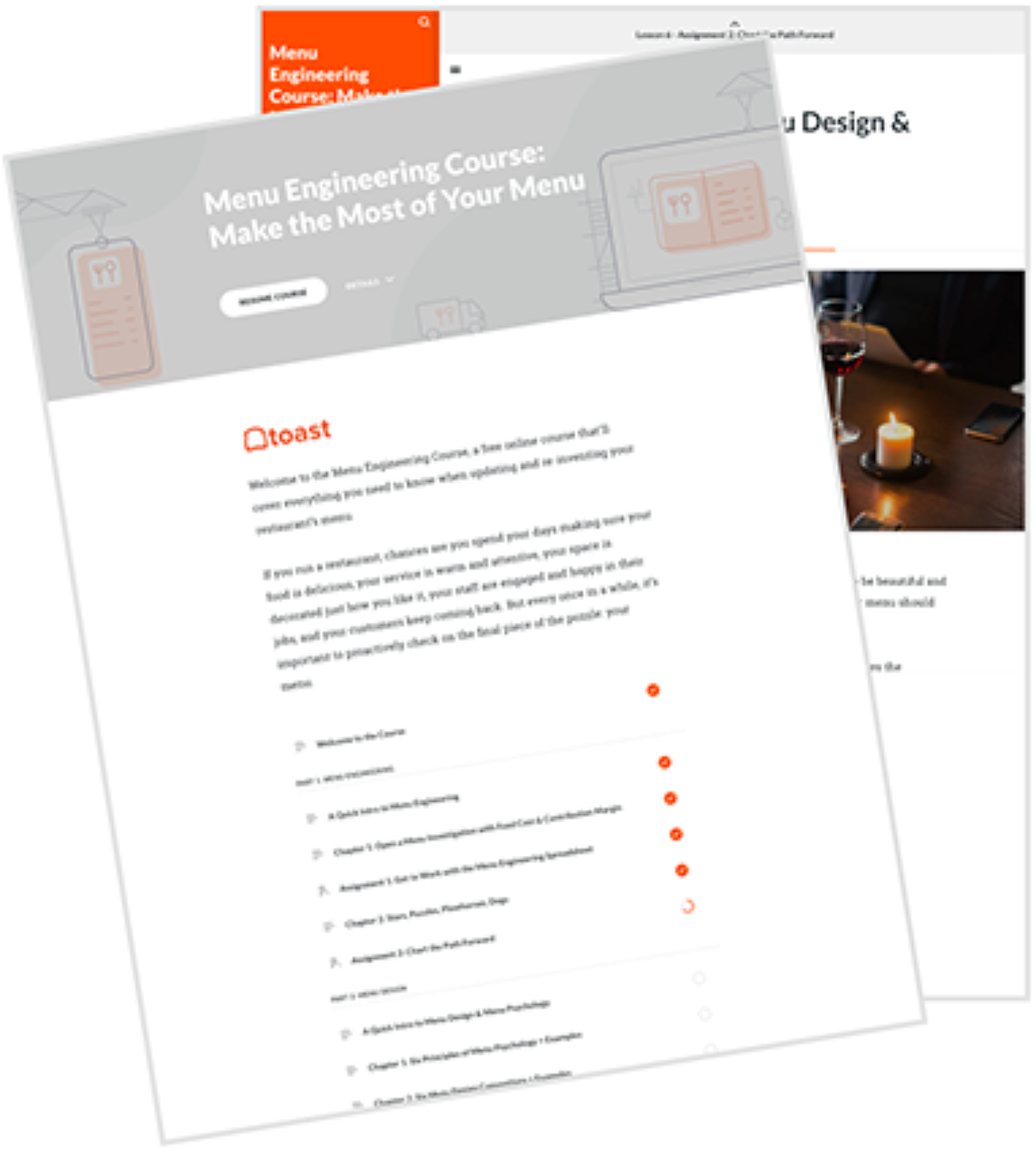 Menu Engineering Course
Take this course to make the most of your menu. Learn about menu psychology and design, managing your menu online, and adapting your menu to increase sales.
Download
What is the difference between a cafe and a restaurant?
Restaurants and cafes both serve food – but what makes cafes distinct? Beverages. Cafes pair an array of specialty coffees, teas, and spirits with a small and focused menu.
Another key point of contrast is atmosphere. Cafes invite customers into a third space – an alternative to the home and office for people to work and gather.
---
Read this next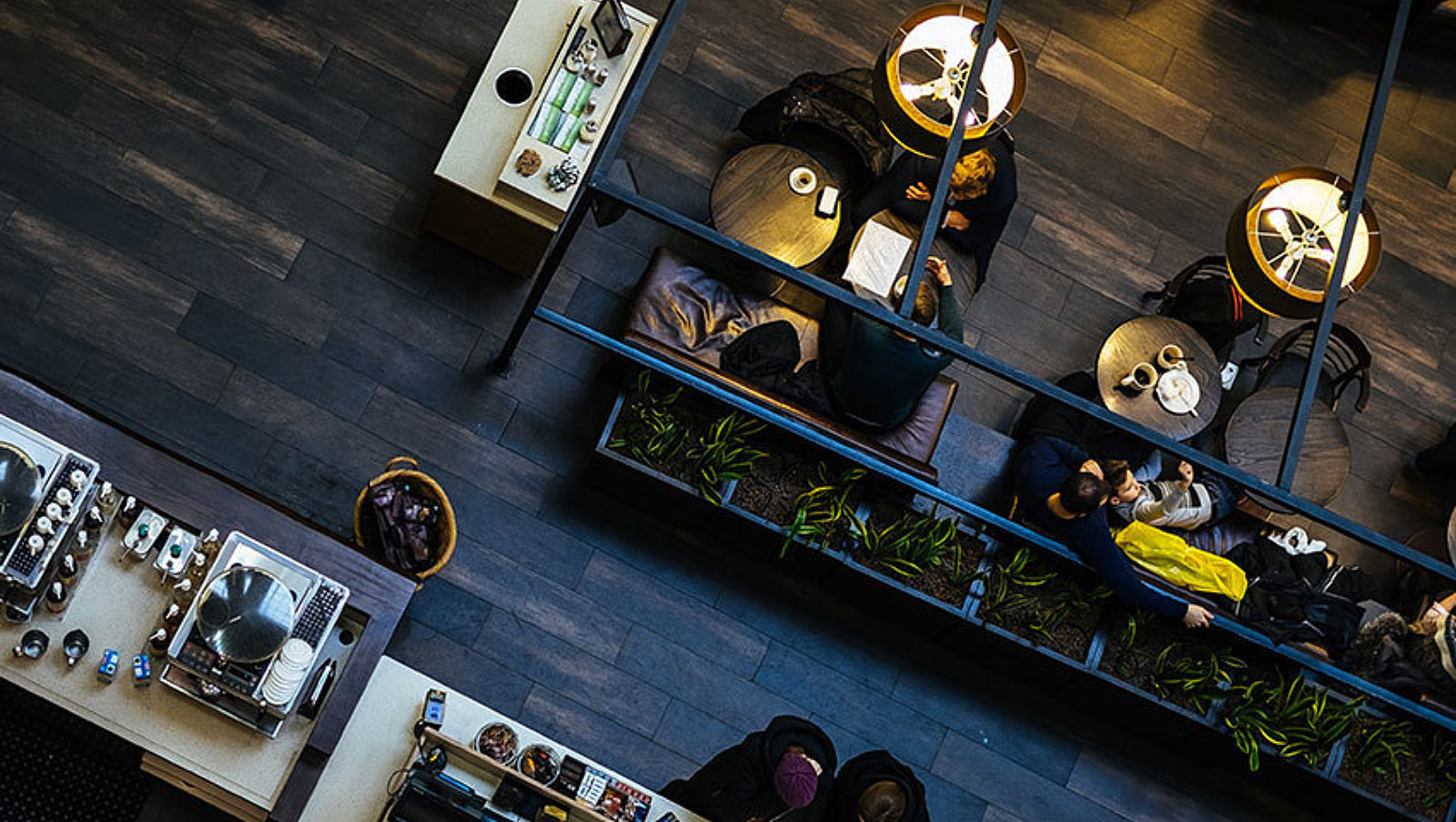 How Much Does It Cost to Open a Restaurant?
Let's take a look at all of the financial costs that go into opening a restaurant.
What are the different types of cafes?
Finding your cafe's niche helps you (or your marketing team) to advertise, especially as far as digital marketing is concerned. Here are some popular "tags" that will help the right customers find your business.
Cafe Bakery
Cafe bakeries serve fresh-baked pastries, sandwiches on house-made loaves, and other light fare in addition to specialty coffees and teas. These cafes have something to offer everyone, which makes them a favorite place to meet friends any time of day or night.
Specialty Cafe
Specialty cafes serve the highest-quality beverages, often paired with simple eats. They offer an elevated experience to customers with discerning tastes.
Drive-thru Cafe
For many customers, convenience is king. Drive-thru cafes serve favorites, fast. But, drive-thrus don't work just anywhere – they often require additional permits from the city or county government. And they're more likely to find success in car-dependent suburban and rural areas.
Cafe Food Truck
Food trucks that serve cafe fare and coffees find success by combining business models. You might build a new mobile brand or invest in a mobile spin-off from your brick-and-mortar.
The mobility of a food truck might seem antithetical to the third space of a cafe, but the marriage works. Cafe food trucks find success both while parked and in motion. Don't let the small spaces and limited operations of a food truck dull your cafe's shine, by focusing on what you and your staff can do well while in the truck.
Pop-up Cafe
A limited-run cafe concept is called a pop-up cafe. Pop-ups are usually one-day-only engagements, that offer rank-and-file culinary creatives executive control. Pop-up cafes experiment with wild and wacky concepts and often serve unique beverages and eats.
Themed Cafe
Themed cafes focus their brand on a distinct concept. Cat cafes are one of the most common examples, places where one can enjoy a cup of coffee while coddling feline companions. But possible themes are limited only by your imagination. Bookshop cafes, table-top-RPG cafes, and spiritual cafes each capture a different market niche.
How to Categorize your Cafe
How you talk about your cafe is important, whether through word-of-mouth or marketing channels. Describing your business as a "specialty" or "bakery" cafe will influence which customer base seeks it out. And understanding where your cafe fits into the market will help you to compete for patrons.
Price Point
Prices reflect the quality of ingredients and the level of care that you put into the menu. The price point of your menu items – designated by one, two or three dollar signs in search engines – will determine if your cafe is an occasional treat or an everyday eatery.
Atmosphere
Cafes are all about atmosphere, so choose the style that fits the experience you want to create. Curate a relaxed atmosphere with soft music and muted colors or go bold and bright to infuse the space with energy. Try to communicate the atmosphere with your marketing and branding materials. That way, customers will have an idea of your vibe before they visit.
Service and Presentation
In cafes, service and presentation are crucial elements that are sometimes swept under the rug. Cafes can offer counter service, fast-casual, or full-service experiences. Wherever the style, a cafe that's inviting and accessible is likely to attract more attention. And how you categorize your cafe will be partly dependent on service.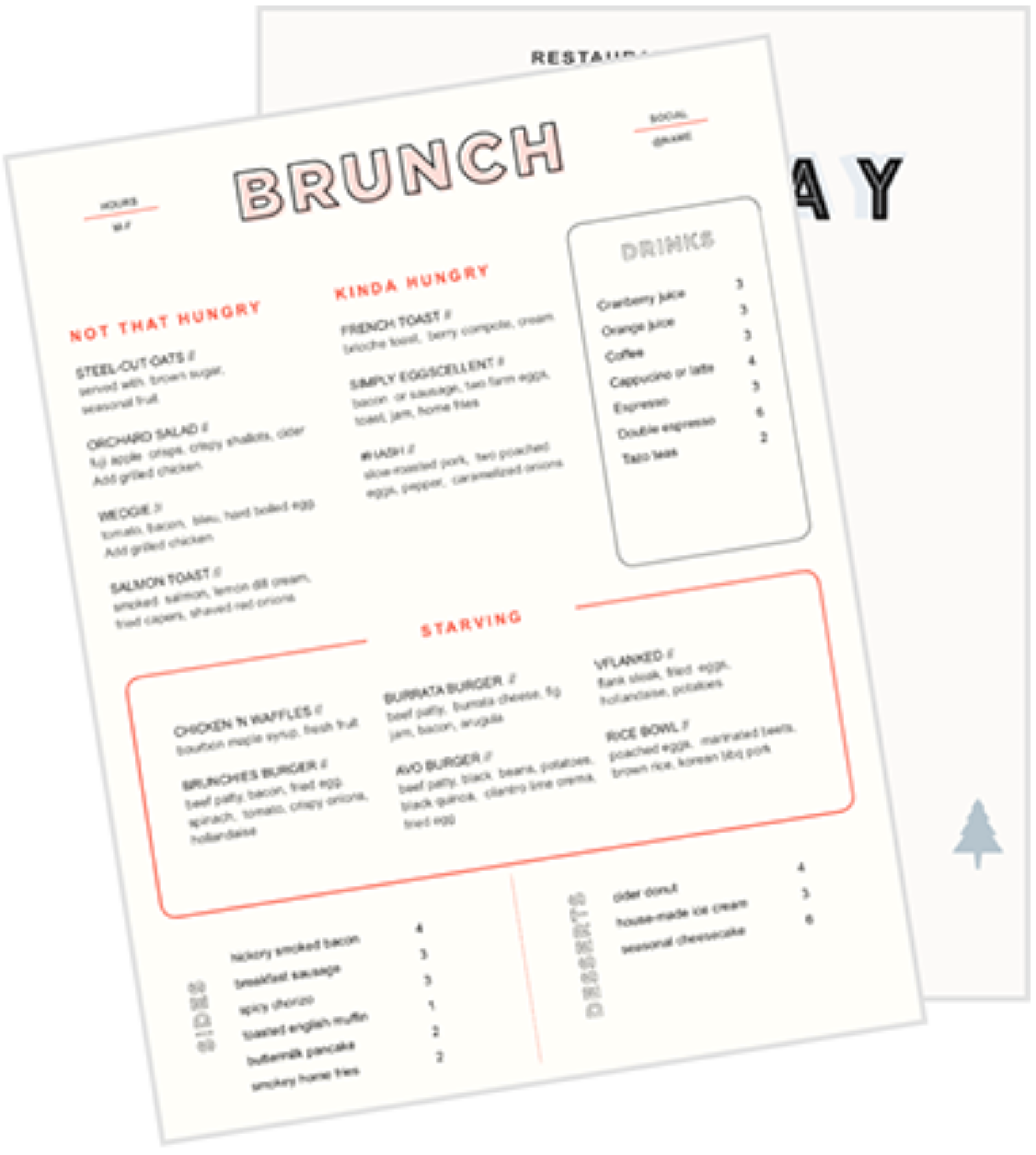 Restaurant Menu Templates
Use these menu templates as a starting point for your menu design or to give your menus a refresh.
Download