Restaurant table designs can change a diner's perception of your restaurant. From the aesthetic design to the functional use of the table itself, the table adds a lot to the restaurant experience.
Deciding which table design set up to use is crucial when building out your restaurant floor plan. However, every restaurant will have different needs. So, which table design setup is best for your restaurant? Let's look at five options.
The Classic Booth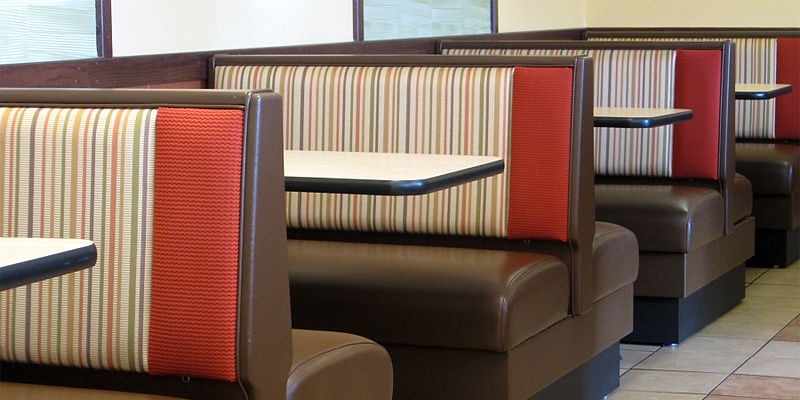 "Can we have a booth instead of a table?" Not an entirely uncommon question when restaurant-goers enter the room.
Booths are a popular favorite among many diners. They offer a sense of privacy and comfort, as guests feel like they have more room to spread out. At the same time, they create less traffic since servers usually don't have to walk around all four sides of the table.
While booths generally have fairly expensive upfront costs, they end up saving more money long term. For example, "a four person booth covers around 3,000 square inches of floor space, while a four person table with a base and four chairs can exceed 5,000 square inches" according to WebstaurantStore.

The Picnic-Style Banquet Table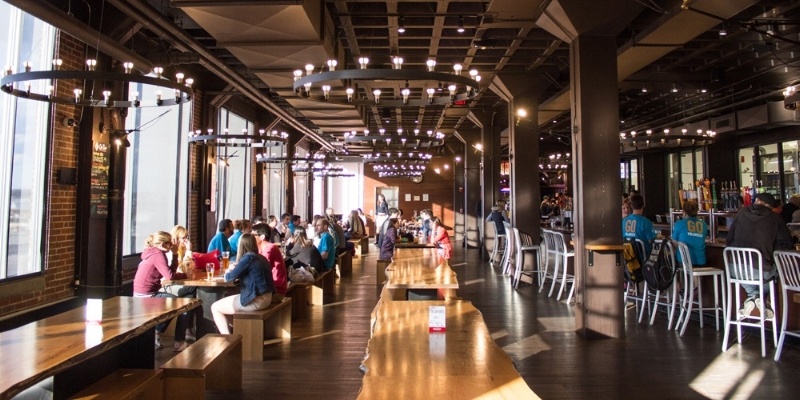 Often fairly casual in nature, many bars and restaurants are employing the use of long picnic or banquet-like tables. Mostly seen at breweries and beer halls - similar to the beer tent tables seen at internationally popular Oktoberfest - picnic tables encourage groups of both familiar and unfamiliar people to unite.
They're particularly helpful for accommodating larger parties because people can choose how much personal space they really need.
One of my personal favorite uses of picnic or banquet style tables is at Harpoon Brewery here in Boston, pictured above.
High Top Tables & Stools
Elevated tables tend to offer more flexibility. For example, if you have a table for six and a party of seven or eight walks in, the extras can easily stand at the table or grab another stool to join.
In additional to flexibility from a physical accommodation standpoint, high top tables also encourage socializing with larger groups of people. With table tops, you can easily add a few people to the table, so people can easily join or leave the party.
The common use case is the "after-work-drinks" scenario where colleagues can come and go as they please when they finish up working. I recently visited Audobon's outdoor patio with my team here at Toast, and we were able to congregate around a few high tops while chatting, snacking, and enjoying a few beverages.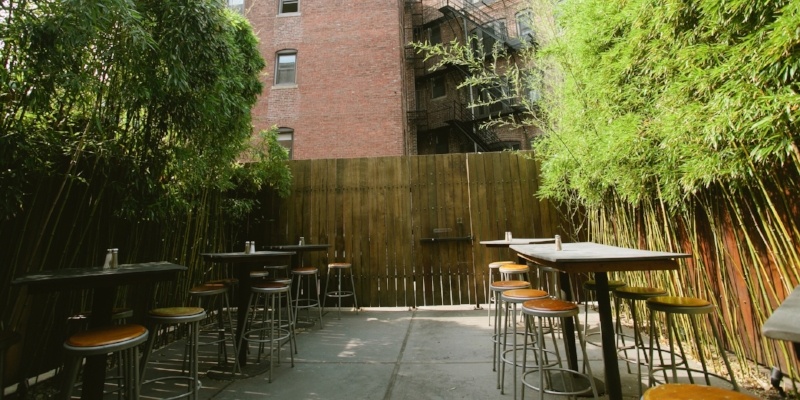 There have been complaints, however, about the comfort level of stools, especially in full service/fine dining restaurants where diners sit down to enjoy a meal.
It's not entirely unnoticeable when chairs are small and uncomfortable, and it can often be perceived as a tactic to get diners to quicken up their pace. According to Eater, "Space constraints and turning tables are two reasons contemporary restaurateurs make their establishments intentionally uncomfortable."
Sofas & Coffee Table-Styled Seating
I'll be the first to admit it. I've been known to enjoy a meal or two not from my kitchen or dining room table (hint: I don't even own a dining room table), but instead from my couch. And sometimes when I go out to eat or to grab a drink, I want that same comfort.
Outdoor couches make it very possible for bars and restaurants to outfit their patios with the coziest nooks and crannies.
On a recent excursion to Nashville, I meandered upon the hidden neighborhood joint, the Urban Cowboy Public House. Not only was the outdoor patio warm and cozy because of its Nashville charm, but also because of the couches that were carefully placed among Adirondack chairs and heat lamps.
Not too shabby for an outdoor patio experience.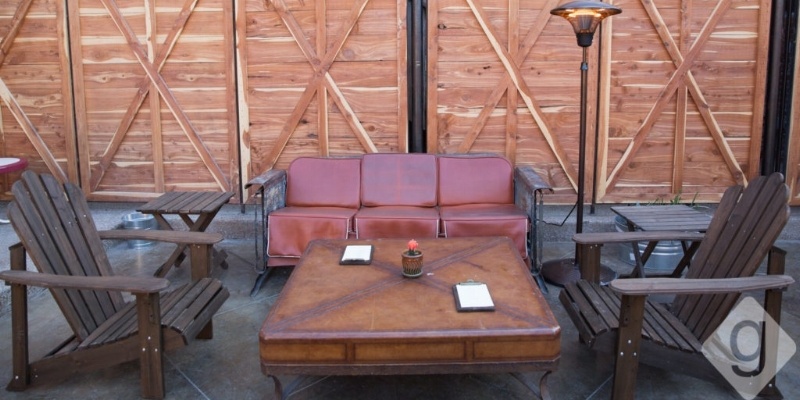 Couches and coffee tables aren't just meant for the outdoors, though. You can find them in many fine dining experiences, next to lavish fireplaces, meant for romantic nights out on the town.
They tend to suit drinks and smaller apps, however, because low tables create difficult full meal experiences.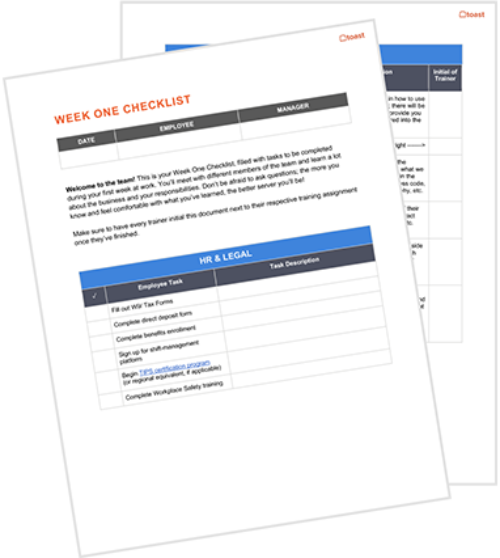 Week 1 Checklist
Help new employees start off right with this customizable Word doc of tasks for their first week, including HR, certifications, training, and more.
Download
Bar Seating
Back in the day, the bar's main function was to provide a place for guests to wait and enjoy a drink before their table opened up. That has since shifted, however, as many bars and restaurants are "shifting the drinking and dining experience… offering the same food and drink options as in the dining room - but in a setting that's more relaxed and often more interactive," according to Zagat.
Maybeck's, located in the bustling heart of San Francisco, is well known for its fine Italian cuisine, elegant restaurant design, and architecture, as well as its bar. The unique U-shaped bar provides all of the fixings of a normal table in the restaurant, plus the added experience of people-watching.
The bar possesses many benefits to diners at a restaurant; wait times are usually shorter and service is quicker since the bartender is right in front of you.
Plus you're more likely to order that extra drink… or two.
According to a 2014 study conducted with New York Magazine, "People sitting within two tables of the bar [or at the bar] drank an average of 3 more beers or mixed drinks (per table of 4) than those sitting on table farther away."
Choosing a Restaurant Table Design Setup
In as many restaurants as we are in, Toast has realized there isn't a "one-table-size-fits-all" solution to your restaurant setup. Many restaurants use a combination of the above types to optimize the space and create a restaurant interior design suitable for different dining situations.