Shift work can be tiresome and repetitive when you're doing the same type of thing month after month. This is why real career advancement opportunities for restaurant staff are so important to keeping them around. But the underlying structure of front-of-house work is built on external motivation. Tips alone are a huge monetary incentive, obviously, but a workplace incentive program can also motivate your staff to want to shine, even on the slowest shift.
What is an employee incentive program? An employee incentive program motivates staff to work towards either personal or company goals by being rewarded with some type of prize. A well-thought-out employee incentive program has the potential to improve your restaurant's sales, profit margins, and overall guest experience. It's a powerful thing when done right.
Josh Sapienza, from Hospitality Helpline, says, "An intelligently and equitably designed incentive program inexorably ties staff to (controllable) financials and operational performance while creating a fun reward system."
In this guide to creating employee incentive programs for restaurants, you'll hear from other restaurant professionals like Josh and learn things like:
What an employee incentive program is and does for your restaurant
Examples of restaurant employee contests and games that boost productivity
Ideas for incentive program prizes to reward winning staff
What Are the Benefits of Employee Incentive Programs?
The best thing about an incentive program is that while you're engaging your staff in their work, you're also coaching them on business operations and profitability strategies. Through this extra level of transparency into the business, they'll learn new skills and build ownership over the success of your restaurant.
Creating an employee incentive program is a win-win for you and your staff: You enjoy the added attention to an important business goal or objective while your staff gets to spice up their shifts with a little healthy competition and rewards. Engaging your restaurant employees with contests, challenges, and games not only helps the hours go by quicker but promotes a culture where people are excited to come into work each day.
Here are some examples of short- and long-term goals you can shoot for by engaging your staff with an employee incentive program.
Increase overall check size through upselling and suggestive selling
Refer high-quality candidates for open spots on staff
Drive sales for a specific menu item
Expand your staff's product knowledge
Drive sign-ups to your loyalty or rewards program
Increase gift card sales
Drive RSVPs to an event
Improve table turn time
One quick thing: An employee benefits program and an employee incentive program are different things, though they're closely related. An employee benefits program provides your staff with non-performance-based perks for working at a company; employee incentives are typically performance-based perks rewarded for doing a good job, accomplishing a goal, or going above and beyond.
How to Set Up an Employee Incentive Program
When creating a custom incentive program for the employees in your restaurant, there are four main things to consider:
The benefit of participating (the prizes)
The program itself — how will staff earn said prizes?
Whether the contest, challenge, or game is team-driven or individual-based
The duration of the contest, challenge, or game
The challenge of the contest or game must match the value of the prize. Your staff needs to want to win it, and if the level of effort required doesn't match the potential prize, you won't get your desired engagement.
Your employee incentive program should be unique to your restaurant's goals and whatever your restaurant staff finds to be an engaging prize or reward.
Here's a helpful exercise to plan your employee incentive program. Create a spreadsheet and add the following.
Column A: Restaurant goals
Put together a list of goals you have for your restaurant, like increasing sales, getting more applications for open job postings, or increasing sign ups to your customer loyalty program.
Column B: Initiatives
Here, you'll brainstorm specific ways your team could move you closer to accomplishing the goals outlined in column A. If you're trying to increase sales, you'd likely add things like "increase check sizes through upselling," "improve table turn times," or "increase online orders through social media."
Column C: Contests, challenges, and games
This will take some creative thinking. Take the ideas you recorded in column B and turn them into a contest, challenge, or game that's either individual or team-based. Improving table turn times could turn into a table turn time challenge to see who on your staff can decrease their table turn time the most over the next month while maintaining an average tip percentage of 18 or higher. If you'd like to focus on reducing food waste in the back of house, have your back-of-house team weigh a bag filled with discarded food scraps each night for a month to see how much they can collectively reduce.
Column D: Duration
Some employee incentive programs are nightly while others might run for a week or even a quarter, so the prizes should align with the length and effort.
Column E: Team or individual
Here, record whether the contest, game, or challenge you've come up with is team-wide or for staff vs. staff.
Column F: Prizes
This part will require some feedback from your team. Ask a handful of your employees for their thoughts on prizes for each of the contests, challenges, and games you outlined in column C. Make sure the prize matches the level of effort required to accomplish the task. If budget is a concern, there's almost no greater incentive than honest recognition and genuine praise. In fact, McKinsey found praise and commendation from managers was rated the top motivator for performance, beating out other non-cash and financial incentives for a majority of workers (67%).
Column G: Notes
Just a space for observations or specific rules. After the competition has finished, add notes about how it moved you toward accomplishing your goals, whether your staff found it fun and engaging, if they found it difficult or confusing, and whether they'd be interested in doing it again in the future.
This planning doc will be great to refer back to in the future should an obstacle arise — like a sales slump or a low amount of applicants to an open job. Another tip here: Beware of winner-takes-all incentives. If the competition becomes a run-away win or the same three people are consistently winning employee incentive competitions, the rest of the staff will disengage and lose interest.
Make sure that with any of the prizes, whether they're games or contests, you're always dishing out a heavy heaping of recognition. And not just to the winner but to everyone who put out effort. Both privately and publicly recognize both effort and performance.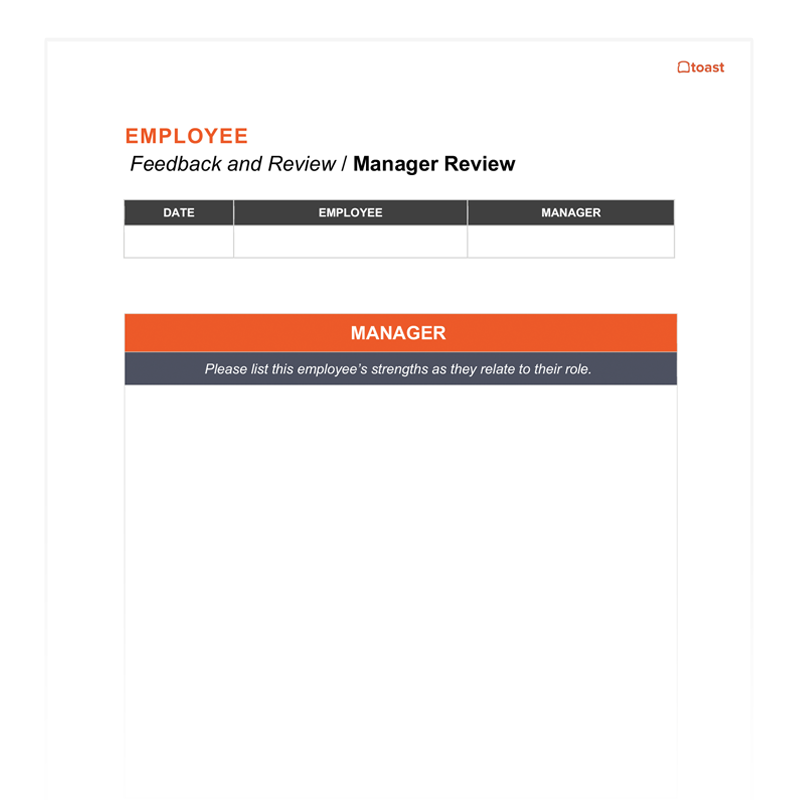 Employee Feedback Template
Use this customizable Word doc to guide self, peer, and manager reviews with your employees.
Download