2018 Christmas and Christmas Eve Restaurant Trends [Exclusive Data]
Learn how Christmas Eve and Christmas affected the restaurant industry with an inside look at Toast data.
Picture this: You're baking Christmas cookies with family, cozying up by the fire with a full glass of eggnog, decorating the Christmas tree, and relaxing in these last few weeks of the year, completely unplugged and unstressed.
Is that your reality?
Who am I kidding — you work in the restaurant industry! December is one of the busiest months of the year for restaurants. Between agonizing over your restaurant employee schedule, setting up your catering menu, hosting holiday parties,promoting your gift card program, and hoping that you chose the right days to remain open, it can be a stressful time of year for restaurant owners.
But don't worry: the end (of 2018) is in sight, and you made it through Christmas Eve and Christmas Day.
Now, with exclusive data from Toast restaurants, let's learn how restaurants fared last Monday and Tuesday.
RESOURCE
Restaurant Success Report
This industry report collects data from restaurant professionals and guests to help you understand what it takes to create a successful restaurant experience from start to finish.
Restaurant Sales on Christmas Eve & Christmas Day
With more people enjoying home cooking on these days in particular, we assumed that restaurant sales would decrease — but by how much?
Christmas Eve was busier than Christmas Day, perhaps because December 25 is a federal holiday, not December 24.
However, both still saw a significant decrease in restaurant sales. On Christmas Eve, restaurant sales decreased 39%.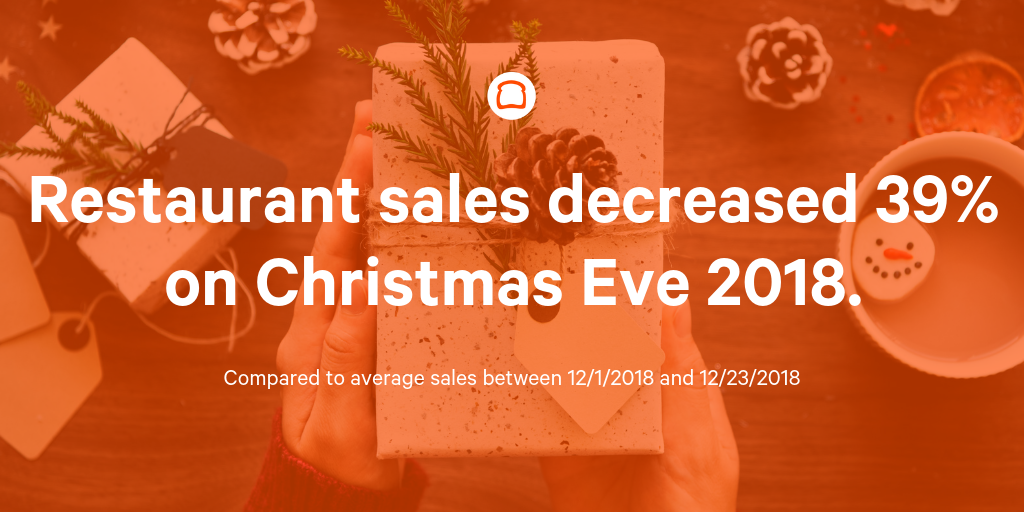 Even less people visited restaurants on Christmas Day. Restaurant sales decreased 85% on Christmas Day.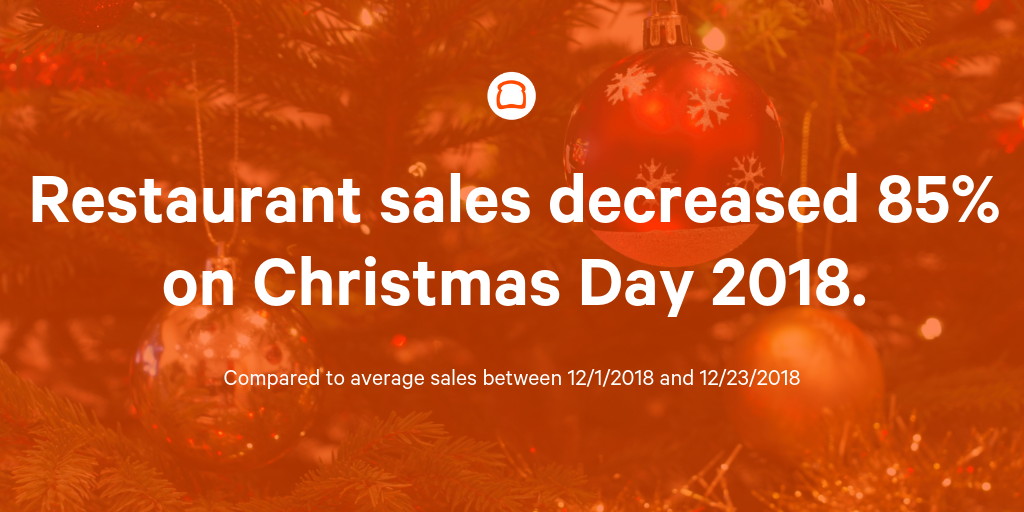 Toast Tip: Use your restaurant analytics platform to compare sales over this month vs. last month, zeroing in on the week of Christmas.

Christmas Eve & Christmas Day by the Hour
Still, some diners are choosing to go out to eat during the holidays — or order online – to avoid the hustle and bustle of entertaining at home.
Sales on Christmas Eve followed a regular trend: they peaked at 1 p.m. (lunch time) and 7 p.m. (dinner time). More people dined at lunch, perhaps heading home afterwards to prepare homemade meals for dinner or the following day.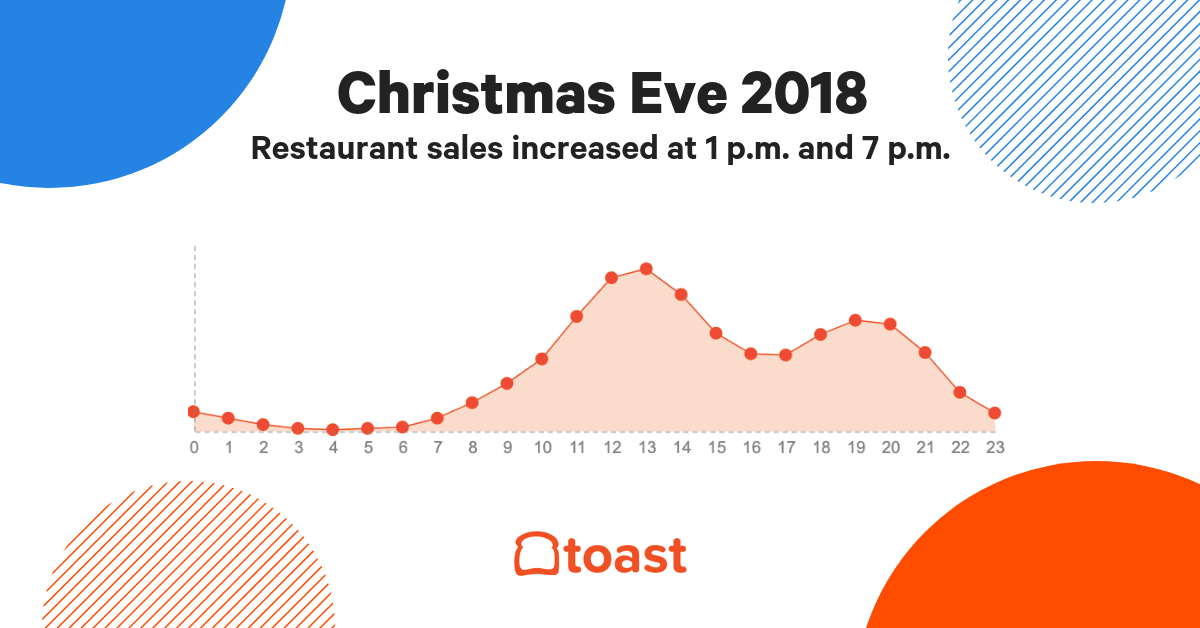 On Christmas Day, sales increased at 7 p.m. and 8 p.m.; many families were likely ordering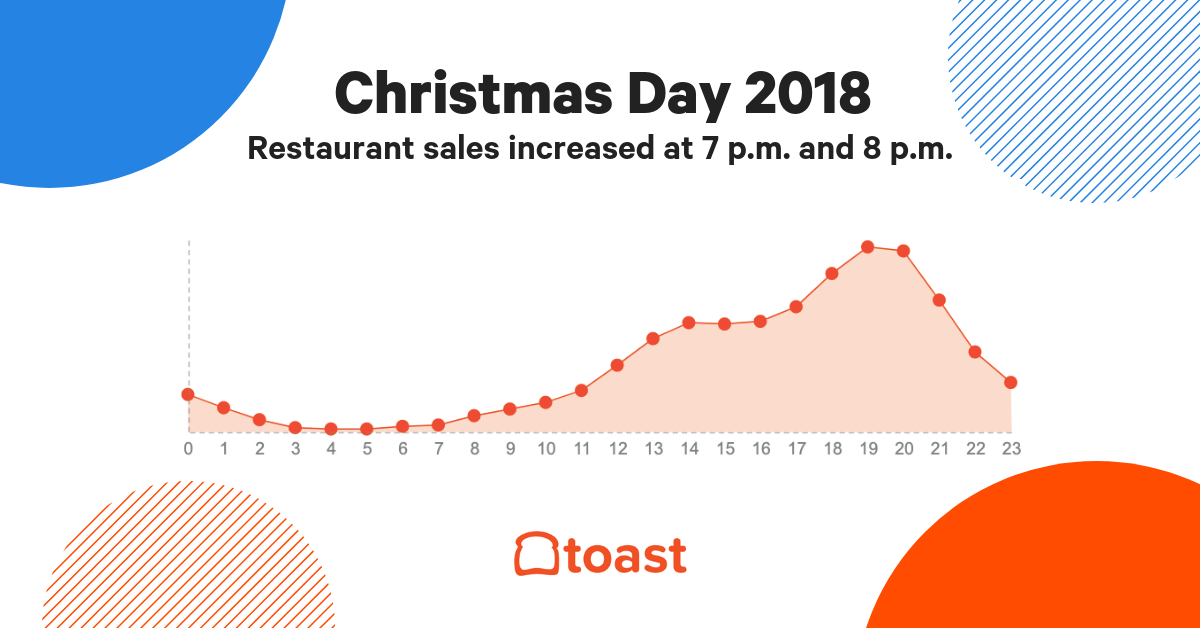 There's a rumor that Chinese restaurants are popular on Christmas Day, especially for Jewish people. According to Google Trends, which shares the amount of searches for a particular keyword, the rumor is true: searches for "chinese food" skyrocketed on Christmas Day this year.
Toast Tip: View what hours are your busiest and staff up (or down) the week leading up to New Year's Eve.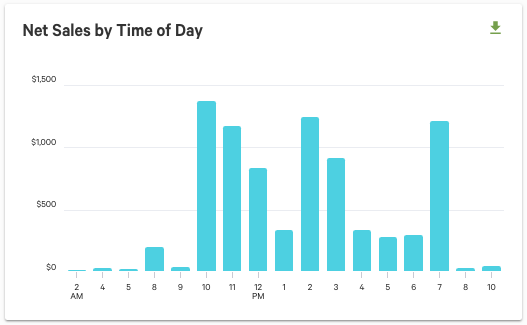 Christmas Eve & Christmas Day Restaurant Sales by State
Next, we looked at our restaurant sales data by state to learn where diners were going out to eat on Christmas Eve and Christmas Day. If your restaurant is located in a state with high traffic on Christmas Eve or Christmas Day, you might want to consider staying open next year.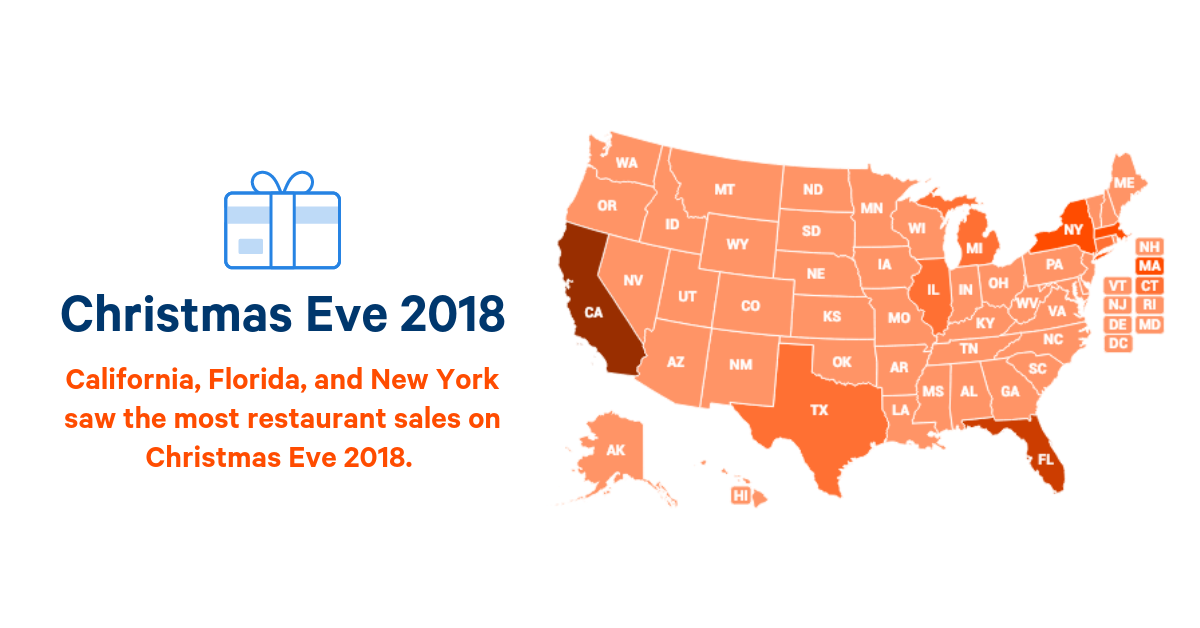 The top 10 states that saw the most sales on Christmas Eve 2018 were:
California
Florida
New York
Massachusetts
Texas
Illinois
Mississippi
Connecticut
Ohio
Maryland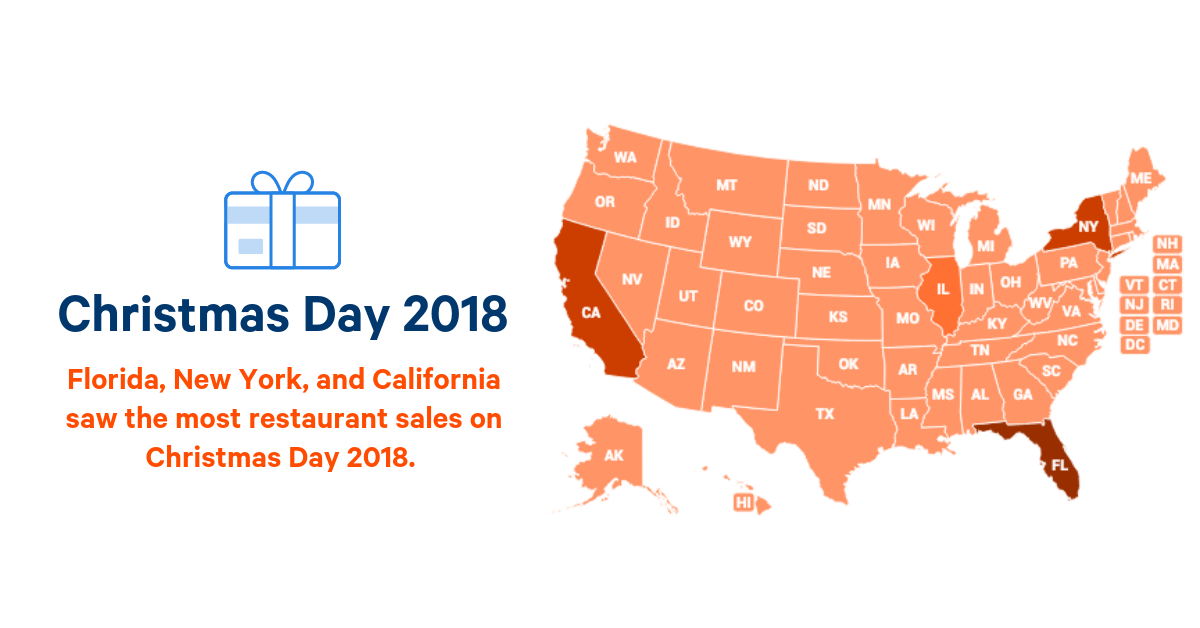 The states that saw the most sales on Christmas Day 2018 were:
Florida
New York
California
Illinois
Massachusetts
Texas
Maryland
Nevada
Virginia
Colorado
Restaurants Open vs. Closed on Christmas Eve & Christmas Day
Was your restaurant open or closed on Christmas Eve and Christmas Day? There are pros and cons to both decisions, of course. You may wait on bigger parties on these days, which could mean higher check sizes and better tips. However, that's a bet you're taking. If no one comes in, you're paying employees (many of whom would rather be home) to twiddle their thumbs. You may be able to get staff to show up by offering to pay them double, but at what cost?
On Christmas Eve, 64% of restaurants remained open, while 36% were closed.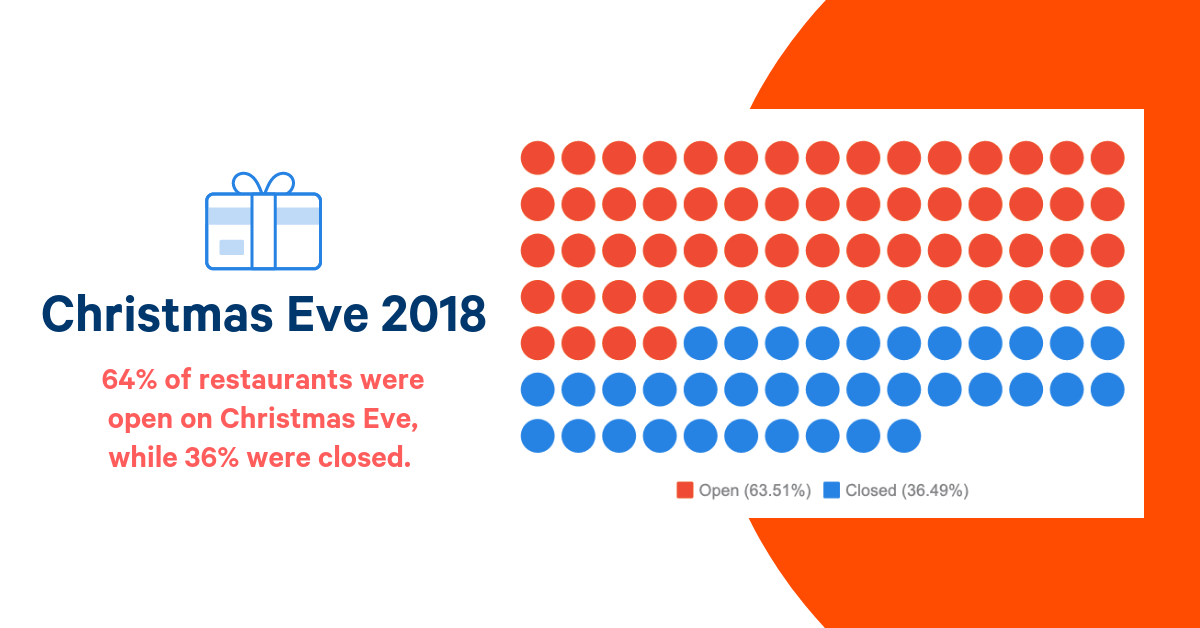 However, on Christmas Day, only 16% of restaurants were open on Christmas Day, while 84% of restaurants were closed.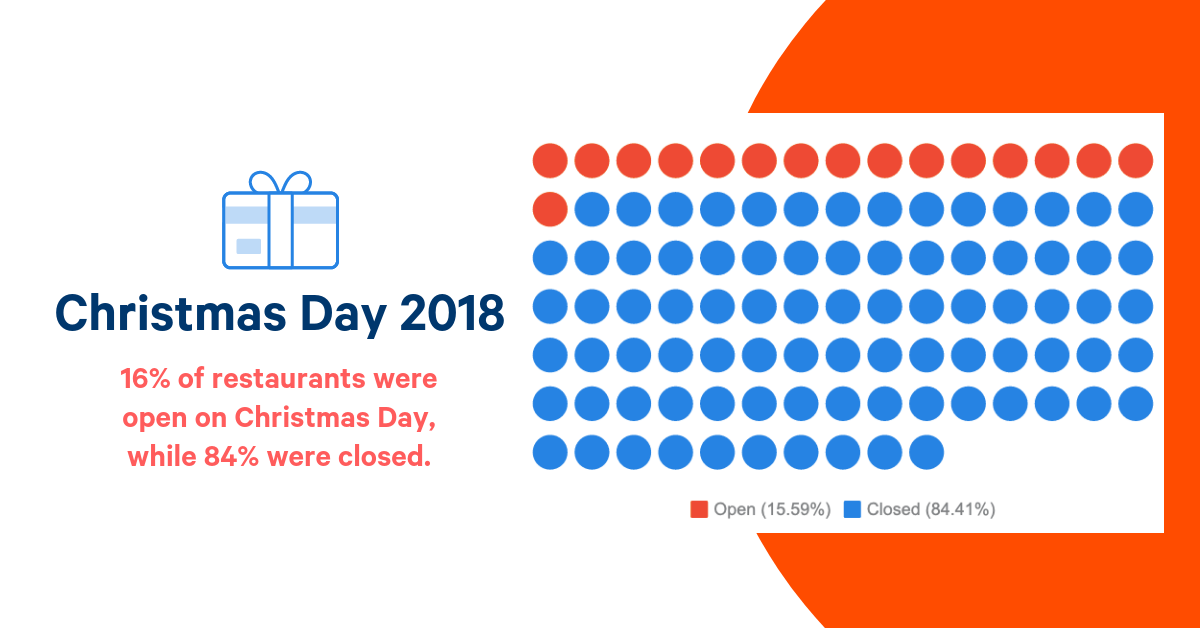 Restaurants that were open on these days got creative with prix fixe menus, catering menus, and buffets, as well as special kid's menus.
Average Order Value on Christmas Eve and Christmas Day
There is a silver lining to opening your restaurant on a holiday: higher check sizes.
We calculated average order value for days in December, and on Christmas Eve and Christmas, saw a sizable increase.
There was a 17% increase in average order value on Christmas Eve, and a 79% increase in average order value on Christmas Day.
Why? Perhaps there are larger parties, as people are going out with families. Or perhaps restaurant owners are increasing menu prices on these days, or offering prix fixe menus, to justify the cost of staying open. Either way the increase in average order value is an interesting trend.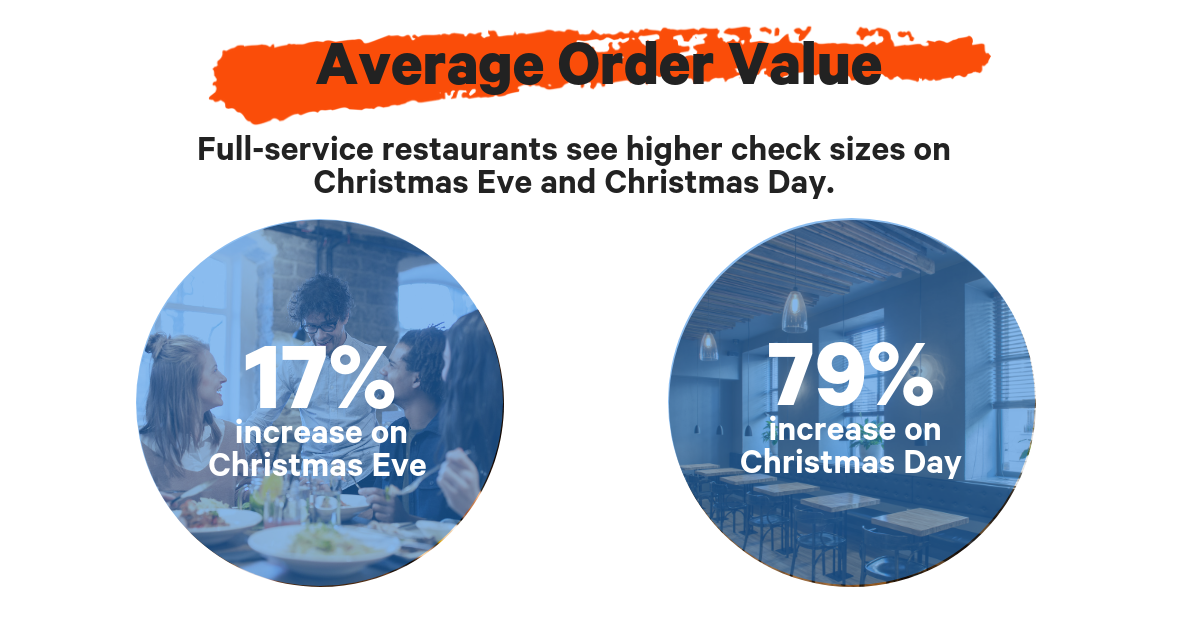 Gift Card Sales in December
Finally, we analyzed gift card sales growth in December. Restaurant gift cards — physical and digital — are great gifts for the foodie in your life, and restaurants are making it easier to order them online.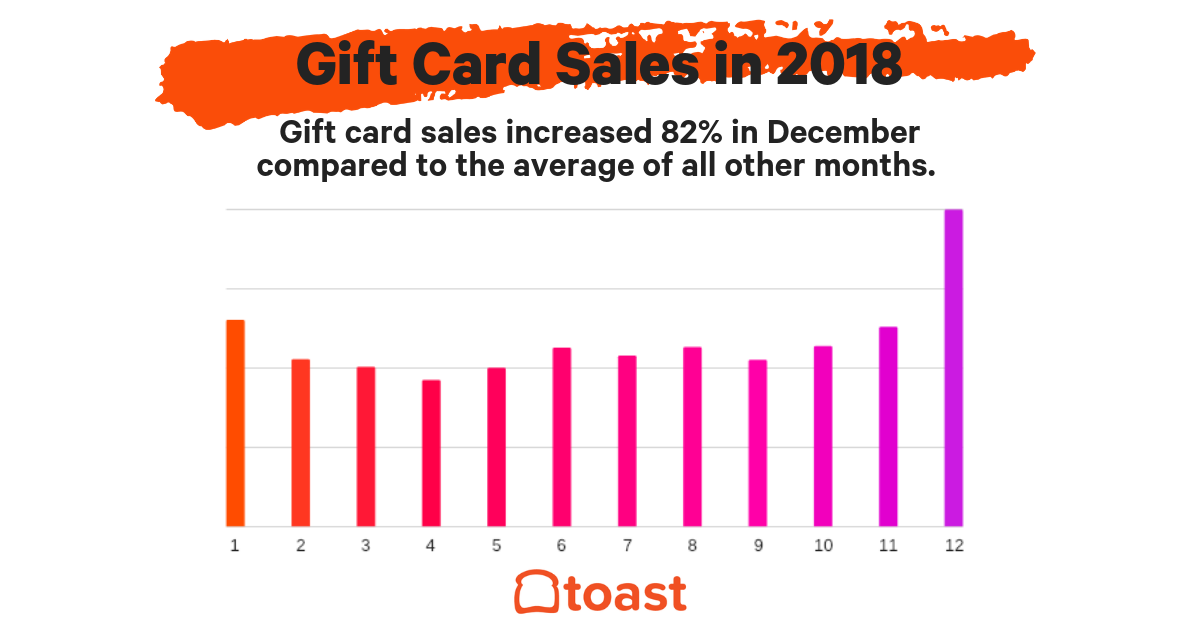 "Electronic gift cards are awesome because you can get them sent directly to your phone" said Julie Spark, co-founder and owner of Mongers Market + Kitchen. "Our customers love how they can specify when the recipient should get their gift card, on a birthday or special occasion. We also sell digital gift cards online, making it really easy for customers to get what they need."
In December 2017, Mongers had over $2,000 in gift card sales, the most they've had since opening.
It certainly pays to rev up your restaurant gift card promotion strategy during the holidays.
Was your restaurant open on Christmas Eve & Christmas?
How were your holidays? Did you close shop or remain open? Did you see an increase or decrease in sales, tips, or average check size?
Share your story in the comments below.
Plus, stay tuned for our analysis of New Year's Eve and New Year's Day.
DISCLAIMER: This information is provided for general informational purposes only, and publication does not constitute an endorsement. Toast does not warrant the accuracy or completeness of any information, text, graphics, links, or other items contained within this content. Toast does not guarantee you will achieve any specific results if you follow any advice herein. It may be advisable for you to consult with a professional such as a lawyer, accountant, or business advisor for advice specific to your situation.