Article
How to Build Successful Restaurant Apps for Your Customers
Restaurant apps are huge right now - here's how you should build yours.
So you want to build an app for your restaurant.
I probably don't have to tell you that app development is no easy task (just ask the Toast engineers). Even if you've got someone with the technical chops to build it and the funds to pay them, restaurant apps are pointless without significant adoption by customers.Everyone knows the pains of maxing out storage on your smartphone. For your guests to add another app to their device means it must be the right fit for both your restaurant and your customers.
Here are some key elements required for making your app enticing for customers and profitable for your restaurant.
Successful Restaurant Apps Solve a Customer Problem
Restaurant apps destined to fail are easily identified by operators who don't know why they're building one. To address this, begin by identify a pain point for guests, whether it's battling long lines at rush hour or finding a parking spot in an urban neighborhood.
Use that app to solve a real problem.
Successful Restaurant Apps are Integrated With In-Store Technology
A mobile app should enhance and integrate with in-store technology, working behind the scenes to build a delightful guest experience. The efficiency improvements provided by a mobile ordering app are completely voided if it's not integrated into your kitchen ticketing or POS system.
Build an app that enhances your existing restaurant technology.
When a customer orders through the Panera Bread app, for example, they can see their name in the queue of orders when they walk into the store (see photos here). The app is the sister software of Panera's self-serve kiosks, both of which have defined the "Panera 2.0" rollout.
If you're not happy with your existing in-store technology, consider investing in that before expanding to a restaurant app.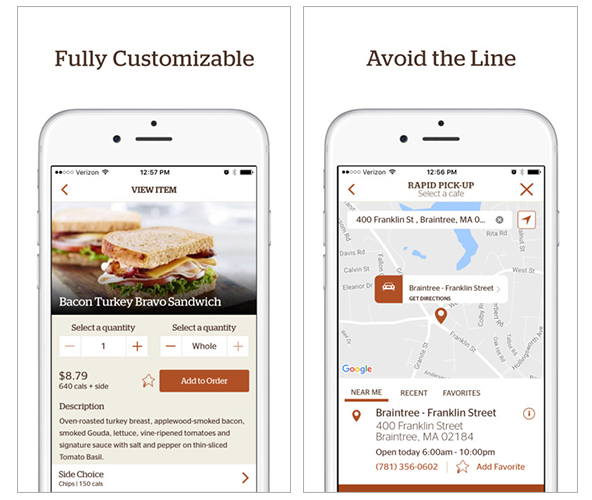 Successful Restaurant Apps Are an Extension of the Brand
Your app is an extension of your restaurant brand. Users should expect to have the same type of
experience when interacting with your mobile app as they do in-store. Restaurant apps strengthen your guest's relationship to the restaurant, allowing them to have a touchpoint to the kitchen from the palm of their hand.
Sweetgreen has been commended for its thoughtful and strategically designed stores. The brand is built on locally sourced produce to foster healthier communities. The design is light, colorful, and eco-friendly and the app is a direct extension of that aesthetic.
Here's a few more examples of restaurant app designs.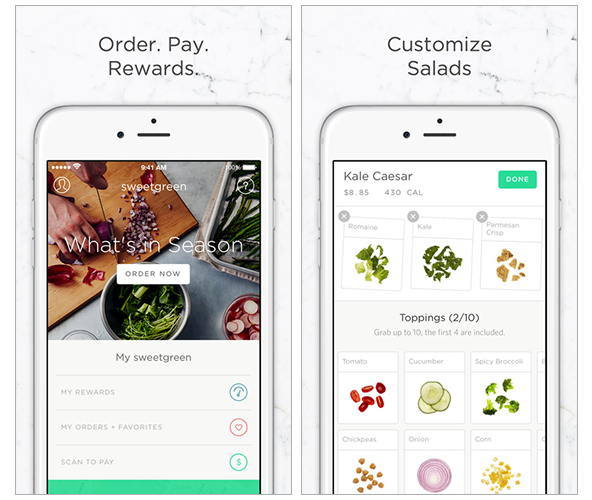 Successful Restaurant Apps Reward Users
Whether you're looking to grow an online ordering program or encourage downloads and usage of your app, incentivizing customers to download and use your app is a great way to drive behavior.
Starbucks reports that 21% of its revenue comes from mobile payments. Users can order ahead and send drinks directly to the barista station, reducing wait times. The real magic of the app, however, is its close ties with "My Starbucks Rewards" loyalty program, which holds a reported $1.2 billion in customer funds for the coffee empire.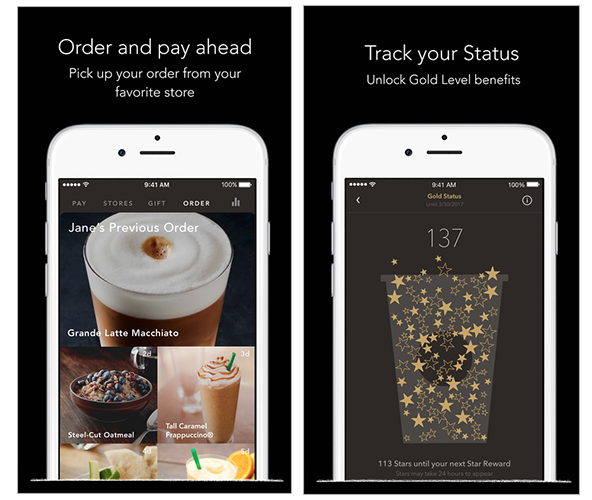 By solving a problem and offering an added monetary benefit, your app is better positioned to gain hold with your customer base.
No matter how deeply technology permeates our physical world, restaurants will always have a human element to them (feel free to counter that statement in the comments below). Your app should enhance that personal experience and solidify a deeper relationship with your guests.