DISCLAIMER: This content is provided for informational purposes only and is not intended as legal, accounting, tax, HR, or other professional advice. You are responsible for your own compliance with laws and regulations. You should contact your attorney or other relevant advisor for advice specific to your circumstances.
Restaurant people rarely get the opportunity to hang out together as an industry — it's almost impossible to leave a busy restaurant — but one of those times is here.
What Is the National Restaurant Association Show?
The 2019 National Restaurant Association Show was a four-day gathering of 42,557 restaurant operators, retail foodservice professionals, equipment dealers, chefs, food distributors, technology providers, and more. People from all over the restaurant world came together to explore the trends that are changing the way we own and operate the restaurant industry, both now and in the future. This year's event was in Chicago between May 18 and May 21.
Live Coverage of Everything That Happened
This year, Toast reporters hit the show floor — attending workshops, competitions, talks, and events — to bring you everything you need to know about this year's show. Before, throughout, and after the four days, this page has been transforming with predictions, real-time coverage, and summaries of the biggest trends we saw at the show this year.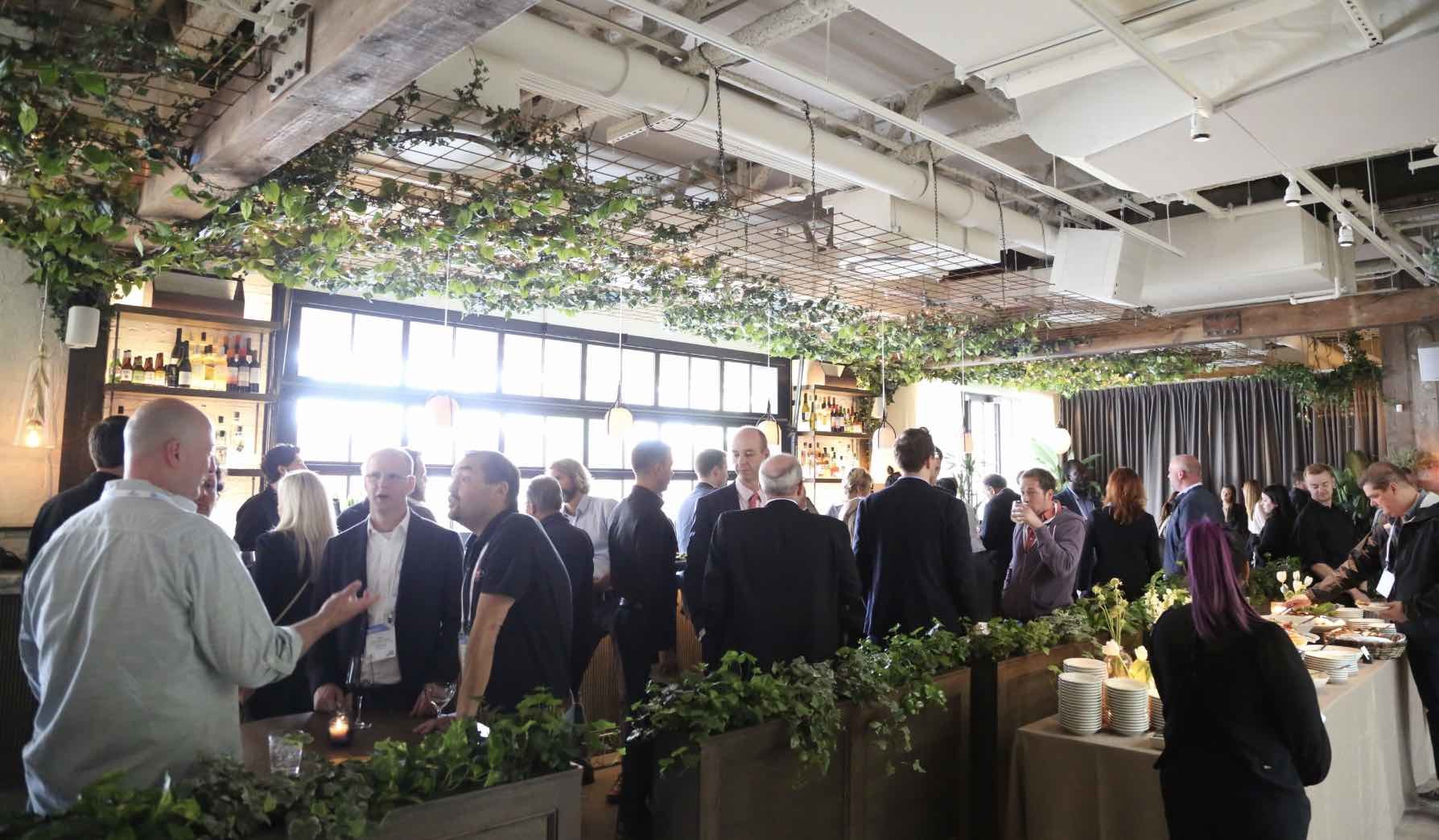 The Big Trends and Takeaways From The 2019 National Restaurant Show
The focus of this year's show was on how we're innovating as an industry while creating amazing dining experiences for our guests. Here are some of the biggest trends, lessons, and predictions we saw throughout the four days.
Labor shortages, hiring, training, and employee retention were the big themes of the show. Restaurants across the country are feeling the impacts of a strong economy and a tight labor market. Retaining restaurant managers is particularly tough and can have a direct impact on the success of a restaurant. According to the National Restaurant Association, "It costs roughly $2,000 to recruit and train a new hire into the restaurant business." And for managers, "It's about $15,000." We learned about ways to deal with it.
Health and wellness, both physical and mental, for restaurant workers, and how to create safe work environments were also big topics of discussion.
The boom of third-party ordering and off-premise dining. We heard about how to use these platforms to market, to own the guest experience and quality of service, and to actually make a profit. The current economic model is not sustainable for most restaurant operators, and people are looking for solutions.
Innovative restaurant technology that can improve operations through automation, efficiency, safety improvements, and sustainability. We saw it all: platforms that can lower your food and labor costs, tools to help you build a guest loyalty program, tips on how to protect your restaurant's data, and even Amazon Alexa glasses that feed you information while you're walking the restaurant floor (that one really got the crowd excited).
Sustainability and the environment, and how it's impacting the restaurant industry, was another big trend. It turns out diners really care about visiting restaurants that are doing things for the environment. We saw products and techniques that address diners' concerns about nutrition, packaging, and food waste.
Innovations in the foodservice supply chain and the steps the industry is taking to improve operations, cost, and quality.
New culinary trends and techniques to test and market. We heard about alternative milks, cannabis, Asian-inspired spices, and plant-based everything. We also found out which wine will be the next rosé, and did you know snacks are the cool, new menu trend?
All the industry personalities — celebs like Andrew Zimmern and Rick Bayless — gave talks and culinary demos, and we heard from restaurant leaders from every space within the industry.
And then there were the celebrations — it was the 100th annual show, so this event was a big deal (there was even a 1,000 pound cheesecake).
Over 100 countries and all 50 states were represented at the 100th anniversary event. This was a huge event. Mary Pat Heftman, President, Restaurant Show Group at Winsight, the show's producer, said the show was a huge success. "Besides the record exhibit sales and strong attendance growth, the energy on the show floor was palpable. Education sessions were standing room only, there were delicious new foods at every turn, and once again, ingenuity was on display everywhere you looked."
Ready to see what we thought of the show? Jump into the live coverage below.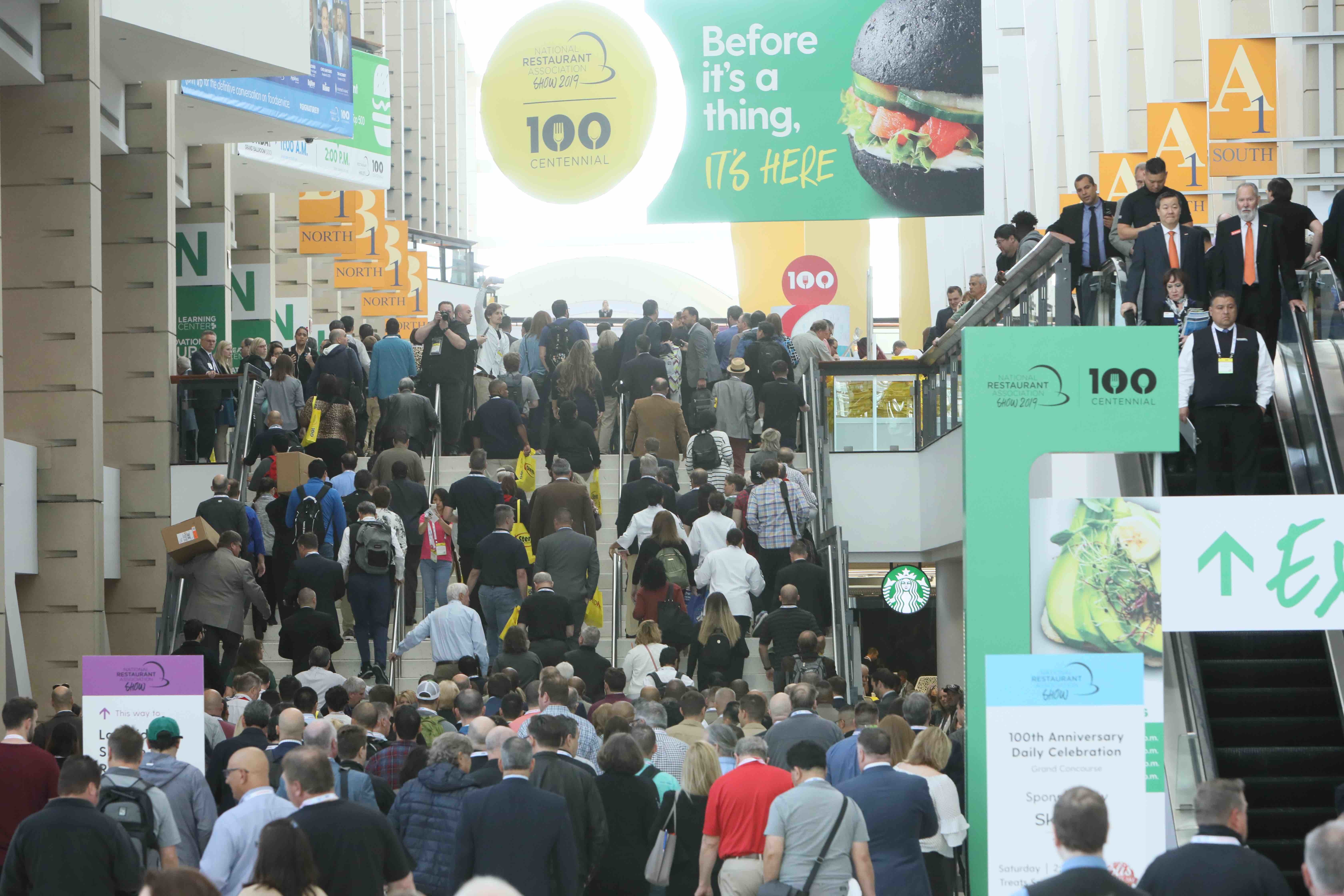 Day 1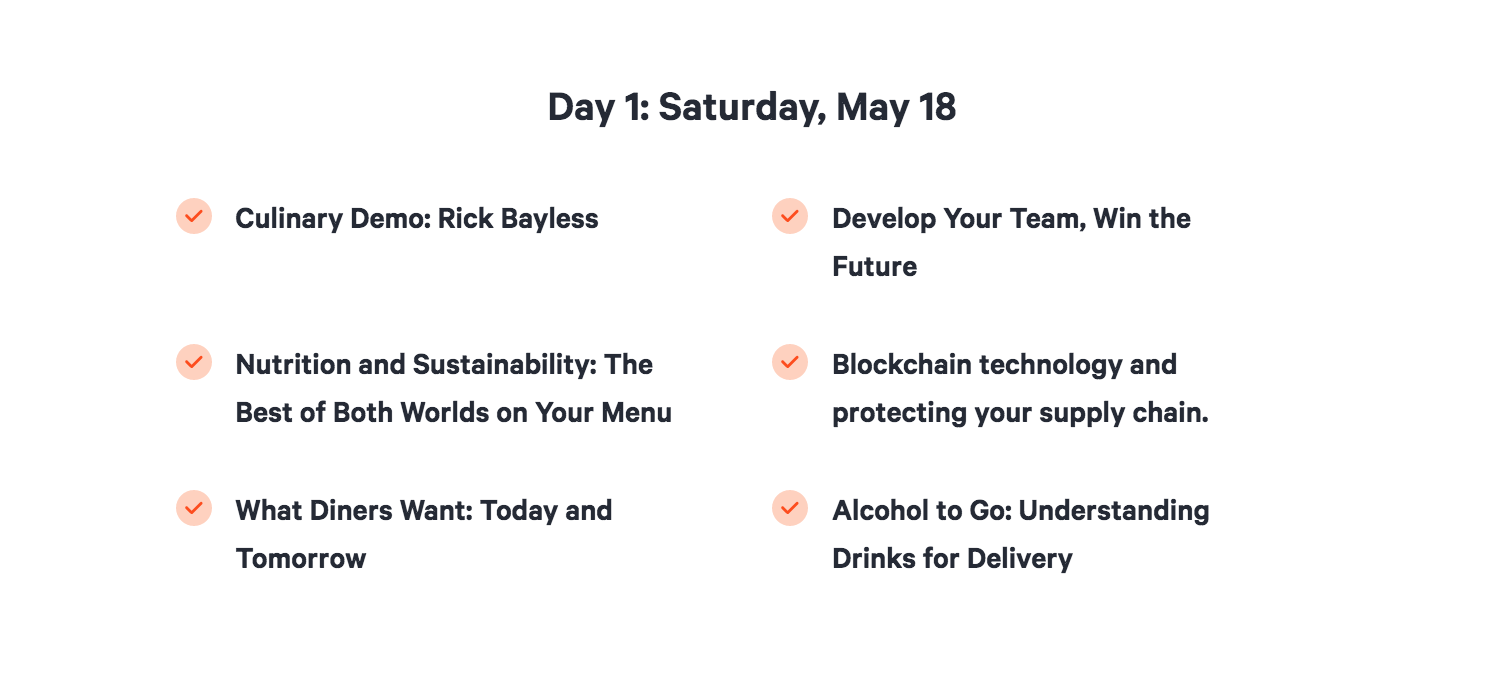 8:00 am — You like cake, right?
Thought so, which is why we're kicking off this morning with what's clearly the most important news of the day. To kick off the festivities, a 1,000 pound cheesecake, courtesy of Eli's Cheesecake, will be sliced and served to show attendees. The cake will be cut by Dawn Sweeney, President & CEO of the National Restaurant Association, and Ted Balestreri, the 100th Anniversary Chairman. But the real question is this: Does it taste any good? We'll do the work to find out.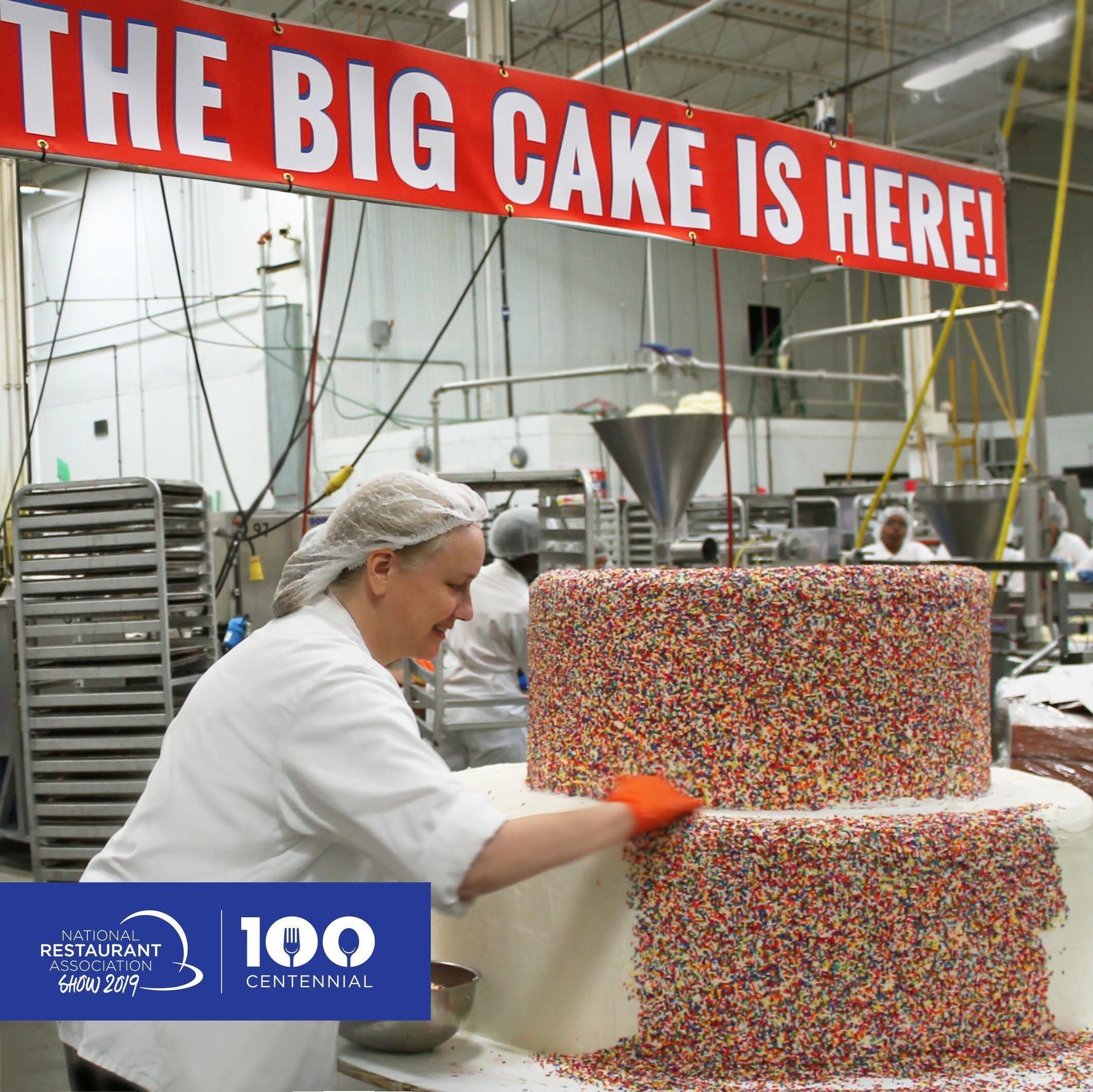 8:15 am — It's coffee time.
Restaurant people from all over the country are arriving at McCormick Place, in Chicago. You can see the full list of exhibitors here. There are a ton of things that excite us about today's agenda, and we're ready to run these exhibition halls, iPhone and samples in hand.
9:00 am — The Toast team is ready to deliver delight from booth #6265. Come say hi!
The North Hall is filling up with all types of tech, kitchen equipment, and food product exhibitors putting the final touches on their booths. The hall is looking bright and full. The samples are being prepared, and the smell of bacon is beginning to fill the room. Prepare your stomachs, friends.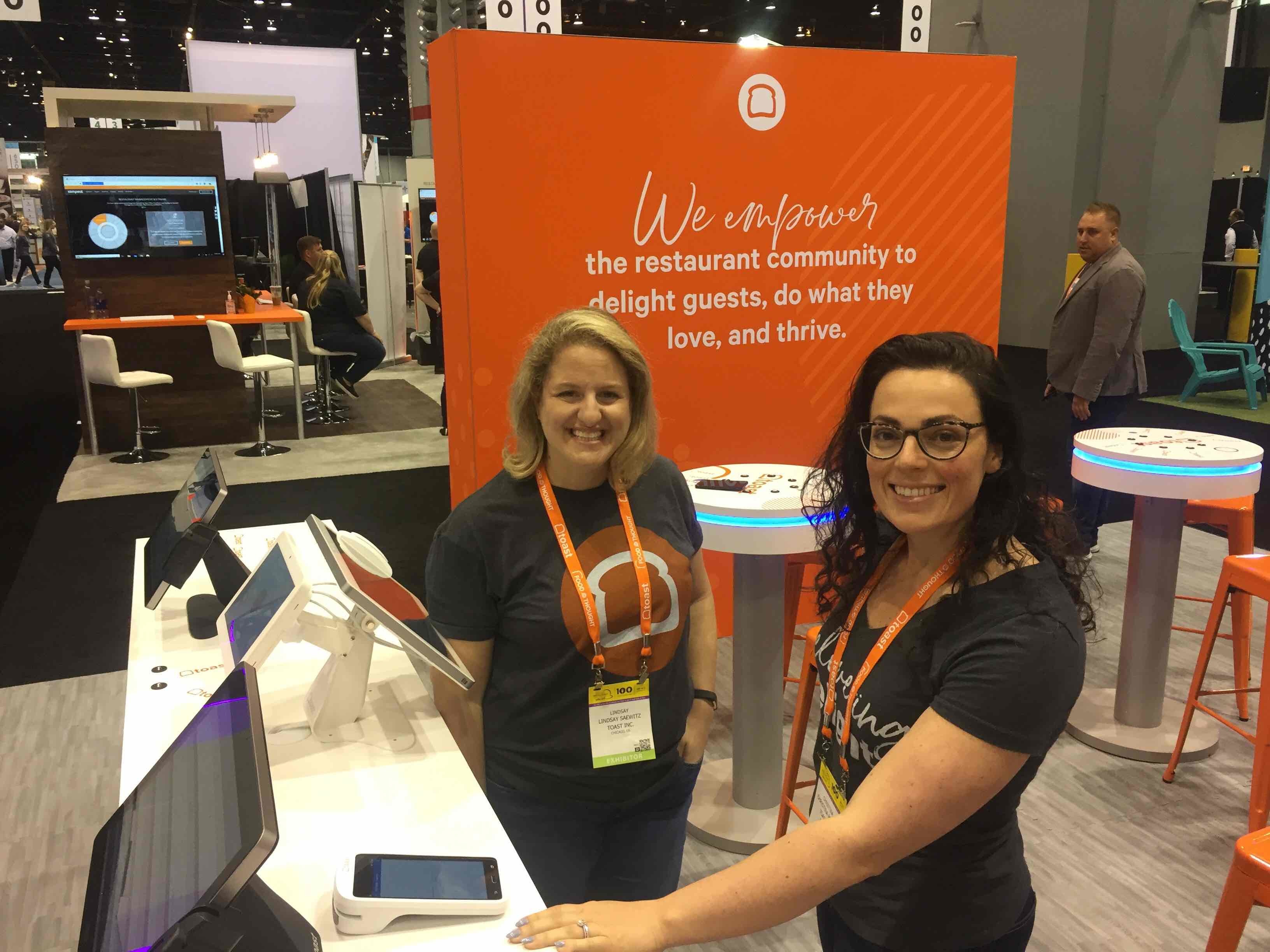 10:00 am — Take Back the Lunch Break℠ with Tork
It's the first session of the show, and we're learning from Suzanne Cohen of Essity about how restaurants can drive more customers by supporting the push to eliminate the sad desk lunch.
According to a survey run by Tork, "22% of bosses think that employees who take lunch breaks are less hard working." But they also found through this research that "employees who do take a regular lunch break are more likely to report feeling effective and efficient at work." With this data, Tork wanted to help workers across America "take back the lunch break" while finding ways to help restaurants support that initiative and get more customers in the door. Chelsea Robinson, from Toast customer honeygrow, explained how they've been supporting this movement with events at their NYC location and campaigns on social media. Taking part in this initiative is a great way to drive more traffic during the lunch hour.
Is the "take back the lunch break" message one that might resonate with your diners?
10:00 am — Nutrition and Sustainability: The Best of Both Worlds on Your Menu
Why become sustainable? Jeff Clark, from the National Restaurant Association, says not only is it a phenomenal marketing tool for Millennial consumers — they're actively supporting brands whose values mirror theirs — but customers are also seeking healthier options when dining out so they can maintain a healthy lifestyle.
Sustainability and hyper-local sourcing have been top trends in dining since 2012. In 2019, zero–waste cooking is the #3 dining trend. To become a sustainable restaurant, you can choose to optimize a number of operational areas like food waste, energy efficiency, animal welfare, water efficiency, renewable energy, and much more.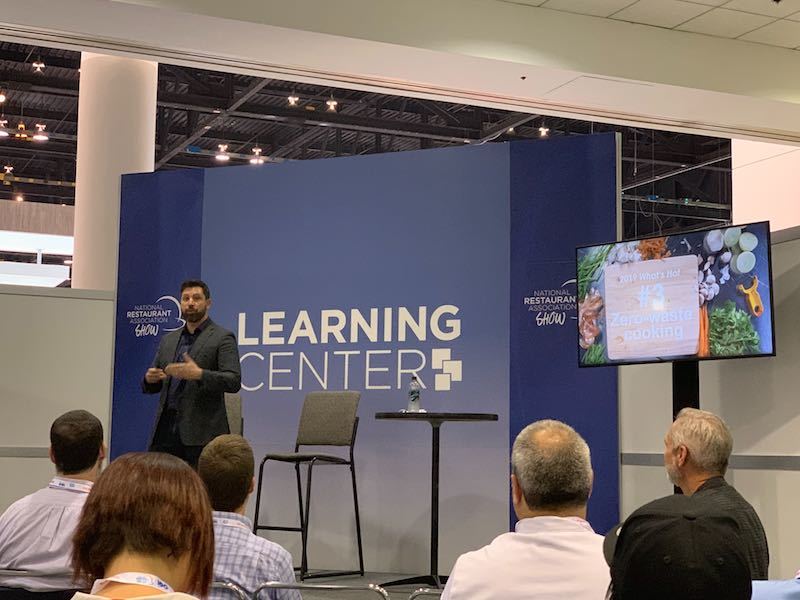 Some sustainable menu tips from the experts:
Plate plant-based dishes in the middle. Put meat to the side. This highlights your plant-based offerings to consumers and makes them more enticing.
Add a blended burger to your menu: a mix of meat and a plant-based protein in a patty. This will help you reduce your restaurant's carbon footprint by reducing the amount of meat you're purchasing.
Incorporate plant-based proteins on your menu. Plant-based proteins aren't only attractive to vegetarian diners, but Millennial and Gen Z diners are interested in trying the goods, too. This move can give you longevity with diners in younger generations.
Purchase produce from farms that practice sustainable farming. NGOs like The Perennial Farming Initiative are working with restaurants to spread the word about the importance of buying from sustainable farms and employing sustainable business principles.
Take sugary drinks off your kid's menu and default to water, milk, and 100% juice. Not only will this promote healthy choices and reduce the risk of childhood obesity in your area, but soda and sugary drink manufacturers use a hefty amount of our drinking water to produce their products. McDonalds switched to a water, milk, and juice default on their children's menus in 2013, and they've since seen a 12% increase in sales, with a 36-48% in water, milk, and juice sales overall.
10:30 am — Authentic Oaxacan Mole with Celebrity Chef (and Chicago native) Rick Bayless
Did you know Chef Rick Bayless grew up in a restaurant? Back in his family's establishment, in Missouri, he used to spend the majority of meal service in the walk–in concocting creations. His parents' only rule? You've got to eat them! From an early age, he learned how to develop and shape flavor profiles and the fine art of scarfing down his less-than-ideal innovations.
At today's culinary showcase, Bayless is creating an authentic Oaxacan mole, built upon taste profiles developed over millennia of Aztec cooking.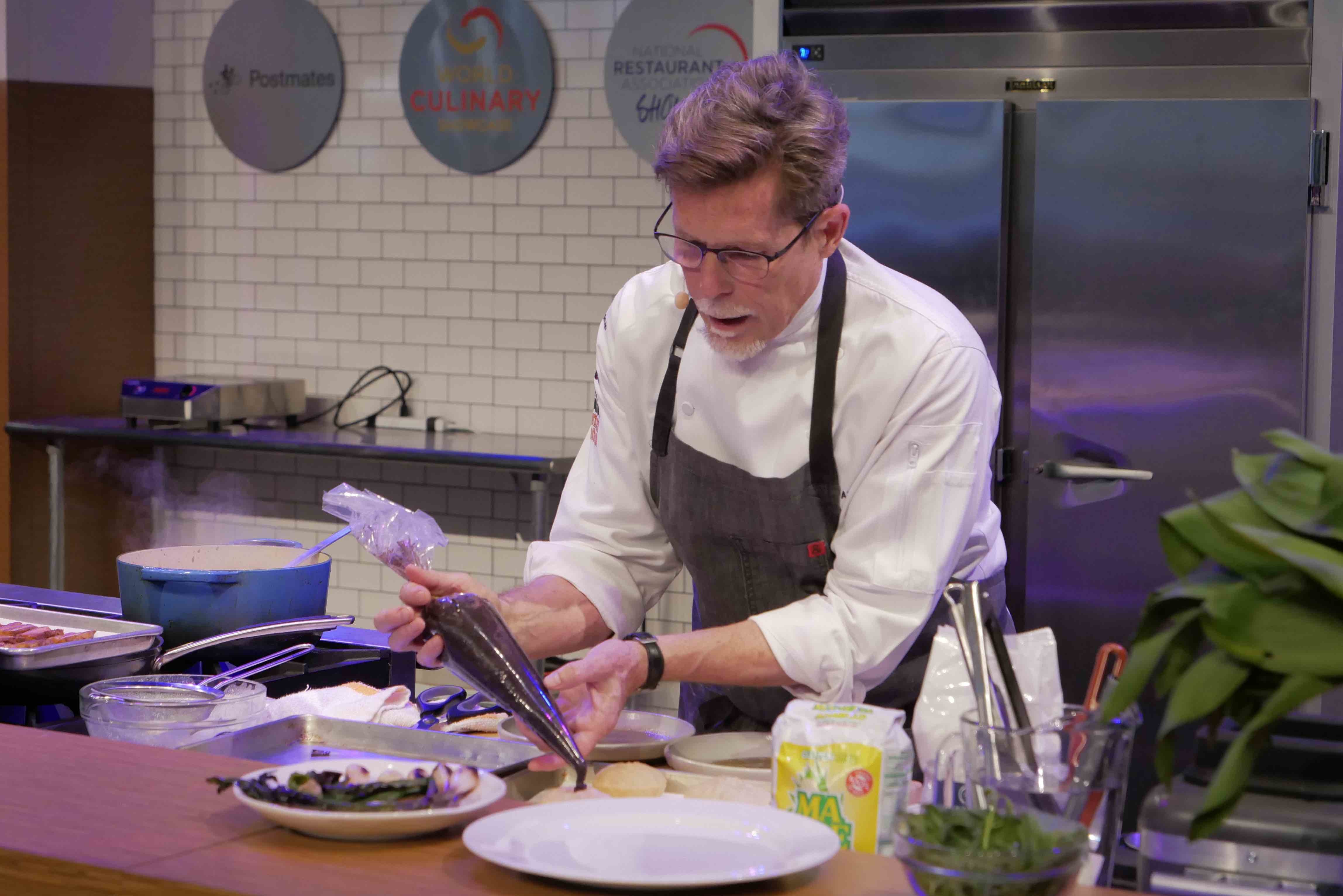 "In Oaxacan culture, food is an art," says Bayless. As a frequent traveller to Oaxaca, his goal was to learn how to make mole so well that it passed the Oaxacan grandmother test. The key ingredient in this dish is green tomatillos. Rick is pro roasting tomatillos — don't boil. You'll get a stronger flavor and more sweetness via roasting.
11:00 am — Develop Your Team, Win the Future
Many of us in the industry are facing challenges training and retaining our employees. This constant loss of employee talent drains time, energy, and money. It detracts from our business' performance and team morale. It's a huge challenge for restaurants right now.
Sara Anderson, Director of Workforce Development at the National Restaurant Association, and Kenneth Ivory, Vice President of Operations at Creative Dining Services, are about to step on stage to talk about this issue.
To stay alive as a restaurant, you need staff, right? According to Sara, our industry employs 10% of the workforce in the U.S., but when it comes to professional career options, we're not often viewed in a positive light. We have open positions in our restaurants, but we're struggling to find the talent. Sara says, "It costs roughly $2,000 to recruit and train a new hire into the restaurant business." And for managers, she says, "It's about $15,000."
Here's what the labor force is telling us:
87% of employees value training and development.

40% of employees who receive poor job training leave within the first year.

60% of the workforce is millennial or Gen Z, and many of those people are looking for a career in the industry.
So how will we keep filling positions and keep staff happy to grow our industry? It's all about training, according to Sara and Kenneth. We need to train ourselves and train our staff. We see it all the time: We promote our individuals who are rockstars and, all of a sudden, they need to play the team lead role. But we, as the managers, need to train them to do that well.
Our industry needs more career services, educational training, and restaurant certifications if we're to continue to succeed as a community.
12:00 pm — Attacking the Snack Craze
As competition for share of foodservice dollars continues to grow, snacking is apparently one of the key areas poised for growth. Operators from The Culinary Edge, Firehouse Subs, and Chili's are putting efforts toward off-peak business, looking for ways to drive traffic to their restaurants for between-meal and late-night snacking. Here are the highlights on snacks:
As the day goes on, spend is higher, so the afternoon snack is a great segment to target.
Trying to serve everyone is not the best idea — focus on the snack items that align with your brand and target customer.
To manage menu and labor costs when pricing snacks — which are smaller portions with lower menu prices — think about how to attract your customer with innovative snack items that align with existing core ingredients you already have on your menu.
How do we feel about the term "social snacks"? I'm not so sure.
Pricing happy hour snacks in the $4 to $6 range seems to be the sweet spot for most restaurants.
Snacks that are visually appealing with catchy names tend to be the most popular in social media promotion.
How do you define a snack? "Two to three bites," one expert says. "A smaller-sized meal that's served in between typical meal periods," says another.
12:30 pm — Time for our own snacks.
The show floor is buzzing with restaurant people. Here, you'll find everything you need to both stay full and run a restaurant: From dining equipment to staff uniforms, consumer products, kitchen robots, and restaurant technology systems.
It's lunchtime at the 2019 National Restaurant Show, and the exhibitors have all types of food products and menu items on display.
1:30 pm — Digital Media Slam
Next, we're learning from big brands like White Castle, Corner Bakery Cafe, Tropical Smoothie Cafe, and Dine Brands about how to incorporate digital media practices into our restaurant marketing plans. We're hearing from:
Lynn Blashford of White Castle
Brian Best of Tropical Smoothie Cafe
Donna Josephson of Corner Bakery Cafe
Michael Chachulah of Dine Brands Global, Inc.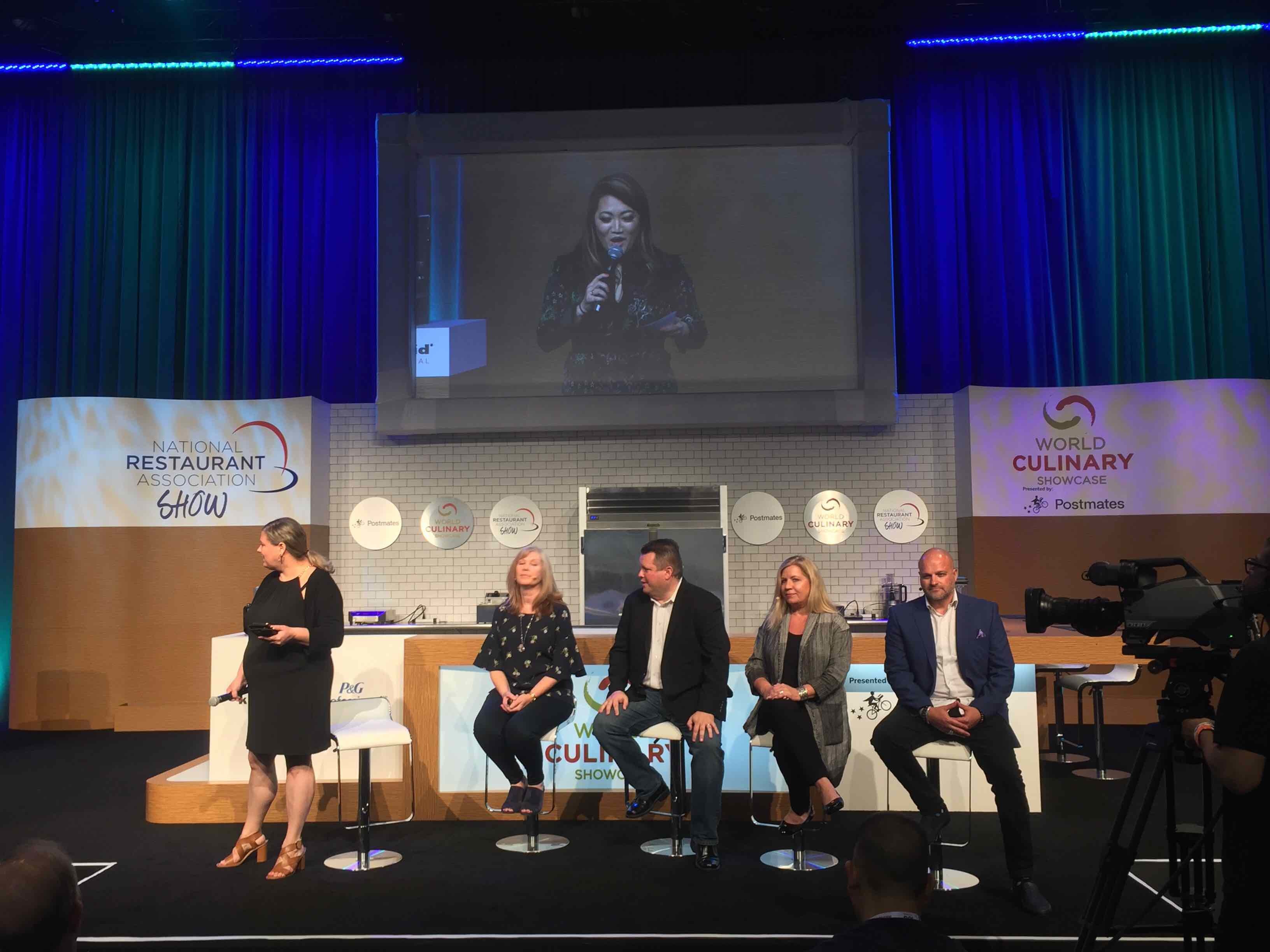 A lot of our jobs as restaurant marketers is to tell stories about our brands, and White Castle, once called America's most iconic burger, decided to take on an "unexpected partnership" with Impossible Foods, a plant-based product. They had fun with it, and the "shocked" messaging caught on on social media.
For a company as large as White Castle, great restaurant marketing is about 1) finding the influencer personalities who genuinely love your product and speak to your target market and 2) building creative campaigns with them. And what do you know: Apparently Wu Tang Clan loves burgers. White Castle and Impossible Foods partnered with Wu Tang Clan to produce videos promoting the sustainability of the planet and awesome burgers. And it worked. But how could it not?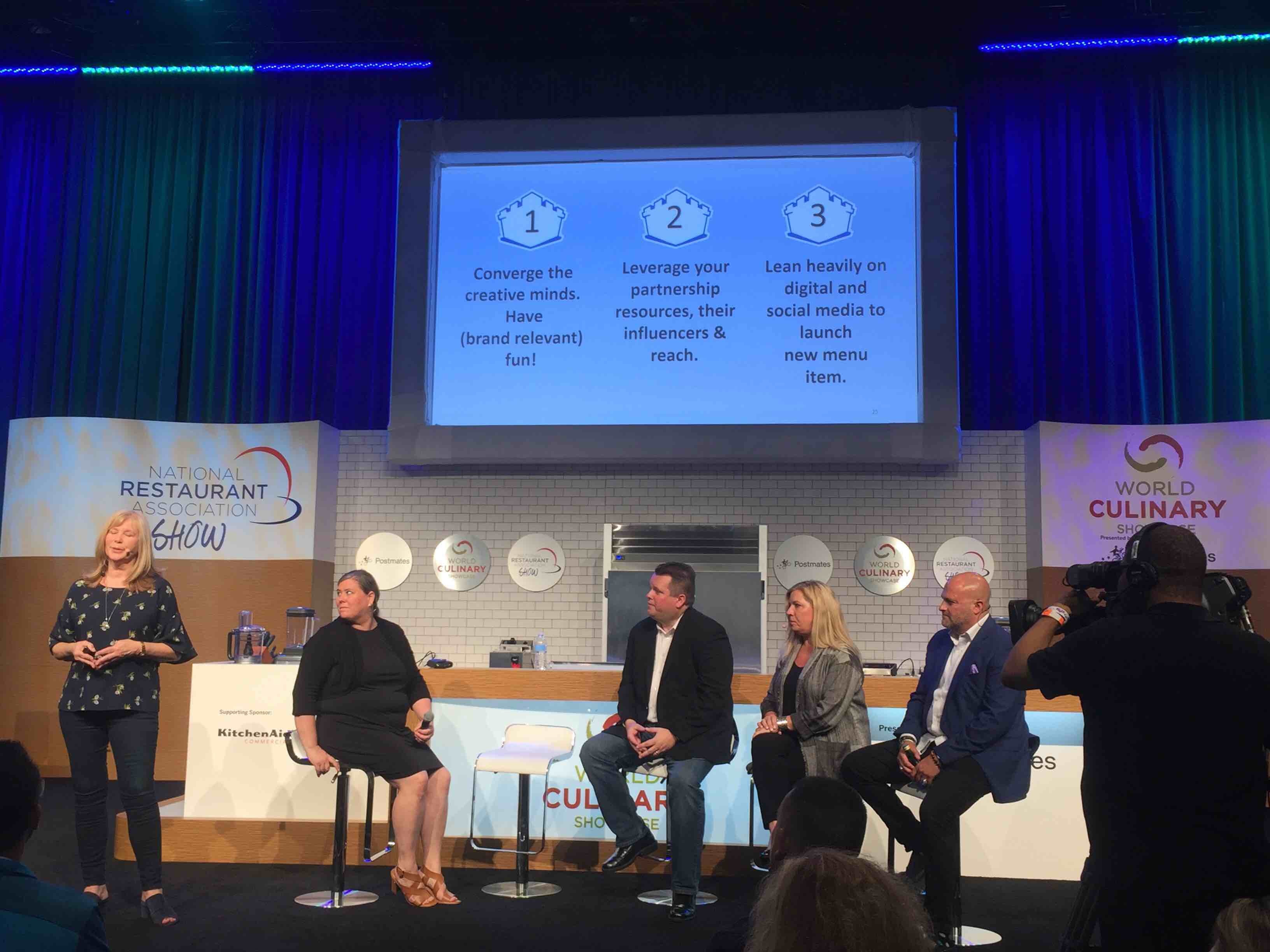 Consumers today are living mobile lives, and IHOP gets that. IHOP's recent brand campaign to change its name was one of the company's "best marketing campaigns ever," and all it cost was one Tweet.
Looking into 2018, IHOP was in a pinch. The business had been experiencing negative sales and the family dining category was in decline. So they needed to think big. And this campaign was "either going to be the best idea or the worst mistake," according to Michael.
IHOP is famous for breakfast, but lunch and dinner wasn't selling. Knowing burgers are the #1 selling product in the U.S., IHOP turned to insight-level product development to identify ingredients and a compelling price point to match their target audience. The new "ultimate steakburger" launched, and it was an instant hit with customers – but IHOP had to convince the world to buy them, and to do that, they needed to change the market's perception of what their restaurant was. They wanted customers to take them as seriously for burgers as they did for pancakes. So they went for it, changing the company's name from "IHOP" to "IHOB" and basically blowing up the internet. Some words of advice from Michael for restaurateurs thinking about brand campaigns:
Be bold and take some risks

Think differently

Build new customer muscles
And for IHOP, it worked. Here are the results: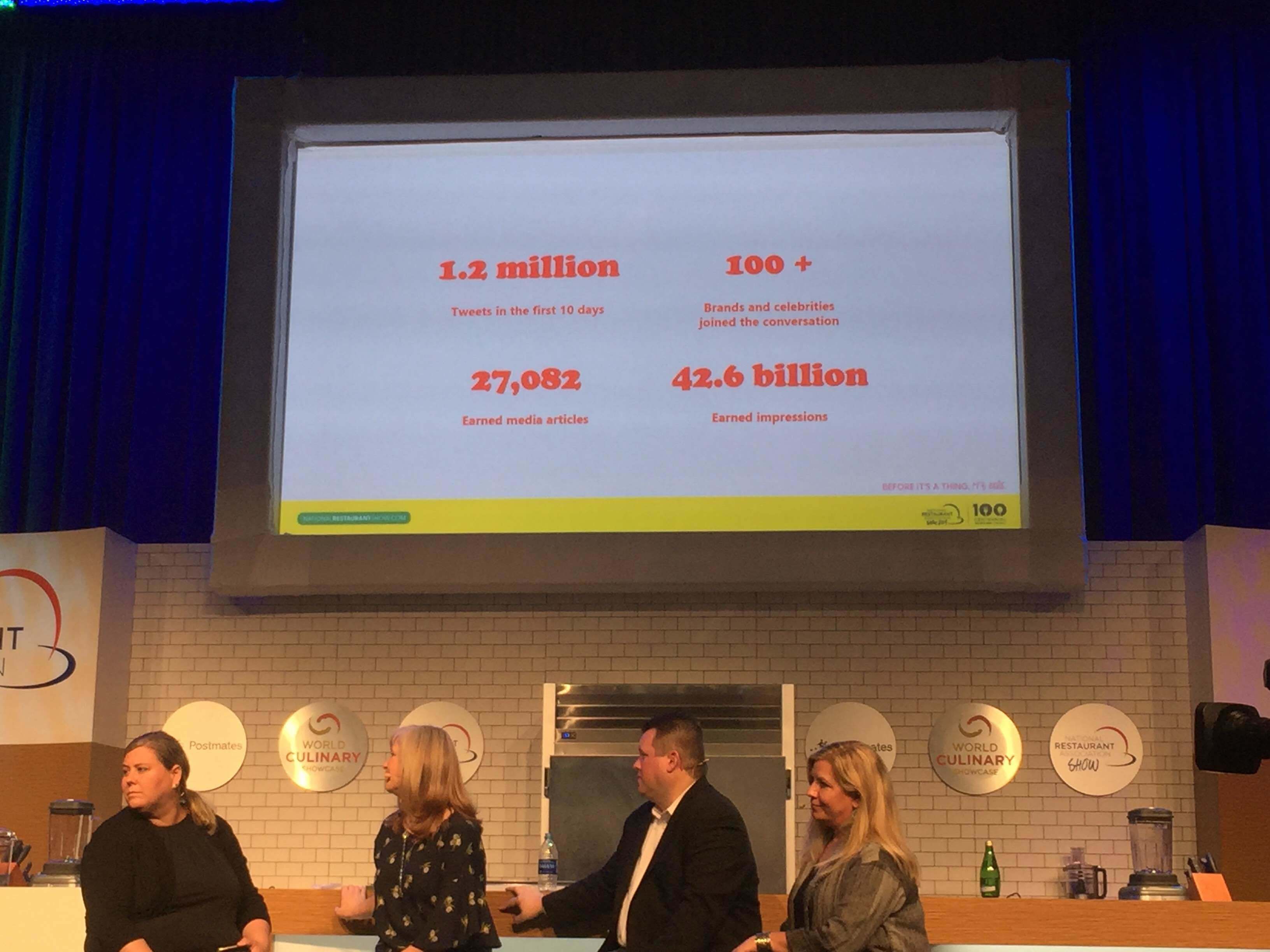 2:00 pm — What Diners Want Today... and What They Will Be Seeking Tomorrow
Since its inception, Yelp has amassed 1.8 billion searches for "restaurants."
As a leading foot-traffic driver for restaurants, Yelp wanted to get at the root of what motivates diners to get off the couch and into restaurants. Upon asking today's audience, the crowd responded with things like, "don't want to cook," "socialization," and "to eat good food I didn't make."
Here are the results of their recent survey: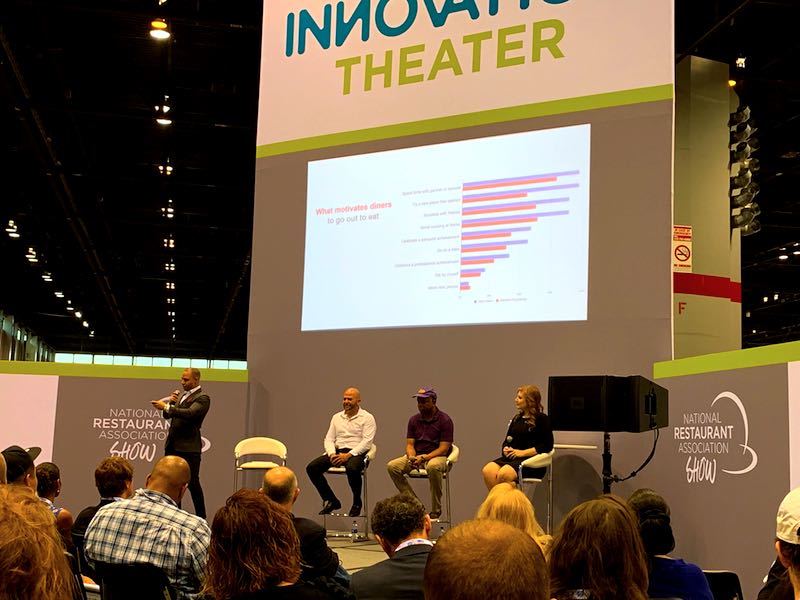 Another factor not in the study? Convenience. This applies to at-home diners and those who want to go out: Searches for waitlists have skyrocketed in 2018-2019. In response, Yelp acquired a waitlist platform called NoWait to help diners get on the waitlist and spend time waiting in the comfort of their homes instead of cold doorway. s
If a review mentions "good service," it's 5x more likely to be a five-star review than a one-star review.
The majority of restaurant searches on Yelp are unbranded, meaning they do not contain a specific restaurant name; instead, searchers are looking for the platform to recommend what the best restaurant choice is for them based on their preferences in that moment.
Today's Panelists:
We start out with a question for Sam: What role does technology play in building relationships with your guests?
The waitlist started as a huge challenge for The New Spot on Polk. Guests were lining up for brunch, and his team wrote down names with pen and paper to then shout out the name to the crowd once it was their turn and hope the person heard. This strategy was a nightmare. Even asking for phone numbers was no good.
Investing in a technology solution that facilitates reservations and waitlists was a godsend; it took the stress and shouting out of reservations and kept tables turning throughout meal service.
If your reservation fulfillment platform has a "your table is almost ready" feature like Sam's does, using it gives people a solid grace period to leave their home and head to the restaurant. The best reservation and waitlist facilitation solutions will allow you to communicate fluidly with your waiting guests. Sam says, "If a guest is running late, it's nice that they connect with me and let me know, and I can respond to them directly on the platform and have a genuine conversation." Sam is then afforded the ability to make seating decisions on the fly – whether to hold the table or give it to another waiting customer and give that original party the next table available.
When asked the same question, Craig paints the picture by letting the crowd know Batter & Berries does between 475-500 covers on a busy Saturday/Sunday brunch shift. Handheld POS technology helps them get orders in quicker – if a guest doesn't know how to visualize a dish, the POS has a photo a server can show – but there was an undeniable hold up in the reservation and waitlist process.
Like Sam, Craig's team once relied on pen and paper to handle reservations and their waitlist. With this method, they could accommodate 400 covers. His initial worry in switching to reservation tech was the worry that guests would leave, get the text, and the staff would have to wait for them to return. This could not have been farther from the truth — with reservation technology, Batter & Berrie's eclipsed 500 covers.
Adopting your strategy by leaning on the data available — whether that's via online reviews, from your restaurant point of sale, or your restaurant reservation solution — is key to getting butts in seats.
On the subject of data, we next hear from Shelby about how she uses data to influence her staff training procedures.
Tortoise Supper Club is like a walk back in time to 1950's Chicago. Eating at The Tortoise Supper Club is an experience, and it's important that staff contribute to that experience; an experience is not just shaped by the stuff on the walls.
Using customer data, one server learned he had a birthday party coming in that night and proceeded to gift them with champagne on the house as a treat. Now, it's company policy: Any two-top that comes in and it's their birthday, complimentary champagne to start at the table complete with a signed birthday card.
The team at Tortoise Supper Club avidly checks their online reviews to learn how to better train their staff to read guests, tailor their recommendations, and create the most authentic dining experience possible. They found, via online reviews, that guests were entranced by the story behind their menu items rather than just being sold on an item. As a result, Shelby has incorporated that into her front-of-house staff training.
"Your job isn't to sell a product; it's to tell the story, create an experience, and make sure they come see us again,"
As the discussion turns to the subject of online reviews, Sam stresses the importance of responding to comments and reviews. Being proactive can not only turn a one time customer into a loyal brand advocate, but you may also win over their friends and family as a result of your warm hospitality, willingness to have a conversation, and interest in turning their experience around. It's important to respond within 24 hours of a poor review taking place.
At The Tortoise Supper Club, owner Keene Addington's philosophy is that a one-, two-, and three-star review isn't a criticism of the business or product, but a miss on guest expectations. So, when a TTC member reaches out to the one-, two-, and three-star reviewer, they have a conversation centered around getting at the root of what that guest was expecting to experience and how the restaurant missed the mark.
The next topic is customer acquisition: Each of the panelists are asked, "What are the top customer acquisition channels for you?"
4For Batter & Berries, it's Yelp and social media — Instagram and Facebook specifically.
Managing and curating your online review page on sites like Yelp and TripAdvisor can have a big impact on reputation and customer perception. Craig learned how to upload his own photos of menu items so they show in front of customer uploaded images, and it's really elevated his online brand.
For Tortoise Supper Club, it's a mix of Facebook, email, radio, Spotify, and Pandora.
Shelby knows that her customers are checking their email between 7-12 times a day. Within these emails, she tells stories: about the space, the artifacts in it, the why behind the business, and what exactly makes the food so dang good.
She uses professional photos, and gives her emails an authentic feel by including signatures from the owners, photos of the owners, and quotes about why they added new menu items.
Shelby advises: If a marketing channel's demographic information aligns with your clientele then go for it - radio is huge in Chicago for people between 40 and 60, while Spotify and Pandora are cost-effective ways to reach younger audiences.
As their final question, Sam, Craig, and Shelby were asked to share their "secret to success."
From Sam, a good product and good customer service; these two are the magic to success.
Craig agreed with Sam on that one. Early on, Batter & Berries learned that getting their customers to spread the word about their experience was as easy as outright asking. "Sometimes you have to ask people what you'd like them to do," said Craig. They used language while table-side like, "If you like what you had, tell everyone," as well as "post pictures," and "check-in on Facebook or Instagram." This, Craig shares, has become their primary marketing tool.
Shelby's secret ingredient? Listen more than you speak, a lesson shared by Tortoise Supper Club founder, Keene Addington.
2:59 pm — A Break for Cake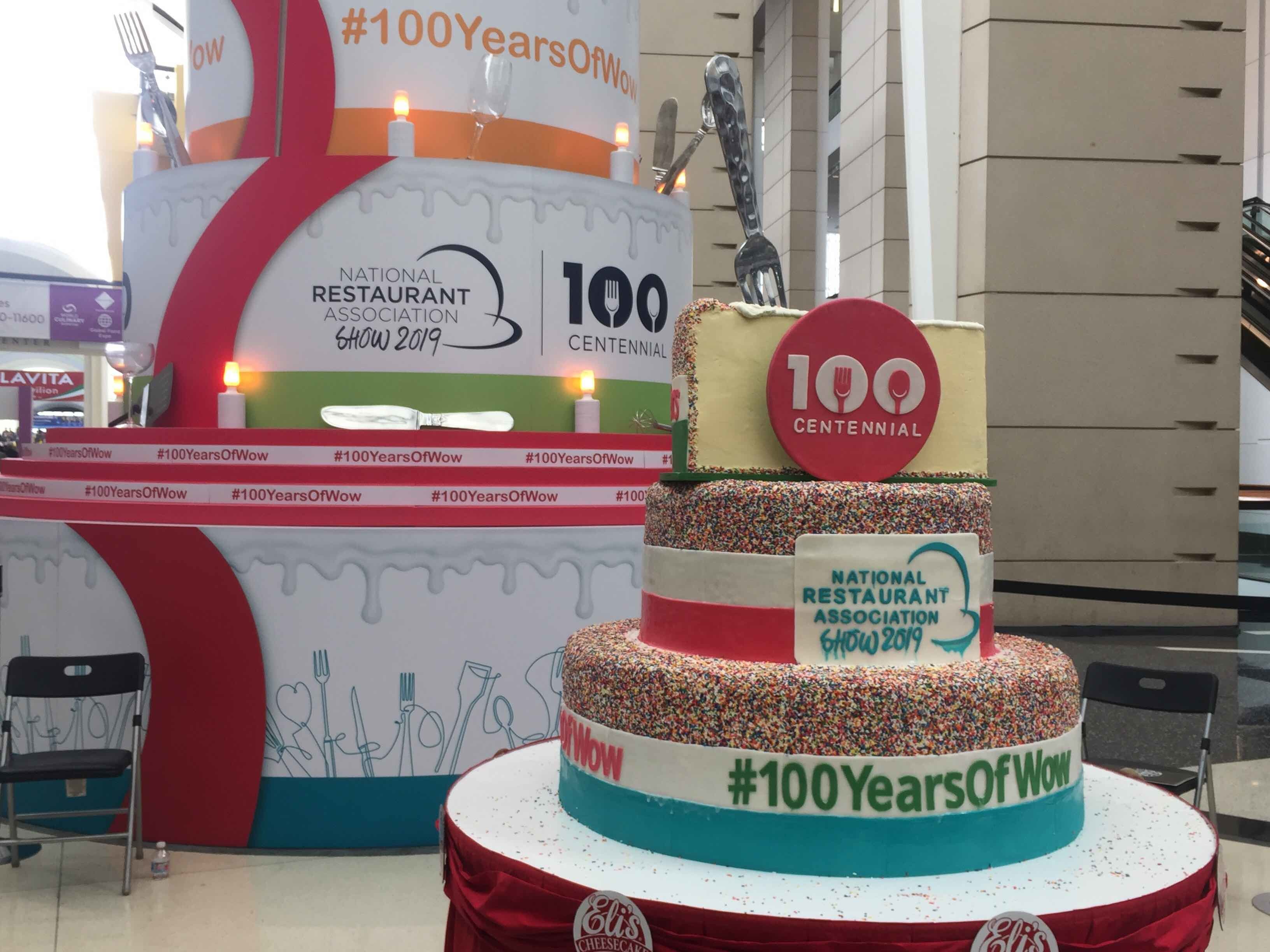 Verdict: It was good.
3:00 pm — How to Become an Employer of Choice
When you ask restaurant operators today about the challenges they face in 2019, it's about finding, retaining, and engaging employees. As competition for restaurant guests gets fiercer, operators need to do the best job they can in recruiting and retaining top talent. But how does a business establish itself as an employer of choice? We heard from Victor Fernandez from TDn2K about the causes of turnover for hourly front-of-house and back-of-house employees and restaurant managers.
According to a study by restaurant analytics platform TDn2K:
69% of restaurants say they're understaffed in front of house
93% of restaurants say they're understaffed in back of house
52% of restaurants say they're understaffed in managers
Victor says the last time the labor market was this tough for restaurants was in 1969, so today, if you're a restaurant and you need to hire a new server, that person is probably currently working somewhere else. This is why your employer brand is so important.
Turnover continues to rise and voluntary terminations are increasing, so why are your employees leaving and what can you do about it? Here are some of the reasons why employee turnover is so high:
Reasons why non-management employees leave a restaurant:
Job abandonment

Personal reasons

Higher paying jobs
Reasons why management employees leave a restaurant:
Higher paying jobs

Immediate promotions

Poor work-life balance
Working in the restaurant industry means long hours, weekends, and holidays. Restaurant staff know and expect that. But according to Victor, "When restaurant managers are understaffed and turnover is high and they can't take their kid to basketball on Tuesday night because they have to cover for their host, that's when it really starts to hurt."
To solve this problem, restaurants need to offer more support so that managers can manage, coach, and develop. Victor says companies with the lowest management turnover rates have more managers per unit.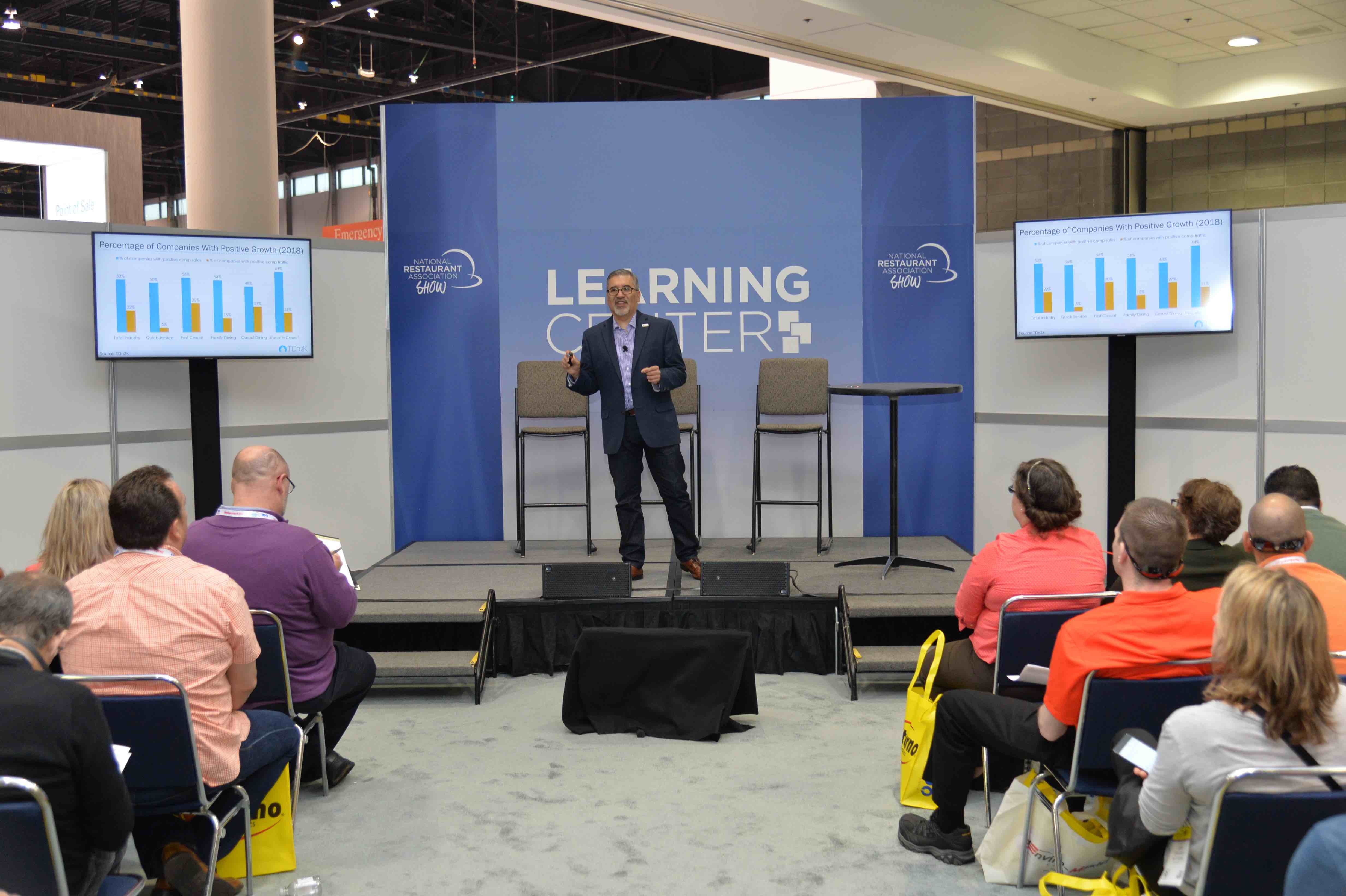 And here's what's actually working to increase staff retention in restaurants:
Individual contributors
Most effective: Improve candidate selection
Second-most effective: Improve growth and development opportunities
Third-most effective: More flexible scheduling
Managers
Most effective: Improve growth and development
Second-most effective: Increase pay
Third-most effective: Improve training
General managers
Most effective: Increase employee recognition
Second-most effective: Improve training
Third-most effective: Improve selection in recruiting
3:30 pm — Harnessing Technology to Drive Off-Premise Sales
With the hype around delivery, takeout, curbside and drive-thru innovation continuing to build momentum, supporting off-premise foodservice occasions in today's on-demand environment is becoming a must for restaurant operators, but it creates both opportunities and challenges.
Melissa Wilson from Technomic, Inc and Hudson Riehle from the National Restaurant Association talked about the trends we're seeing in diner demands and how restaurants are adopting new technology in response.
We start with some stats:
24% of restaurant operators offer curbside pickup

67% say this technology is more important than it was two years ago

56% of consumers place delivery orders via restaurant's websites

Only 18% of restaurant operators offer mobile ordering via their own app
Technology was the catalyst for this shift we're seeing to off-premise dining. And Melissa says the future is already here: Consumers are using this technology and expecting us to keep pace, but there's a technology disconnect on the restaurants' side.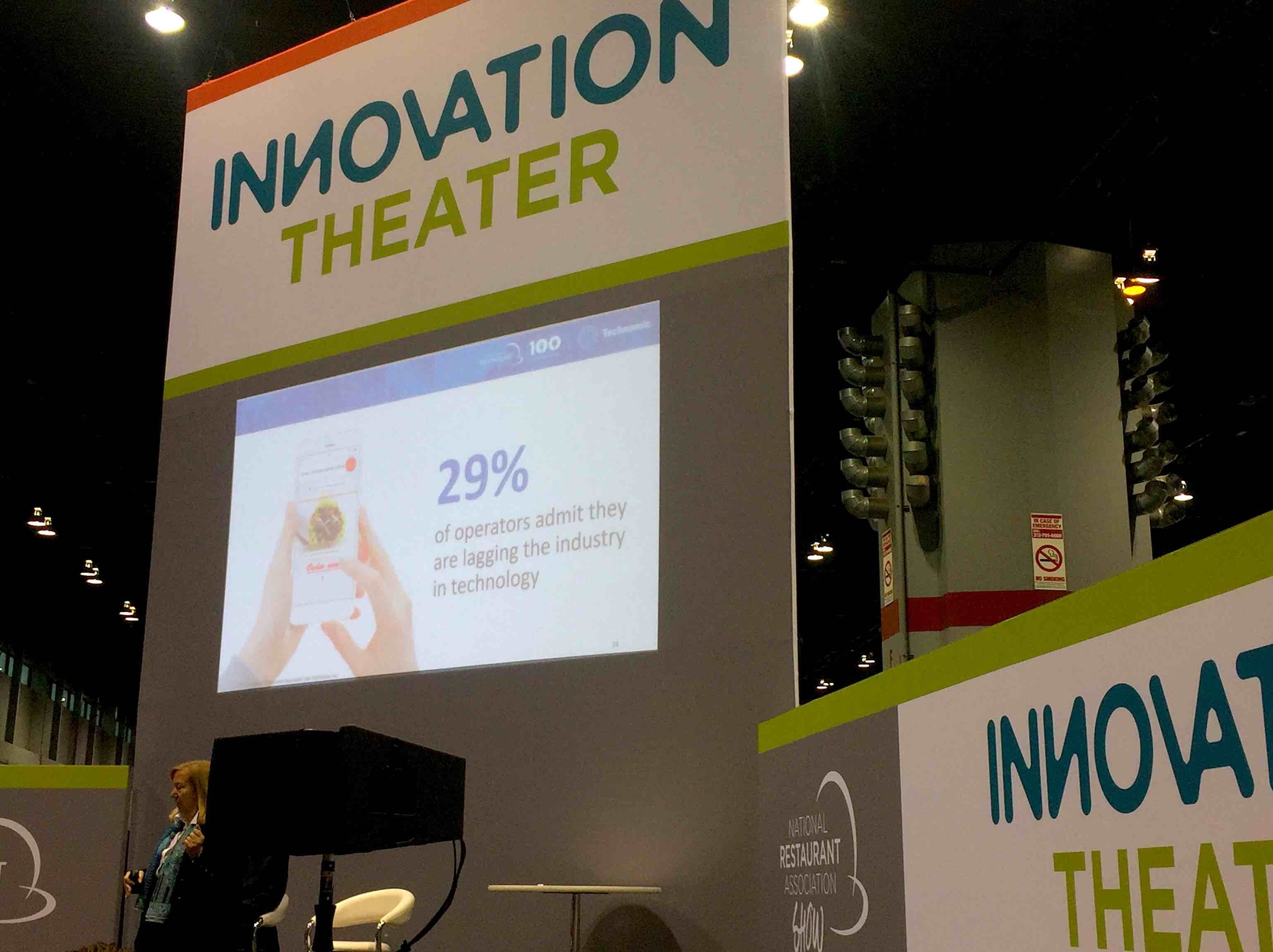 According to their research, there are several core reasons restaurants don't invest in technology:
It's not a priority

High costs

They would need to adjust operations

They don't have enough buy-in from customers
And the biggest challenges restaurateurs face in adopting technology are:
Teaching employees how to use it

Getting familiar with the technology and training staff in its use

Cost and getting staff and customers to buy in
But you know what? Restaurants are already using exciting and impactful technology that's changing the game for their business.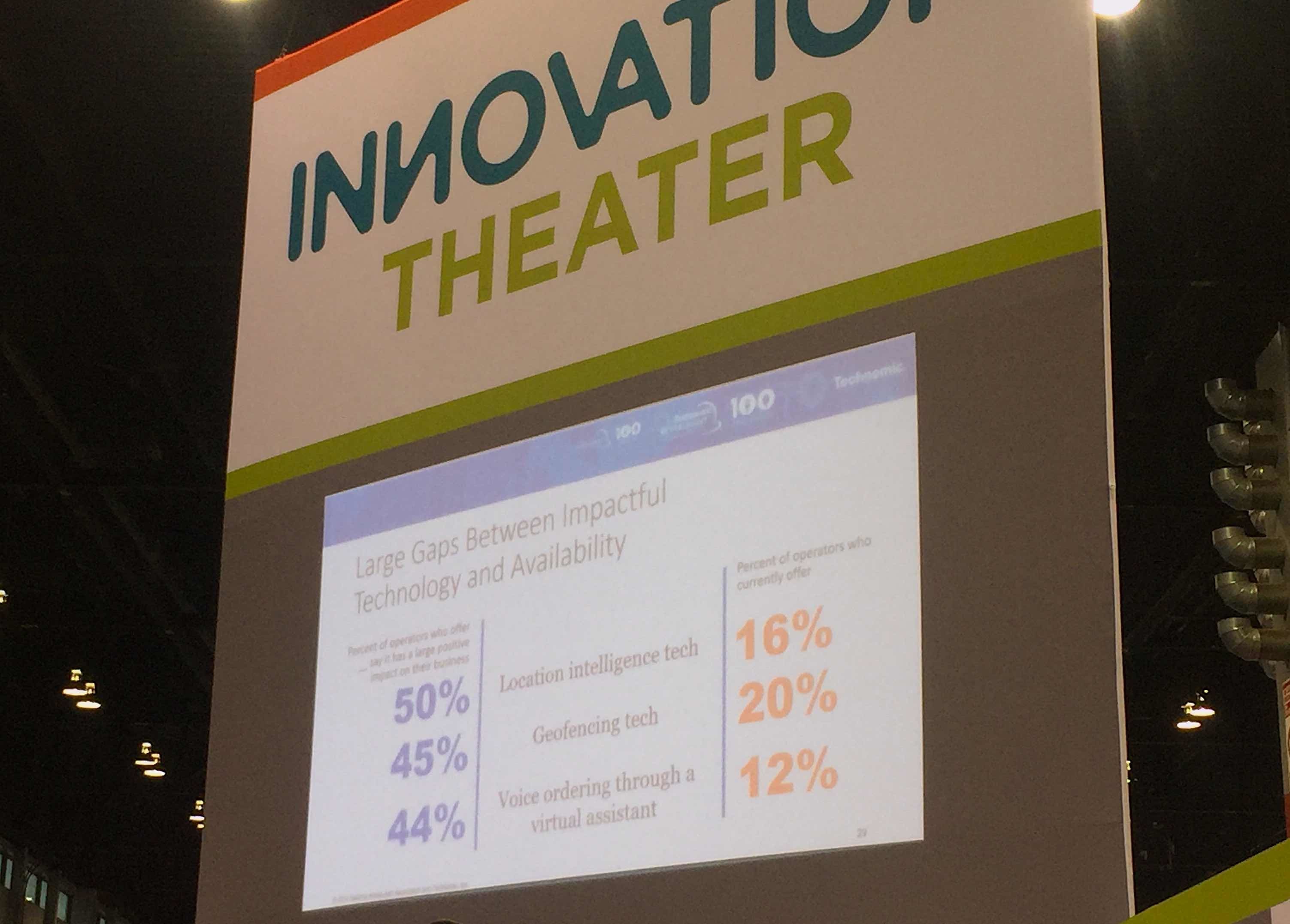 Diners are already demanding more from their online ordering and delivery tools.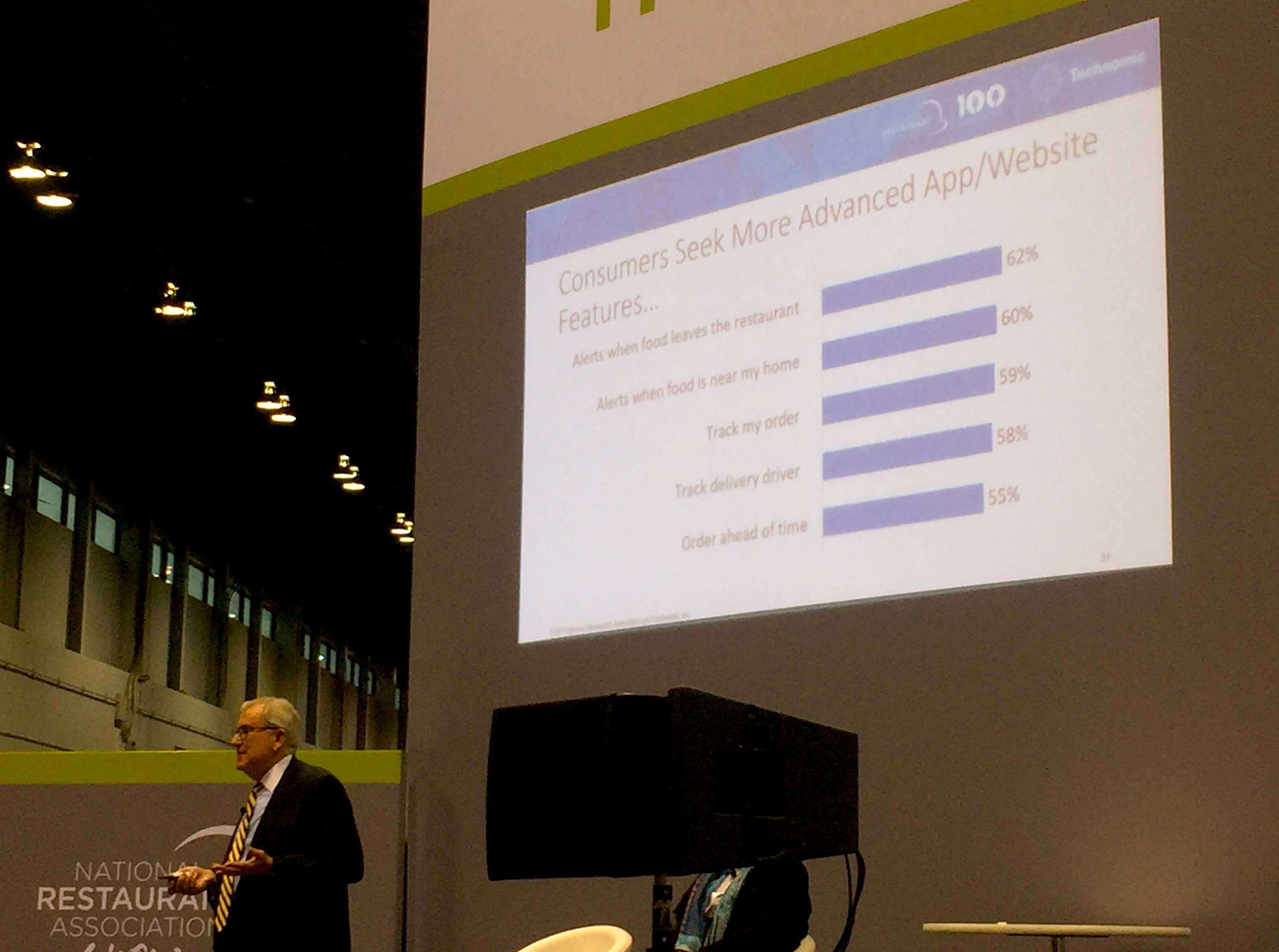 As restaurateurs consider how to adopt to new delivery and online ordering demands from their guests, there are a few key takeaways to keep in mind:
Off-premise dining now accounts for a majority of restaurant occasions, and will continue to grow.

New technology is a critical enabler of growing off-premise sales.

Operators must adapt to meet consumer demand.
According to Hudson, the question is not if you should go after this market; the question is what can you do to go after part of this market right now.
4:30 pm - Modern Restaurant Accounting: Shifting From Cost Center to Trusted Operational Advisor
In the race of running a profitable restaurant, what are your restaurant's primary goals? Morgan Harris, CPA and Co-Founder of Restaurant365, recommends the following:
You need to continually focus on increasing your revenue. "It covers up a lot of sin," Harris says.

Control your food costs. They can eat up 30% or more of your monthly revenue if left unexamined.

Optimize your labor expenses. "You can't have 0 labor (even if you want to)," Harris says. Whether you're a new restaurant or re-evaulating your labor overhead, it starts with idealizing the experience you want to provide to guests. Next, hire the people who can provide that experience on a dime, and don't spend a penny more on bells and whistles you think will enhance said experience.
You need to align your entire restaurant team around the above three goals. It's important to remember that a lot of little missteps over time can quickly add up: Early clock-ins, vendors charging different prices for one of your locations vs another, and unnecessary food waste as a result of poor systems are a few that come to mind.
"If you're not aligned, you're in the way," Harris says.
Alas, there's one department that doesn't meaningfully contribute to these goals, rendering them the dreaded "cost center" status: Your restaurant's accounting department. You need to transition them from a cost center — an area of the business detracting from your bottom line by simply existing — into an operational support center by making recommendations and advising on strategic purchasing and staff scheduling decisions based on your rich sales performance data.
Empower and train your restaurant accounting team to:
Manage and report on inventory

Make employee scheduling recommendations based on sales performance data

Inform your overall vendor/distributor purchasing strategy based on your restaurant's data

Keep a close eye on your prime cost report, COGs, and daily sales reports in order to keep your business in the green, never the red.
Here's a case for having your restaurant accounting team manage your inventory reports: Anytime you move cash around it creates a debit and a credit, correct? Well, in a restaurant, inventory is cash on your shelves: Everything you do with it creates an accounting transaction, either a debit or a credit. If your inventory tracking solution isn't tied to your restaurant accounting solution, you are paying people in your business to do something twice. You're leaving money on the table, seconds on the clock, Harris says.
Onto prime cost reports: Your prime cost report is, for all intents and purposes, your restaurant's time clock, Harris says. Reflecting on it during a sales period (during meal-service) can help you empower your team; leaning on your prime cost report retroactively will help you optimize your operations.
Watch below as Morgan Harris, CPA and Co-Founder of Restaurant365 stresses the importance of investing in a restaurant accounting solution that seamlessly integrates with your restaurant point of sale.