DISCLAIMER: This content is provided for informational purposes only and is not intended as legal, accounting, tax, HR, or other professional advice. You are responsible for your own compliance with laws and regulations. You should contact your attorney or other relevant advisor for advice specific to your circumstances.
What does bussing tables mean?
Bussing tables means that you're either clearing or setting tables at a restaurant, before guests sit down and as they leave. The term can also be mean any activity where front-of-house operations are in play, as tables are turned over.
Bussers are some of the unsung heroes of a restaurant. They're important additions to wait staff, as they adhere to cleaning guidelines, provide drink refills, reset tables after guests have finished dining, and are trained to pay attention to guests' behavior—ensuring a consistent, seamless dining experience.
Since bussers serve an essential function, you'll want to train new additions to the team. A former busser, another member of the wait staff, or a manager can take responsibility for training new bussers on protocols, and how to be successful by memorizing the pace of service and the art of searching for guest cues.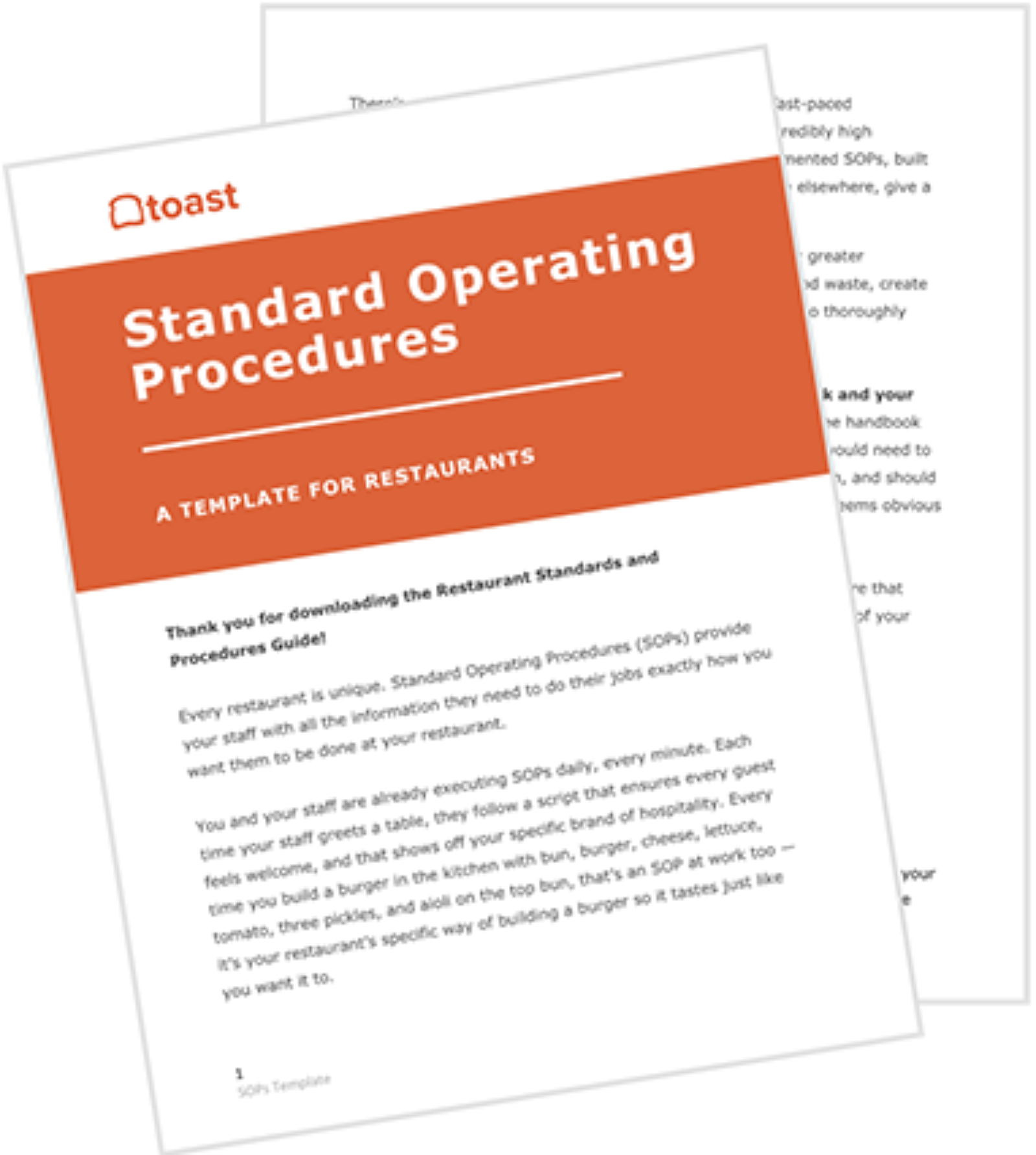 SOPs Template
This template will help you create SOPs for your entire business, so you can create consistency and easily train employees.
Download
How old do you have to be to bus tables?
The legal age of bussers varies according to state guidelines. Bussing tables is an entry-level position, making it a great first job for teenagers interested in the restaurant industry. However, bussing tables aren't just for teens—it's great for anyone seeking restaurant experience or looking to become servers, but who don't have prior experience.
How to bus tables
1. Memorize table placements
One of the most important tasks of a busser is memorizing tables and their placement throughout the restaurant. You wouldn't want a waiter to say "Table 8 needs cleaning" and not know where it is!
2. Learn how to read guests' behavior
Take a look at your guests–are they frazzled and seem like they're in a rush, or are they eating at a leisurely pace? Rushing to clear unfinished plates too early or leaving a bunch of dirty plates for too long after guests are finished can negatively impact their experience.
3. Carry only what you can handle
While carrying multiple plates can seem time-effective, you don't want to risk breaking items or dropping them on the floor, which can disrupt the guest experience. Carry what you can handle, and avoid using dish trays to collect dishes when guests are around. Also, try not to stack dishes to the point where it can be hazardous.
4. Clear plates as courses start to come in
If your guests are eating a multi-course meal, clear plates in the order that they were sent—so if your table has appetizer plates, you'll want to clear them before the entrees roll in. This also includes cutlery—so if a table is ordering dessert, you'll want to remove items like steak knives and sauces.
5. Top off any beverages/Bring any extra utensils
See some water glasses that need refilling or that more utensils are needed? Make sure tables are always stocked with essentials.
6. Thoroughly clean and reset each table after guests leave
Ensure that tables and condiment containers are wiped down thoroughly. Reset the table with cutlery, make sure plates and glasses are in the proper position on the table, and sweep the floor if needed. Bussers should also wipe down condiment containers and any items on the table.
Tips on how to bus tables fast
Pay attention to tables, remove plates, and clean up as soon as possible. This ensures that tables are turned quickly, especially in busy service times. If you see a table that wasn't assigned to you needs to be clean, take initiative and step in.
When turning tables, keep clean cutlery, plates, and glasses nearby so that they can be turned quickly.
If guests are finished, discreetly drop off the check before customers request it.
***
Restaurants are unique ecosystems, where every staff member plays a part in ensuring a great guest experience. Even though bussers are not as visible as servers and hostesses, the role they play in keeping restaurants clean and well-run is invaluable.