DISCLAIMER: This content is provided for informational purposes only and is not intended as legal, accounting, tax, HR, or other professional advice. You are responsible for your own compliance with laws and regulations. You should contact your attorney or other relevant advisor for advice specific to your circumstances.
Father's Day can be a bit of an enigma for restaurateurs. Most agree that Father's Day can be good for business, but it's tough to figure out exactly how to bring families in on this day. Last year, restaurants only saw an 8% increase in sales on Father's Day, according to exclusive data from Toast. (Meanwhile, the increase on Mother's Day was a whopping 25%!)
But don't fall into the trap of NOT running a promotion because you don't think it'll be worth it. You have nothing to lose when bringing attention to your restaurant as an option for Father's Day, and only revenue to gain.
Last year, consumers spent $16 Billion on Father's Day celebrations – approximately $139 per person, from gifts to meals and more.
Timing matters. Toast data shows that the most popular time of day to celebrate Father's Day at a restaurant is 7pm, followed by 1pm, so direct your specials at dinner and lunch, not breakfast and brunch.
Below are some great examples of how restaurants can attract guests and show customer appreciation on Father's Day. From the obvious to the ingenious, here are a few favorites.
1) Dads Eat Free
It's simple, and it works: Giving free food to dads is a great way to get families in the door. Carolina Ale House, in Miami, FL, gives away a free burger to every dad in the restaurant.
2) Don't Forget Grandpa
So many restaurants focus exclusively on the nuclear family instead of the extended one, which is a missed opportunity. At Carolina Ale House, the terms and conditions of their promotion mention that more than one free burger is possible per family, if there is more than one dad at the table.
Marketing to all fathers on Father's Day, including grandfathers, speaks to an extra generation and increases your party and ticket size. That's more apps, more drinks, and more money for extending your promotion to cover any additional dads.
A few years ago, Buffalo Chophouse included grandfathers on their ads, capturing the attention of multi-generational families looking for a place to celebrate.
3) Partner With a Charity
Rail Trail Flatbread Co. has partnered with the Boys and Girls Club of Hudson, MA to give customers a chance to give back to the community while brunching for Father's Day. It's always a good move to show appreciation for your local community, and doing so will also attract diners who may not have heard of your restaurant before.
4) Free Dessert
Since desserts tend to follow higher-priced drinks, apps, and dishes, promoting a free dessert is an effective way to bring in fathers and families that want a sweet way to end their day. The Howe Daily Kitchen and Bar, in Minneapolis, MN, offered a free dessert to all dads, or they can choose a free pint of beer. Speaking of beer...
5) Cheers to Free (or Cheap) Beer
In 2019, HopCat, in Louisville, KY ran a Father's Day promotion selling $1 Pabst Blue Ribbon beers for all dads, all day.
6) Make it a Buffet
Buffets have traditionally been a popular option for families for a reason: They have something for everyone. 3660, in Honolulu, HI, throws a Father's Day dinner buffet. It's a flat $64 per adult, $30 per child, and features prime rib, short ribs, salt and pepper chicken, oysters, shrimp etouffe, and assorted fresh poke.
7) Give Away a Branded Gift
Michael Jordan's Steakhouse, in Chicago, IL, gave away a branded steak knife to the first 23 people who order a Delmonico steak on Father's Day. This tactic still offers up something for free, but only to those who order an expensive steak. With limited quantities of steak, people are incentivized to act quicker and get to the restaurant sooner.
This is also a branded souvenir, so all the dads who receive them will be reminded of your restaurant every time they grab a steak knife.
8) Open a Conversation and a Contest
In 2017, national fondue chain The Melting Pot called on their Facebook fans to share how they're celebrating their fathers this year for the chance to win a $100 gift card. The contest generated nearly 1,500 comments, which made the content more likely to appear in Facebook users' news feeds.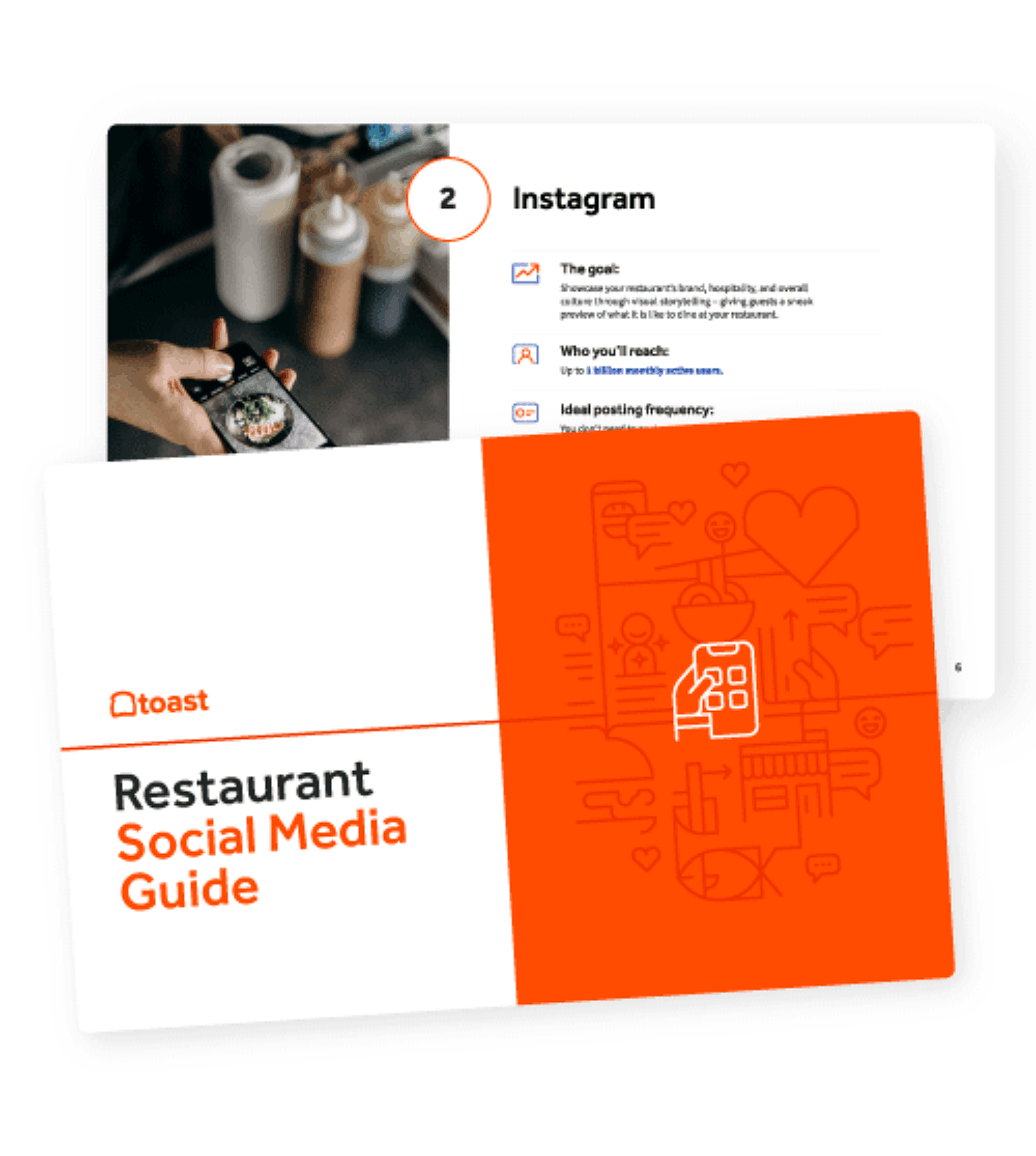 Guide to Restaurant Social Media Marketing
Learn how to optimize your social media presence to showcase your brand, tell your story, attract new customers, and engage with your audience.
Download
9) Make Gift Cards Go Further
BJ's Restaurant and Brewhouse, in Rhode Island, offers a separate, bonus $10 gift card when you buy a $50 gift card for Father's Day. The kicker? The bonus gift cards are only valid for the next month, so it'll get customers back in the door quickly.
10) Host a Special Event
Not everyone wants a standard white-tablecloth dinner with dad. At Ball & Chain, in Miami, FL, they have live music, a cigar roller and a caja china-roasted pig special. They also have a drink special: Buy a Jim Beam drink and get a free pan con lechon.
11) Make it Musical
The Music Box Supper Club in Cleveland, OH, hosts a Father's Day Beatles Brunch, complete with a bloody mary bar, full brunch menu, and a Beatles cover band.
12) "Relish" in the Dad Jokes
RecBar, an arcade bar and restaurant in Louisville, KY, is including two joke contests – one for kids and one for dads – in the agenda for their Father's Day events.
Spreading the news about a Father's Day promotion is a great way to use your restaurant's social media page, but even if you don't have any discounts or specials this year, be sure to wish all the dads a happy Fathers Day. Consider sharing a picture of the dads that work in your restaurant or a collage of all the families that came to your restaurant (with permission, of course).
Related Restaurant Operation Resources