This post was last updated on Jul 08, 2020.
DISCLAIMER: This content is provided for informational purposes only and is not intended as legal, accounting, tax, HR, or other professional advice. You are responsible for your own compliance with laws and regulations. You should contact your attorney or other relevant advisor for advice specific to your circumstances.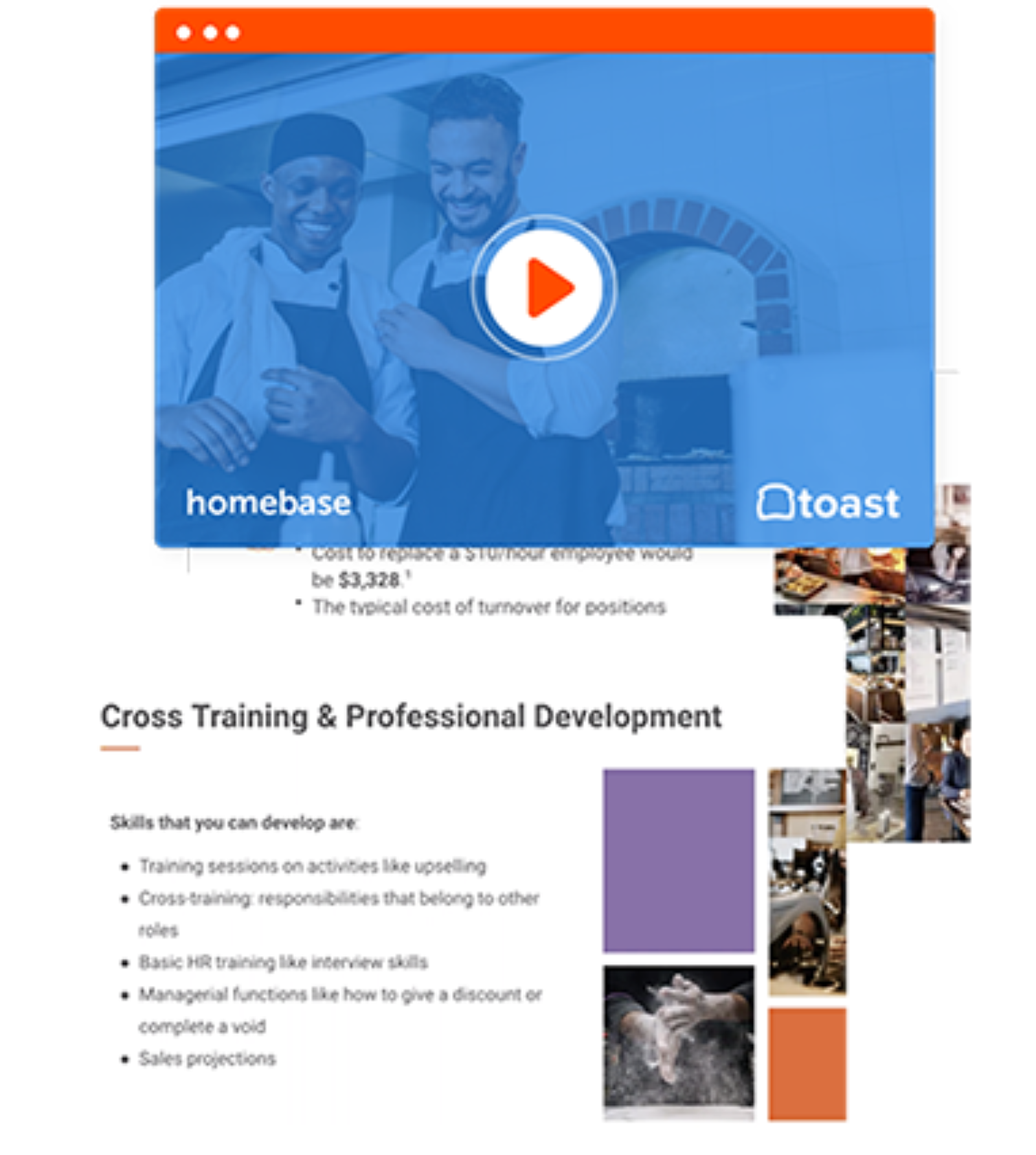 Hire and Retain Great Restaurant Employees
Toast and Homebase teamed up to share tips on how to effectively hire and retain employees so you can have a happier team and reduce turnover.
Download
What is an employee annual review?
Employee annual reviews are scheduled, recurring performance reviews and personal check-ins between a manager and an employee. In case the word "annual" didn't tip you off, an employee annual review takes place once a year. But don't be fooled: making employee evaluations a core part of your business is a year-round, ongoing commitment.
Think of it like Valentine's Day: sure, you'll treat your partner to some extra TLC on February 14th, but you should love them the other 364 days of the year, too.
Reviews are regular, scheduled opportunities to connect and communicate with your employees about their performance, goals, and objectives. Given that poor communication is the number one reason staff leave a job, and 81% of workers across the U.S. put "honest feedback" at the top of their "Employer Must-Haves" list, restaurateurs would be remiss not to implement a restaurant employee review protocol.
The benefits of conducting restaurant employee annual reviews
If you aren't already convinced, here are two more reasons why employee evaluations are such a transformative practice in the restaurant industry.
1. You're pretty much guaranteed to learn something new
Living in an age of big data means that almost everything is quantifiable. While your restaurant POS system and employee scheduling software are full of data goodies, that's only half the story. Things might be ticking along nicely on paper, but in speaking with your restaurant's staff you might gain a critical qualitative insight that would have otherwise evaded you. Lending a consistent ear also develops trust, comfort, and rapport—bonus!
2. Your staff will feel good (and so will you)
Did you know nearly 50% of workers referenced lack of recognition as one of the main reasons for quitting a job? Recognition doesn't require some big fanfare; especially for us introverted folk, a genuine thank you during a one-on-one sit-down can be just as powerful.
Of course, sometimes the feedback you'll have to give won't include a rave review; however, if you can deliver this information clearly and respectfully, and follow up with a plan of action, your employees will know you still have their best interests at heart. A better employer-employee relationship means more employee motivation and commitment, so it's a win-win!
3. Employee satisfaction has a positive impact on your business
When employees feel included and understood, everyone wins. Employee satisfaction has been linked to increases in productivity, sales, and company culture. We also know that a healthy workplace culture positively impacts engagement, creating a happy and—in the case of restaurants—profitable cycle.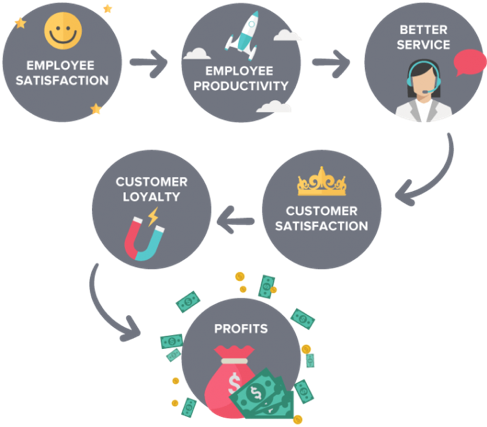 How to conduct employee annual reviews in your restaurant
Before we delve into the specifics, let's first talk about the necessary pre-work. Remember how I mentioned employee evaluations are a year-round affair? One half-hour meeting once per year won't cut it, and this is where career path planning and one-on-one meetings come in.
We now know there's an inverse relationship between development opportunities and turnover rates: the fewer the opportunities, the higher the turnover. Setting aside time to discuss your employees' plans and ambitions for the future, and supporting that with resources, tools, and training shows you care and gives added incentive for that staff member to stick around.
One-on-one meetings are essentially a mini version of an annual review (which we'll detail in a minute), but with a greater focus on the day-to-day stuff (workload, policy or menu changes, etc.). How often you schedule your one-on-ones is up to you, but I suggest striving for a monthly check-in. With the right restaurant time management strategies, this is totally achievable.
Oh, and let us not forget the importance and value of on-the-spot recognition. Offering genuine, specific, in-the-moment praise creates a recognition culture that will ripple throughout your restaurant.
Here are four helpful tips to keep in mind when your next employee annual review season rolls around:
1. Come prepared
It's your responsibility to be collecting performance data all year long (not just in the days leading up to the big review). Typically, annual reviews include three kinds of evaluations: self, peer, and management. And the job doesn't stop at data collection, either. Carefully analyze the data for patterns and outliers, and put together a list of talking points to ensure the review runs as smoothly and efficiently as possible.
2. Balance feedback and goal setting
Going in with an agenda will help keep you and your employee on track. You're not there strictly to discuss performance over the past 12 months—this is also when you should be talking about goals (and what actions can support those goals) for the year ahead.
3. Keep cash out of the equation
Because financials tend to consume conversation, an annual review is neither the time nor the place to discuss compensation. Of course, employees might broach the topic (after all, it is a safe space you're creating), but careful not to let the lines get too blurry.
How employee reviews can impact compensation is that it gives you time to both track and review the employee's performance and growth over the past year, which can inform later compensation decisions. That way, when it does come time for a raise, the evidence of their work is already on the table.
4. Stay cool
Everyone responds to feedback differently. Depending on the employee, you might have to brace yourself for silence, anger, or even tears. But remember, this reaction has nothing to do with you as a person or an employer.
Want to read more about employee retention? We jam-packed The Employee Retention Playbook with 30 pages of tips, tricks, and free resources to help you 86 the 73% restaurant turnover rate. (Spoiler alert: we even included a handy-dandy restaurant employee evaluation form.) Best of all, it's FREE.