DISCLAIMER: This content is provided for informational purposes only and is not intended as legal, accounting, tax, HR, or other professional advice. You are responsible for your own compliance with laws and regulations. You should contact your attorney or other relevant advisor for advice specific to your circumstances.
After a tumultuous two years for restaurant operators, new challenges continue to have disproportionate effects on the restaurant industry.
Navigating food inflation and ongoing restaurant labor shortages have operators continuously putting out fires — only metaphorically we hope.
On top of these macro trends, operators must also contend with an increasingly dense tech ecosystem of apps, tools, and services all competing for their attention.
In an already low-margin industry plagued by rising costs that are driving profits even lower, how do determine which investments will have the biggest impact with the smallest investment?
Read on to see how balancing investments in restaurant occupancy and menu profitability can help positively impact your bottom line.
Why is Occupancy so important for restaurants?
Boosting your restaurant occupancy is essential to increasing revenue and growing your profits. There are tons of avenues to achieve increased occupancy — most are easier said than done, especially if you don't have the right systems in place.
Start with your current reservations system. Does it provide an easy way to visualize the tables you're not filling? Or it's just designed to help you manage the tables you already are filling?
"Operators know that if a table sits empty they are losing money," says Utku Martin, General Manager of A La Turka in NYC. "But most operators struggle to visualize their empty seats and actually do something about filling them at specific times, since their current tools don't give them an easy way to do this."
On top of that, there simply aren't many easy ways to get more butts in seats when you need them. Restaurant marketing tactics — such as ads, loyalty, and email marketing strategies — can work, but they can also be time-intensive, expensive, and difficult to attribute.
This context has led many restaurant operators to accept regularly occurring slow days as inevitable. Subsequently leaving them to rely on busy days to even out the week and hit those top and bottom-line targets.
It doesn't have to be this way. Low occupancy should never be an expectation. Here's why:
New easy-to-use strategies and tools enable operators take control of occupancy, helping turn slow days into busy days while boostings sales.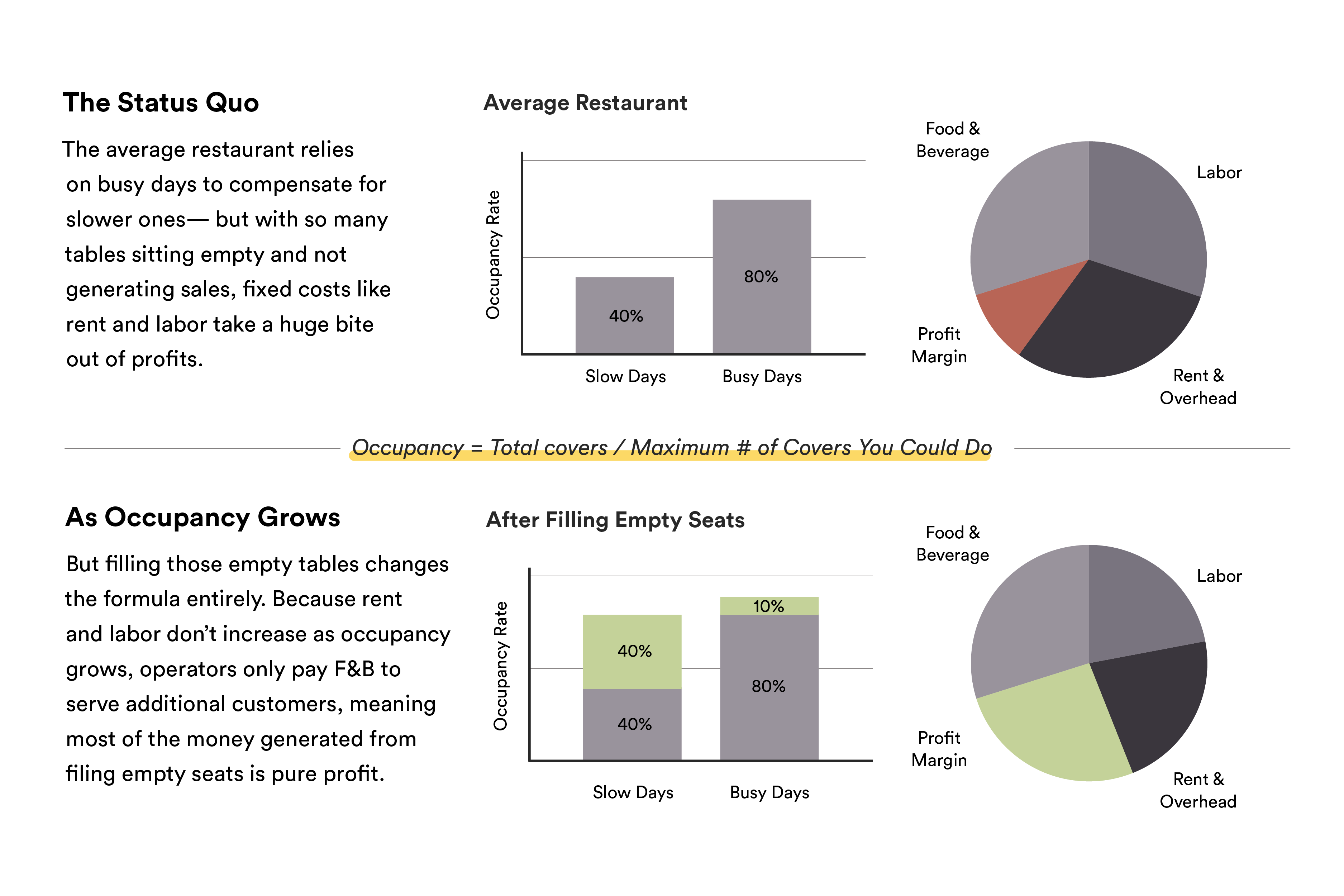 Seated can help enable restaurants to take control of their daily occupancy.
Occupancy: The new key metric for restaurant operators
As soon as you realize you do have full control over increasing your restaurant's occupancy and maximizing your current occupancy, you'll start to understand how important this seemingly simple metric is.
Your tables are your main asset. The incredibly high cost of just opening your restaurant's doors every day — whether you can seat one guest or 100 — makes it important to fill and turn as many tables as many times as possible.
Take a look at the difference it can make to improve occupancy by filling just a few more empty seats each night…
Restaurant Marketing Plan
Create a marketing plan that'll drive repeat business with this customizable marketing playbook template and interactive calendar.
Download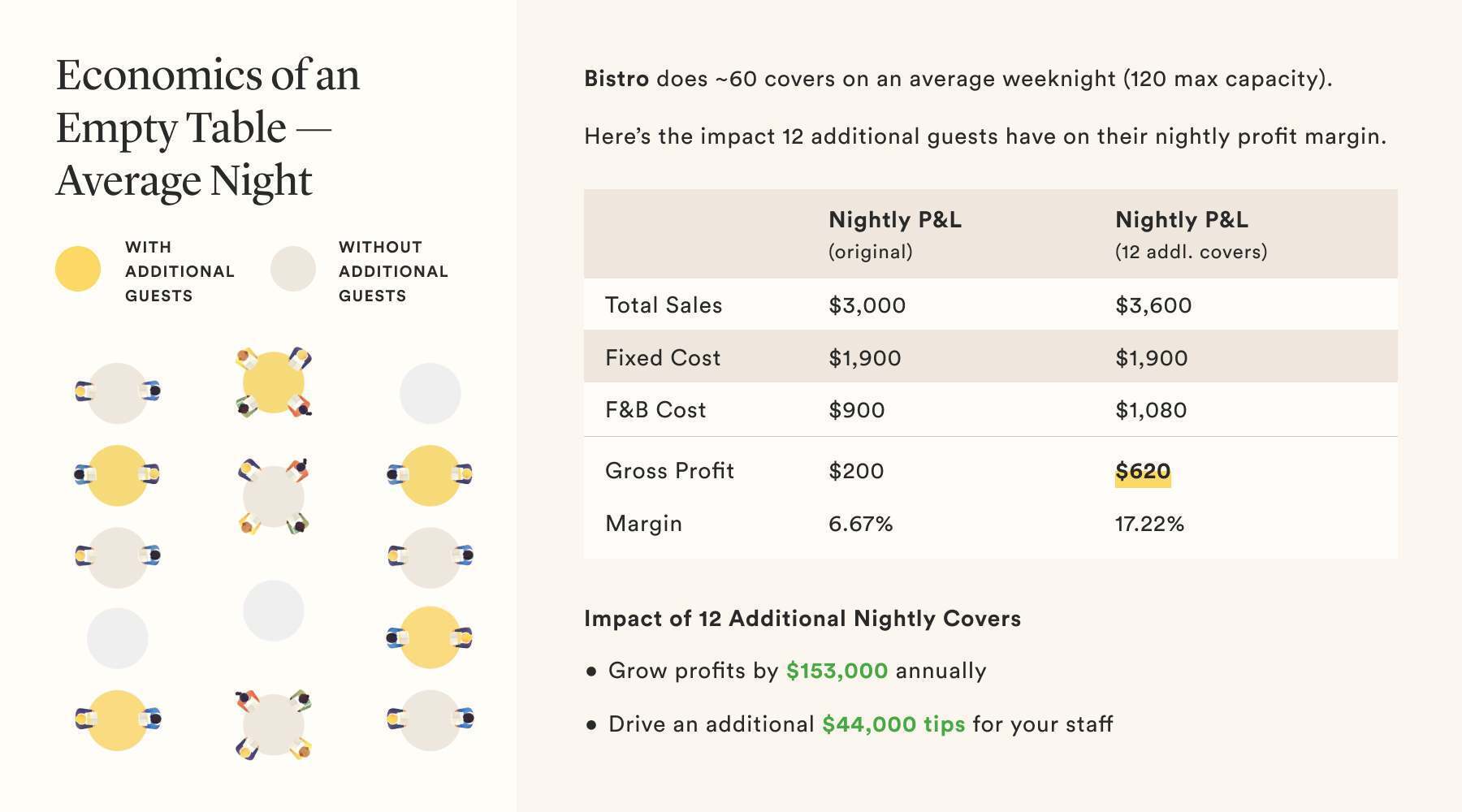 Seated can help operators fill their empty seats day after day, service after service.
So, how do you get more butts in seats and get more out of each seat you fill?
How to MAXIMIZE your restaurant's occupancy
The restaurant industry has relied on the same marketing strategies for decades, many of which are simply neither feasible nor effective for most operators.
Paid ads: Difficult to track and requires significant financial investment

Email marketing: Time-intensive and requires a large list

Happy hours: Focuses on slow times but doesn't specifically target new customers
If you don't have a dedicated marketing team with a large budget, how can you actually get more people in the door when you have empty seats?
There are modern strategies that restaurant operators can easily employ to start getting more butts in seats during slower times:
1. Use an Occupancy Management Tool like Seated
Occupancy Management tools like Seated are a new way for operators to easily target and fill their empty tables with zero operational changes, staff training, or new technology to manage.
These tools enable restaurant operators to identify their slower times, market those empty tables to diners in their area, and effortlessly fill those seats without changing anything about their operations and without discounting.
You can use a free tool like the Restaurant Occupancy Calculator to see how much potential profit you're missing out on each night by not filling your empty tables, and then start filling those tables (and growing profits) with a tool like Seated.
2. Capture valuable guest data for remarketing
It is much easier to get someone to dine with you again than it is to acquire a new customer, so it's crucial to ensure that you're capturing basic info like email and name for every single guest who walks through your doors.
Knowing who your customers are and being able to dynamically market to them after they leave is one of the most important evolutions in restaurant marketing.
Use QR codes for menus and contactless ordering so guests can view your menu, place an order, and opt in to provide email address for marketing
Use QR codes for payment at the end of the meal to collect more emails from customers who didn't previously opt in
Make sure your reservations and online ordering systems are set up to collect email opt-ins
Finally, use a simple restaurant CRM (such as Toast) to aggregate and manage all guest emails in one place.
3. Invest in a loyalty platform and market creatively
Once you start gathering guest data, leverage a simple marketing tool like Toast Loyalty to set up automated email marketing campaigns to engage and reward your customers.
Restaurant loyalty programs are highly in-demand by consumers of all ages, making it crucial to set up your own.
Schedule automated emails every week to drive people to book on slower days.

Get online customers to dine in with targeted emails offering them incentives to try dining in your restaurant.

Give special offers (discounts, free menu items, etc.) to existing customers who come back to dine on slower days.
4. Create incentives to grow occupancy during slower times
As consumers reduce their dining expenses due to inflation, it's increasingly important to give them a reason to go out on days when they normally wouldn't—especially because those are often the days that business is a bit slower.
Focus on time-specific offers, like special menus and free drinks, for guests who visit on slow days. Promote these heavily on social media and email.

Offer time-limited menus that are only available on slower days (Toast Menus is an easy way to create time-specific menus) – this could be anything from a veggie-focused menu to a new high-margin prix fixe menu

Host special events that are interesting enough to get people out of their homes on a weekday (live music, etc.)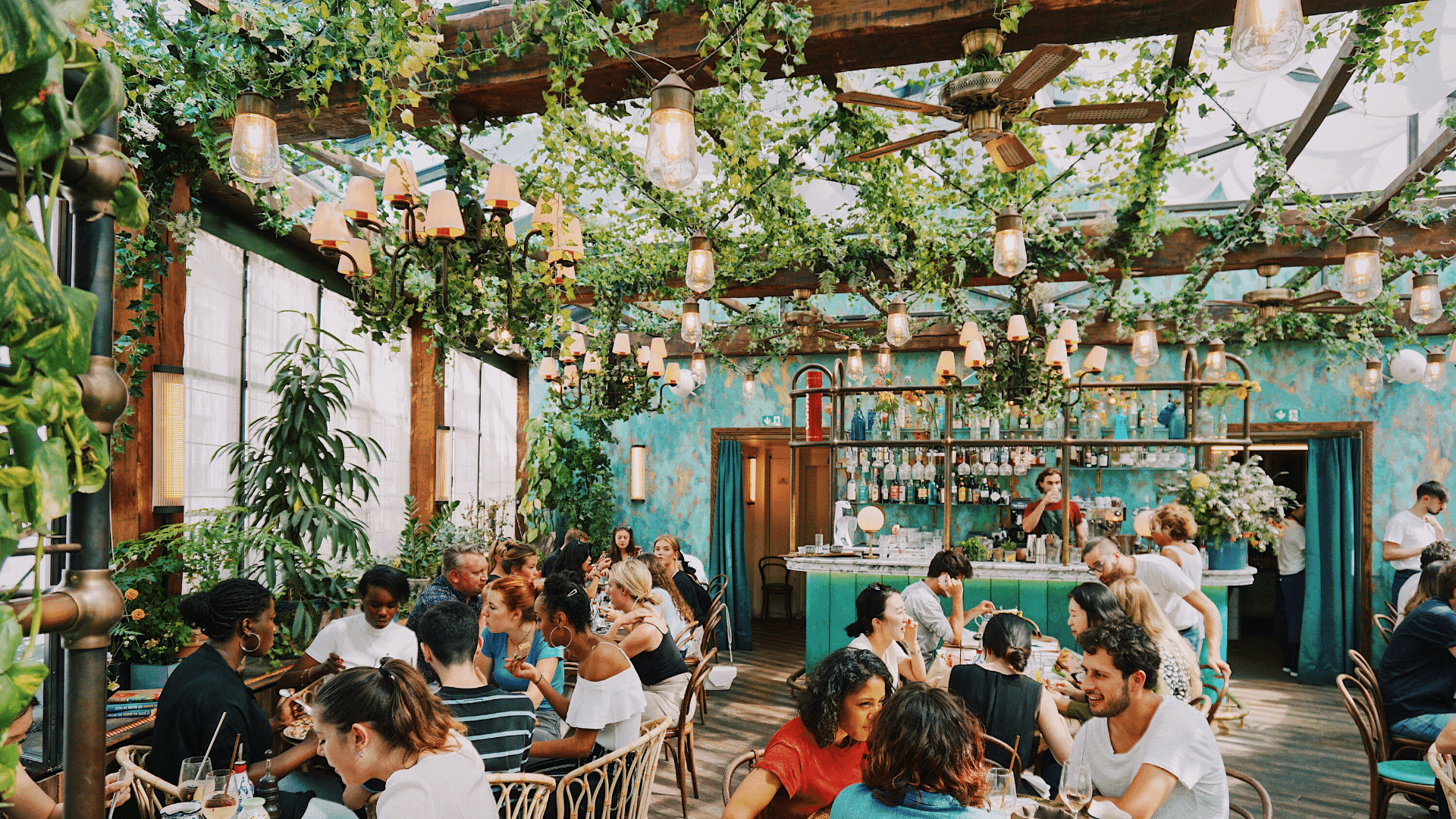 Leveraging simple tools like Seated and Toast to fill empty seats can help boost revenue.
Once you start filling tables, here's how to ensure you're optimizing the value of every seat…
How to OPTIMIZE your restaurant's occupancy
Restaurant operators have two ways to optimize the value of each occupant:
1. Increase revenue earned from each occupant
2. Decrease the costs required to serve each occupant
Increasing your revenue means more sales — achievable through raising menu prices, boosting the average items per ticket, and simply serving more customers.
Decreasing your costs primarily means lowering labor and/or food costs. These two distinct cost buckets are known as your prime costs — highly variable costs that are controllable with the proper tools and procedures.
Let's go a bit deeper into strategies and systems that can help restaurants increase revenue and decrease costs.
Increase revenue via guest-driven experiences
Smartphones are everywhere. Restaurant workers are not…
With that in mind, what if restaurant operators could:
1. Level out some staffing challenges
2. Empower guests with more control of their dining experience while boosting sales
Sounds too good to be true until you dive into Toast's New Steps of Service. The idea behind the New Steps of Service is simple — the old steps of service simply aren't cutting it.
There's no reason to offer a burdensome server-centric experience. One where every order placed or tab paid must rely on a server being physically present — moving back and forth from table to terminal.
It's archaic. It's difficult to staff. And it may fall short when it comes to maximizing revenue from each occupant.
The New Steps of Services lets guests control their dining journey via:
QR codes for mobile ordering and paying

Kiosks for self-service ordering and customizations (modifier upsells!)

Handhelds that literally put the power of a POS in the server's pocket — equipping them to take and send orders and complete payments from wherever they are on the floor
From a hospitality standpoint, the New Steps of Service can actually increase the quantity and quality of guest interactions.
Rather than a server trying to remember orders, they're chatting about the menu and specials. They can touch every table as often as needed because they're on the floor rather than needlessly hustling back and forth to a terminal.
From the guest perspective, they can pace their food order, keep drinks coming, or order and close out immediately. The entire menu is at their fingertips, including the modifiers and add-ons that let them customize their order while raising the tab.
If you're interested in a deep dive on Toast's New Steps of Service, our new video learning course shows it in action. And our New Steps of Service ROI Calculator can quantify potential impacts on your labor costs and operational efficiency.
Restaurant Profit and Loss Statement Template
Evaluate your restaurant's financial strengths and weaknesses with the free P&L and income statement template.
Download
Boost margins with consistent, data-driven cost control
Increasing overall revenue is a powerful lever for boosting profits. It's only half of the picture though. As Nina Quincy, director of operations at Underbelly Hospitality says,
"Revenue buys forgiveness. If you're a $6 million restaurant, there's a lot of forgiveness in those numbers, but when you're now a $1.8 million, oh man all of your flaws are glaring."
Insert cost control — the other lever you can pull to boost your profits. We're specifically focused on restaurant prime costs, or food and labor costs. Here are a few tactics to wrestle control of food costs:
Be intentional and precise about what's on the plate
How do you set menu prices? Which menu items are your biggest profit drivers?
Plate cost calculations enable restaurant operators to zoom in on cost and profit margins for individual menu items. Plate costs are typically the culmination of multiple recipe costing exercises, which provide a cost breakdown of every item on the plate — making it easier to hit profit targets by balancing ingredients, portion, and price.
Making the hard decisions to optimize your menu
As restaurant operators continue navigating the ongoing food inflation, they may run up against some tough decisions.
For example, Underbelly Hospitality received tons of recognition for their wings, which included traditional buffalo style as well a PB&J, tiger sauce, and nước chấm chicken wings. Famous!
Then rising food costs made the wings untenable. Nina Quincy and the UBH team saw chicken costs fluctuate between 30 and 40 percent. So rather than sacrifice wing quality or size, the wings were pulled from the menu.
"Initially we increased the price, and for a dozen, we were charging upwards of $20. But then the prices went up again, and the price we'd have to charge just to run it at a 35 percent cost was utterly unpalatable — so off they went."
Savvy operators are able to drill into individual ingredient price data, but it's a tedious process to do manually and an expensive one to outsource to bookkeepers. Restaurant invoice automation can cut through the manual data entry while easing the costs of processing.
Restaurant Invoice Automation Guide
Use this guide to learn more about your restaurant invoices, the value within, and how to consistently and accurately tap into it to make smarter decisions.
Download
Invoice automation is an automated tool that digitizes critical invoice line-item data. With a simple scan, snap, or upload, restaurants can consistently unlock ingredient pricing data and actionable analysis via COGS, price fluctuations, and ongoing restaurant cost breakdowns.
And there are similar actions and technologies you can leverage to take control of labor costs:
Get more efficient with scheduling
More staff doesn't always mean better service.
Too many team members and not enough work leads to complacency. This is a dangerous scenario where everyone can lose — staff members, their tips, and employee engagement, customers missing out on great experiences, and ballooned labor costs.
Restaurant scheduling software that's integrated with payroll software can help you take control of your weekly staff schedule and associated costs.
Leverage granular reporting within your payroll software
An easy-to-use payroll and team management software gives you transparency and visibility into fluctuations in your weekly labor costs, tip pooling breakdowns, payroll taxes, and deductions.
You and your managers don't have time to manually calculate individual payrolls — and you definitely don't have time to add all that up to get your cumulative labor costs. But this is a must for honing in on your labor costs.
Just like with invoice automation for food costs, scheduling and payroll and team management tools can help automate and simplify labor cost calculations.
---
Read this next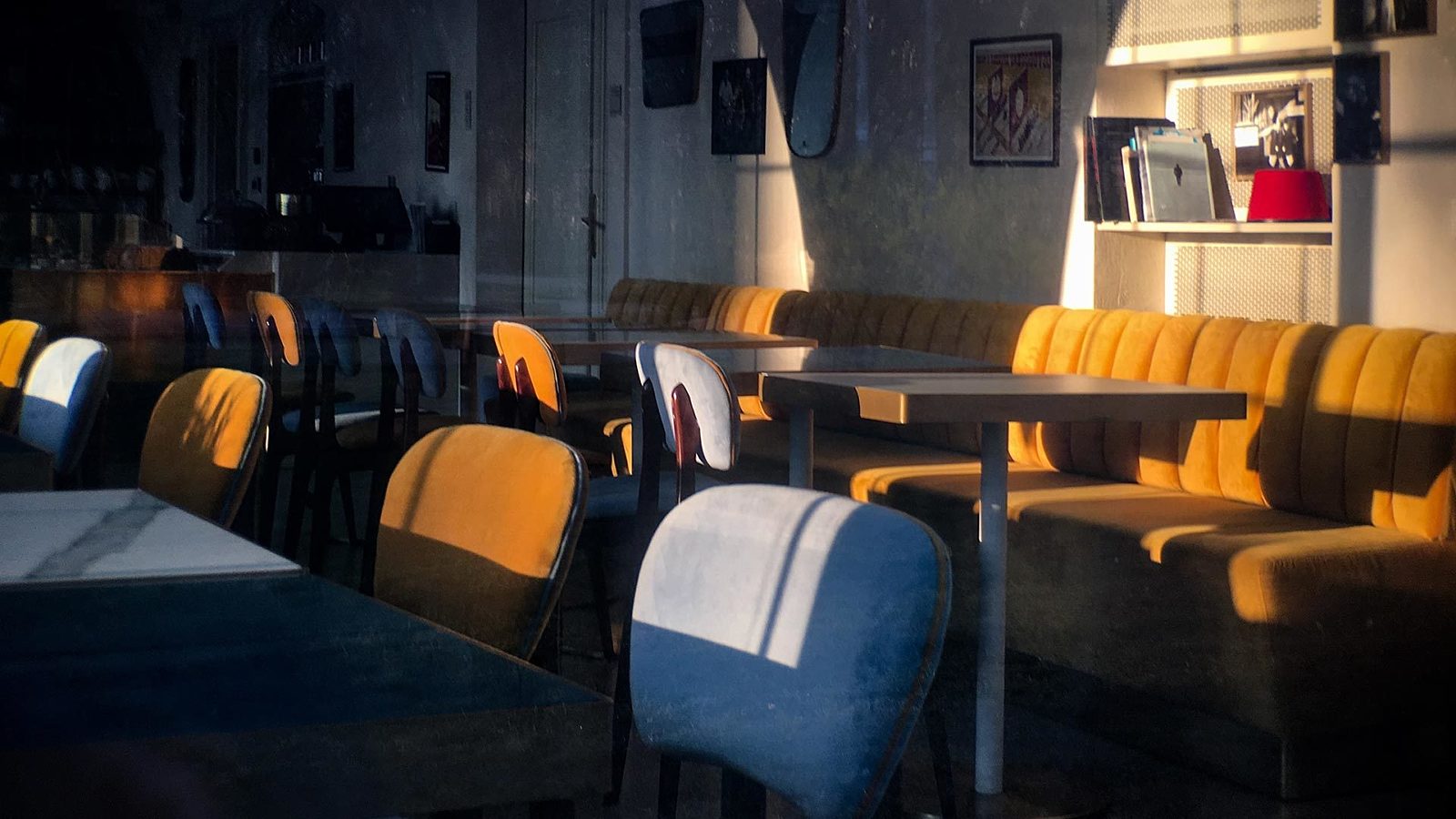 How to See Shortages as a Restaurant Staff Retention and Churn Crisis
Learn how restaurant operators can soften the blow of the larger labor shortage by combating churn and encouraging retention within their existing employee base.