Restaurant Scheduling Template
Use this online template to schedule your restaurant staff's shifts. It's responsive and can be updated on the go.
---
What's Inside?
A Digital, Shareable Restaurant Scheduling Template
Scheduling Shifts
Calculating Hours Worked
Making Shift Changes on the Fly
Being Aware of Overtime Work
Emailing Employees to Communicate Shift Changes
Keeping All Old Schedules in one Place
---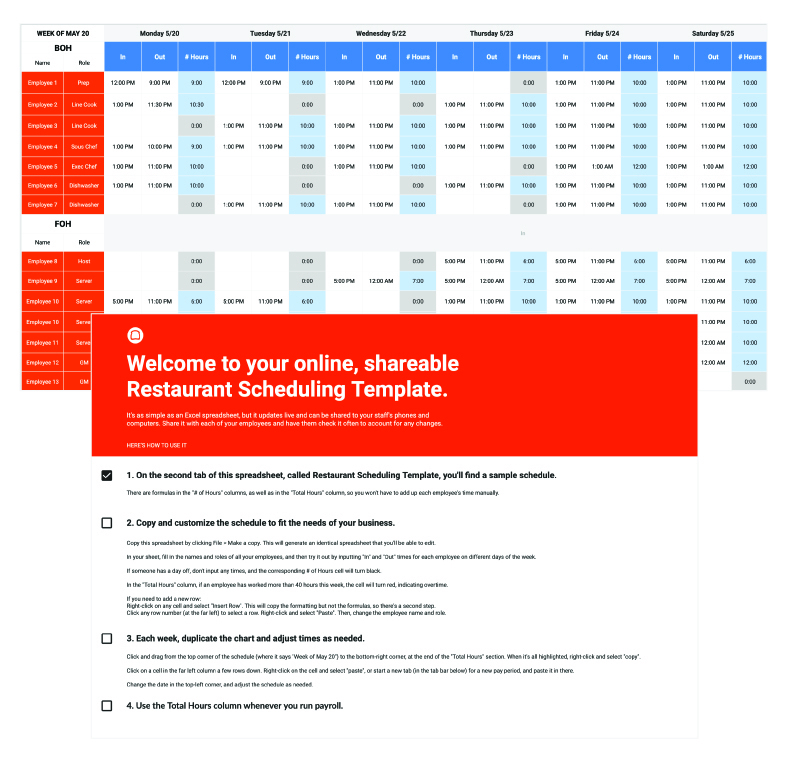 A Free, Simple Restaurant Scheduling Solution
How many times have you had an employee miss a shift, or come in at the wrong time, because they didn't look at the schedule posted in the break room before leaving their last shift?

Nowadays, restaurant workers want to be able to access their weekly schedule from home or on their phones.

With this easy-to-use Google Sheets template, every employee can have their schedule on their smartphone, and you can make changes on the fly as needed.

You'll also be able to easily see when a worker has entered overtime territory.

We've got thorough instructions on how to use this template, even if you've never used Google Sheets before.
Powered by Froala Editor