Toast's Voice of the Restaurant Industry Survey outlines restaurants' top pain points, how they are reacting to macroeconomic changes, and what's top of mind for the future.
Restaurants have been in somewhat uncertain territory in 2023 as the U.S. federal government has attempted to cool inflation, affecting everything from food expenses and services to housing costs and fuel. As restaurants navigate evolving guest demands and keep up with changing macroeconomic conditions, they're proving resilient and clever in optimizing their businesses, using tools and new technologies such as integrated online reservation software, digital ordering suites, ingredient price tracking, and more.
To better understand how restaurants navigate the current climate and their priorities for the future, from May 26, 2023 to June 20, 2023, Toast polled 8471 restaurant decision-makers for its annual Voice of the Restaurant Industry Survey. Below is a summary of the top challenges these restaurants face in 2023 — from inflation to hiring challenges and guest throughput — and how these businesses are reacting to those challenges and planning for the future, all based on the survey responses. Insights from this survey are directional and should not be interpreted as precise. Download our Restaurant Operator Insights Report for a deeper dive into restaurant challenges, solutions, and technology opportunities for 2024 and beyond.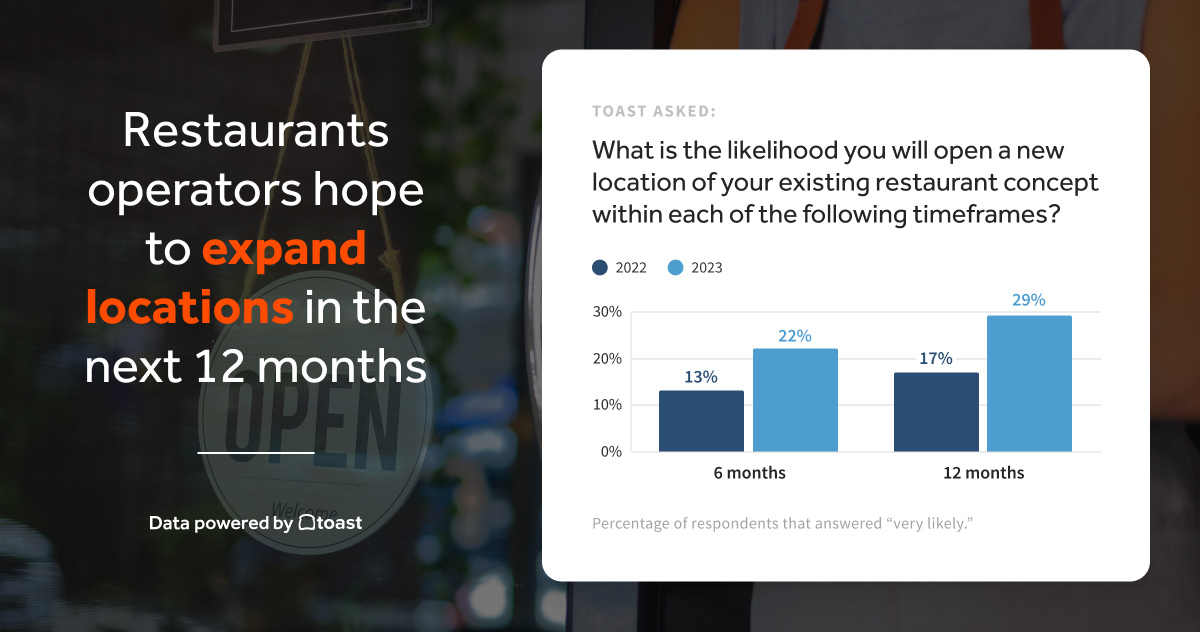 The good news is that many restaurants have a positive outlook for the future, especially compared to last year. Approximately 29% of restaurants we surveyed say they are very likely to expand their restaurant locations in the next 12 months. That's up from just 17% of restaurants we surveyed in 2022.2
While this should not be interpreted as a projection for the number of restaurants opening next year, it's positive to see that respondents have an optimistic outlook for the future of the industry.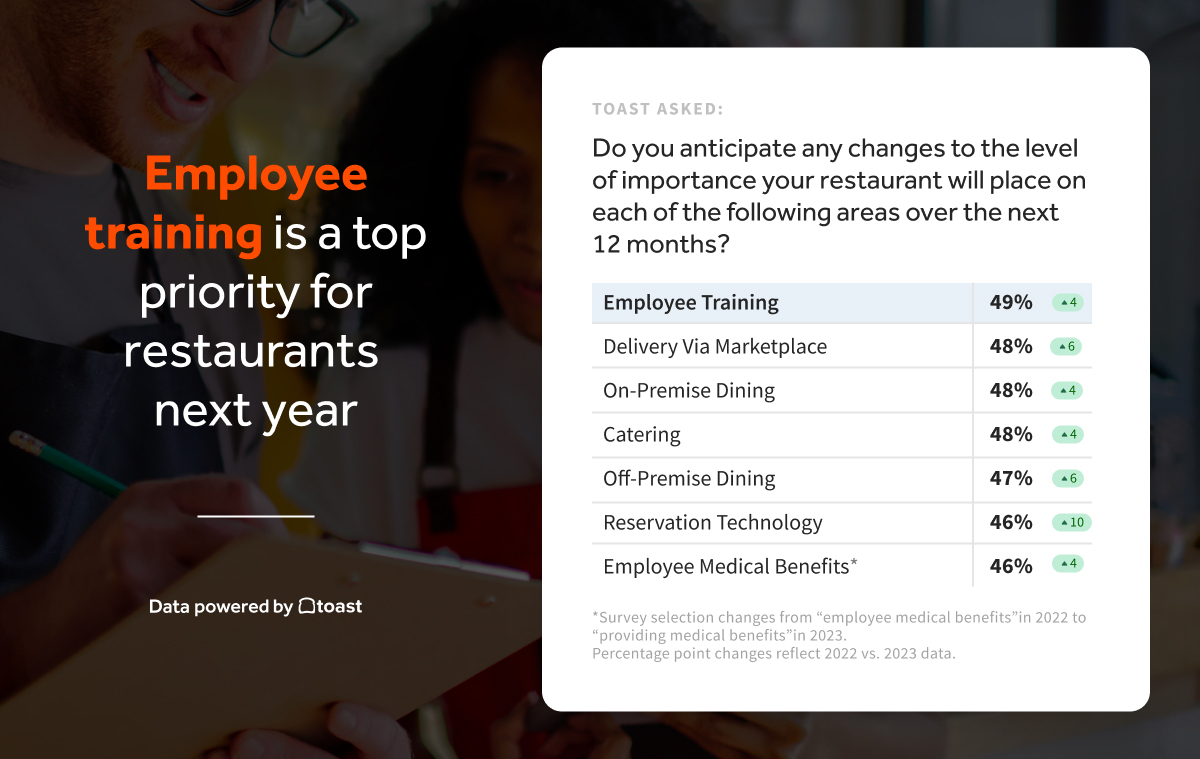 As restaurants look to the future of their business, Toast asked operators if there were any changes to the level of importance they'd place on various aspects of running a restaurant. Employee training topped the list for the second year. Additionally, operators we polled plan to focus more on revenue streams like delivery, on- and off-premise dining, catering, and managing their reservations with technology. Providing employees with health insurance also rose in importance.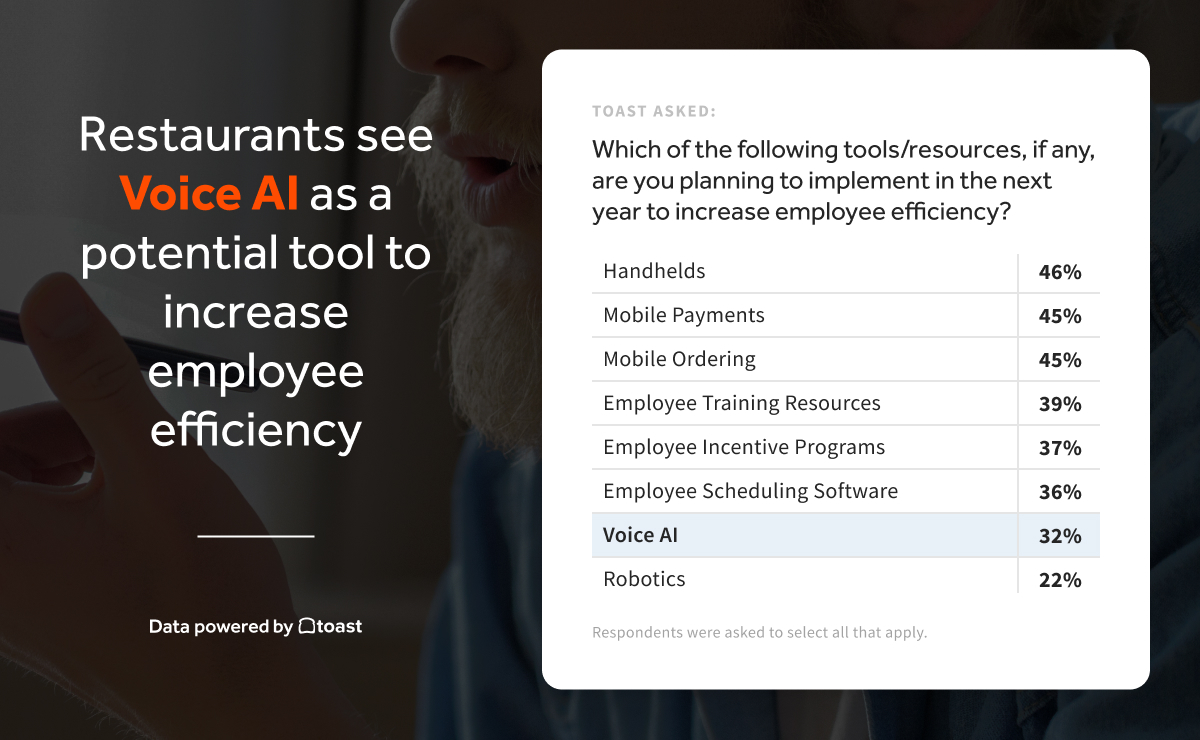 When it comes to increasing employee efficiency, restaurants anticipate turning to various technologies to help streamline their operations, including handheld devices, mobile payments and ordering, as well as scheduling software and Voice Artificial Intelligence (AI).
Voice AI has become a popular service for restaurants in recent years, allowing guests to place orders via phone or drive-through to a virtual assistant, with some offering curated menu suggestions based on what they order. Services can collect payment information and submit orders directly into a restaurant's POS system.
Voice AI services can also allow restaurants to continue taking orders when they may be too busy to answer the phone so they don't miss an order with an unanswered call or busy signal. These services can also help reduce staffing challenges and help drive efficiencies. Nearly one-in-three respondents expressing intent to implement voice AI is a good indicator that restaurants are interested in exploring new technologies as they develop.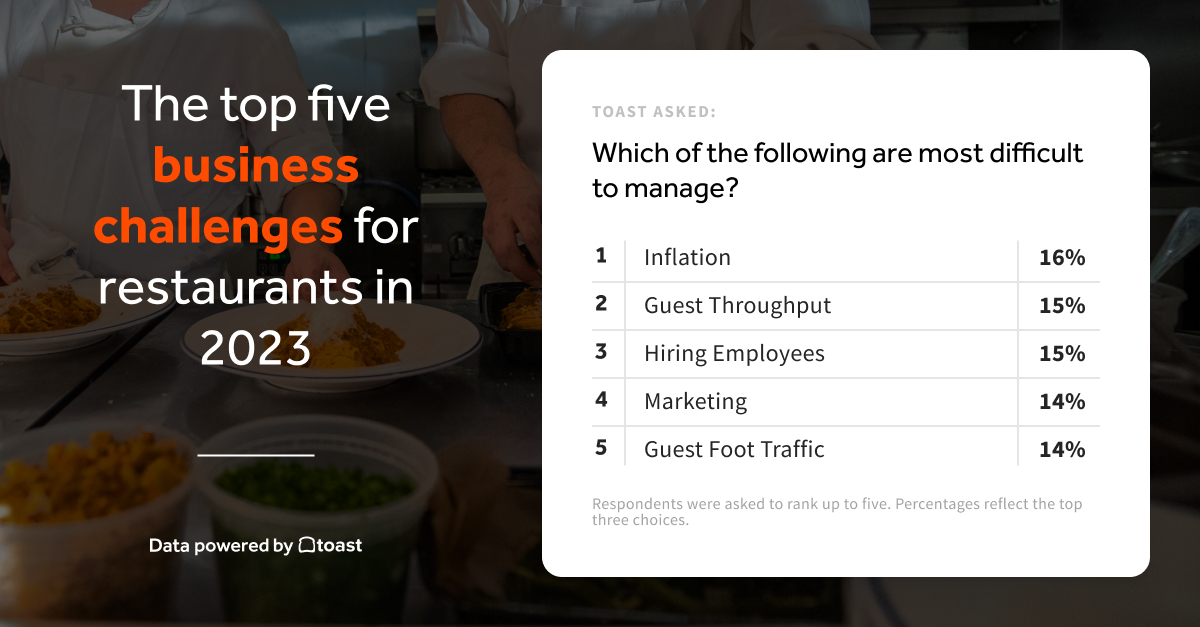 Inflation remained the top pain point for restaurant operators for the second year. However, there have been some significant improvements in inventory and employee management, which were the top concerns in our 2022 survey. In 2023, restaurant operators we polled also said they need help managing guest throughput and improving table turn time efficiency, hiring new employees, marketing their businesses, and increasing guest foot traffic.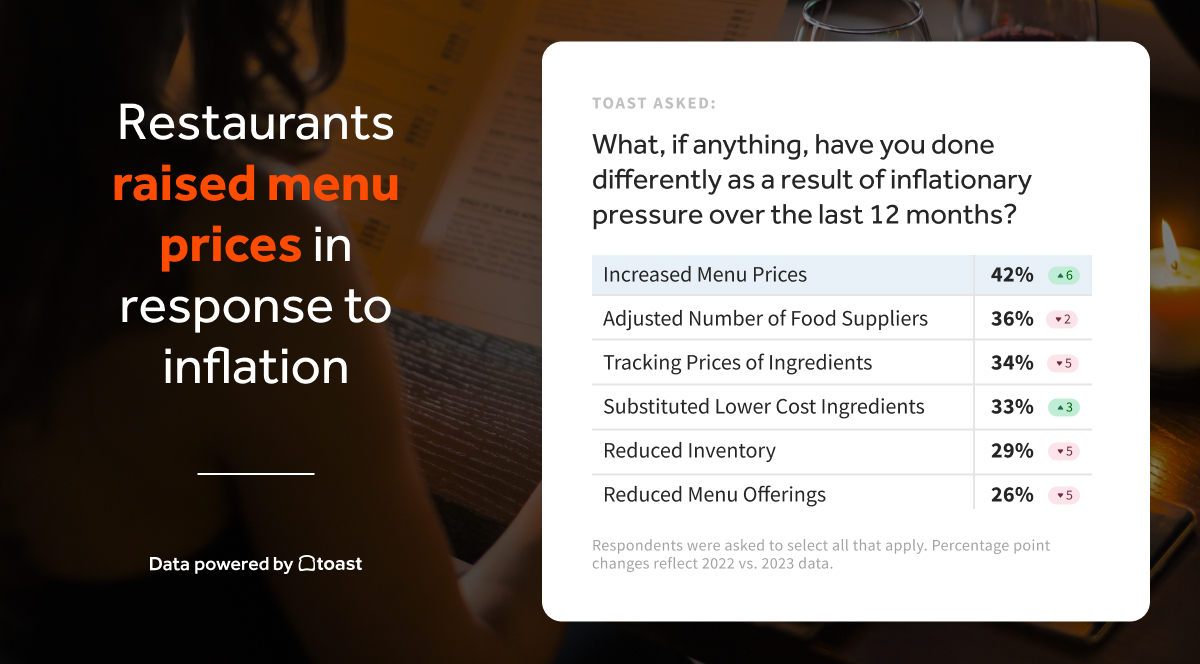 Restaurant operators used similar tactics to combat inflation in 2023 as in 2022. However, 42% of operators we polled say they raised menu prices as a reaction to inflation in the past 12 months, compared to 36% who responded to our survey in 2022. Respondents also cut costs by shopping different suppliers, tracking ingredients, substituting lower-cost ingredients, and reducing inventory and menu offers.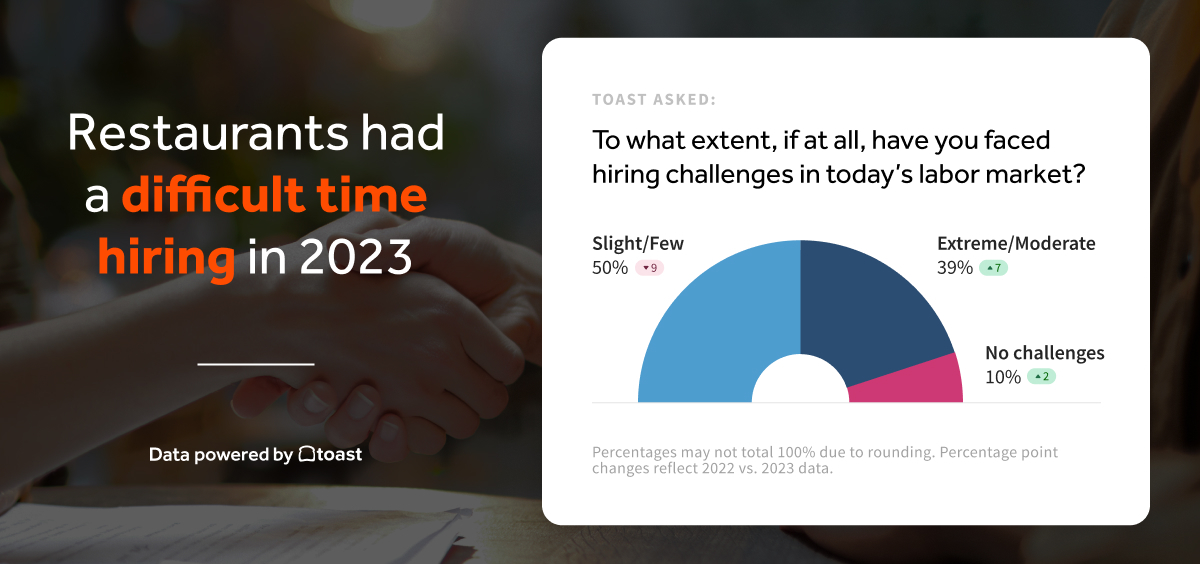 Hiring appears to remain a significant pain point for restaurant operators in 2023, as 39% of respondents said they had extreme or moderate difficulty hiring this year. That's up from 32% of those we questioned in 2022. Full-service restaurants with a GMV (gross merchandise volume) of less than $500,000 annually had the most challenging time hiring of those restaurants who responded to our survey, with 49% of respondents saying that finding employees was difficult in 2023.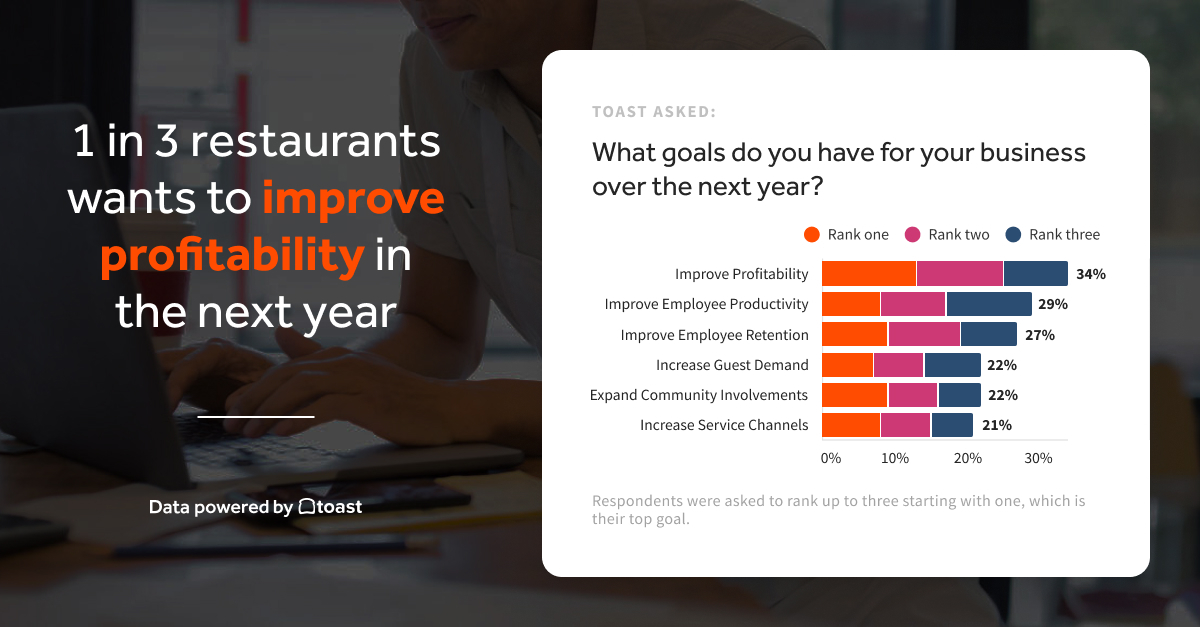 As operators assess their businesses, Toast asked decision-makers what goals they have for their restaurants over the next year. Improving profitability was most marked as the highest importance, with 34% of respondents saying their margins are their priority. Improving employee productivity and retention were also important goals for many restaurants, as well as guest demand, which all can affect a restaurant's bottom line. However, showcasing how important restaurants are to our local communities, 22% of respondents hope to expand their community involvement in the next year.
In addition to Toast.org, the company's social impact arm that aims to enrich the food experience for all, Toast recently launched Toast Fundraising, which allows restaurants to pick their favorite nonprofit to support and gives guests the option to round up their check to the next dollar and donate the difference. To maximize impact and contributions, this can be surfaced to guests on several Toast products, including Toast Flex terminals, Toast Go™ 2 handheld devices, Toast Online Ordering, and the Toast TakeOut app.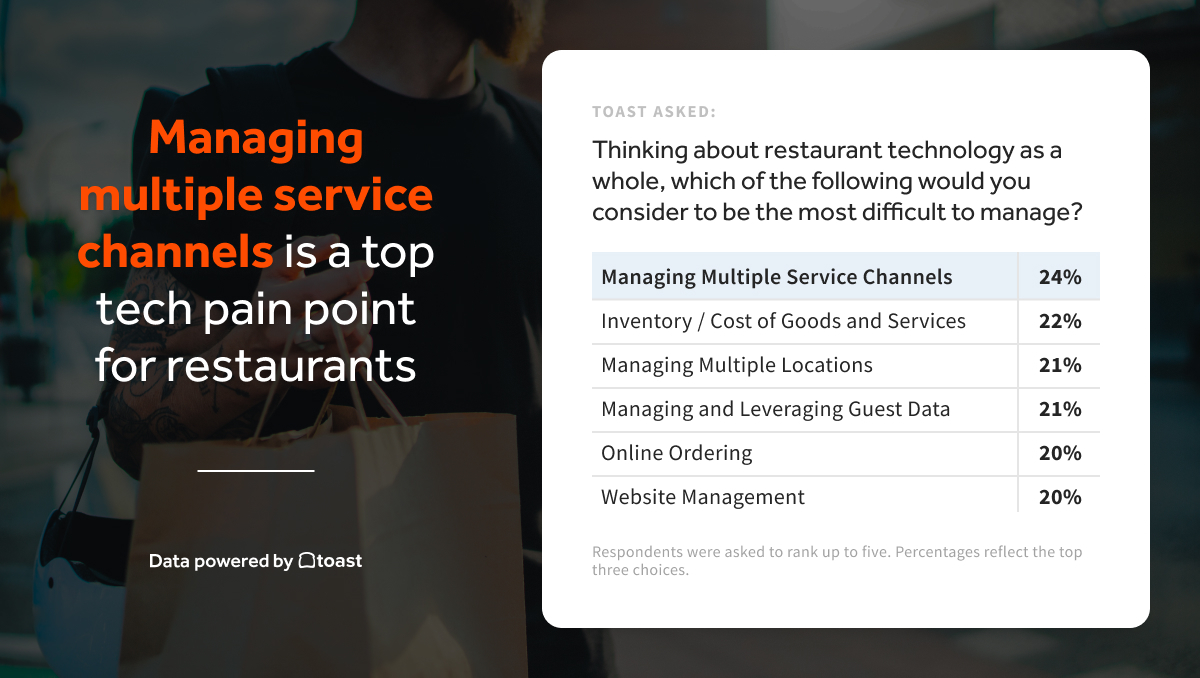 In terms of technology, restaurant operators say they are having the most difficulty managing multiple service channels. Thankfully, an all-in-one system that integrates multiple service channels into a single screen like Toast can help alleviate the pain points with third-party service channels. Other difficulties, such as managing inventory and cost of goods sold (COGS), managing multiple locations, leveraging guest data, online ordering, and managing a website can also be alleviated with an all-in-one solution like Toast with features such as Toast Online Ordering, and through integrations like xtraCHEF by Toast that can help control a restaurant's bottom line.