Business Plan for Ghost Kitchens Guide
Ghost kitchens and virtual brands focus on producing restaurant-quality meals specifically for delivery. Customers want more convenience than ever, and ghost kitchens are filling the market gap with innovative delivery-only concepts.
Many restaurateurs are eager to take advantage of the lower overhead that comes with operating without a front-of-house. But since customers can only interact with your restaurant online, it's more difficult to make a connection. Ghost kitchens have to invest in online marketing, and partner with sometimes costly third-party delivery services.
Every great business starts with a vision, and your ghost kitchen business plan will act as the guidebook for the restaurant's operations. This detailed guide will help you get a jumpstart.
Why You Need a Ghost Kitchen Business Plan
A business plan provides an organized and in-depth look at the operations of your restaurant, and helps you to translate a passion for restaurant-quality delivery into a fully-realized business.
And when it comes to securing financing, business plans are critical resources. They help restaurants to pitch new ideas to potential investors. Most businesses require some startup capital in the form of a personal loan or investment. Your business plan is your ticket to meetings with lenders, and prepares you to answer all of their questions about the viability of the business.
How to Write a Ghost Kitchen Business Plan (Description, Examples, Proposals)
Crafting a business plan takes research and creativity just like any writing project. You can download a customizable business plan and use this article to fill in the details of your ghost kitchen business.
Luckily, this fully customizable restaurant business plan makes it easy to figure out how to organize all the brilliant ideas you have for your ghost kitchen. Read to the end of this article for writing advice about how to approach writing your plan and present it to potential investors or partners.
Restaurant Business Plan Template
No matter where you're at in your restaurant ownership journey, a business plan will be your north star. Organize your vision and ensure that nothing is overlooked with this free template.
Get free download
Elements of A Ghost Kitchen Business Plan
Executive Summary
Start with a concise introduction to the business model and concept of your ghost kitchen. An executive summary introduces key elements of your business plan, such as the business's mission and goals, a coherent brand, and an overview of the budget.
Think of the executive summary as the hook – how will you get the reader's attention and convince them that your business is a good investment?
Company Overview
The company overview is a glossary for the rest of your ghost kitchen business plan. It complements the executive summary, to provide readers with the context they need to fully understand your plans.
In the company overview, you'll outline the structure of your business, define the product and tease the menu, and detail your vision for how your restaurant will interact with customers. This section also introduces labor and hiring, hours of operation, location, and capacity.
This is your chance to really impress the reader with the goals and vision of your restaurant. Use this section to paint as clear a picture of your brand as possible, including logos, branding and marketing materials, and the company's mission.
Team and Management
A restaurant can't operate without staff. The team of your ghost kitchen might be just a couple of people at first, but this section will detail how you'll approach hiring, human relations, and staffing needs at all stages of the business.
It's good to signal that you're thinking about the details of what it takes to run a restaurant, and cooks are the heart of a ghost kitchen. Make detailed plans for the staff you'll need to run smoothly. Include information about the management structure for future expansions of the concept.
Include information about the training plan for new staff, how many full-time and part-time employees you'll need, and what benefits you plan to provide.
Sample Menu
In this section, provide details about how you're optimizing signature dishes for delivery. A sample menu gives you the opportunity to write about the logistics of how you'll produce and deliver your menu to customers.
The popular ghost kitchen concept WowBao focuses on a simple menu that can be produced in almost any commercial kitchen. That's because they use minimal equipment.
The sample menu is about more than the food you'll produce – it's about convincing your investors that your business can produce an in-demand product with quality and consistency. Convince readers that your business can survive inconsistent supply chain and labor markets.
Market Analysis
Investors will typically ask about three core aspects of the market: location, target consumer, and competition.
For a ghost kitchen, the location of your stores and target market are closely related. Delivery is only profitable in a certain range around your restaurant, and third-party apps have limited delivery ranges. Many ghost kitchens operate hybrid business models to cover more (and sometimes a lot more) areas. It's important to establish kitchens in locations where customers are interested in your product.
The path your business will take to reach its sales goals and become profitable will be really important to your investors, so it's important to communicate that path clearly with a market analysis.
Marketing and Publicity
Ghost kitchens can't just howl into the night and expect orders to start pouring in. They use aggressive online and social media marketing campaigns to spread the word, and keep customers interested in their delivery-only brands. Your customers will interface with the brand exclusively online, so a cohesive and user-friendly online campaign is the only way to reach them.
Be prepared to spend on social media marketing – while social media outlets are great at letting you target the exact market you serve, it can be costly to do so. Remember to factor these additional expenses into the financial plans for your ghost kitchen.
Write about the loyalty programs and incentives you'll offer to create regular customers. In traditional restaurants, relationships with staff are often what keep guests coming back. Ghost kitchens have to be purposeful about generating goodwill and creating repeat customers.
Business Operations
The operations of your business—from the daily grind to the long-term plan—should be outlined clearly in this section. Include information about the third-party delivery apps your ghost kitchen will partner with.
Information about sales, inventory, accounting, and management software and point of sale should also appear in this section. Describe how your restaurant will run, from the flow of a shift to the long-term sales goals.
Sales Forecasts and Operating Expenses
Conduct an analysis of the cash flow of your ghost kitchen, to make educated projections about the potential profit and loss of your business. You might make a timeline of when your restaurant should become profitable, projecting sales, prime costs, and revenue for the first few years.
Financing and Loans
While ghost kitchens require less space, equipment, and capital to get up and running than traditional restaurants, they still need startup funds and contingency funds, such as:
Personal Loans

Loans from private investors

Friends or family funds

Merchant cash advances

Small business administration (SBA) loans

Commercial real estate loans

Equipment Financing

Purchase order financing
In your business plan, create a clear picture of how the different sources of funding combine on your ghost kitchen's path to profitability.
Account in detail for how you will allocate startup investments and the risks of the business, and the contingency funds necessary to mitigate them. Consider how the prices of food, salaries, and maintenance balance at the end of each fiscal quarter.
Restaurant Business Plan Template
No matter where you're at in your restaurant ownership journey, a business plan will be your north star. Organize your vision and ensure that nothing is overlooked with this free template.
Get free download
---
Read this next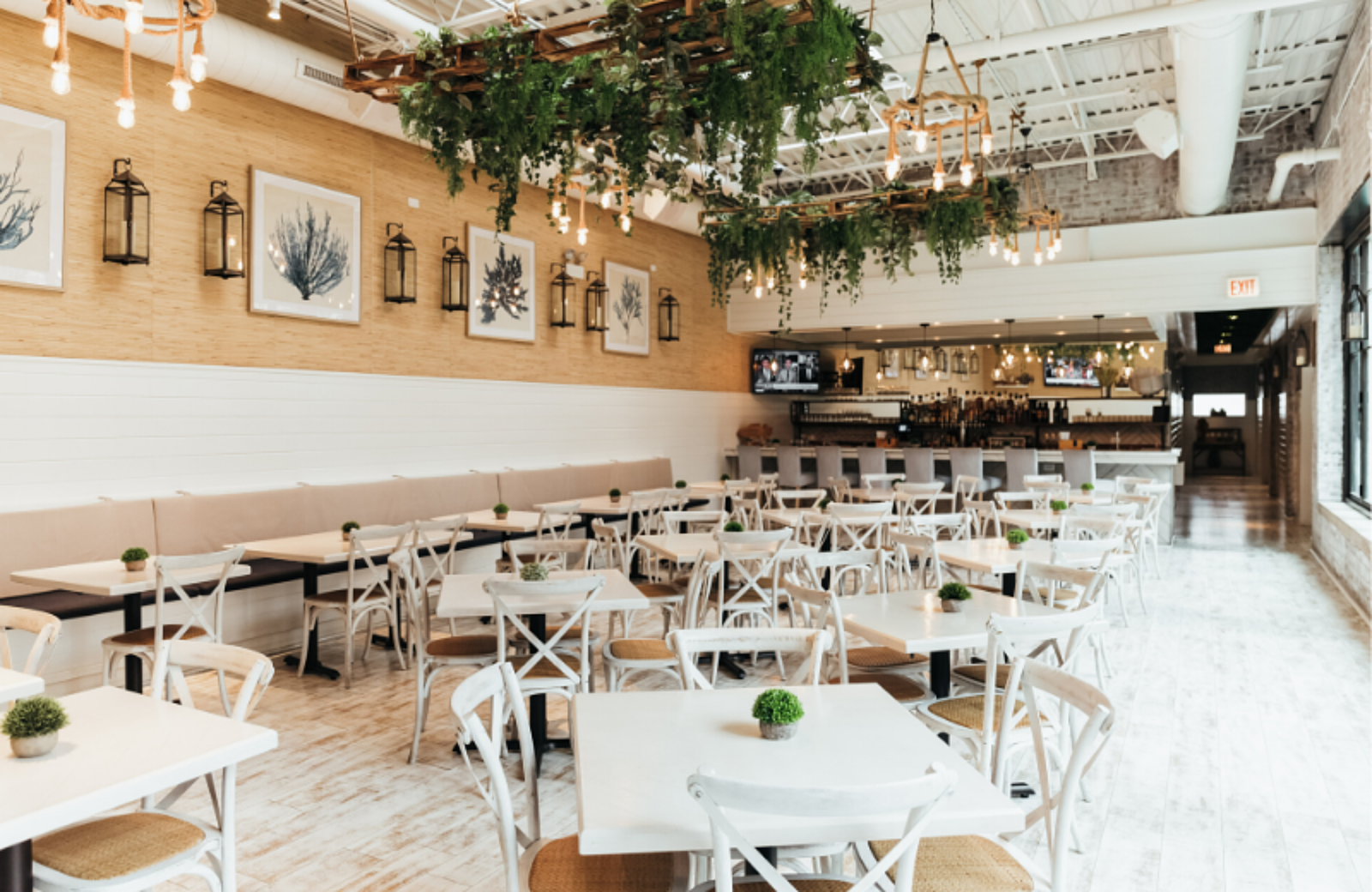 The Complete Guide to Restaurant Financing and Loans
Whether you're opening a new restaurant, expanding your concept, or renovating within your existing four-walls, you're going to need capital to make it all happen.
How to Present your Ghost Kitchen Business Plan
This final portfolio will help you communicate clearly with investors about your business plan. It has all the info your investors and potential partners will need to make decisions about the risks and rewards of your business.
Websites like Canva are perfect for creating professional quality digital portfolios. A digital portfolio is a perfect tool to show partners, investors, and banks that your concept is solid and that you have a grasp of the tech sphere that ghost kitchens are a part of.
Sign up for local networking events and webinars to get advice from industry professionals, and importantly, meet other entrepreneurs who are willing to invest in new projects. Ghost kitchens aren't for everyone, but rejection is part of the game. You can't hear a yes until you hear your first no.
Once you secure a meeting with a potential investor or partner, prepare a personalized presentation with the details of your business. Have a 30-second elevator pitch ready to reel people in. You might not get much time, but the right pitch will leave investors wanting to know more.
It's wise to prepare answers to potential questions so you're ready to field them. Demonstrate to investors that you really know your brand, and understand exactly how all the parts fit together.
DISCLAIMER: This content is provided for informational purposes only and is not intended as legal, accounting, tax, HR, or other professional advice. You are responsible for your own compliance with laws and regulations. You should contact your attorney or other relevant advisor for advice specific to your circumstances.