DISCLAIMER: This content is provided for informational purposes only and is not intended as legal, accounting, tax, HR, or other professional advice. You are responsible for your own compliance with laws and regulations. You should contact your attorney or other relevant advisor for advice specific to your circumstances.
Fine dining is a small yet substantial part of the restaurant industry, making up about 1.5% of the total restaurant landscape. Typically more sophisticated, expensive, and unique than a regular dining experience, a fine dining restaurant remains popular among restaurant-goers, especially for special occasions and holidays. With fewer than 5,500 fine dining restaurants currently in the United States, it's a great time to open your fine dining restaurant.
One of the first steps in building your upscale restaurant is choosing a restaurant name. Your restaurant's name will be all over your branding and marketing, leading people to your business. Therefore, your restaurant name should represent your business effectively in a memorable and meaningful way.
To give you a hand in the name-generating process, we put together the four major steps of naming a classy fine dining restaurant as well as real-life ideas to inspire your concept.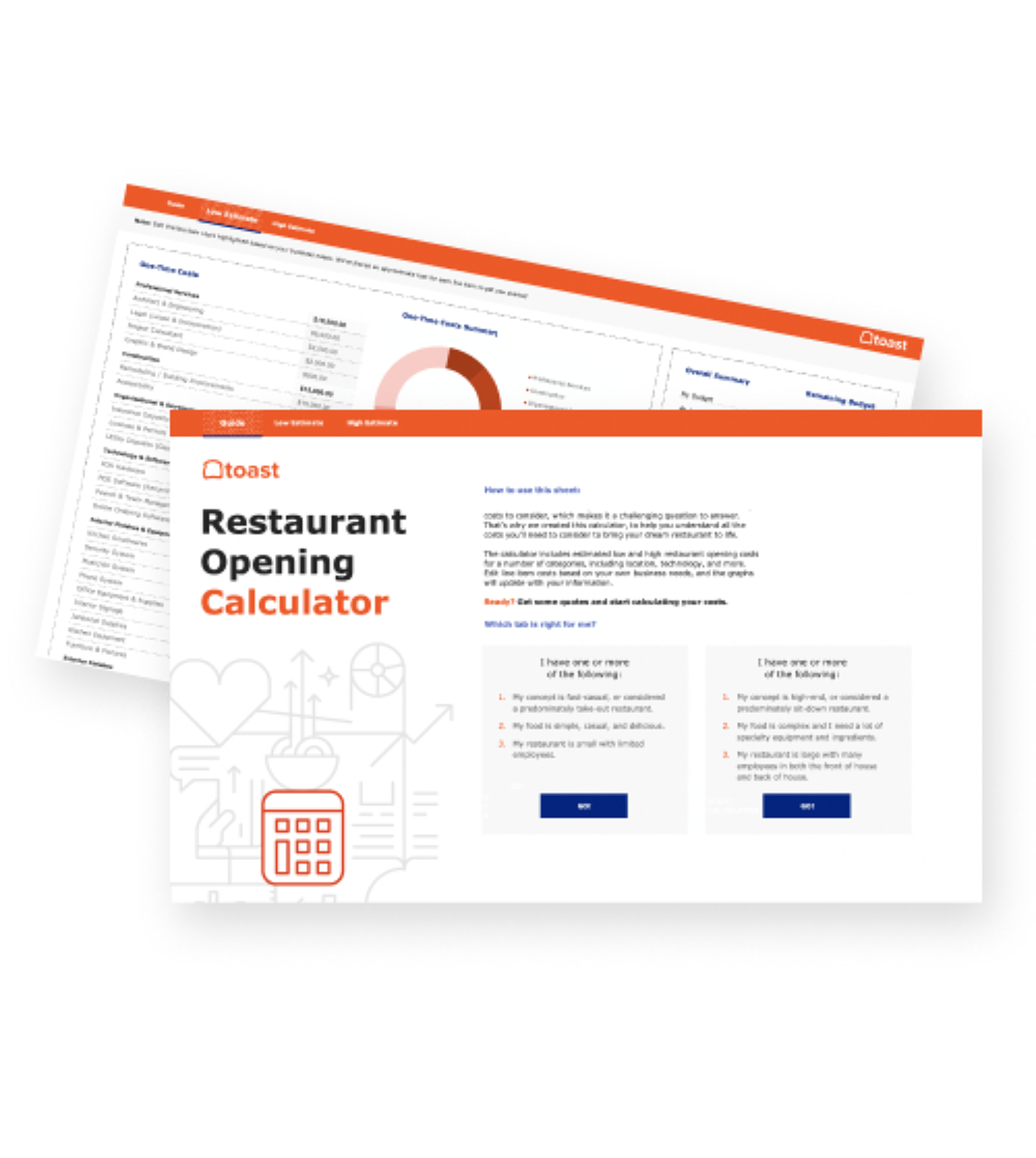 Restaurant Opening Calculator
This calculator lays out some of the fundamental financial costs of opening a restaurant, so you can start planning and bring your dream restaurant to life.
Download
How do I choose a classy restaurant name?
Here's a brief overview of how to start brainstorming name ideas so that you choose the perfect restaurant name.
Write down your vision for your restaurant, focusing on its mission and core values

Make sure your name isn't already taken

Play around with a name generator to spark new ideas

Reach out to your community for name ideas
Now, let's dive into further detail about each of these steps below (and discover some cool fine dining classy restaurant name examples too!)
What are good fine dining restaurant names?
A great name is unique to your business. It should stick in the minds of your patrons and convey a sense of your brand personality. In other words, it should show people how your business is unique.
In addition, a good restaurant name informs potential patrons of what goods and services you offer. Your name is also simple to spell and remember so that potential guests can easily find you on Google or social media.
Here are tips to get you on the path to discovering the right name for your new spot.
Write down your vision for your restaurant's mission, vision, purpose, and core values
Your vision for your fine dining restaurant is what drives your business' success. A big part of that is understanding your mission and core values. Your mission statement describes who you are, why you're here, and what you plan to accomplish as a member of your community.
There is, however, much more to a restaurant name than just your mission statement.

Let's do a little exercise. Grab a pen and paper and write down the following:
Your core values and mission

The intended personality and vibe of your restaurant

Adjectives you use to describe your restaurant

Your name (and the name of your business partners, if any)

Any family names that are important to you

The neighborhood or town where it'll be located
The purpose of this exercise is to pull out words and phrases that describe your restaurant, which can make up all or part of its name.
When you can't think of anything else to add, read back over your list of superlatives, adjectives, and descriptors and circle your favorites. These will be the building blocks for your fine dining restaurant name.
When you're done with this exercise, hold onto it. This exercise will come in handy when building out your restaurant business plan!
Choose a name that isn't already taken
To avoid copyright issues or accidentally sending your customers to another business, make sure your restaurant's name is unique. Once you've settled on a handful of contenders, run each of the possible names through the following resources:
Be thorough with your research, as copyright infringement can be very costly. To learn more about copyright infringement, visit Copyright.gov.
Use a restaurant name generator to spark new ideas.
Name generators can help you with writer's block and inspire you to try different word combinations you didn't consider before.
Some generators ask for guidance in the form of keywords while others assemble random combinations of words. Either way, it's good to have your keyword shortlist on hand when using a name generator. Sure, some of the suggested names and combos will be unusable. But, they'll still help you determine what you like and what you don't. Who knows - you may find the perfect restaurant name in your results!
Fine Dining or Classy Restaurant Name Generators
Ask your community for name ideas
Most people who start restaurants want to build something special for their community. So why not involve them from day one by asking for input on your name?
You can start by telling friends and family about your concept. By sharing your vision (with your mission and core values,) it'll make it easier for them to brainstorm names that suit your dream restaurant.
Another effective way to reach your community is through social media. Sharing your name ideas on social platforms can give your restaurant a head start on social media, especially on Facebook and Instagram. You can engage with your local community by creating incentivizing posts around your restaurant.
There are many fun ways to do this. One reliable approach is to create a giveaway post that asks people to submit their favorite names. Then, you can ask them to vote on the names they like best. To build engagement around your social media post, you can offer future discounts or even a free meal to the person who suggests the best name!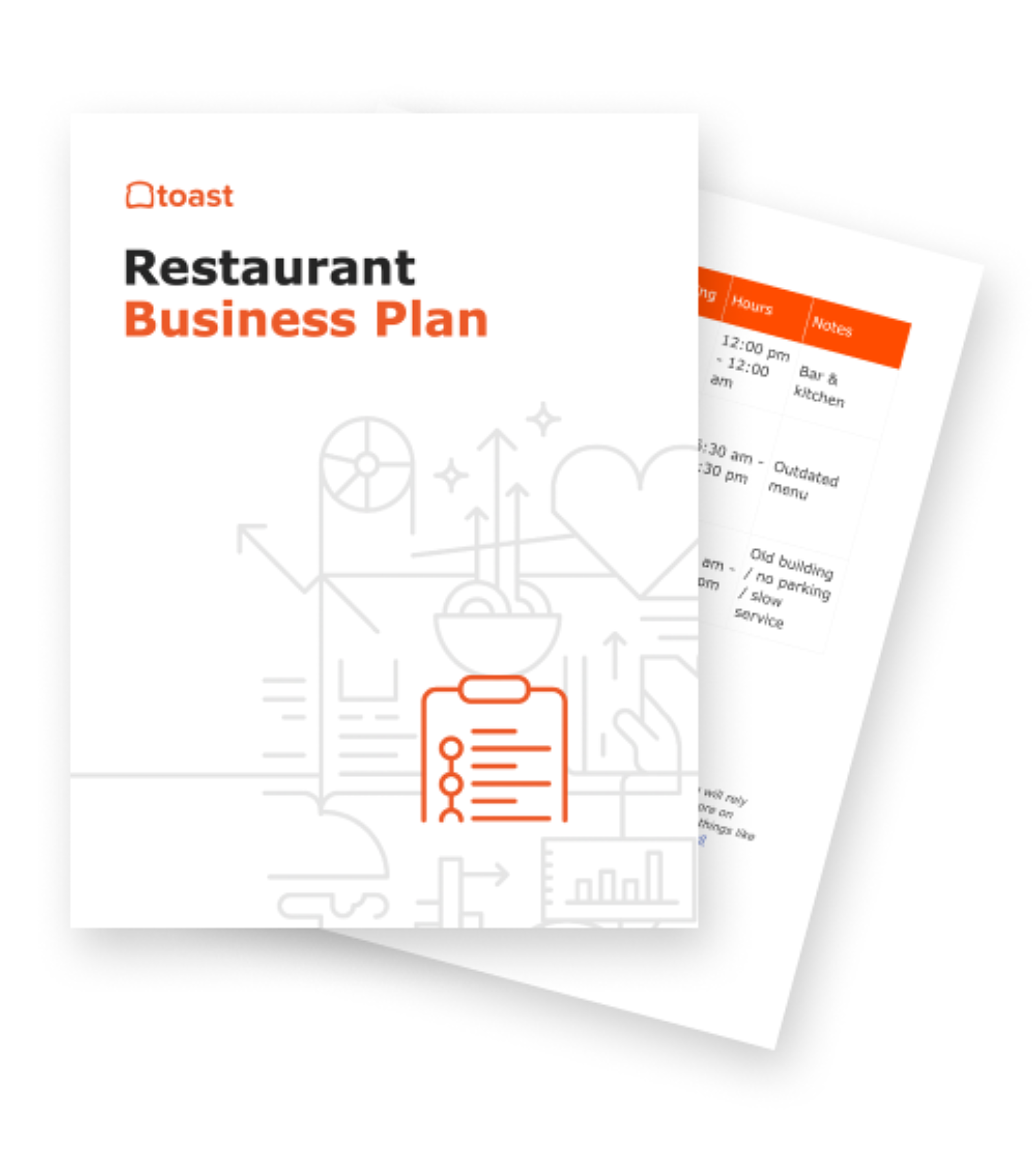 Restaurant Business Plan Template
No matter where you're at in your restaurant ownership journey, a business plan will be your north star. Organize your vision and ensure that nothing is overlooked with this free template.
Download
50 Real-Life Classy Restaurant Name Ideas to Inspire You


Do you want your name to be bold or simple? Daring or inviting? To help narrow down your restaurant name vision, taking a page from other restaurants for inspiration is never a bad idea.
Here are 50 of the best classy restaurant names around the country:
Cute and Classy Restaurant Names
Imperfecto – Washington, D.C.

Chez Panisse – Berkeley, CA

Kismet – Los Angeles, CA

Mama's Fish House – Maui, HI

Olde Pink House – Savannah, GA

The Red Hen – Washington, D.C.

GW Fins – New Orleans, LA

The Butcher's Table – Seattle, WA

Seaspice Brasserie & Lounge – Miami, FL

The Fig Tree – Charlotte, NC

The Pink Door – Seattle, WA

Art of the Table – Seattle, WA
Simple Fine Dining Restaurant Names
Eleven Madison Park – New York City, NY

Joule – Seattle, WA

Blue Ridge Grill – Multiple locations, VA

Hall's Chophouse – Nashville, TN

Shaker + Spear – Settle, WA

No. 9 Park – Beacon Hill, MA

Canlis Restaurant – Seattle, WA

Blue Hill at Stone Barns – Tarrytown, NY

Benu – San Francisco, CA

Brooklyn Fare – Brooklyn, NY

Peninsula Grill – Charleston, SC

Mistral – Boston, MA

La Voile – Boston, MA
Clever and Classy Restaurant Names
Odd Duck – Austin, TX

SingleThread – Healdsburg, CA

French Laundry – Yountville, CA

Wild Common – Charleston, SC

Fat Canary – Williamsburg, VA

Mooo – Boston, MA

L'Opposum – Richmond, VA

Gatsby's – Houston, TX

How To Cook A Wolf – Seattle, WA

Rusty Pelican – Miami, FL

Le Pigeon – Portland, OR
Bold Fine Dining Restaurant Names
Alinea – Chicago, IL

Proxi – Chicago, IL

Arethusa al Tavolo – Bantam, CT

Bayona – New Orleans, LA

Bavel – Los Angeles, CA

Buccan – Palm Beach, CA

Sazon – Lone Tree, CO

Atomix – New York City, NY

AQUA by El Gaucho – Seattle, WA

Zahav – Philadelphia, PA

The Catbird Seat – Nashville, TN

Quattro – Houston, TX

NAOE – Miami, FL

Artisans – Houston, TX
Fine Dining Restaurant Name? Check.
Once you find the perfect restaurant name, it's time for the next step to opening your restaurant doors. That means building out your business plan to plot the way forward. Soon enough, you'll be serving the best plates in town!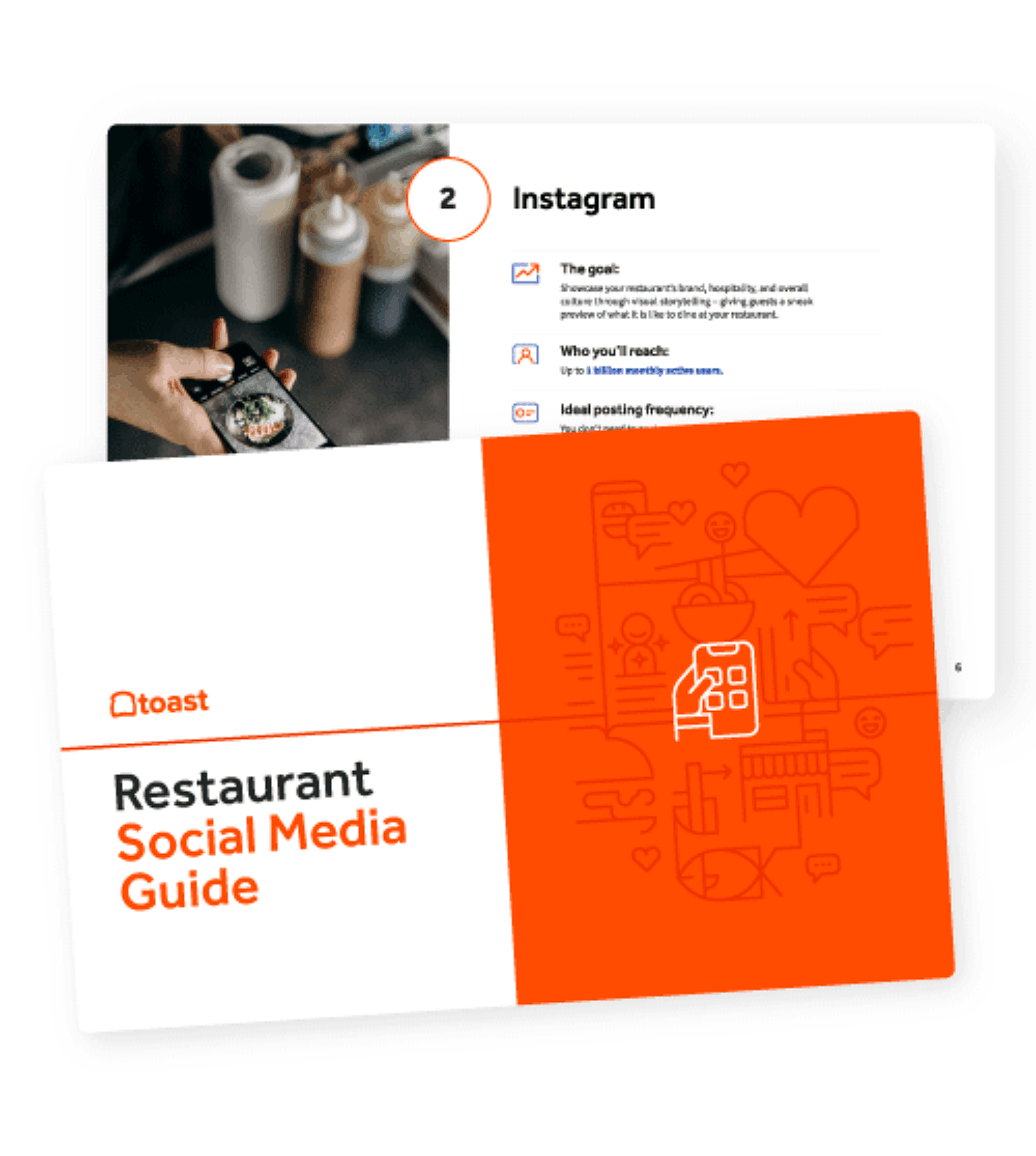 Guide to Restaurant Social Media Marketing
Learn how to optimize your social media presence to showcase your brand, tell your story, attract new customers, and engage with your audience.
Download