Spoiled ingredients ruin your day. Cliche recipes make you sad. You get jittery if you spend too much time out of the kitchen.
If these apply to you... we bet you're a chef.
Restaurateurs know that the kitchen isn't a job: It's a calling. Whether you're leading the kitchen of your town's favorite diner or if you're on your way to becoming the next Wolfgang Puck, all chefs share a common drive and point of view.
Some of the most successful names in food have shared their thoughts about chef life in the form of insightful, inspirational, and scarily accurate chef quotes.
Here are a few of the best from industry rockstars.
"I find the height of my purpose working with my hands, collaborating with farmers, serving my community. That farmer that needs you to buy his bell peppers is the same as the homeless guy on the street asking for money. Everybody's just trying to get their needs met." - Erick Williams
"Chefs don't make mistakes; they make new dishes." - Elizabeth Briggs
"Cook more often. Don't study; just cook." - Masaharu Morimoto
"No rules. Don't be afraid to do whatever you want. Cooking doesn't have to have rules. I don't like it that way." - Masaharu Morimoto
"We've been told numerous times that our cooking is 'feminine,' which people always intend as a compliment. We're happy to be identified with femaleness, as strong and proud women, but the masculine/feminine binary has no legitimate place in culinary expression or its criticism. It's an artificial construct we'd be happy to see done away with." - Sarah Kramer & Sarah Hymanson
"Remember, it is never the knife's fault." - Daniel Boulud
"But more infuriating is the question about to whom I should have been paying dues. It seems like the only ones keeping track are the white guys with tall hats. And how did those guys get into the club? By paying dues to older white guys with even taller hats. As for the thousands of black and brown chefs—dubbed cooks, domestics, servants, boys, and mammies who were kept out of restaurant kitchens or overlooked within them—they were beyond consideration. Their work, like them, was invisible." - Kwame Onwuachi
"To eat well, I always disagree with critics who say that all restaurants should be fine dining. You can get a Michelin star if you serve the best hamburger in the world." - David Chang
"It's okay to play with your food." - Emeril Lagasse
"The difference between being a good cook and being a good chef is as big as the difference between playing online Texas Hold'em in your pajamas and holding a chair in the World Series of Poker." - Gabrielle Hamilton
"Working in a restaurant means being part of a family, albeit usually a slightly dysfunctional one. Nothing is accomplished independently." - Joe Bastianich
"I used to think the skills my mother and grandmother had were small and insignificant, because the world taught me that black food was small and insignificant. But now I realize what we contribute to food in America is vast. Right now that's all I want to cook, and I want to cook it on a level that resonates with me, beyond whether it tastes good." - Mashama Bailey
"Initially let your food do the talking. You'll be surprised how far you go in a short period of time." - Gordon Ramsay
"I believe it's a cook's moral obligation to add more butter given the chance." - Michael Ruhlman
"My biggest problem with prejudice is the prejudice against plant-based food. Not as a woman, not as a black woman, but getting you to eat your plants. Getting you to pay for them. Finding staff who want to cook that way. That's a struggle I can take on, even though there's no road map for success for that." - Makini Howell
"I believe that there is always something new to learn, in fact, that is one of the three reasons that I chose to become a chef, that my education is never over." - Anne Burrell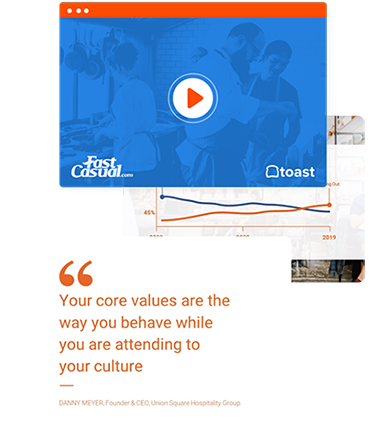 Tackle the Challenges Facing Restaurant People
Toast and Fast Casual teamed up to share tips on tackling restaurant challenges such as increasing competition, food costs, hiring and training staff, and more.
Download
"A recipe has no soul. You, as the cook, must bring soul to the recipe." - Thomas Keller
"I always say that I don't believe I'm a chef. I try to be a storyteller." - Jose Andres
"In cooking you've got to have a what-the-hell attitude." - Julia Child
"Food is a necessary component to life. People can live without Renoir, Mozart, Gaudi, Beckett, but they cannot live without food." - Grant Achatz
"The way you make an omelet reveals your character". - Anthony Bourdain
"What you feel like eating at any given moment is what you should have." - Ferran Adria
"There's a very physical element to the work that chefs do in kitchens ... The very first time I ate at Number 9 Park was about 10 years ago, and my now-husband and I went for dinner and were so excited to go to Boston and eat there. And I remember looking into the kitchen at the end of my meal and seeing Barbara [Lynch] on the line, eight months pregnant, and killing it ... But not everyone can do that." - Gail Simmons
"The key to running a successful kitchen is what I call the '3 F's.' Be Firm, Be Fair, and Be Friendly with your staff, your guests, and yourself." - Will Gilson
"If an architect makes a mistake, he grows ivy to cover it. If a doctor makes a mistake, he covers it with soil. If a cook makes a mistake, he covers it with some sauce and says it is a new recipe." - Paul Bocuse
"Cooking is the ultimate giving." - Jamie Oliver
"My father raised me with the idea that you always have to do better than the person next to you. As a black man, you have to perform three times better than that person. I saw that in kitchens right away: we were the cooks, but we were never the chefs, never the operators. My parents tried to sell me on the military instead of hospitality, but I was never going to be that guy. So my mom said: "I want you to learn the trade as a career, not a job." - Jerome Grant
"'Chef' doesn't mean that you're the best cook, it simply means 'boss.'" - Tom Colicchio