DISCLAIMER: This content is provided for informational purposes only and is not intended as legal, accounting, tax, HR, or other professional advice. You are responsible for your own compliance with laws and regulations. You should contact your attorney or other relevant advisor for advice specific to your circumstances.
Spoiled ingredients ruin your day. Uninspired recipes make you sad. You get a little antsy if you spend too much time away from the kitchen. You're more used to drinking out of quart containers than glasses, and you've gotten used to working a pretty relentless schedule. You can get your team through any rush, and you're used to mentoring new teammates while working on a dozen tasks at once.
If any or all of these traits apply to you, we bet you're a chef — or a sous, line cook, dishwasher, or anyone else who loves working in the hectic but rewarding world of restaurant kitchens.
For many restaurant owners, operators, and employees, the kitchen isn't a job: It's a calling. Whether you're leading the kitchen of your town's favorite diner or you're in charge of 10 different locations, being a chef is hard work and requires next-level drive and determination.
Some of the most successful names in food have shared their thoughts about chef life in the form of insightful, inspirational, and famous quotes about working in the food industry. Read them, google the names behind them if you've never heard of them, and as many of the chefs below advise: always keep learning.
Here are some of our favorite chef sayings, inspirational cooking quotes, and pieces of advice from industry greats.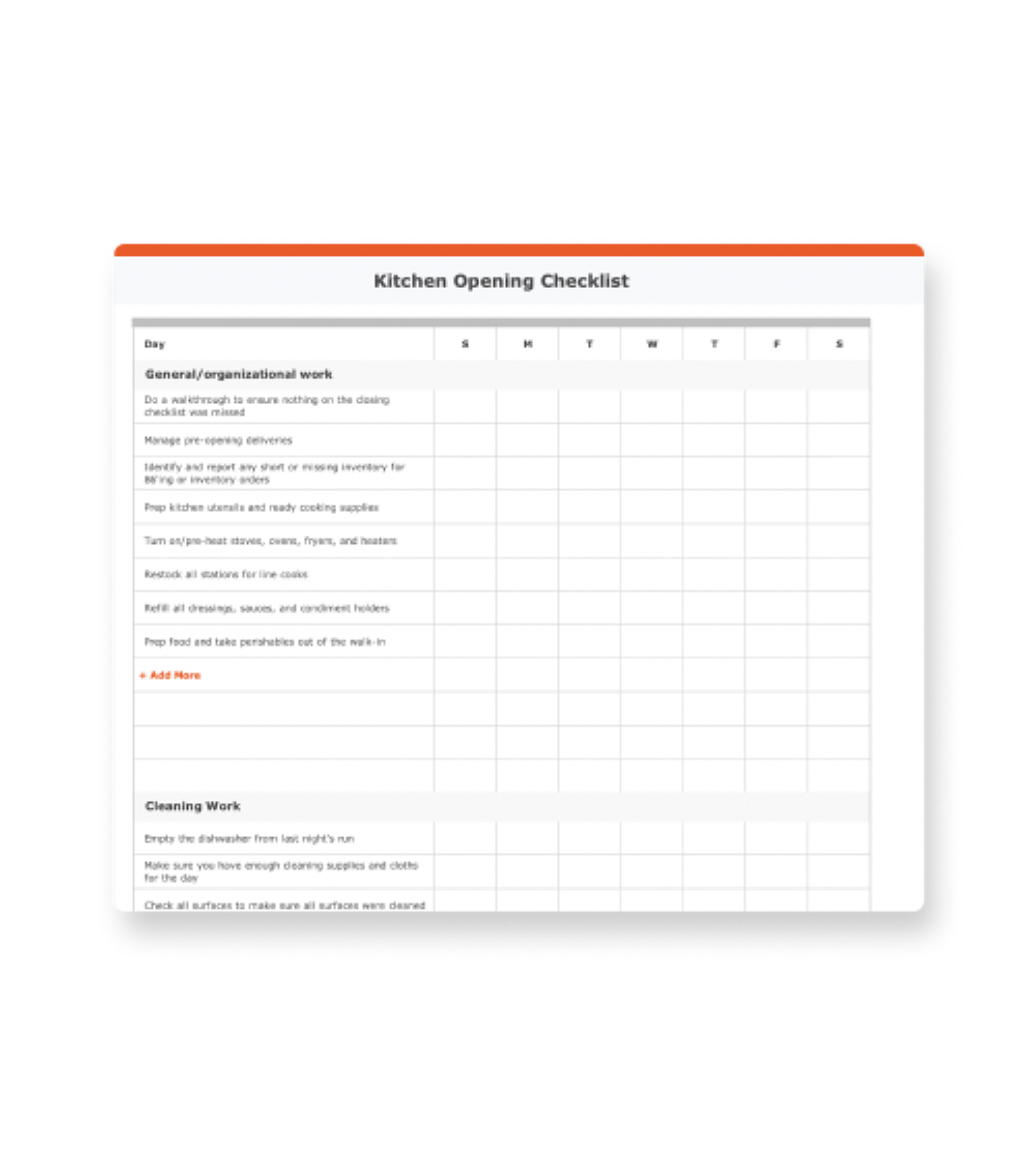 Kitchen Opening and Closing Checklist
Ensure your back of house runs like a well oiled machine with these customizable kitchen opening and closing checklists.
Download
"The amount of work that it takes to both find great staff and then keep great staff, the amount of work that it takes to train everybody so they're ready to put forth the vision you've created — it's an extremely HR-dependent business. I think a lot of people that go into opening restaurants are all about the food, which I am as well, but you learn very quickly that it's all about the people." - Joanne Chang


"Chefs don't make mistakes; they make new dishes." - Elizabeth Brigg


"Reem's is a place where you can imagine a different way for the world to run, where those in the margins are at the center." - Reem Assil


"When you run a kitchen, no matter how crazy and chaotic it gets, you have to be the calm one. You cannot show any sign of fear - the guests pick up on it. The beauty of this kitchen, though, is that everybody helps everybody." - Nina Compton


"I started cooking professionally because I had hit a point in my life where I was just sort of lost and cooking was something I had always loved and so I grabbed onto it." - Amanda Cohen


"Being a boss, it comes at a cost. You have to be really, really driven but I wouldn't trade it for the world because now I really get to enjoy this thing that we call life. I'm doing what I love to do, and it doesn't feel like work." - Erica Barrett


"It's okay to play with your food." - Emeril Lagasse


"We've been told numerous times that our cooking is 'feminine,' which people always intend as a compliment. We're happy to be identified with femaleness, as strong and proud women, but the masculine/feminine binary has no legitimate place in culinary expression or its criticism. It's an artificial construct we'd be happy to see done away with." - Sarah Kramer & Sarah Hymanson
"I believe that there is always something new to learn, in fact, that is one of the three reasons that I chose to become a chef, that my education is never over." - Anne Burrell


"When I push open the kitchen doors, I want to see a dining room full of diners, but especially brown and black diners, who, looking at their plates, feel seen, celebrated, and recognized. And when I look in the mirror, I want to see a young black chef who made that world a reality." - Kwame Onwuachi


"Skills can be taught. Character you either have or you don't have." - Anthony Bourdain


"Learning about history in [Savannah] was so empowering. I started to see where I wanted to go with the food. That confidence started to reawaken. I became the chef that was looking backwards in order to look forward. - Mashama Bailey


"What you feel like eating at any given moment is what you should have." - Ferran Adria


"There are no divisions in my kitchen or my restaurant. We always say, 'The guest is an incarnation of God.' I want people to feel that they are valued. They will be looked after as if they've gone to a relative's house. I'm cooking food from my home, from meals I've had in my family. I tell them the stories of the dishes. I'm taking their hand, and taking them along. My aim is for you to leave feeling like someone had embraced you. That's how food should be. I get happiness from seeing people's eyes when they eat the food I've cooked. That feeling, when you can light up someone's soul with something you've prepared, that is a privilege and an honor." - Asma Khan


"The key to running a successful kitchen is what I call the '3 F's.' Be Firm, Be Fair, and Be Friendly with your staff, your guests, and yourself." - Will Gilson


"Cooking is the ultimate giving." - Jamie Oliver


"My father raised me with the idea that you always have to do better than the person next to you. As a black man, you have to perform three times better than that person. I saw that in kitchens right away: we were the cooks, but we were never the chefs, never the operators. My parents tried to sell me on the military instead of hospitality, but I was never going to be that guy. So my mom said: "I want you to learn the trade as a career, not a job." - Jerome Grant


"In cooking you've got to have a what-the-hell attitude." - Julia Child


"When I create any dish, literally the first thing I think of is, what is the purpose behind this dish? Why am I putting this ingredient in it?" - Esther Choi


"I don't want to make food that only the top 3 percent can enjoy. That doesn't bring my heart joy. I want to create a place that services a wide range of people. There are sleepless nights, 24-hour work days. I'm rooted in love and passion for the game." - Nyesha Arrington


"I say 'no' to nothing, 'yes' to moderation. That's how I approach everything. No matter if it's candy or foie gras. When you have the real deal, you're satisfied with that one bite. I say go full throttle and call it a day." - Carla Hall


"I always say that I don't believe I'm a chef. I try to be a storyteller." - Jose Andres


"I love cooking because I love to eat. I'm inspired by the comforting soul food I'd eat as a kid, flavors from cultures all around the world, what I happen to see at the farmer's market, and social media food trends. My personal cooking style is all about flavor and color. I want everything I prepare to be exciting and interesting, even if it's something we're all familiar with." -Jenne Claiborne


"To become a doctor, you need to go to medical school. To become a lawyer, you need a J.D. But to become a chef, you just put your time in at restaurants and learn by doing." - Caroline Schiff


"It is equally important to mention the history when we curate dishes. While it's great to go to ethnic markets, grab a whole bunch of ingredients, and throw them into a pot, you can't call it or rename it a soup or stew without crediting where you got those ingredients from. For anyone to just add an ingredient thinking you're making a dish, it's important that you highlight the origins, feel and embrace the culture. Food tells stories and sometimes the history makes you appreciate a certain cuisine a little more." - Millie Peartree


"What motivates me is to leave a legacy. We need to learn to educate people and set an example." - Cristina Martínez


"If cooking is what you love, do it with great vigor, pride, and excellence. It pleases me when I see guests conversing, noshing, happy and satisfied. I savor all the flavors of life." - Kai Chase


"Food is romantic. Soul. It's about putting everything in your heart onto the plate. Hoping it's perceived well. Honestly, it's about passion. It's about love." - Hillary Sterling
Related Restaurant Resources