DISCLAIMER: This content is provided for informational purposes only and is not intended as legal, accounting, tax, HR, or other professional advice. You are responsible for your own compliance with laws and regulations. You should contact your attorney or other relevant advisor for advice specific to your circumstances.
You've seen tons of news over the past few weeks about skyrocketing wheat prices and potential supply shortages.
A lot of it may end up being market panic and speculation, but increases to already record-high ingredient prices are a very real concern for restaurants — even if they come from commodities hype and perceived buying opportunities.
We've pulled together expert commentary, insights, and data to help restaurant operators understand what exactly is going on with global wheat supplies and prices so they can navigate any potential impacts on their restaurant costs.
Continue reading to learn more about global wheat supply, price volatility and the market hype machine, and what restaurants can do to help ease the impact of rising prices and take control of costs across the board.
Let's dive in.
Key Takeaways
Talks of a global wheat shortage are being blown out of proportion

Wall Street and commodity wheat prices are inflated compared to actual crop trades

Restaurants should be ready to address increased costs without passing them all onto consumers
Restaurant Cost Control Guide
Use this guide to learn more about your restaurant costs, how to track them, and steps you can take to help maximize your profitability.
Download
What's really going on with global wheat prices?
The war in Ukraine is impacting food and feed prices across the globe.
Ukraine and Russia combined to export over 55 million tons of wheat in 2020, or ~25% of global wheat exports, according to the United Nations' Food & Agriculture Organization (FAO).
The FAO predicts that between 20% and 30% of fields used to grow winter cereals, maize, and sunflower in Ukraine will not be planted or will remain unharvested during the 2022/23 season.
Aaron Smith, professor of agricultural economics at UC-Davis, estimated on March 9th that activity in the commodities markets indicated roughly 75 percent of the grain supply from Russia and Ukraine will be lost in this growing cycle.
Professor Smith goes on to say that the war is a shock for the commodities markets but not a historically large one.
"Markets and trade patterns will adjust to absorb [the shock.] Farmers around the world will produce more and consumers will cut back or substitute. The transition may be difficult in some places, especially countries such as Egypt that typically rely on wheat from Russia and Ukraine."
He cites a combination of global farmers upping wheat production and consumers cutting back or substituting food options can more than help us make it through this supply shortage.
Most grains sell on markets in the form of commodity futures. Futures are essentially a contract that allows growers and buyers to predetermine selling prices per quantity for grains and other commodities.
In the meme stock age of e-trading, any whiff of a commodity shortage, wheat or otherwise, may very well proliferate into speculative trading on the markets — increasing price volatility in an already volatile environment.
And that's already exactly what is happening.
Dr. Sara Taber, a crop and food safety scientist with 23 years working in the farm trade, has been pointing to speculation and hype as the real driver inflating wheat prices. She's shown that the actual "shortage" will be minimal, if it even materializes.
She highlights the stat about 25 percent of global wheat exports missing due to the war in Ukraine as a main driver for misplaced panic. While the stat is technically true, it's not nearly as impactful with context around it.
For example, most wheat is consumed in the country in which it's grown. This greatly reduces the percentage of exported wheat compared to the total annual production of wheat, since most wheat is never exported.
Dr. Taber uses USDA data to show that the 25 percent of wheat exports, or 7 million tons, only equates to 0.9 percent of the total 778 million tons of wheat crop from last year. She expands further during her recent appearance on MSNBC:
"Crop futures for wheat started increasing back in November, and people started planting more wheat all over the world — India in particular. The shortfall from Ukraine and Russia is projected to be 7 million tons, which sounds like a lot, but India alone is said to export 4 - 6 million more tons that last year. So almost just the increased export from India is set to cover [the shortfall]."
Dr. Taber points out the "crazy bubble action" going on when looking at commodities trade prices on Wall St and prices on actual grain trade.
"The prices [Wall Street] are trading are not reflecting reality and they're not reflecting what people experienced in crop trading are going along with," Dr. Taber says.
This is great news if the global wheat shortage turns out to be just a markets-driven panic. Well, mostly great news…
Some countries are net importers of wheat. And a few actually rely on imports from Ukraine and Russia to meet national demands, so they may struggle with shortages as they look to supplement from other countries. For example, Egypt imported 4.2 million tonnes of wheat from Russia in 2021, which counts for nearly 70% of Egyptian wheat imports.
And for restaurants within the US, any increases in prices — whether by shortage or speculative trading — have the potential to funnel through to ingredient prices and eat into profit margins.
---
Read this next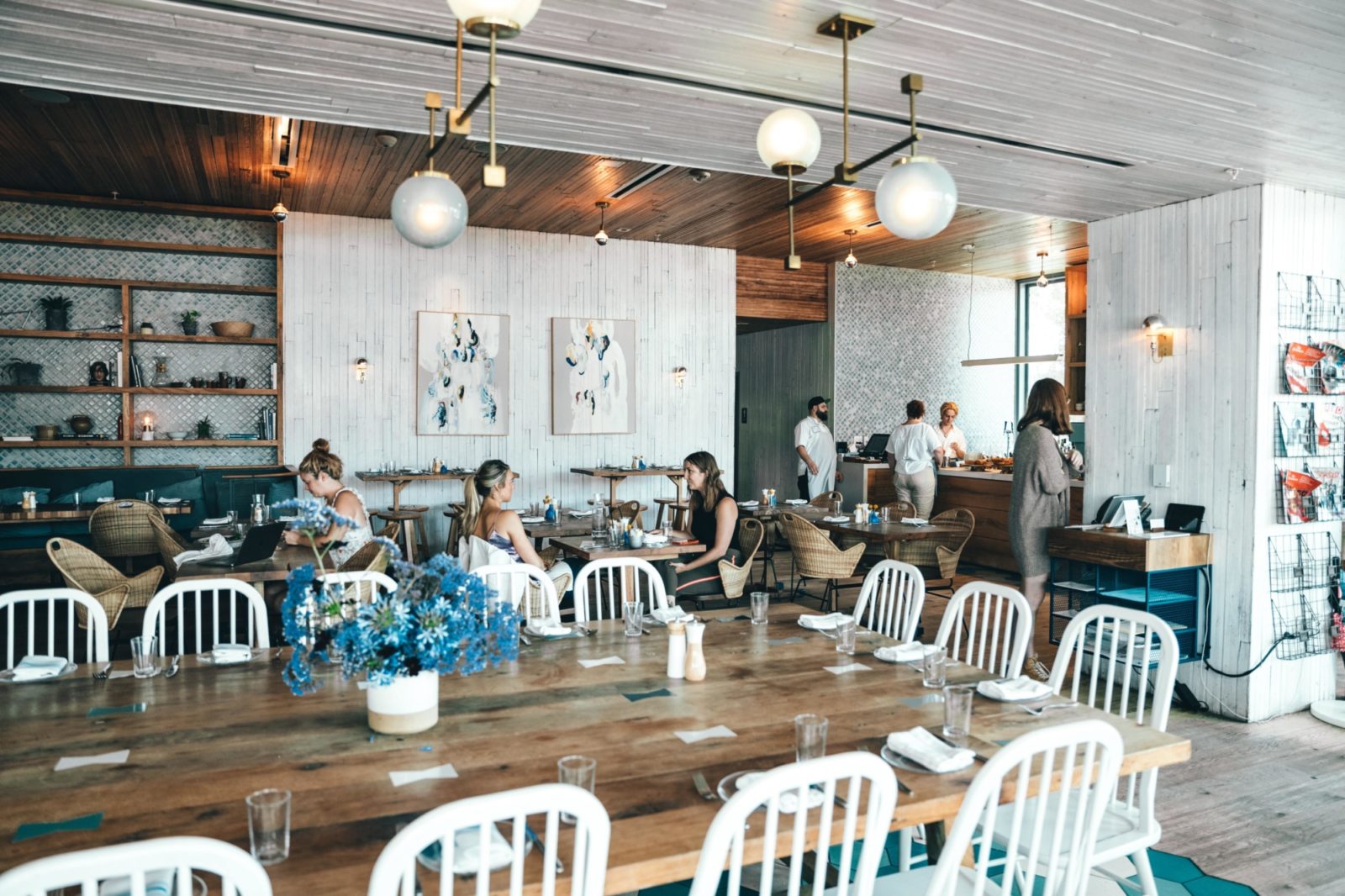 What is the Average Restaurant Profit Margin? Tips for Benchmarking and Optimizing
Learn how to track and optimize your restaurant profit margins and take a look at average margins across the industry to see how you stack up.
What could global wheat volatility mean for the U.S.?
On the US consumer side, Robb MacKie, president and chief executive of the American Bakers Association, says that American consumers should expect grocery and restaurant prices to go up as a result of wheat volatility induced by the war and market reactions.
"You just cannot have this type of disruption in the supply chain and inflation on raw ingredients and the energy that we use and other things like packaging without there being some reciprocal cost-benefit."
Michael Swanson, the Chief agricultural economist at Wells Fargo, echos Dr. Taber's sentiment, explaining that the US has always been a net exporter of wheat and is in no danger of shortage.
However, this doesn't mean we won't feel the price squeeze. The U.S. is a big player in global trade and definitely not insulated from the global market prices.
"If a grain operation can export wheat at a higher price, they will do so and then the domestic market has to match it," Swanson says.
It's not just the wheat crop volatility that will drive restaurant costs up. Swanson also calls out the knock-on effects that wheat grown for feed will have on animal protein prices.
"Basically, when you talk about protein, you're talking about transforming corn and soybean meal and other basic feed grains into animals. And when you see the price that we have for the feed range right now, for the people that have the livestock that have to buy that, they're obviously going to be catching a new wave of price inflation."
Along with the monitoring increased wheat costs on livestock, the agricultural industry is keeping an eye on the health of domestic wheat crops. Much of the Wheat Belt region is suffering from prolonged severe drought.
As of March 20, 36 percent of Kansas' winter wheat was rated poor or very poor, up 14 points from the same time last year, according to the U.S. Department of Agriculture.
In an agweb.com analysis, USDA meteorologist Brad Rippey states that the Wheat Belt is the most concerning area of the drought.
"Here we are in the spring of 2022, facing significantly more drought than we had going into the spring of 2012. We've still got La Nina sticking around enough to influence weather patterns. And that's a huge concern for the great plains for the Southwest. Along the gulf coast, even into the southeast."
Drought covers 75 percent of the U.S. as of March 8, according to the National Drought Mitigation Center, part of the University of Nebraska-Lincoln.
Here's how that 75 percent of drought rates in severity:
14 percent Abnormally Dry
19 percent Moderate Drought
27 percent Severe Drought
13 percent Extreme Drought
2 percent Exceptional Drought
On top of the grains themselves, the increasing risks of a fertilizer shortage are further pinching U.S. farmers and may lead to increased food costs down the road.
Corey Rosenbusch, president and CEO of The Fertilizer Institute, estimates that only about 50 percent of the fertilizer products farmers will need this spring are in U.S. warehouses and distribution facilities, as reported by agweb.com
The article goes on to cite additional risks looming on the horizon that could further intensify any fertilizer shortage.
First, a strike between Teamsters Canadian Rail Conference and the Canadian Pacific Railway company had the potential to impact potash imports, from whom the U.S. gets 86 percent of its potash. But the two sides were quick to come to an agreement as the work stoppage ended after two days.
Second, the disruption in Russian natural gas exports will impact global nitrogen production, which is critical for fertilizer — which in turn is critical for US farmers.
On top of it all, the war, drought, and fertilizer concerns are mixing with market speculation at a time when food costs across the board are already spiking due to inflation and continued supply chain disruptions.
February food prices in the U.S. were up nearly 8 percent from a year earlier, according to data from the Bureau of Labor Statistics.
Here's how the BLS data year-over-year food prices break down by different food types:
13 percent increase for meats, poultry, fish, and eggs

7.6 percent for fruits and vegetable prices

6.7 percent for nonalcoholic beverages and beverage materials
The last thing the restaurant industry needs after the past 24 months is more volatility. But here we are, back at it.
Restaurant Metrics Calculator
Use this free calculator to calculate the key restaurant metrics needed to understand the health and success of your business.
Download
What steps could U.S. restaurants take to help curtail these macro tradewinds?
This confluence of events and ongoing volatility may very likely keep restaurant costs high through the end of 2022 and possibly into 2023 (and beyond.)
While no single operator has sway over global events and trends like this, every operator can take control of their costs.
Rising ingredient costs innately eat into restaurant profitability unless there's an equal increase in menu prices. We're already seeing this across the nation as restaurant prices pace with inflation, increasing at the highest rates we've seen in 41 years.
Unsurprisingly, negative consumer sentiment is accompanying these inflated prices. Survey results from the ICSC show that 64 percent of consumers potentially facing economic hard times are ready to cut dining out costs from their budgets. On the flip side, 41 percent said they'd be willing to increase their dining out spend if their economic situation improved.
The combination of consumer financial hard times and record price increases may have set the ceiling for menu prices. It seems like customers simply can't stomach any more price hikes.
Now is the time to revisit your costing exercises — or implement them for the first time — and get a plan in place to mitigate costs and protect your profitability.
As menu prices reach the brink of what consumers can tolerate, restaurant operators can optimize their costs to help strengthen profitability — specifically, with their cost of goods sold (COGS).
Controlling your cost of goods sold
While you obviously don't set supplier prices, you do control what you purchase from suppliers and what you serve at your restaurant.
Controlling your cost of goods sold (COGS) starts with a strong data foundation for your ingredient prices — and that starts by consistently capturing the critical line-item details within each of your supplier invoices. How else can you truly know what your costs are beside checking the receipts?
But here's the deal — you and your team don't have the time to be manually inputting invoice data. Nor do you want to be outsourcing this work to your bookkeeper or accountant. Their time is better spent diving into the numbers and helping you see your strengths and areas for improvement.
How technology can help
The past two years have highlighted just how critical it is for restaurants to remain aware and agile with costs, pricing, and suppliers.
Supply delays and shortages for food and beverage items were reported by 96 percent of restaurant operators in the National Restaurant Association's State of the Restaurant Industry report. And 90 percent of operators said their food costs are higher than pre-COVID.
Invoice processing automation within xtraCHEF by Toast transforms invoices into ingredient-level insights, helping you see what's impacting your restaurant's profitability — such as macro trends driving wheat prices up or simply an extra "0" accidentally added to a case total.
The ability to monitor fluctuating prices for your most commonly purchased ingredients within xtraCHEF can help inform your future purchasing decisions and vendor negotiations — so you know immediately when it's time to pivot ingredients, to shop around to new suppliers, raise prices, or remove menu items.
Your automated product catalog documents every item you've ever purchased and scanned into the system. It enables you to categorize and hone in on product details without overbuilding the general ledger and chart of accounts in your accounting system.
From there, you can pull ingredients from your product catalog to build recipes and calculate the plate costs of your menu items.
Looking Ahead
These volatile times are no doubt scary. The rise in wheat prices isn't something restaurants can change but, you can help your operation mitigate the effects with a robust restaurant cost control foundation.
It starts by controlling your COGS and tweaking prices to optimize your profitability.
With the right strategy, software, and awareness, you can help steer your restaurant through the rise in wheat prices and any other economic shifts that may come.
Menu Engineering Worksheet
Use this menu engineering worksheet, complete with intricate menu engineering formulas, to determine areas of strength and weakness in your restaurant's menu.
Download