This post was last updated on Aug 17, 2020.
DISCLAIMER: This content is provided for informational purposes only and is not intended as legal, accounting, tax, HR, or other professional advice. You are responsible for your own compliance with laws and regulations. You should contact your attorney or other relevant advisor for advice specific to your circumstances.
Multi-unit restaurants – sometimes referred to as restaurant franchises or restaurant chains – don't get enough praise for their organized training programs. In reality, many successful chefs got their start in establishments like Applebee's or IHop before starting their restaurant career. A recent article in the New York Times profiled Chef Cassidee Dabley, who began her career at Applebee's in a small town in Arkansas. She credits her training at Applebee's for helping her to run her current restaurant, Blackberry Farm, and often hires workers with similar experience.
The same article mentions other high-profile executives in the food industry who credit working in a multi-unit restaurant for their training and superior hospitality skills, including Stephanie Izard, executive chef and co-owner of Girl & the Goat and Little Goat Diner in Chicago, and Kia Damon, chef and culinary director of restaurant magazine Cherry Bombe.
Restaurant franchises are a viable option for those trying to enter the industry and hone their restaurant skills, primarily because of the organized training programs that are sometimes lacking in independent establishments.
There are more opportunities for early-career chefs to learn in restaurant franchises because of the more rigorous and organized training schedule. Restaurant employees who got their start in a franchise or multi-unit restaurant are sometimes credited with getting twice as much done as a server or line cook trained exclusively in independent establishments. Restaurant chains are also known for having higher customer service standards than other restaurants in the business since they need to maintain brand consistency across many different locations.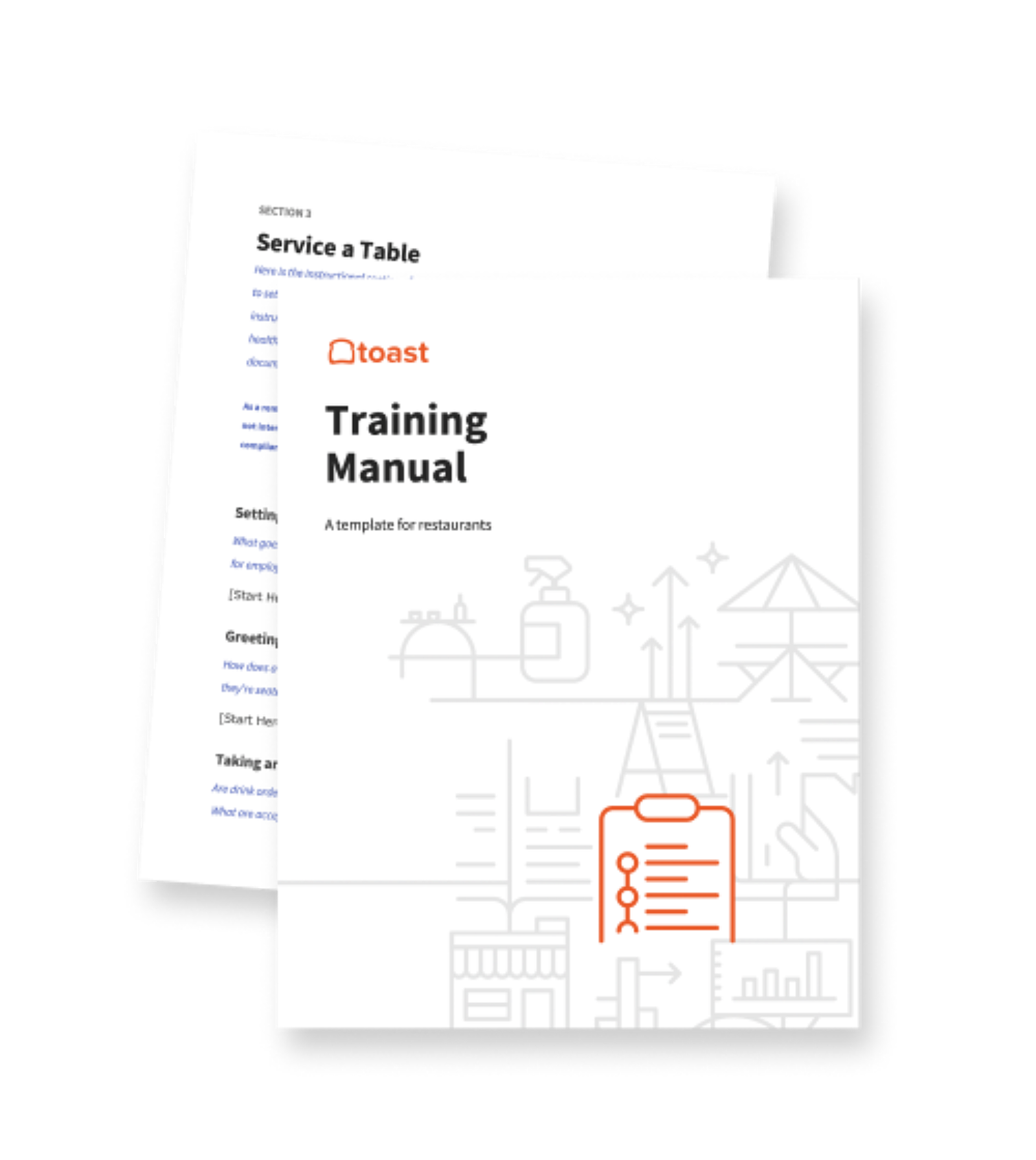 Training Manual Template
Use this restaurant training manual template, a customizable Word Doc, to provide your staff with the rules, guidelines, and clarity they need to do their jobs efficiently.
Download
Senior Education Program Manager at Toast, Maura Evans, got her start at Jimmy John's and later served as Regional Training Manager at Au Bon Pain, implementing educational programs for all of the new managers and certified trainers to improve their restaurant skills.
"I began at Jimmy John's when I was at Syracuse University," Evans says. "I worked there part-time all through college and then stayed on full-time after I graduated. I began in a manager role with them, as well as marketing, training, and helping to open all of their new locations. I fell in love with the training aspect and went on to work for Au Bon Pain and supervised 65 locations to make sure that the training programs were successful."
Traditionally in restaurants, the new hire onboarding period is non-existant or quick and just covers the basics, but thankfully, that's started to change: CHART (an association of hospitality trainers) found that 33% of companies reported an increase in their training staff in the last year.
In 2019 alone, 75% of hospitality companies were using external training resources and 86% were using e-learning solutions. The trick is keeping your costs reasonable — particularly if you're running an independent business — while training your staff members properly, since almost two out of every three dollars spent on training goes to front- and back-of-house hourly employees. As any restaurant owner will tell you, that's a lot easier said than done.
Learning Hospitality Skills: A Necessary Aspect of Growing a Restaurant Career
Hospitality skills are paramount for anyone building a restaurant career. You must be customer-service oriented, have awareness of different cultures, show good communication skills, be able to multitask, express a strong work ethic, and be able to work on a team. Unfortunately, many restaurant employees may never have the chance to completely sharpen their skills due to the lack of training resources available.
The biggest challenge for restaurants is finding the time to train servers, which is why they often hire people with previous restaurant skills and experience. When a new hire is brought on, they are usually needed immediately, whether or not they've had the chance to learn basic hospitality skills. Training is often "on the job" and a new hire may be asked to shadow an experienced server in lieu of participating in an actual training program.
"Restaurants are often run very lean," says Dale Blosser, founder of hospitality-training service DCB University.
There is no extra time for training. Restaurants like to hire experienced servers partially because there isn't time to train, but who knows if the new hire was trained properly to begin with. The bad habits they may have learned in their last job may be repeated in the new job
A good example of this involves wine knowledge. During an interview, a candidate will often say that they have experience serving wine but may have only a passing knowledge based on their prior restaurant work. So the new hire may have to wing it when advising guests on their wine choices, especially if they're only receiving a once-per-month wine tasting as their job training.
"A big challenge facing restaurant education is the amount of interruptions employees experience on the job," says Martin Glenday, founder and president of Moxie Media. "When the lunch or dinner rush hits, it's all hands on deck, which is why workers try to fit in other tasks in between busy periods. But with training, these interruptions are more disruptive, and employees are left struggling to remember where they left off and determine what they may need to review again."
Learning on the job is so common in the hospitality industry because of the high turnover rate. Most restaurants are hesitant to spend time and money on employees who will just end up leaving, so there is often a "sink or swim" approach to hospitality education and teaching restaurant skills. Maintaining employee training records is also difficult because of the amount of turnover, as they need to be updated constantly with new information.
What Skills Do You Need to Work in a Restaurant?
If a guest has a bad experience at your restaurant, you risk more than just the loss of that customer. They might tell their friends, family, and co-workers to avoid your restaurant. Through online reviews, they could also share their opinions with the world, seriously damaging your reputation and chasing prospective customers away.
Restaurant employees need to know how to respond to any situation with customers politely, professionally, and with an eye towards creating a positive experience for the guest.
The restaurant industry is fueled by customer service. Simple training sessions on best practices would solve many of the difficulties new hires face as they begin their restaurant career. A restaurant staff bonds like a family during fast-paced and stressful shifts, and there are many opportunities to include new hires if they are given the right tools.
"I remember one shift at Jimmy John's after a huge basketball game, I came in and we probably did five times the amount of sales because it was just that busy," Evans says. "At the end of the day, when you've gotten everyone out the door, everyone looks at each other and you just know it was a job well done and those were my favorite days. When I worked a crazy day and was able to celebrate with my Jimmy John's family, those were my favorite days."
What Resources Exist for Learning Restaurant Skills?
Despite the "sink or swim" approach to training that runs rampant throughout the restaurant industry, there are professionals attempting to bring more organized training practices to independent restaurants.
Moxie Media believes that the use of technology can help solve training issues and reduce the turnover rate in the restaurant industry. Their Learning Management System (LMS) helps to automate employee training, making the system easier for employers to maintain and for employees to use.
"Employees who receive high-quality training feel more confident and achieve more success on the job, which may encourage them to stay longer," Glenday says.
Moxie Media's LMS system offers tracking tools so employers and managers can follow employee progress throughout the onboarding process.
"Our training programs are available online, offline, and via mobile through our LMS, so employees can access training anywhere and at any time," says Glenday. "Workers can also take advantage of our convenient bookmarking feature to easily pick up where they left off and move at their own pace. Our interactive exercises and quizzes help increase knowledge retention and test comprehension as well."
For many restaurants, introducing any formalized training at all is an improvement and a basic online training program may be a good option for smaller restaurants with fewer resources available to teach hospitality skills. Even a single training course, such as Moxie's Restaurant Best Practices, can make a big difference for a new hire with minimal restaurant experience. A single resource saves employers from having to schedule in-person training sessions that cost extra time and money.
DCB University presents an in-person option called the "Daily Huddle," which allows managers to implement training techniques as a micro-learning or "drip feed" resource for employees during morning meetings. Blosser's company also offers a Wine Uncorked, Beer Uncapped, or Behind Bars program for daily education on wine, craft beers, and cocktails to better educate employees as they embark on a restaurant career.
"There is a daily topic based on restaurant service standards and tips for selling and dealing with a specific situation. It takes less than one minute to read and the idea is to use it as a discussion starter for the pre-shift meeting all restaurants have to inform servers of the specials and menu items that have been removed," says Blosser.
Both of these options are viable for restaurants struggling to find the time and resources to train their employees properly with accessible materials.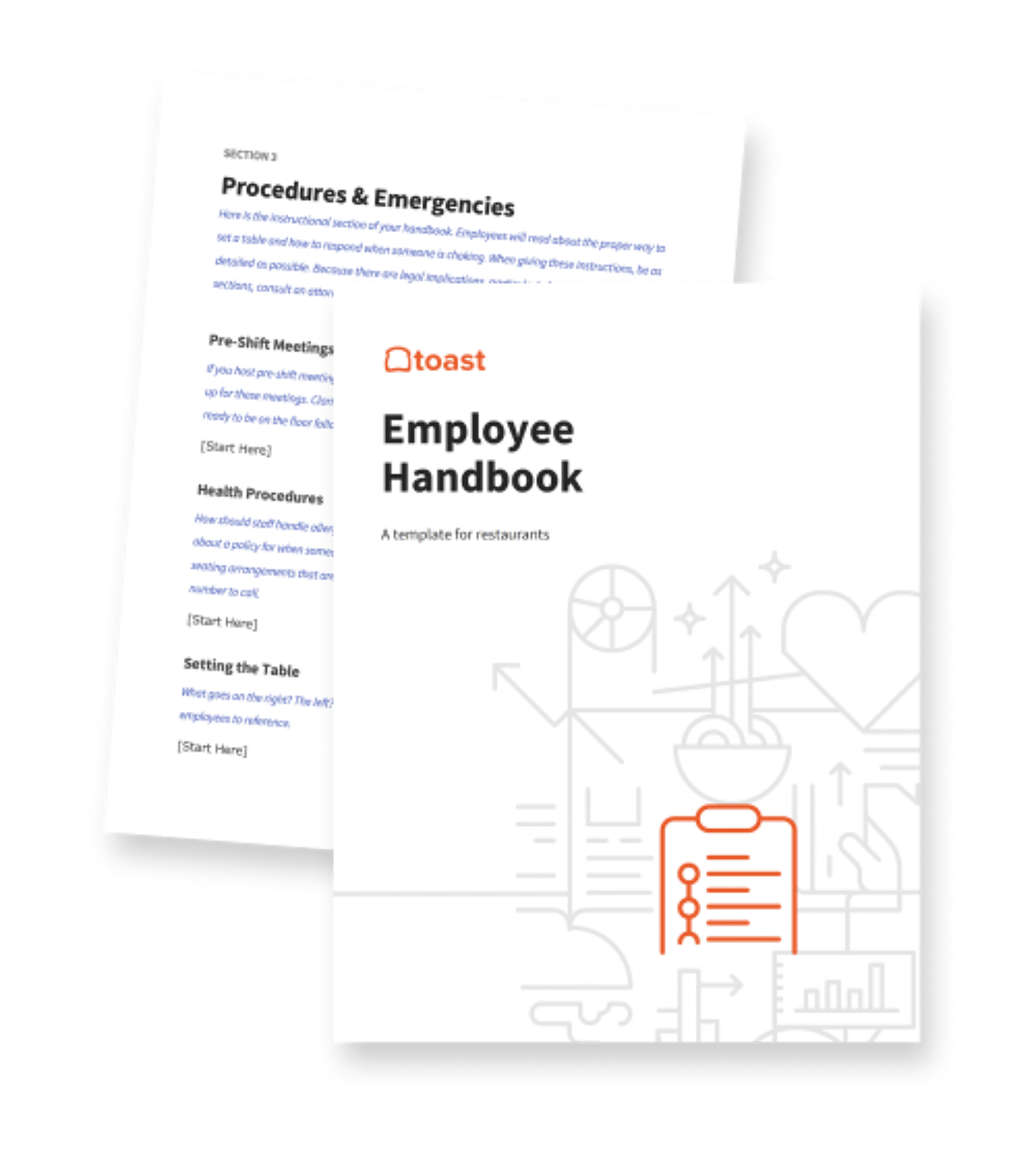 Employee Handbook Template
Outline your restaurant's staff policies in this customizable Word doc to help restaurant management and staff get on the same page.
Download
How to Incorporate Restaurant Skills Learning into Your Restaurant Training
While it's good that more training resources are becoming available to new restaurant hires and prospective managers so that they can hone their hospitality skills independently, there is an argument to be made for one-on-one training and mentoring as well. If you combine personalized attention with resources where a new hire can find all of the information, your restaurant onboarding procedures could have very powerful results.
"Restaurant people are very tactile and like to have things in front of them," says Evans. "They're not necessarily the people who are going to take notes or spend a lot of time researching something they're learning because it is such a casual, crazy environment. Formalized training programs don't always work and if you start to position things as being really corporate, it doesn't always resonate with your employees. I found that some of the best development I did with staff members was going out to dinner with them one on one after work and connecting over a good meal."
During her time with Au Bon Pain, Evans implemented a "Manager in Training" workbook where a new manager could fill out what they learned every day and then quiz themselves on it. The company later moved these resources to an e-learning platform so that they could be more accessible to staff members.
Whatever you can do to make the training accessible and offer them programs that are really easy to access, hopefully at a low cost to your restaurant. It's hard to ask a restaurant manager to come in to take a class at 2 p.m. on a Tuesday because they are usually busy on-site, so offering something that can be built into their schedule is best.
Despite education often taking a backseat in the restaurant industry because of immediate business concerns such as managing food costs, people calling out for the day, or setting up for a big event, there are things that you can do to inspire your staff members.
"It's a huge challenge and finding the time to train is really hard, but people do want to take the time to do it," says Evans. "I think mentorship programs work really well, too, and if you have someone you can partner them with to learn skills on a one-to-one basis, a new hire can learn quickly. Mentorship makes training a little more approachable for everyone instead of a formal education program."
By implementing true mentorship instead of "sink or swim" shadowing and combining it with accessible information, you will be able to bring a new training standard to your restaurant and reduce employee turnover rates.