DISCLAIMER: This content is provided for informational purposes only and is not intended as legal, accounting, tax, HR, or other professional advice. You are responsible for your own compliance with laws and regulations. You should contact your attorney or other relevant advisor for advice specific to your circumstances.
You might remember the early 2000s: a time when people started to become "mobile" and cell phones started to become more accessible. Nokia and Motorola released products that could actually fit in your pocket, and using the internet on your phone was the stuff of nightmares given the costs associated with per minute access.
As the concept of using data to access the internet became more widely accepted, 2G was the first technology that allowed people to really start browsing the web. At the time, and it's hard to believe, the internet was barely optimized for mobile viewing, load time was horrendous, and it was extremely difficult to navigate.
In comes 3G, and our now beloved iPhones became the mini computers we know today. With this came a shift in the way we work. All of a sudden, you could conduct business from anywhere. Working from home, while convenient, was not always the best choice, especially if you didn't have an office or designated work space.
As a result, those who wanted to work remotely, but not from home, started looking to cafes and local restaurants where they could access free wifi, enjoy a coffee and a snack, and get some work done. In the early 2000s, restaurants who capitalized on this, such as Panera Bread as the first chain to implement wifi across all locations, had an advantage over competitors.
Follow these tips to decide whether or not public wifi for restaurants is necessary for your concept.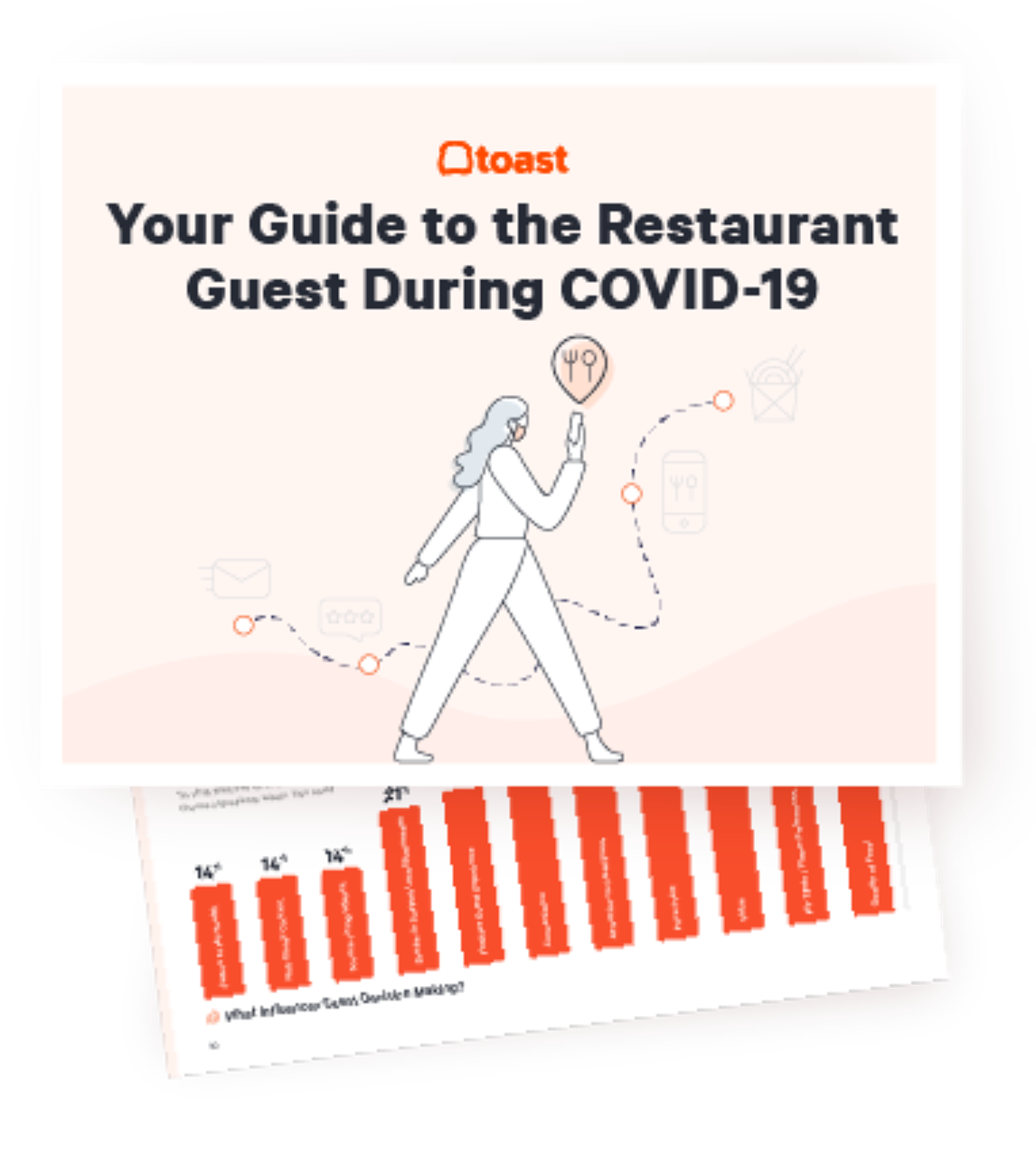 Guide to the Restaurant Guest
Learn how to navigate changing guest expectations during and after the COVID-19 health crisis.
Download
Weigh the Costs and Benefits of Wifi for Restaurants
Are you at a distinct disadvantage today if you don't offer free wifi for your guests?
The answer is: it depends. It depends on the type of restaurant you are running and the experience you are trying to create for your guests.
Wifi is most common in limited service restaurants where guests order at the counter and take their food to go or to a table. At a full service restaurant, where faster table turnover means higher profits, opening up wifi to your guests will likely be detrimental to that metric. But that doesn't have to be the rule. Let's first talk about the elements of opening up guest wifi in a restaurant or cafe:
Benefits
Longer stays, larger ticket sizes
Having wifi available encourages guests to spend longer amounts of time in your restaurant or cafe, leading to increased ticket size from people refueling on coffee and food during the day.
Repeat business and increase in organic advertising
If your wifi proves to be reliable and fast, guess what? You're going to start seeing the same faces. While these guests are staying longer, this also means they will likely conduct casual meetings or invite friends to join at the end of a long day, giving your restaurant or cafe a boost of advertising from these loyal patrons.
Costs
Limited Available Seating
Wifi generally causes guests to stay for a longer period of time, meaning seating during peak hours could be scarce. This could drive away potential new guests who are turned off by an overly busy environment. To help with this, you could consider putting a time limit on internet access.
Cost for bandwidth
Depending on the size of your restaurant, getting the correct amount of bandwidth to operate at an optimum speed could get expensive. We suggest measuring things like average ticket size and revenue per day to track if things improve after implementing wifi. While guests staying longer is generally good for ticket size, it's important to track if it's improving relative to the amount of time each guest has spent in your store.
Avoid Common Pitfalls
Taking these costs and benefits into consideration will help you determine if guest wifi is the right move for your business. One important thing to note is that regardless of if you're opening it up to guests, you will need wifi for your restaurant in order to run your POS system and any streaming music or video.
If and when you decide to offer wifi for your guests, you need to make sure the two are not operating on the same network. Having your guests use the same wifi as your business products opens you up to a world of potential security and bandwidth issues.
It's easy to avoid common pitfalls if you take the time to set up your wifi network correctly. Password protecting your network and either printing the password on the receipt (requiring purchase to access) or keeping it posted inside your restaurant is also an important security measure.
Finally, you will need to consider the amount of bandwidth you will need. In order to figure this out, use a tool like this calculator from Bandwidthpool that requires you to provide details of usage needs and amount of guests on the network to figure out your optimal bandwidth.
What About Social Wifi?
Although classic wifi is a safe route and one that the majority of restaurants will use, there's a new kid in town: social wifi.
Social wifi eliminates the cumbersome process of accessing wifi via settings and typing in a password. Instead, it uses popular social accounts, like Facebook or Instagram, as a vehicle for guests to check in and receive wifi. On top of that, you have the added benefit of now knowing who these customers are and being able to market to them with targeted promotions.
Subway, one of the first larger chains to implement social wifi to increase loyalty downloads, did a recent test over 4 months at 54 locations with vendor Turnstyle Solutions. One of the most compelling stats they found was that over 16,000 new users joined their loyalty program over just that 4 months. Sound compelling? Social wifi could be the future norm.
How is Public Wifi Giving Your Restaurant an Edge?
As with any technology you implement in your restaurant, make sure you're aware of the goals you need to accomplish. With wifi, speed and accessibility for customers are paramount. Without those two things running smoothly, the use of wifi at your establishment will become more of a hassle than a resource. Wifi is now a commodity and a tool to enhance the guest experience at your restaurant. It is also another way to entice customers to come to your location instead of a competitor. At the end of the day, if a customer comes into your store to use your wifi and not necessarily because they know your food is better than the place next door… that's still a win for your business!
Related Restaurant Operation Resources