New Technology Reduces Customer Wait Time, Improves Operational Efficiency, and Allows Easy Customization of Menu Items
Toast Offering New Customers Up to Two Free Terminals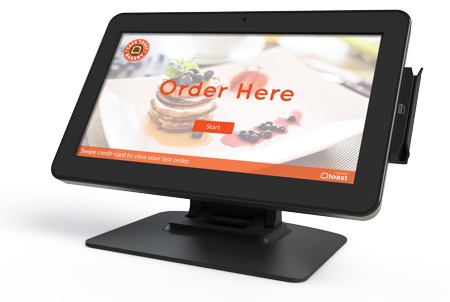 , an all-in-one restaurant technology platform, announced today it has launched self-serve kiosks, a new product designed specifically to enhance guest experience and improve operational efficiency for restaurant operators. The Toast Kiosk provides customers with easy, accessible, and flexible ordering options, resulting in decreased wait times and increased productivity for restaurant operators.
To celebrate this summer announcement, Toast is currently offering new restaurant customers up to two free 10 inch terminals. The promotion applies to any terminal including handheld tablets, kitchen display screens, and the new self-serve kiosks. New customers who want to take advantage of the promotion with a larger sized terminal can apply the value of the free 10 inch tablet to their purchase.
"Our goal at Toast is to create an unparalleled customer experience for both restaurants and their guests," said Chris Comparato, CEO of Toast. "Our new self-serve kiosks put ordering power directly into the customer's hands, creating a simplified order and checkout process that eliminates lines at peak hours and allows staff members to better serve their guests."
With Toast, restaurants of all sizes can now offer advanced technology that formerly only catered to large restaurant chains. Toast Kiosks are built on reliable, commercial grade Elo hardware and come equipped with customer-facing ordering and payment functionality. The customizable kiosks allow for the addition of imagery on the home screen and each menu item to appeal to customers throughout the checkout process. The kiosks process credit card payments and also have the ability to remember the customer's last order with the swipe of a credit card for quick reordering.
"We want people to be able to have their own journey at Protein Bar and Thrive360," said Jon Arbitman, Sr. Technology Services Manager of Protein Bar. "Toast's kiosk technology offers an avenue for customers to forge their own journey – seeing the items as they're browsing the menu on the kiosk and selecting exactly what they want. Our mission is to change the way people eat on the go and the kiosks support that goal, making the process even faster for our customers who want to get in and out quickly."
Toast is an all-in-one technology platform that integrates the point of sale (POS) with critical restaurant management systems to deliver a best-in-class customer experience. The system is built specifically for restaurants on a cloud-based platform, which allows access from any internet-connected device. Toast offers advanced functionality to manage the day to day operations of the restaurant, including quick menu modifications, real-time enterprise reporting, online ordering, and labor management on an easy-to-use interface. The platform also features revenue-driving tools including physical and digital gift cards, loyalty programs, and online ordering.
About Toast, Inc.
Toast is an all-in-one restaurant technology platform. Built specifically for restaurants, Toast offers a mobile, cloud-based point of sale (POS) system that incorporates key facets of the guest experience into one platform, connecting the POS system with integrated online ordering, gift card and loyalty programs, and labor and sales reporting. Since launching Toast in 2013, the company has grown to hundreds of employees and thousands of restaurants, ranging from fine dining to fast casual, from independent businesses to national chains. Learn more about Toast at www.toasttab.com or on their Facebook page.