DISCLAIMER: This content is provided for informational purposes only and is not intended as legal, accounting, tax, HR, or other professional advice. You are responsible for your own compliance with laws and regulations. You should contact your attorney or other relevant advisor for advice specific to your circumstances.
Food halls are popping up seemingly everywhere these days. All over the world, they're drawing droves of people in to sample foods from a wide range of restaurants. Curious about what makes these businesses unique? Thinking about getting a stand at a food hall for your restaurant? Read on to learn more.
What is a Food Hall?
Food halls can cause a little bit of confusion at first. Is it a marketplace? A cafeteria? A farmer's market? A glorified mall food court? The answer is that they're often a little bit of all of those. A food hall is an eating destination that contains multiple restaurants, usually counter-service. And while that can occasionally include chain restaurants, it's more often a showcase for local spots, independent businesses, or smaller, specialized chains. They tend to have large seating capacities, and just like in a food court, a group can sit together while each dining on different food from any of the restaurants in the food hall.
Food Hall vs. Food Court
Think back to your last mall visit. While not always the case, mall food courts usually feature fast food chains like McDonalds, Sbarro, and Panda Express, maybe a chain smoothie vendor, and a chain coffee shop. Do you see a common theme here? They're not food destinations as much as they are places to fill up before hitting the next clothing store.
A food hall, on the other hand, usually features more unique options, catering to people who love to eat and try different foods, rather than the casual grab-and-go eater.
Why are Food Halls so Popular?
Why would someone choose a food hall over a traditional restaurant? Here are a few overriding reasons.
The power of choice: When you're meeting friends for a meal, choosing the right place for everyone can feel overwhelming. One friend may not like sushi while another friend doing keto. A food hall means everyone can eat together and choose from a variety of cuisines. It also means you can mix it up even within the space on one meal: You can try an appetizer from the Mexican place and get your main meal from the Chinese spot, and wash it down with an espresso from the cafe or bar. 52% of adults are eager to try a variety of cuisines from around the world, according to a 2018 study by Cushman & Wakefield. More choice means that everyone can try what they want.

Low startup costs: As an aspiring food entrepreneur, finding the funds to start a restaurant may seem impossible. In the past, food trucks have been a great startup option for restaurants, but gas prices are rising and permitting has become complicated in some cities. A food hall gives you a startup option with lower costs than opening a full-blown restaurant, and you don't have to worry about finding a place to park at night.

A slightly easier lifestyle for restaurant owners: The restaurant lifestyle is notorious for long hours and hard work. If you want to run a restaurant, but would prefer to avoid some of the major stresses of restaurant life, a food hall stall could be a great solution. Food halls typically have shorter operating hours, and the smaller location means you have fewer staff to manage. Usually, your team also doesn't have to worry about things like bussing tables or seating customers.

A quick and casual experience: For some meals, diners want to be able to eat quickly or even get their food to-go, whether they're on a short lunch break from work or are headed to the gym. Instead of settling for fast food options, a food hall can offer quick service that caters to the tastes of food lovers.
---
Read this next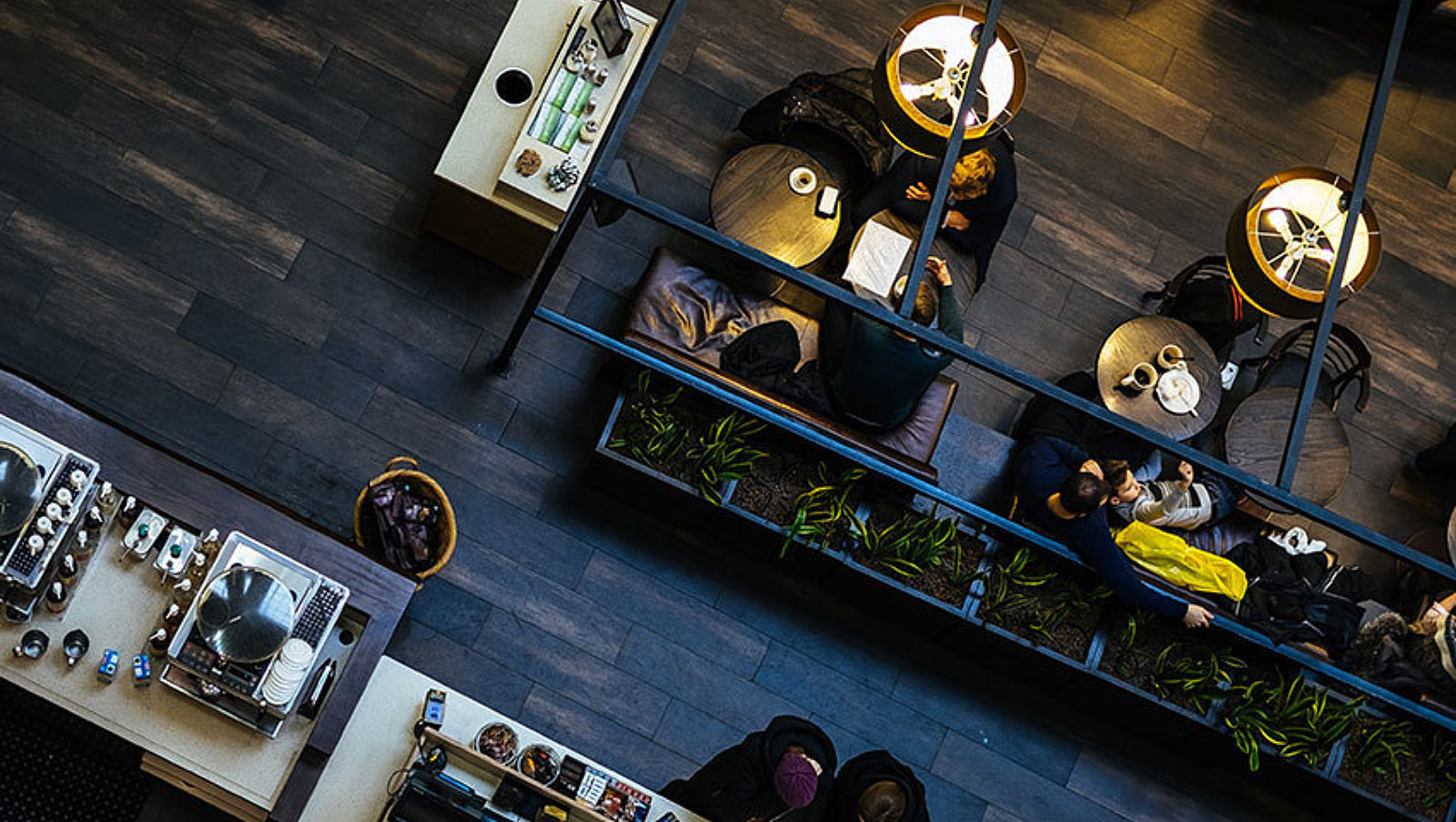 How Much Does It Cost to Open a Restaurant?
Let's take a look at all of the financial costs that go into opening a restaurant.
What's the Rent of a Food Hall Location?
If you're thinking about opening up a spot in a food hall, consider the costs. While they'll certainly be lower than at a traditional brick and mortar restaurant, rent can vary depending on the location and type of food hall. According to a report from Cushman and Wakefield, typical monthly rent can be as low as $15 per square foot and as high as $200 per square foot.
Some food halls have a flat rate, but others use a formula to calculate rent each month. Factors in the equation can include a percentage of your monthly sales or a percentage of your sales above a certain threshold.
Some food halls will cover the basic buildout costs while the vendor is responsible for any customizations. Others require vendors to pay for the entire buildout.
If you are considering renting space in a food hall, be sure you know what costs will be included for that specific location, so that you can plan accordingly.
How to Become a Food Hall Vendor
Ready to apply to your local food hall? Make sure you're prepared, and have everything you need to apply. Most food halls require a few or all of the following:
A business plan

Your financial history and projections

A financial plan

A description of your restaurant concept

A background check
Research online or contact the specific food hall, if you want to know their exact requirements to apply for a space. For some of the halls below, we'll include a link to apply for a space.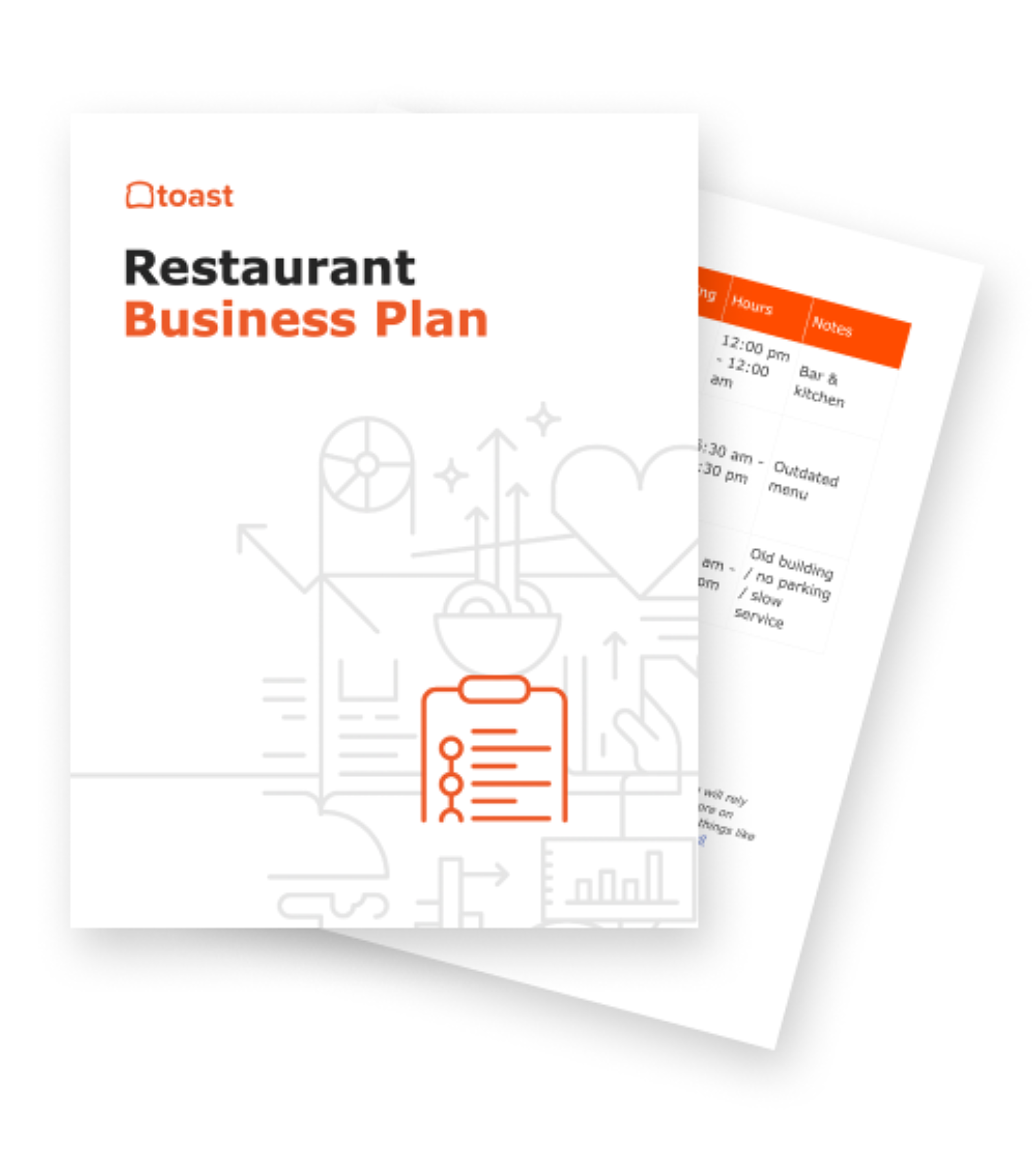 Restaurant Business Plan Template
No matter where you're at in your restaurant ownership journey, a business plan will be your north star. Organize your vision and ensure that nothing is overlooked with this free template.
Download
10 Best Food Halls in the US
La Cocina Municipal Marketplace
La Cocina has operated since 2005 as an incubator for low-income food entrepreneurs. Their Food Hall just opened its doors in April of 2021, as a space for women food entrepreneurs to gain experience running a restaurant, and provides access to resources that will help them thrive as owners. The Food Hall, located in the Tenderloin neighborhood of San Francisco, features seven different vendors with cuisine options from around the world. You can find vegan Salvadoran treats at Estrellita's Snacks or try an Algerian protein bowl at Kayma, run by husband-and-wife team Wafa and Mounir Bahloul.
Legacy Food Hall
Legacy Food Hall in Plano, Texas, features over 20 restaurants and five different bar options, so customers can get some drinks as well as delicious food. And with an event venue right inside the food hall, you can enjoy entertainment such as live music, sporting events, and movies. Just remember to bring your credit card, because this food hall is completely cashless. Try some Indian treats at Blist'r, or head over to Roots Chicken Shak and try one of their chicken sandwich offerings.
Time Out Market (Various Locations)
You'll find Time Out Market Locations all over the world, including Boston, Miami, and New York. This food hall chain was started by a media company wanting to highlight the best and the buzziest culinary options in the city. Stop by Gelato & Chill to try a sweet treat at the Boston location, or try the latest addition to the Miami location, Arepitas Bar, for a taste of Colombia. Each of these locations also has all kinds of events from craft and sips to concerts, so you can be sure something is always happening.
Ponce City Market
Ponce City Market is a trendy Atlanta destination, that holds shops, apartments, and office spaces, in addition to places to eat. There are 34 restaurants to choose from, including Nashville vegan donut star, Five Daughters Bakery, and the H&F Burger Bar from James Beard award-winning Chef Linton Hopkins. Customers may just be inspired to wander the halls all day, to try different flavors and cuisines.
Morgan Street Food Hall
Located in the Warehouse District of Downtown Raleigh, North Carolina, Morgan Street Food Hall sits among trendy shops and cultural destinations. Featuring 16 restaurants and four retail vendors, you can try local favorites like Raleigh Raw juices, CowBar, or Oak City Fish and Chips.
Budd Dairy Food Hall
Who doesn't love a rooftop experience? After delays due to COVID-19, Budd Dairy Food Hall finally opened its doors in April of 2021. Located in Columbus, Ohio, the food hall was designed by Cameron Mitchell Restaurants (CMR) as a hub for up-and-coming restaurateurs and chefs. It currently features 11 different kitchens and five diverse bar options. Check out the Chuck Norris-inspired chicken joint, Cluck Norris, or sample some Filipino bites at Boni Filipino Street Food.
Transfer Co. Food Hall
Another popular Raleigh, North Carolina spot is the community-oriented Transfer Co. Food Hall. Located in Raleigh's historic Moore Square Arts District, the food hall sits in the renovated Carolina Coach Garage, and prides itself on its history. Eat delicious seafood at Locals Oyster Bar, or grab a wood-fired bagel at Benchwarmer's Bagels. The space can also be rented for special occasions, such as weddings or networking events.
The Pizitz Food Hall
Eat, work, play, and then eat some more! The Pizitz Food Hall in Birmingham, Alabama boasts a cinema, shops, a coworking space, 12 food stalls, a restaurant, and a bar. Pick an entree from Pho Pho Vietnamese and then grab a sweet treat at the Birmingham Candy Company or Edolyn's Pies.
Melrose Market
Pike Place Market may be Seattle's most well-known food market. But word on the street is that Melrose Market is a trendier, less busy alternative. Located in the Capitol Hill neighborhood, just a few blocks from Seattle's bustling downtown, it's home to a collective of award-winning restaurants like Terra Plata and Homegrown. The market also contains an event space called Melrose Market Studios.
Grand Central Market
Tacos, ice cream, and fresh pasta, oh my! You can find these treats and more at La Tostadería, McConnell's, and Knead, all located in Los Angeles's bustling Grand Central Market. This food hall has been making its mark since it opened in downtown Los Angeles in 1917, and currently houses shops and an event space, in addition to 40 different food vendors. Meaning, you could spend a day (or a few) exploring the halls of this food market and tasting different delicacies.
Union Market
Whether you need to stock your bar cart at Vitis Fine Wines & Spirits or are looking to chow down on some bratwursts from Red Apron Butchery, Union Market in Washington DC is the place to do it. This revived grocery bazaar holds shops, permanent restaurants, and pop-up food stalls. And if it's a nice day, be sure to check out Hi-Lawn, their rooftop greenspace that hosts different food vendors every season.
Food Halls are Here to Stay
Food halls can be a great place to start a restaurant, since they offer benefits to both owners and diners. If you're considering running a stall, do your research, and be sure you know the requirements for applying and operating before you start. If you're armed with an exciting new restaurant concept, are full of grit, and are ready for a bit of hard work, we know you'll be set up for food hall success!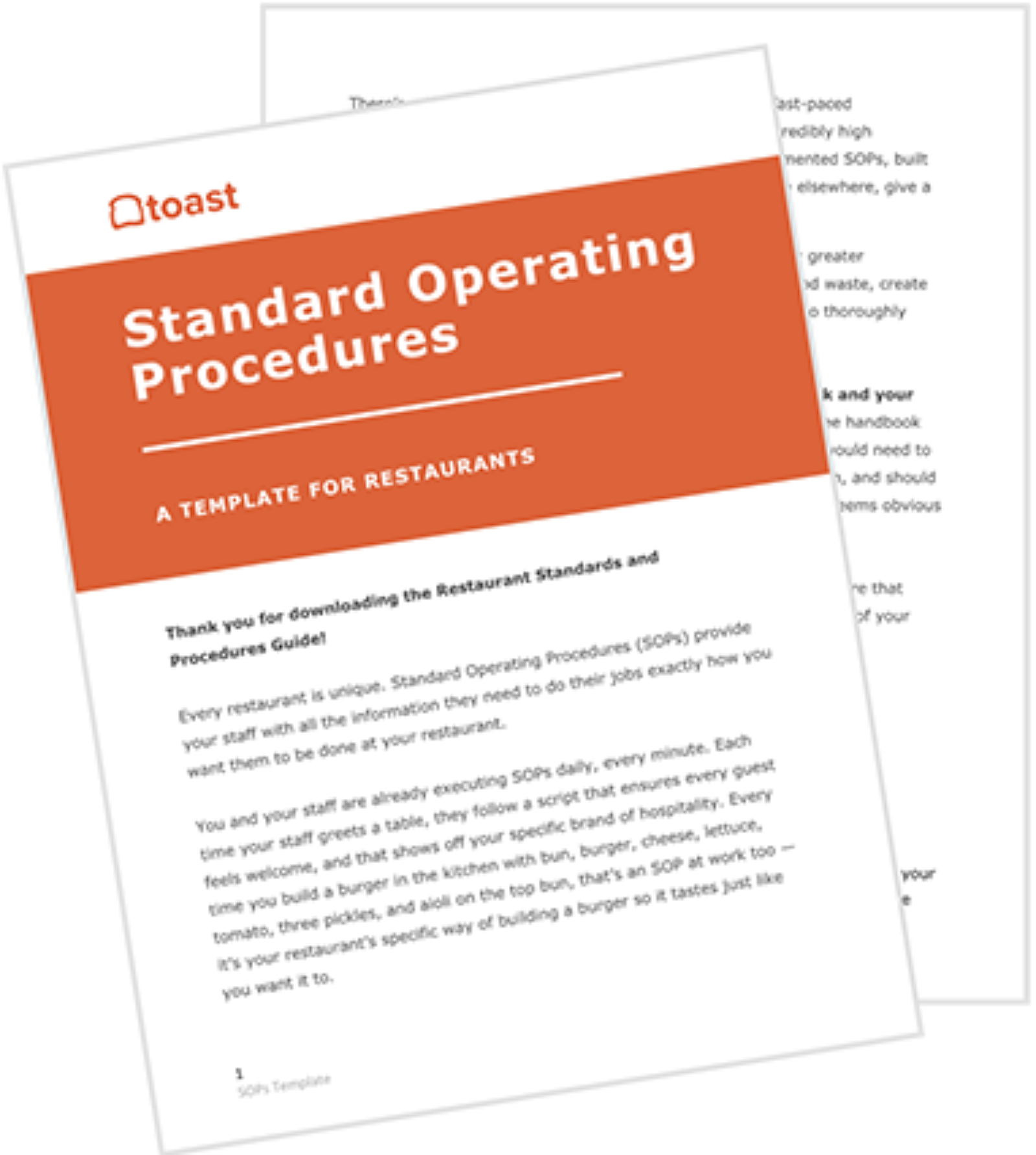 SOPs Template
This template will help you create SOPs for your entire business, so you can create consistency and easily train employees.
Download