DISCLAIMER: This content is provided for informational purposes only and is not intended as legal, accounting, tax, HR, or other professional advice. You are responsible for your own compliance with laws and regulations. You should contact your attorney or other relevant advisor for advice specific to your circumstances.
A perfectly sliced cut of meat. Thinly chopped vegetables accentuating the signature house salad. These dishes don't just materialize out of thin air; they require time, energy, and the right kitchen tools. And in restaurant work, few items are more essential than chef's knives.
They're critical to a dish's presentation, helping round it into form, so to speak. For that reason, no investment of money, research, and maintenance is too great when it comes to your chef knives.
Powered by Froala Editor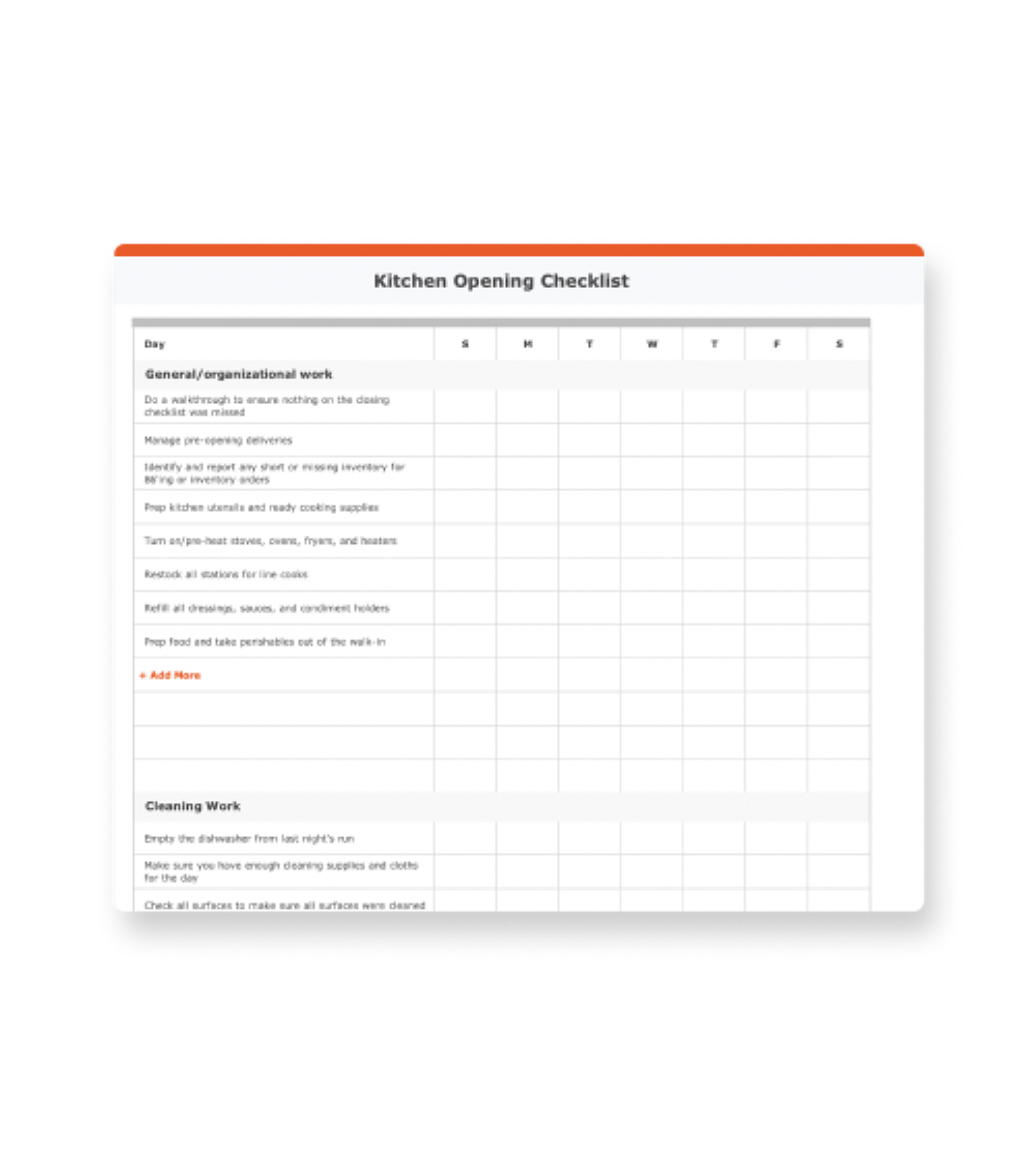 Kitchen Opening and Closing Checklist
Ensure your back of house runs like a well oiled machine with these customizable kitchen opening and closing checklists.
Download
What are chef knives?
Do chefs use them? Yes. Is that all there is to them? Absolutely not!
Developed in Thiers, France, these multipurpose, composite stainless/carbon cutters are 8-10 inches long. Chef knives' precision cutting comes from the rounded blade and sharpened point at the top of the knife, enabling users to use a rocking, tip-to-heel cutting motion.
From dicing large onions to julienning carrots, a sharpened chef's knife can cut all the ingredients for your dish into optimal size and shape, ready to cook to their fullest potential.
What is a knife roll?
A knife roll is like the closet that houses all your knives. A roll is tailored to the size and sharpening needs of your knife set. Your knife roll should be large enough to house your whole set. Plus it should be able to contain complementary parts like scissors, thermometers, peelers, scrapers, graters, and tweezers.
Whatever you need to make your dishes should fit in your roll and unfurl in an instant. Instead of opening every drawer and cupboard in your kitchen, the knife roll is a one-stop shop for all your cutting needs.
What knives do I need in a restaurant?
What should you put inside your roll? Here are some must-have knives for your restaurant:
Chef's Knife: This does it all — chops, dices, juliennes, everything! Your chef's knife is your utility player that literally shapes the look and taste of the dish you're creating.
Paring Knife: These are about half the size of a chef's knife and focus on slicing and mincing items that might be too small for a chef's knife to handle.
Santoku Knife: Coming in at 5-9 inches long, a Santoku knife minces, dices, and slices. It's best used on fruits and vegetables.
Serrated Knife: Known as a bread knife, these 6-inch blades are not great for chopping. They're most effective at slicing bread and dividing cake layers.
Of these five selections, your chef's, paring, and serrated knives are the ones your back-of-house team absolutely have to have.
Where to buy knives for a restaurant kitchen?
Kitchen knives can be bought on wholesale from several providers, including:
Made In
Amazon Business
Misen
Dalstrong
Euna Knife
Webstaurant Store
Restaurant Supply
KaTom
MIssionRS
Powered by Froala Editor
How to sharpen a knife
Just as there is no one cutlery option for your kitchen staff, there isn't a single method for keeping your knives sharp. Look into these options, which can be done manually or with machine assistance:
Pay a professional: A professional knife sharpener won't break your bank! For $75-100 a pop. you can take your blades in a few times a year to keep them in good shape.
Use a whetstone: Primitive as it is, a whetstone is likely your most durable knife-sharpening option. Keep it nearby and enjoy a lifetime of sharpness.
Sharpen it yourself or with an electric tool: Kits and electric sharpeners are available and affordable, depending on your budget.
How to hone a knife
First of all, it's "hone" NOT "home." Now that we got that grammar bug-a-boo out of the way, let's talk about HONING your knives, which can be a pretty simple process. The goal is to maintain a blade's straightness and sharpness; it's overall integrity, if you will. Once you've acquired your honing tool, take the steel object and apply pressure to the tip at a 22-degree angle. Then, slide the tool down the edge of the blade as needed. Easy enough, right?
How to sharpen a serrated knife
There are a couple of approaches you can use here, but know this: a serrated knife can't be sharpened the same as a regular ol' chef's knife. There are professionals who will work on them for a fee, but if that's not in the cards, buying the necessary tools can be a good long-term investment.
To start, get yourself a ceramic honing rod, which is different from a standard honing rod. Because of its composition, when applied to a serrated knife, the rod removes some of the blade's material. Removing that excess helps sharpen the edges, so no need to worry!
Begin on the back edge of your knife and level the rod with each individual gullet (groove) of the knife at an angle. Slice through each groove a few times to sharpen it. Finally flip the serrated side down and inspect the flat half for burrs (i.e., bits of steel) with your finger. If you feel any, buff those out and return the knife to its slot on your block.
***
Your chef's knives are an essential kitchen purchase. No amount of research or maintenance is enough when trying to find the right tools and ensure their effectiveness for years to come.
Powered by Froala Editor