Plant-based foods and diets are increasingly popular today. These diets are evident in human history as far back as ancient Greece, during which consuming mostly plants and fruits was referred to as the "Pythagorean Diet" because of the philosopher Pythagoras' teachings on the immoral slaughter of animals.
Data from the National Library of Medicine indicates that the number of Americans following a vegan diet has increased by 600% since 2014. As plant-based eating grows in popularity across the United States, these plant-based bloggers are educating both people who are new to eating plant-based and lifeline vegan eaters who are looking for more plant-based recipes.
To help you find the best plant-based food blogs to guide your plant-based diet, we put together a list of food bloggers who know everything you need to know about plant-based eating.
These are the top 20 plant-based food blogs in 2023.
VegNews

PlantYou

Vegan Richa

Dreena Burton

Brand New Vegan

Veggie Inspired

Forks Over Knives

Feasting at Home

World of Vegan

Plant-Based on a Budget

The Minimalist Vegan

Make It Dairy Free

The Full Helping

My Goodness Kitchen

The Korean Vegan

Fried Dandelions

Sweet Simple Vegan
Ready? Let's dive in.
Most likely to be president of a plant-based world: VegNews
An award-winning magazine and vegan food blog, VegNews is the go-to source to learn everything and anything about eating plant-based or vegan.
Since its start in 2000, VegNews has been on top of all the plant-based news and trends before plant-based eating became as popular and well-known as it is today. What started as an online blog, VegNews now has a magazine and reaches millions of people every month, making them the best global source for information about plant-based food, trends, lifestyle, and more.
Plant-based superhero: PlantYou
A dreamy, minimalist-style blog, PlantYou was started by Carleigh Bodrug, a journalist who started out on a mission to educate people about the benefits of eating plant-based.
After transitioning to a plant-based diet herself, Carleigh started PlantYou with the goal of making it easy with simple recipes anyone could replicate at home. PlantYou even offers a digital meal plan program to help you plan your whole-food, plant-based meals.
Most substitutions: Vegan Richa
An award-winning recipe developer, Richa is a food blogger and photographer who started a successful plant-based food blog simply called Vegan Richa. Richa chose to focus her blog on Indian plant-based cooking to show how easy it could be to cook vegan-style Indian food. Her recipes also offer gluten-free, soy-free, and even oil-free substitutions – Vegan Richa has all the bases covered!
Mother of plants: Dreena Burton
As a legend in the plant-based food blog community, Dreena Burton published her first plant-based cookbook in 2001 well before plant-based eating grew in popularity. Dreena offers her readers a trusted blog filled with a variety of original plant-based recipes as well as cooking techniques for making substitutions.
As a certified-Yoga teacher with certification in traditional Chinese medicine, Dreena is very knowledgeable about holistic health and plant-based eating, making her a popular go-to for all things related to plant-based diets and health.
Best for beginners: Brand New Vegan
The blogger behind Brand New Vegan may surprise you: Chuck grew up in Indiana and followed a traditional American diet of cheeseburgers, pizza, fries, and BBQ before switching to a plant-based diet after turning 40. He started his blog to share his story and the information he learned in an effort to help friends and family understand the importance of a healthy diet.
Brand New Vegan is approaching and helpful for people new to eating plant-based, making it a good first blog to visit when just starting your diet transition.
Most likely to win you over: Veggie Inspired
In an effort to make more approachable plant-based food for her family, Jenn started Veggie Inspired to help others facing the same issue. Veggie Inspired provides vegan or plant-based alternatives to many American classics, such as garlic bread, chili, bacon, and breakfast casseroles.
Whether you have picky eaters in your family or are cooking for those hesitant to adapt to a plant-based diet, Veggie Inspired offers recipes to inspire the whole family to change the way they eat.
Most likely to be on Shark Tank: Forks Over Knives
After learning about plant-based diets at a conference in 2001, Brian Wendel switched his diet and changed his life. What started as a documentary film called "Forks Over Knives" turned into a New York Times Bestseller Now, Forks Over Knives is a plant-based blog that offers recipe books, a mobile app with a meal planner, and offers a line of plant-based food products.
Forks Over Knives is a technology-heavy plant-based blog that has ways to help both beginners and seasoned plant-based eaters. If you want to know the ins and outs of a plant-based diet, Forks Over Knives is the blog to visit.
Most likely to nourish you: Feasting at Home
With a focus on whole foods, Feasting at Home hosts hundreds of recipes that rotate based on the seasonality of fresh produce. Started by professional chef, Sylvia Fountaine, Feasting at Home is a blog that offers recipes and insight into eating vegan, vegetarian, pescatarian, paleo, keto, flexitarian, and omnivore food diets. This blog focuses on making whole-food recipes easy, approachable, and quick. With 30-minute recipe ideas and more, Feasting at Home is helping its readers enjoy cooking to make it feel less like a chore.
From soap and cleaning supplies to plant-based recipes and vegan clothing, World of Vegan teaches readers how to live a cruelty-free lifestyle. Michelle Cehn started World of Vegan with the goal of helping her friends and all people learn how they can take action and make a change in their life that would be good both for them, and the world.
World of Vegan is a helpful resource for those who are looking to transition to a vegan lifestyle but need inspiration and help to do so. It also holds a lot of good materials and information for lifelong vegans who want to help their friends or learn more sustainable ways to live themselves. Having grabbed the "@vegan" username on Instagram a long time ago, it's easy to see how World of Vegan lives and breathes sharing vegan values and morals with the world.
Most likely to nurse you back to health: Plant Based with Amy
A registered dietitian, Amy Gorin, MS, is the voice behind Plant Based with Amy. She is an award-winning dietician and media spokesperson with a goal to help everyone eat plant-based. As a pescatarian, Amy focuses on writing about inclusive ways to eat plant-based to help her readers find the right plant-based diet that is best for them. What makes her blog stand out is her combination of knowledge as an RN and dietician with her media experience to help showcase that everyone's body is different, which means everyone's diet will be different. Amy truly wants to help each individual find the right plant-based meal plan for their body.

The frugal eater: Plant-Based on a Budget
Vegan or plant-based food products can often be much more expensive than traditional dairy or non-vegan products. However, eating plants can be very affordable as long as you know what to buy and how much you need. This is why Toni started Plant-based on a Budget, to help those new or exploring eating plant-based learn how to do so without breaking the bank.
With simple ingredients and easy-to-make recipes, Plant-based on a Budget offers affordable ways to eat healthier without overspending.
Simple but profound: The Minimalist Vegan
By combining the ideas of eating vegan and living a minimalist lifestyle, The Minimalist Vegan helps its readers become more conscious about what they buy and how they eat. Their goal is to offer a more meaningful lifestyle to those who are seeking to live cruelty-free.
This plant-based food blog also offers insight into both how eating vegan is possible, and why it matters. For those looking to drastically change or improve their lives to downsize and eat cleaner, plant-based foods, The Minimalist Vegan blog has the answers.
A food-lover and food photographer, Sophia is the writer behind the lens at Veggies Don't Bite, a quirky, fun, plant-based food blog that wants to avoid overwhelming those looking to eat healthier. Sophia focuses on teaching her readers small habits that they can start daily that will help them work toward a bigger shift in their health goals. Her rule of thumb is, "remember to balance out the salad and the fries."
Rather than focus on an "all or nothing" approach to eating plant-based, Sophia invites her readers to dip their toes into plant-based eating and take it one day at a time while also enjoying the process of trying new, easy, plant-based recipes.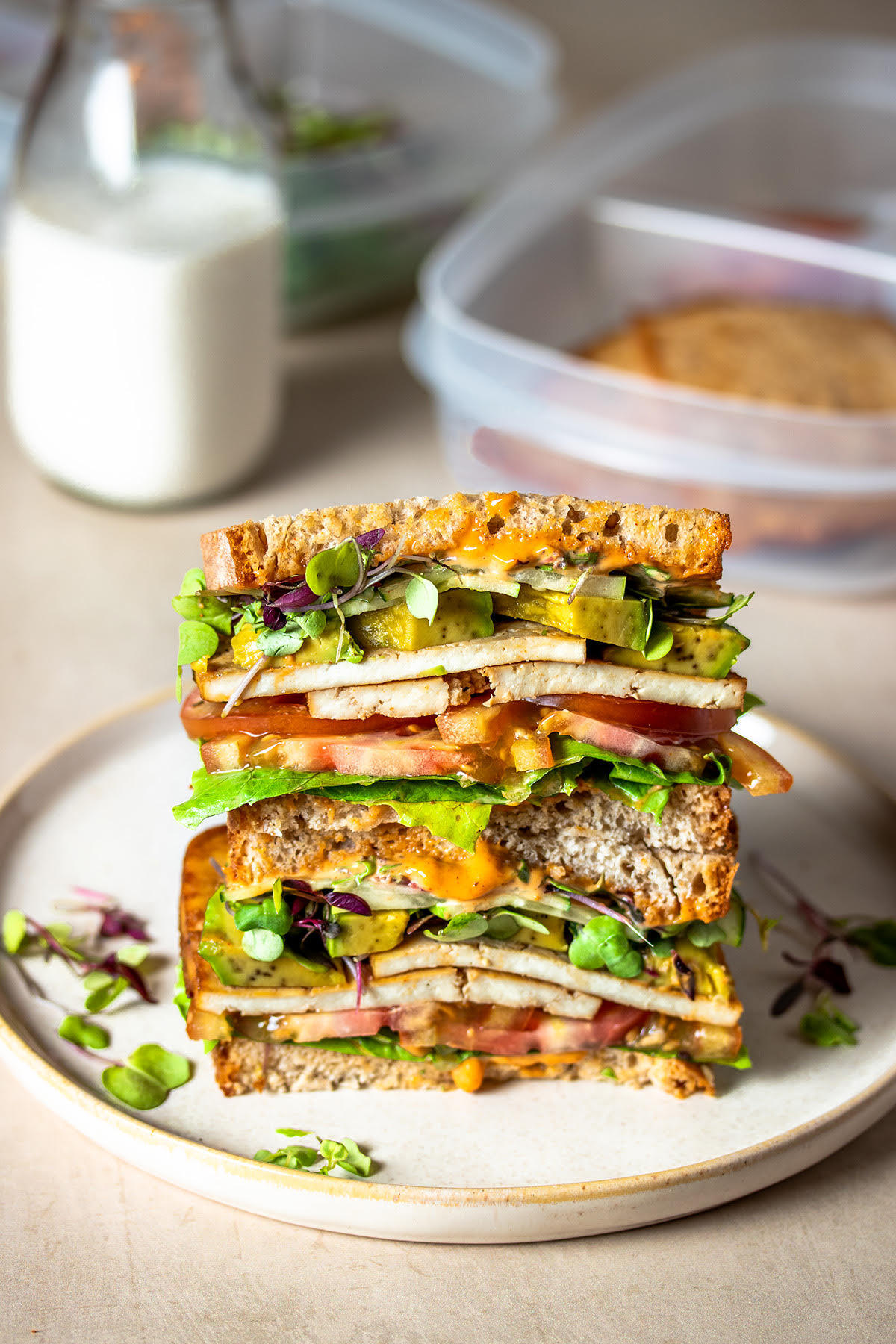 Covering all the bases: Make It Dairy Free
Whether you are looking for resources on eating dairy-free, making substitutions in recipes, or if you need ideas for what you can eat at most restaurants, this blog has your back.
Started in 2018, Larisha and Andrew wrote Make It Dairy Free when they realized how difficult it was to find dairy-free foods and make recipes without dairy. This plant-based food blog focuses on dairy-free and gluten-free recipes that focus on substitutions for specific allergens and allergies to help make plant-based eating available for everyone. They even offer kid-approved recipes that allow you to cook dairy-free options for the whole family.
Most likely to lend a helping hand: The Full Helping
Dietician turned plant-based food blogger Gena started The Full Helping after struggling with an eating disorder and switching to a vegan diet and lifestyle. Realizing that eating can be complicated and difficult to manage today, The Full Helping is here to help you on your journey to a healthier lifestyle.
Whether you just want new plant-based recipes or want Gena's help as a dietician, you can find what you are searching for on her blog. Her recipes are all able to be filtered based on your preferences or interests, such as gluten-free, no oil, raw, soy-free, or even tree nut free, making The Full Helping an extremely helpful resource.
Most likely to cook up a feast: My Goodness Kitchen
Amanda started My Goodness Kitchen to create flavorful vegan meals that won't make you miss non-vegan meals.
As a trained chef with a specialization in plant-based cooking, Amanda's recipes are original and bursting with flavor. As you read through the recipes on My Goodness Kitchen, you will be left hungry, and realize that eating plant-based can taste just as good as the foods you have been used to. My Goodness Kitchen also has you covered for any celebration or holiday as her Christmas-themed recipes and feasts are sure to be a hit at any family gathering.
Most likely to become a celebrity overnight: The Korean Vegan
Joanne Lee Molinaro is the voice behind The Korean Vegan, a plant-based food blog that makes Korean recipes and foods vegan. The Korean Vegan food blog started in 2016 after Joanne adopted a plant-based diet and later shared her recipes on TikTok, which helped her blog go viral.
With unique vegan recipes with a Korean twist, such as her Kimchi Crunchwrap Supreme or spicy Rice Paper Bacon, The Korean Vegan has shown that eating vegan and plant-based can be delicious, flavorful, and nourishing. Moreover, for someone who grew up eating traditional Korean meals that often included meat as the main dish, Joanne proves that any food dish can be made vegan.
For all ages: Fried Dandelions
As a mother of two vegan kids, Sarah started her Fried Dandelions plant-based food blog because she needed a place to keep track of her own recipes, and so her family could request the meals they really loved. What started as a personal recipe tracking blog turned into a plant-based food blog that helps other families eat or switch to a healthier diet at all ages.
From appetizers to smoothies and breakfast ideas and holiday desserts, Fried Dandelions has a wealth of different recipes that could easily be offered to vegans and non-vegans without ever mentioning it's vegan! For approachable, family-focused recipes, Fried Dandelions has tracked recipes that are kid, husband, grandmother, and guest approved.
With a focus on seasonal recipes and options for gluten-free readers or those looking for refined-sugar-free recipes, the Resplendent Kitchen offers a mix of different recipes. From appetizers and side dishes to the main course or dessert, the Resplendent Kitchen has ideas that are 100% plant-based with substitutions for those who need them.
Started by a Registered Nurse, Emily, the Resplendent Kitchen grew from Emily's time spent as a recipe developer who fell in love with designing vegan recipes that will nourish your mind, body, and soul. As a traveler and foodie, The Resplendent Kitchen is often also sharing about the vegan foods she discovers on her travels around the world. Emily also takes texture and combination into consideration with her recipes as well as the seasonality of different produce to help newcomers learn how to source locally for their meals.
Most likely to be your best friend: Sweet Simple Vegan
Exactly as its name portrays, the Sweet Simple Vegan is a plant-based food blog that offers sweet, simple, vegan recipes for those new to eating plant-based. Started in 2013 by partners Jasmine and Chris, the Sweet Simple Vegan is a place for them to share their love of animals, the Earth, and living a healthy, conscious lifestyle.
As people who genuinely care about the health and well-being of both animals and humans, the Sweet Simple Vegan reads like an encouraging, helpful friend who wants to help you take care of yourself. With traditional comfort food recipes to snack foods and hearty soups, the Sweet Simple Vegan is ready to share their knowledge and walk you through eating delicious meals that will help you easily move on from non-vegan foods.
Whether you are a lifelong vegan or brand new to eating plant-based foods, these 20 plant-based food blogs offer a variety of different, flavorful, and easy recipes that showcase just how easy it is to eat plant-based.
From recipes that won't break your bank to ethnic meals you never thought could be made vegan, the top 20 plant-based food blogs have you covered!
DISCLAIMER: This content is provided for informational purposes only and is not intended as legal, accounting, tax, HR, or other professional advice. You are responsible for your own compliance with laws and regulations. You should contact your attorney or other relevant advisor for advice specific to your circumstances.