Our most-requested features ever. For freedom like never before.
Introducing: Toast Now
In the know.
In control.
On the go.
The app is here! It's our most-requested feature ever, tested and designed with over 1,000 customers to improve every part of the experience.
Get immediate insights
Live sales data with hour-by-hour totals and helpful breakdowns, including comparisons to same day last week and year.
Control delivery channels
Curb the flow of orders to the kitchen with easy on-off toggles for online ordering, Toast Takeout, and third-party apps like Grubhub.
Communicate and coordinate
Add and edit entries to your manager log, synced with Toast Web, and reply quickly with simple conversational threads.
Easily toggle between locations
Multi-location view keeps things simple. Log in once and see all your locations and performance in a single place.
86 from anywhere
Mark items in stock and out of stock so employees can keep customers informed and solve for shortages in real time.
Keep tabs on your team
See who's clocked in or out, edit employee shifts, and view shift information, including tips earned and break times.
Take a peek behind the scenes
Our customer partnership in action.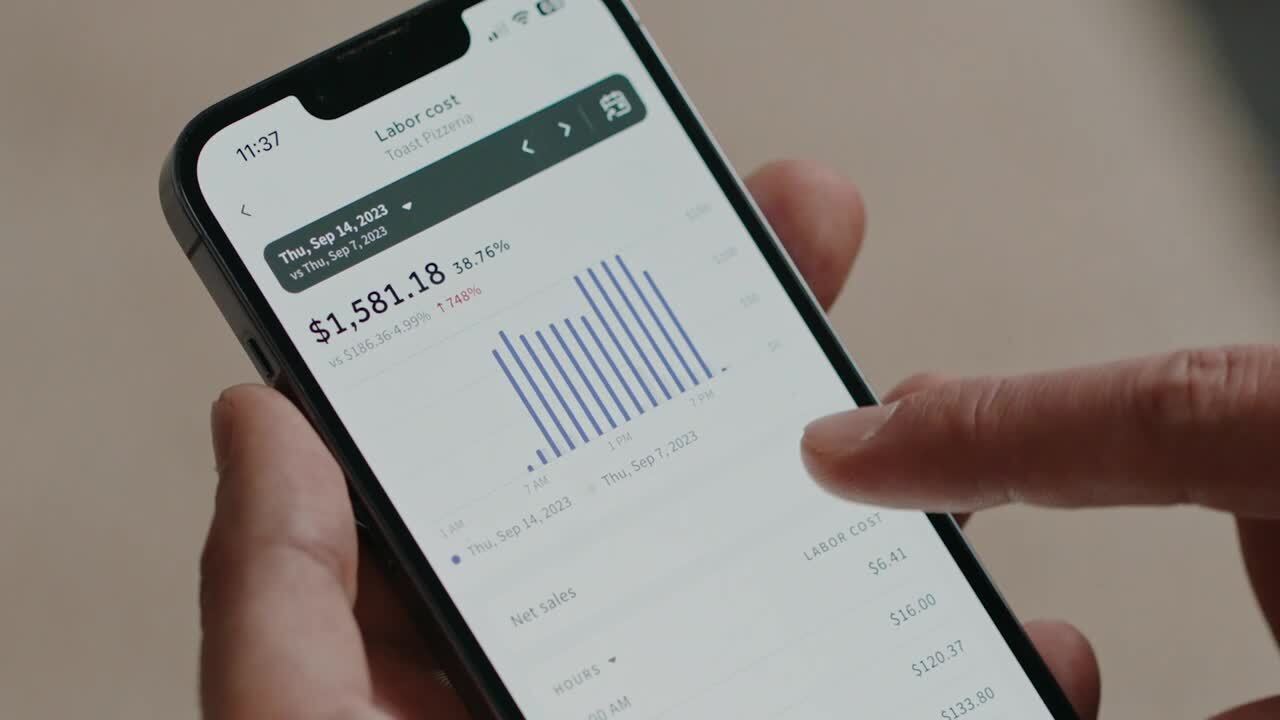 Introducing: The New POS Experience
Best-in-class service. However
you do it.
A sleek, intuitive update with more complete functionality for all service models.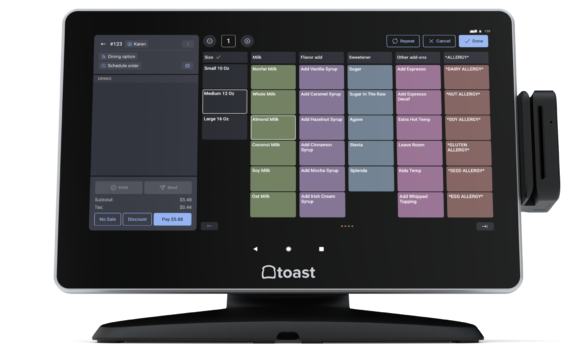 Open view
Open view shows all items and modifiers on one screen, so you can enter complicated orders rapid-fire. Triple-shot iced latte with oat milk? Tap, tap, done.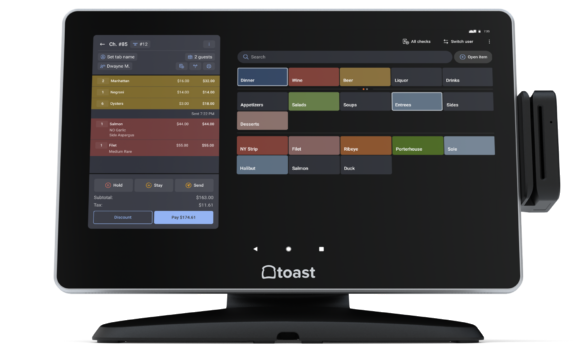 Server item fire
With the ability to hold individual items and easily stay on top of multiple courses, your FOH crew can have complete control of pacing.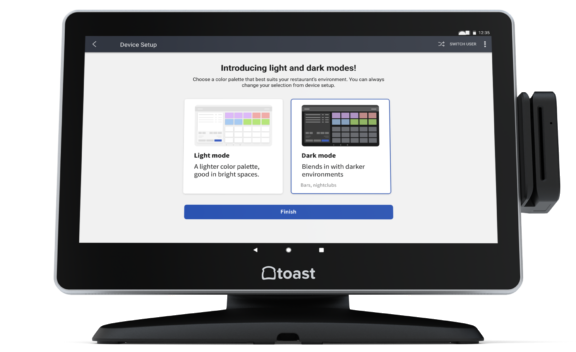 Dark mode
Bars and lounges? We see you. Meaning, you won't see us. Our much-asked-for dark mode maintains all the features and functionality — without killing the vibe.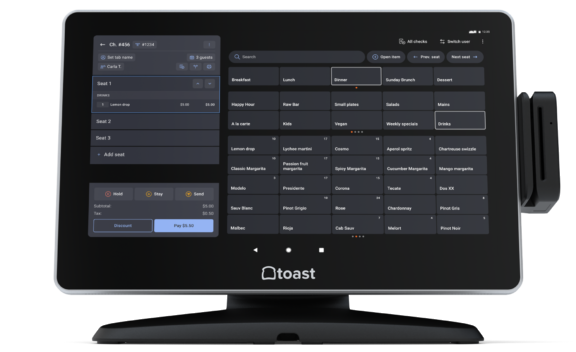 Order by seat
Servers can now place orders by seat numbers, without extra screens — a must for high-touch service and increased efficiency.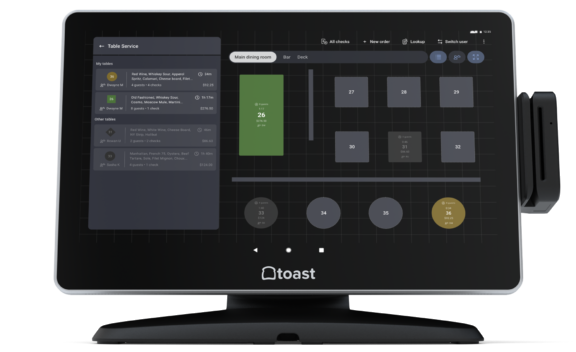 Table timers
Created for improved pacing and quicker turnover, table timers show staff how long a check has been open, so they can prioritize their attention.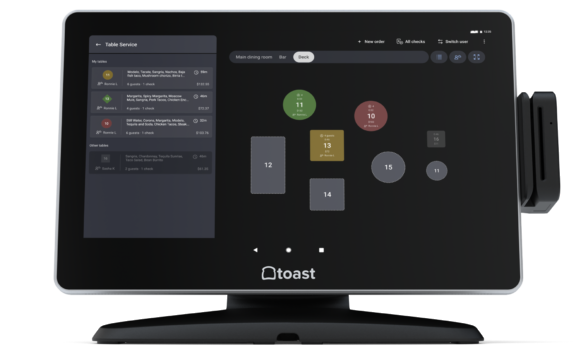 Detailed table insights
Give your team the full context they need, from guest count to total spend to server assignment, in easily viewable active tables or list view.
Plus, get a first look at KDS updates
Coming Soon: Kitchen Display System Updates
Your kitchen,
with less chaos
Exciting kitchen display updates will eliminate clunky workarounds and complex screen views with infinite scrolls, making every rush a little more predictable.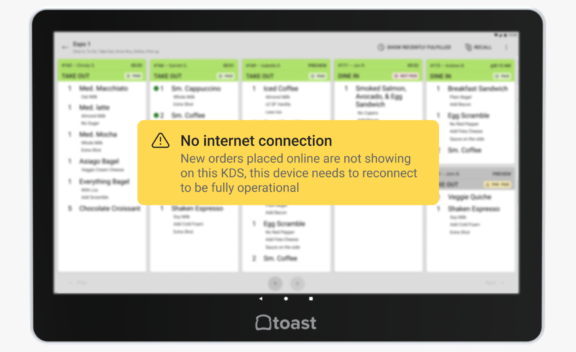 Offline mode
Reliable offline mode keeps the flow of orders and information going between kitchen display screens and your POS, even during internet outages.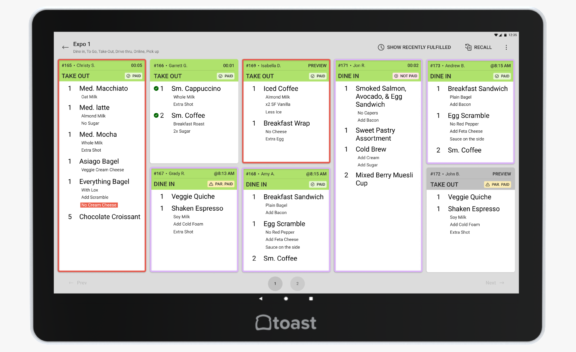 Grid view
Designed specifically for high-volume quick-service restaurants, paginated grid view provides a predictable, organized view of tickets — no more hunting through an endless scroll.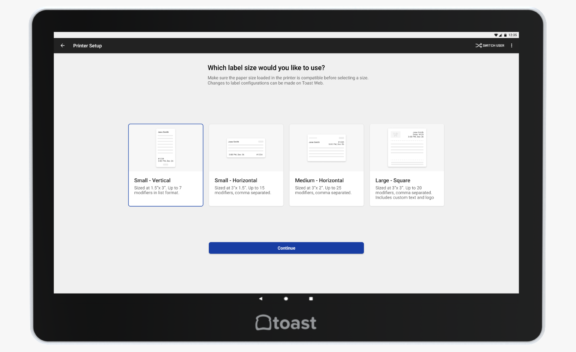 Small-item Labels
Cafes, bakeries, pizzerias: Get psyched for smaller sticky labels, sized to fit on coffee cups, sides of pizza boxes, and tiny muffin-shaped containers.