Step 1: Create a delivery and take-out specific menu.
Think about what menu items will maximize the guest experience and showcase your restaurant brand and mission.
We recommend you remove items that don't travel well or could be ruined by the time your guest shows up for pickup (ex. Ice Cream or Eggs Benedict).
Rather than try to deliver eggs benedict, simply replace it with a benedict breakfast sandwich that comes with hollandaise on the side.
You can even market these special travel items as delivery-only on your social channels to attract new diners and entice your regulars to try out your delivery service!
We generally recommend against including alcoholic beverages in your online ordering menu. However, given the changes in local regulation during the COVID-19 crisis, we suggest you select your top selling 1-3 drink items (ex. cocktail) on your digital menu.
Focus on your top 10 - 20 selling items to limit the size of your menu.
Stick to your most popular items, your highest margin dishes, or your dishes that will be most adaptable for delivery. Simplifying your menu allows you to hold less inventory, reduce costs and give you more flexibility.
The menu you have built in the Toast Now product is what will be reflected in your digital ordering platform.


Create your menu using a clear, three step hierarchy. Progress from Menu to Group to Item.
This will streamline and simplify the ordering experience for both you and your guests. For example, a bakery menu would have a pastries group with a croissant as an item. Or, a food menu would have a burgers group with a pub burger as an item, as shown below.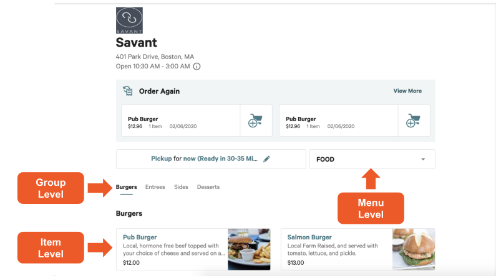 Use modifiers to allow guests to customize their orders.
We recommend using modifier groups that can be applied to individual items (ex. meat temperatures for a steak or burger) or to entire menu groups (ex. dressing choice for salads).
You can also try creating guest-friendly names for your groups (ex. "Dressing Substitutes" instead of "Salad Mods"). In the example below, "Cheeses" and "Meat Temp" are modifier groups.
We also recommend you limit the number of modifiers to a maximum of ten in order to avoid overwhelming your guests with a long list of options to choose from.


Include high quality images and clear descriptions for each of your menu items and groups.
Use compelling images and descriptions to paint a picture for your guests of what they're ordering.
Images and descriptions are not required to complete your menu setup, but do make your menu better. They are also especially important as you advertise to new guests who aren't familiar with your restaurant before ordering online!
Images should be professional grade or as high quality as possible. But don't worry, most smartphones can take great images.
Keep your photos consistent in theme, color scheme and composition. Try your best to keep them on the same plateware with bright lighting.
Your Images should follow these guidelines:

Restaurant Logo - Square, 180px by 180px
Banner Image - Rectangle, 1920px by 1080px
Menu Item Images - Rectangle, 750px by 450px
Images should be uploaded as .png files for best result.

Use menu item descriptions to convey important information like ingredients and allergens rather than basic items that your guests will know (ex. Miso soup includes fish rather than Bottle of water).
Additional Examples of Descriptions:
Caesar Salad - romaine, parmesan crisps, croutons and house-made dressing *contains anchovies*
Pub Burger - local, hormone free beef topped with your choice of cheese and served on a locally made artisan bun