A restaurant marketing strategy refers to the collective marketing efforts or activities — also known as marketing campaigns — made by a restaurant over the course of a year, typically organized and tracked in a restaurant marketing plan.
The first step in creating a restaurant marketing strategy is identifying your restaurant's target customer or target market, a subset or cohort of the general population whose business you hope to earn because their behaviors, preferences, and values align with your business' brand, mission, vision, and purpose. Next, you'll want to develop buyer personas: A buyer persona is a model of who you think your most common customer is. Businesses often have more than one buyer persona.
How to create a buyer persona.
To create buyer personas of your customer base, you'll first need to identify and outline your most frequent clusters of guests. Here are a few different strategies you can use:
Have the manager-on-duty record a daily summary of the types of guests they saw come in during their shift; do this each day for a month in your manager logbook.

If you host a restaurant loyalty/rewards program for guests, try sending out a survey to participants via your restaurant's CRM solution. Offer a promotional discount to everyone who participates as well as the chance to win a gift card to your restaurant.
Pull rich sales reporting from your restaurant point-of-sale system. One of the benefits of Toast's point-of-sale technology is the robust customer report feature: Restaurant owners and operators can isolate customers who visited during a given time period then drill-down and learn more about each customer's unique behavior while in your restaurant. Here is an example of a customer profile from Toast's point-of-sale reporting and analytics: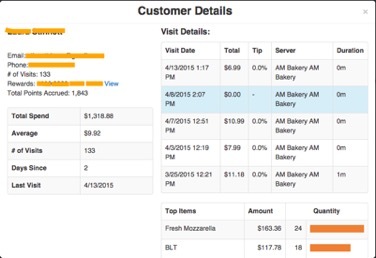 When it comes to developing buyer personas around common customer types, the frequent visitors report from Toast will undoubtedly be your strongest source of data. This report isolates (as the name suggests) your most frequent visitors and compiles valuable data about their preferences and behavior all in one place. Analyzing and finding commonalities amongst this set — from popular menu items, time of visit, total spend, and valuable demographic data like age, gender, and address — will set your buyer persona development off on the right foot.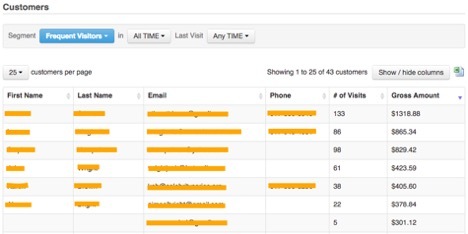 After you've zeroed in on your customer clusters, it's time to turn them into buyer personas. For each cluster of customers you've identified who share 5+ commonalities, you'll want to create a persona. As previously stated, it's common for businesses to have multiple buyer personas. When building out a profile for a buyer persona, you'll want to:
Give each buyer persona a name and a photo — For the visual learners on your team, this will help them memorize each persona's qualities and how to spot them. Use a site like UnSplash to find great free images.

Outline high level identifiers — Examples include: age, gender identity, generation, etc.

Highlight average spend

Number of visits per [insert time period here]

Include a buying behavior summary — This section should outline the analysis you did into what this type of buyer likes to order, how much, favorite wine/beer brands, etc.

Outline their likes — This doesn't just apply to preferences within your restaurant. A customer is first and foremost a person and they have a life outside the hour or two they're visiting your restaurant. By understanding their whole personality, not just as it pertains to your restaurant, you'll find it easier to entice and engage them to enter your restaurant.

Outline their dislikes — Same approach as likes section, but, like, negative.

What marketing channels to use to reach this persona — If you're targeting Gen Z, snapchat or Instagram will be your go-to, whereas a Boomer is more likely to read a magazine or engage with your brand on Facebook.
Here's an example of buyer persona Penny Professional:
Restaurant Concept: Southern-inspired tapas and cocktail bar downtown
Persona A: Penny Professional
Gender Identity: Woman, She/Her pronouns
Age: 25-35
Generation: Millennial
Profession: Manager-level professional, industry non-specific.
Average Spend: $35 or less
Number of Visits: 1 per week, 4-5 per month
Buying Behavior: Typically comes in with her co-workers or meets up with friends after work for a round of drinks. Visits for large group birthdays, engagements, going-away parties, and other special occasions. Tends to stick to happy hour menu, house wine selection, or a craft beer.
Best Channels to Use to Reach Them: Instagram, Snapchat, Pinterest, VSCO, Facebook just for school friends and family.
Once you've created your restaurant buyer personas, print them out and hang them in your server break area, on a wall in your kitchen, or anywhere that your staff frequents away from the watchful gaze of customers. This will help with memorization, identification, and bettering your staff's chances of delivering an exceptional dining experience tailored to this guest's preferences.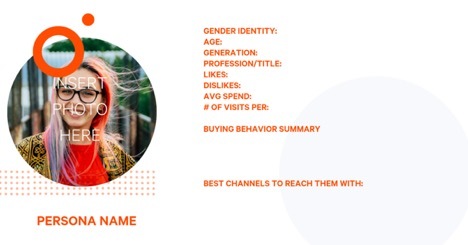 Buyer personas aren't just helpful for marketing your business, they're also an incredibly useful sales tool for your restaurant staff. Train your front-of-house staff how to recognize and sell to each individual buyer persona you identify. For example, Penny Professional would likely not be too interested in your top-shelf bourbon, but she'd definitely be interested in a sweet, very Instagrammable cocktail.
The buyer persona exercise can also be used to improve your staff recruiting strategy. Using the above steps, develop an employee persona for front-of-house and back-of-house positions; this will help you easily identify the candidates you want as you sift through resumes and applications.
Once you have identified who you're marketing to, the next step is to decide how you're going to entice them to visit your business and what promotion, discount, or incentive you are going to use.
Together, the how and the what combine to make a restaurant marketing plan.