Guide to Restaurant Credit Card Processing
This guide will be your handbook to understanding the credit card processing industry inside and out, including different types of pricing, fees, and rates.
---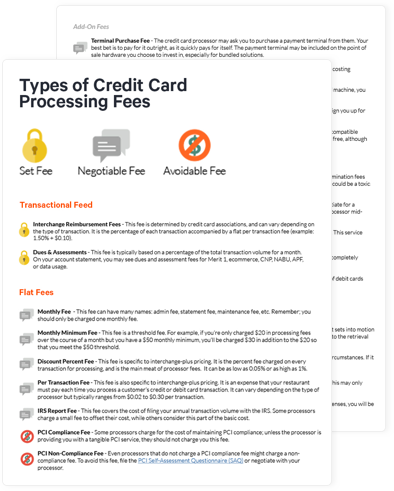 How Does Credit Card Processing Work In Your Restaurant?
According to a TSYS Consumer Payments study, 74% of consumers prefer to use either credit or debit cards at dine-in restaurants.
As a result, 92% of full-service restaurants now take cards, according to Euromonitor data provided to The Huffington Post by Visa. Restaurants are becoming "cashless." But the move towards plastic comes with a catch.
Many restaurant owners have to deal with the sometimes shady credit card processing industry, which preys on restaurant owners because of their restricted knowledge of how credit card processing really works in their restaurant. Not anymore.
Powered by Froala Editor
Powered by Froala Editor
---
This guide to making your restaurant stand out is the perfect read for:
A summary of how credit card processing works at your restaurant

20+ fees associated with credit card processing and how you can avoid some

An in-depth look at 3 types of credit card processing pricing with examples

A summary of how credit card processing works at your restaurant