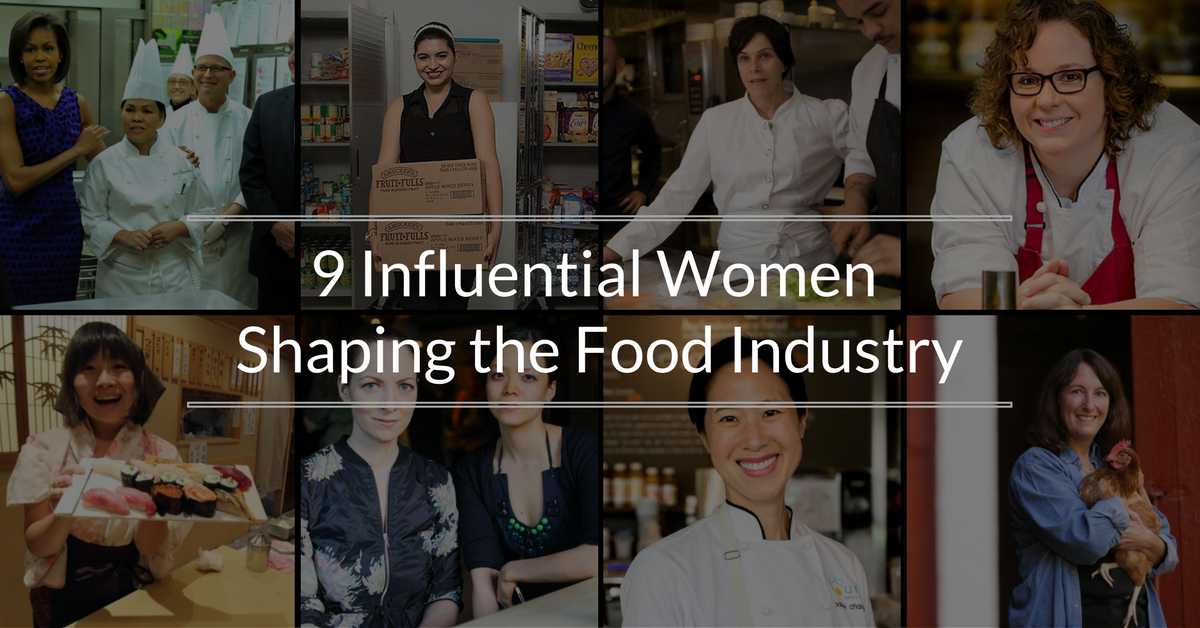 It comes as no shocker that the food industry has long been dominated by men. This was especially highlighted in 2013, when Times published the article "Gods of Food" and failed to include a single female in the list. The article sparked a larger conversation about the treatment of women in the food industry; many were united in general outrage.
So today, I want to take the time to celebrate the women who are shaping the food industry. As they say, a women's place is in the kitchen -- if she very well decides it to be. The following lists recognizes nine women who are changing the food industry by both theoretically and literally stepping up to the plate.
1) Cristeta Comerford, Executive Chef at the White House
Cristeta Comerford was born in the Philippines and immigrated to the United States when she was 23.
Her first job was at a Sheraton Hotel in Chicago's O'Hare Airport, followed by a series of roles in different restaurants across the Chicago and DC areas. She was scouted to work as an assistant chef in during the Clinton era of the White House.
In 2005, Cristeta was promoted to executive chef where she served the Bush household as the first women in the executive chef position at the White House. From there, she has continued her work during the Obama administration.
The Huffington Post described Michelle Obama's praise with "Cristeta Comerford brings such incredible talent to the White House operation… Also the mom of a young daughter, I appreciate our shared perspective on the importance of healthy eating and healthy families."
2) Maria Rose Belding, Founder of MEANS Website
At the ripe age of 20, Maria Rose Belding is already shaping the food industry.
Belding started her career as a volunteer at a local food pantry where she noticed the high volume of food going to waste. Her idea was simple: pair food pantries with excess food to food pantries with food shortages.
Running with that idea, Belding pitched and won the 2015 George Washington University New Venture Competition, all as a college freshman. Her idea, the MEANS network and database, was the first social entrepreneurship venture to win first place.
The MEANS network is now a massive online network that connects over 200 food pantries across 24 states. Like her initial idea, the network is simple; food pantries with excess food post to the network, and other participating food pantries in the area are able to stop by and pick up the food. While the network is still in its early years, it has already saved over an estimated 2 tons of food.
3) Barbara Lynch, Founder & CEO of Barbara Lynch Gruppo
Barbara Lynch did not have the traditional upbringing that many chefs had - she grew up in housing projects in South Boston and started her first venture in high school, placing bets and book-keeping for some of her high-school teachers. She dropped out of high school and worked a series of food-related jobs, from shipping in a food production warehouse to working in the kitchens of various restaurants.
She opened her first restaurant, No. 9 Park, in 1998. It was immediately named one of the 25 Best New Restaurants in America by Bon Appétit.
Now, the Barbara Lynch Gruppo operates 8 fine drink and dining establishments across the Boston area and employs over 250 people. To say that she took the Boston restaurant scene by storm is a wild understatement.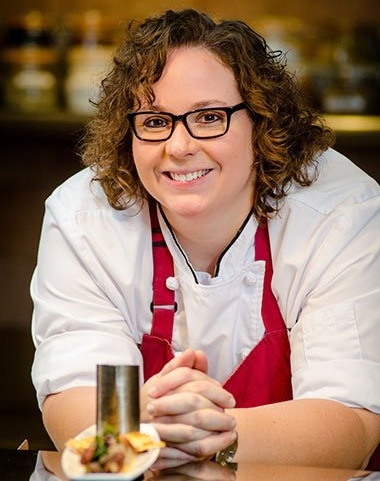 4) Kristin Butterworth, Chef de Cuisine at Lautrec
Kristin Butterworth was the female first chef de cuisine in the world to hold the AAA Five Diamond rating and a Forbes Travel Guide Five Star status for her work at Lautrec in Pittsburgh at the young age of 29. From her interview in Post-Gazette, Butterworth noted that she had to become a little "rough around the edges" in order to fit into the male dominated industry.
Lautrec is the opposite of rough around the edges, however. The fine dining establishment is known for its intricate recipes and flavors as well as its intimate nature with the restaurant chefs and employees. Diners are welcome to walk in and out of the kitchen to interact and ask questions about the meals and course preparations. This concept is something that Butterworth has developed herself, to make a unique dining experience that's completely her own.
5) Yuki Chidui, Chef & Manager of Nadeshiko Sushi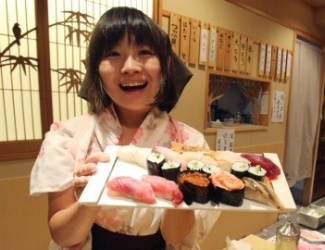 Yuki Chidui defied centuries of cultural and societal norms when taking on her role at Tokyo's Nadeshiko Sushi.
Conventional wisdom said that women couldn't work closely with sushi because of their "higher body temperatures and warm hands" and because they weren't "reliable during certain times of the month". Traditionally, sushi chefs are clichéd as old, serious, and predominantly bald, according to The Washington Post.
However, none of these traits apply to Chidui.
Chidui has taken on criticism and ridicule because of Nadeshiko Sushi - the first and only sushi restaurant in Japan that is operated solely by women. The restaurant itself is unlike most sushi restaurants in Japan; it seeks to create a welcoming vibe, compared to the usual serious nature of sushi restaurants and chefs across Japan. (Sushi) Roll over, male sushi chefs… there's a new player in town.
6 & 7) Kerry Diamond and Claudia Wu, Founders of Cherry Bombe Jubilee
Both Kerry Diamond and Claudia Wu deserve to be recognized for founding Cherry Bombe and Cherry Bombe Jubilee, a bi-annual magazine and conference that revolves around what I'm doing right now - recognizing women and food.
When the aforementioned "Gods of Food" controversy sparked debates across the industry, Diamond and Wu realized that even the food conferences taking place revolved around men.
They quickly launched the first Cherry Bombe Jubilee as an outlet to invite all of the women who were contributing to inspiring transformations in the food industry. Since then, they've developed Cherry Bombe magazine to celebrate all the woman in food - those who grow it, make it, serve it, style it, enjoy it and everything in between.
8) Joanne Chang, Owner & Founder of Flour Bakery
Joanne Chang spent two years in the corporate management consulting world before deciding it wasn't her cup of tea.
A Harvard graduate who studied applied mathematics and economics, Chang took her experimental nature to the kitchen. She worked in a series of restaurants in Boston and New York before heading back to Boston to open up her first Flour, a bakery and cafe in the South End of Boston.
As seen on the Flour website, "Flour has been featured in Gourmet, Food&Wine, Bon Appetit, the New York Times, Conde Nast Traveler, Lucky Magazine, Inc. Magazine, and Boston Magazine and has received numerous awards. Flour was also featured on Throwdown with Bobby Flay on the Food Network in which Joanne's sticky buns won over Chef Flay's."
Chang herself won the James Beard award for Outstanding Baker in 2016.
Chang is an active participant in the Boston food scene; she has written many cookbooks and articles for Fine Cooking magazine, teaches classes, and advises pastry cooks from surrounding bakeries and schools. And in her very little spare time, she ran every Boston marathon between 1991 and 2006.
9) Betsy Babcock, Owner & Founder of Handsome Brook Farm
After 20 working years in healthcare administration and healthcare venture capital, Betsy Babcock went through a life-altering family tragedy. From that point on, Babcock decided it was time for a career switch.
Babcock opened up a B&B and small farm to change the pace of life and begin to settle down into "retirement." Guests began to comment on the quality of the eggs, so they simply started raising more.
In 2007, they launched an genuine free-range egg business to sell eggs to family and friends. They slowly started picking up traction, until the venture made huge progress by signing a contract with a New York delivery service, Fresh Direct. Now, Handsome Brook Farm supplies free-range eggs to over 75 farms across 6 states.
Disclaimer: These are not the

only

women shaping the food and restaurant industry!
I know this list just starts to scratch the surface of the outstanding women who are transforming the industry, one ingredient at a time. Know someone who should be recognized? I'd love to have you share in the comments section!
Plus, you can download 21 free chef tips from some of America's leading culinary experts below!