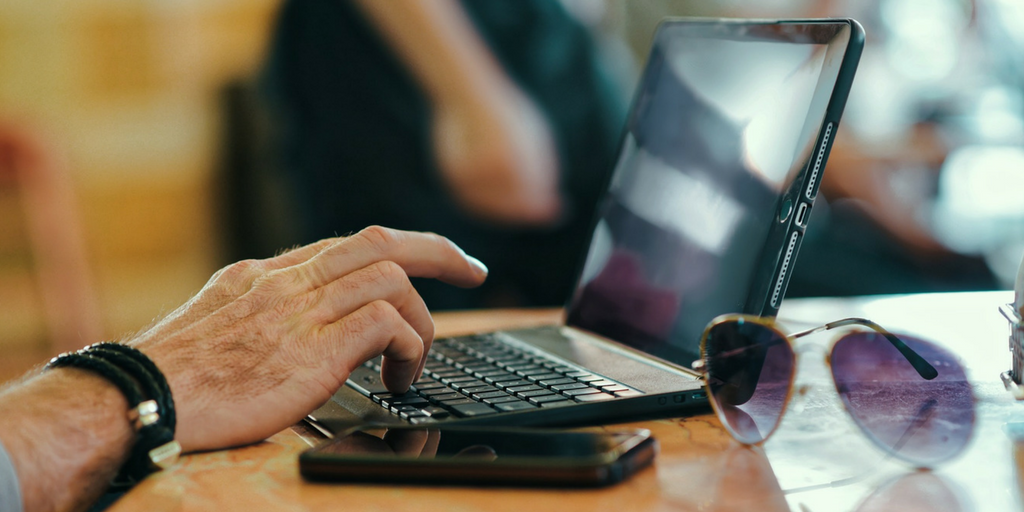 I think it's safe to say that 2016 was a rather unpredictable year. With changing trends, fluctuating businesses, and crazy new industry insights, I think it's safe to say there's one thing everyone seems be thinking: bring on 2017.
With that said, it's important to look back on some of the lessons learned in 2016 so we can set ourselves up for a successful 2017. Here at Toast, we've been looking back on our most read and shared blog posts. This has helped us understand what you - our readers - respond to best and how we can make the Toast Restaurant Management Blog a better resource for restaurateurs everywhere.
Read on to see what the best Toast Blog posts from 2016 were, and get an early look at what our big plans for 2017 are!
What Happened in 2016 on the Toast Blog
If you've been with us since the beginning of the year, you know a lot has happened - with the company and the blog. In 2016, Toast closed a round of Series B funding, and on the tails of that announcement, we invested more time into building the best resource for professionals in the hospitality industry.
Rather than tell you all the little things we did behind the scenes on the Toast blog in 2016, we thought we'd show you. Click on the infographic below to view a larger image, and follow us through the journey that was the Toast blog in 2016!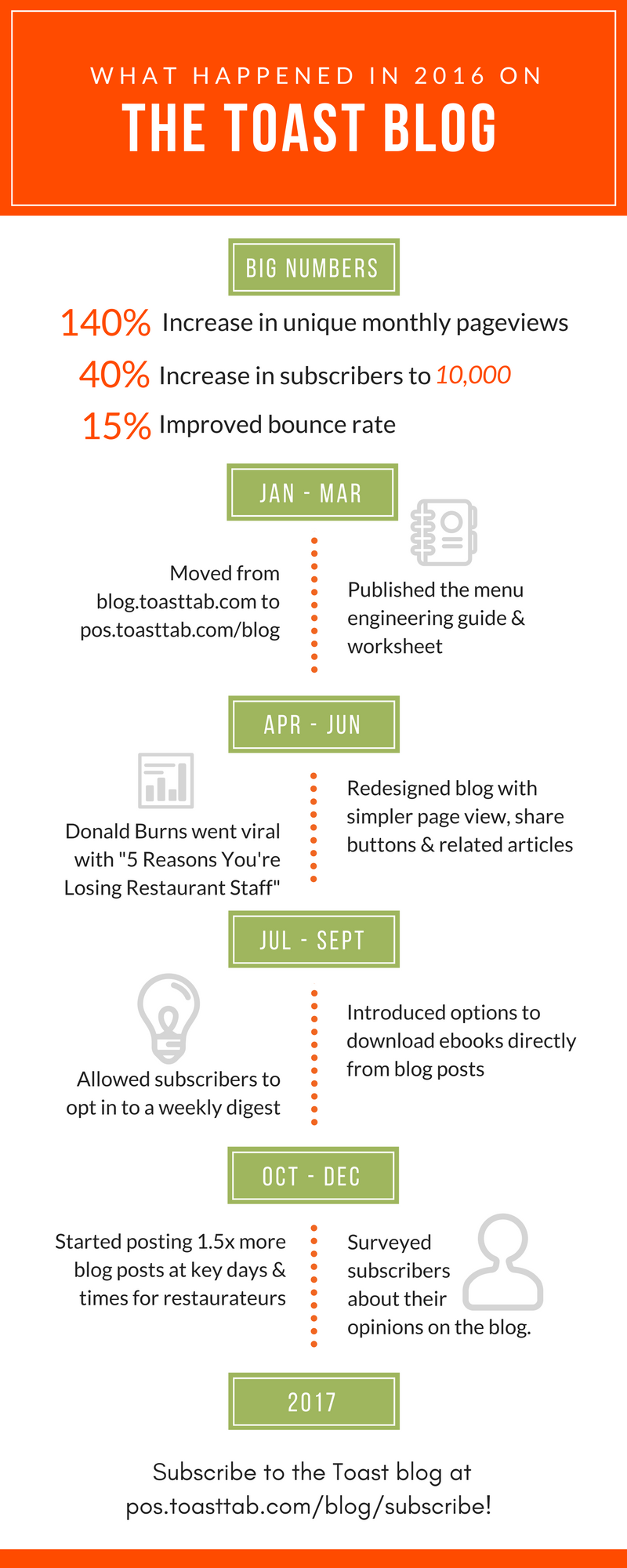 10 Best Toast Posts of 2016
In 2016 we've more than doubled pageviews, and some posts even went viral. We also invested time in building out our blog contributor program, which is why you'll see some prominent restaurant consultants on this list. Click through to read the top posts from 2016! (P.S. Want to contribute? Learn how here.)
There's a "war for talent" in the restaurant industry. Here are five reasons you're losing restaurant staff according to guest author and restaurant consultant Donald Burns.
Test your cooking mettle with these 100+ culinary terms for chefs, restaurateurs, and servers, a giant list written by Allison Tetreault in September 2016.
Want to learn how to improve your restaurant operations? Learn from these 5 restaurant experts including Chris Hill, Peter Christie David Scott Peters, Donald Burns, Ken Burgin and Yi Chen.
The chef shortage is impacting restaurants around the country. What has caused it, and how can your restaurant overcome it? Ryan Gromfin, chef-turned-restaurant-consultant, sheds some light on this issue.
Stay away form these seven deadly restaurant sins to run a profitable restaurant! Donald Burns discusses ignorance, mediocrity, pride, fear, and other deadly sins that affect successful restaurant management.
Watch these visionaries' ideas about running profitable, sustainable restaurants to inspire your efforts as a restaurant owner. Allie Tetreault, resident TED Talk obsessive, shares the top cooking and restaurant management TED Talks.
Here are five restaurant podcasts you should be tuning into every week for some restaurant inspiration, compiled by resident Toast video and audio aficionado Phil Wesson.
Stay up to date on current restaurant industry trends. This list includes all restaurant management statistics every restaurant owner should know, including new statistics from Toast's Restaurant Technology in 2016 Industry Report.
Want to learn how to increase tips as a waiter or waitress? Maximize tip revenue with these tips for servers and managers, compiled by Toast sales rep Jackie Sabol, who has been in the hospitality industry for 16 years.
As you likely know, running a bar is no easy feat. But being an effective and successful bar manager could be more manageable than you may think. AJ Beltis shares top tips for bar management in this post.
Lessons Learned from Our Blog Subscribers
Earlier this month, we sent out a survey to our 10,000 subscribers. First off, a huge thank you to everyone who participated and helped make the Toast a better resource for restaurateurs everywhere!
Looking towards 2017, we asked subscribers about which topics they found to be most helpful and which topics they would like to see more of. The results are in, and there are clear favorites for both!
A Restaurateur and a Restaurant Management Blog Found Each Other. The Rest is History.
We wanted to know where our readers come from! These results help us understand where other restauratuers may be looking for information so we can start appealing to more readers, gaining more insight, and help make the Toast Blog a resource to more restaurant professionals.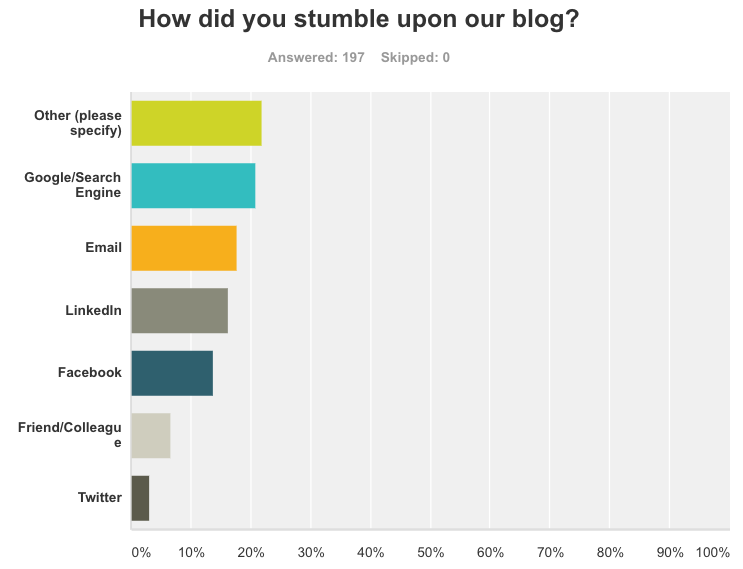 Most of our blog subscribers (33%) found us through social media as a whole (Twitter, Facebook, and LinkedIn), with LinkedIn being the most popular source. However, the most popular location for stumbling upon the Toast Blog was through search engines like Google, which by itself brought in more than 20% of subscribers.
The responses in the "Other" category varied, but we were happy to see many respondents said they use Toast as their restaurant POS system!
Most Helpful Topics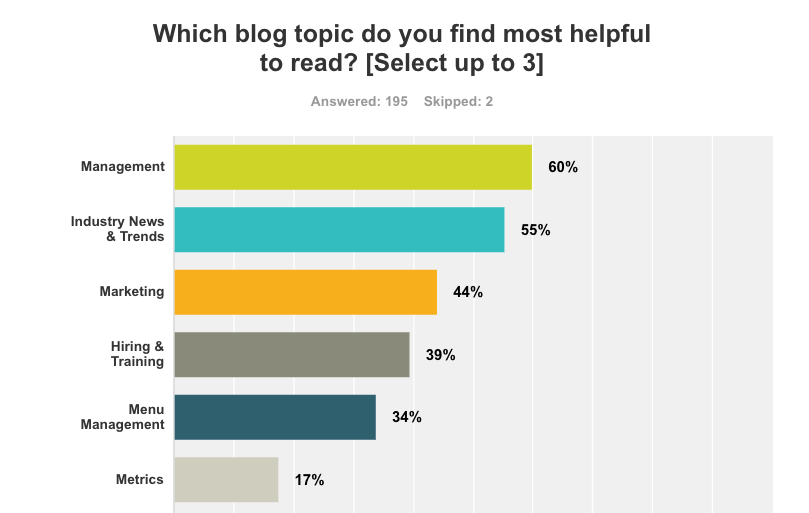 Restaurant Management
We asked our subscribers to name the three topics they found most helpful to read, and 60% of respondents named Management as one of their top three picks.
This didn't surprise us too much. In every post we publish - be it about technology, metrics, marketing, etc. - there is an underlying theme of how this knowledge can be applied in the management of your restaurant. Skillful management is required when it comes to staffing, marketing, and metrics. Smart managers know when and how to incorporate restaurant technology, and whether a trend is a passing phase or is here to stay.
Industry News & Trends
56% of respondents said Industry News & Trends was one of the most helpful topics to read. This did surprise us a bit! Here at Toast, we try to create content that will be applicable whether someone reads it today or ten years from now. But if there's anything this year taught is, it's that change is occurring all the time in this world - and the restaurant industry is no exception. Therefore, it's important for restaurant owners to stay in touch with these changes so they can be prepared to make better management decisions.
Restaurant Marketing
Lastly, 44% said Marketing was one of their three most helpful topics to read. We all know the reality that restaurants operate in - there are one million restaurants in this country alone! Restaurants need to draw the attention and loyalty of their patrons in new and creative ways, and the marketing posts on our blog serve to help you do just that.
You Ask, We Listen
In our blog survey, we also asked what topics and content subscribers would like to see more of in 2017. The responses are compiled in this word cloud.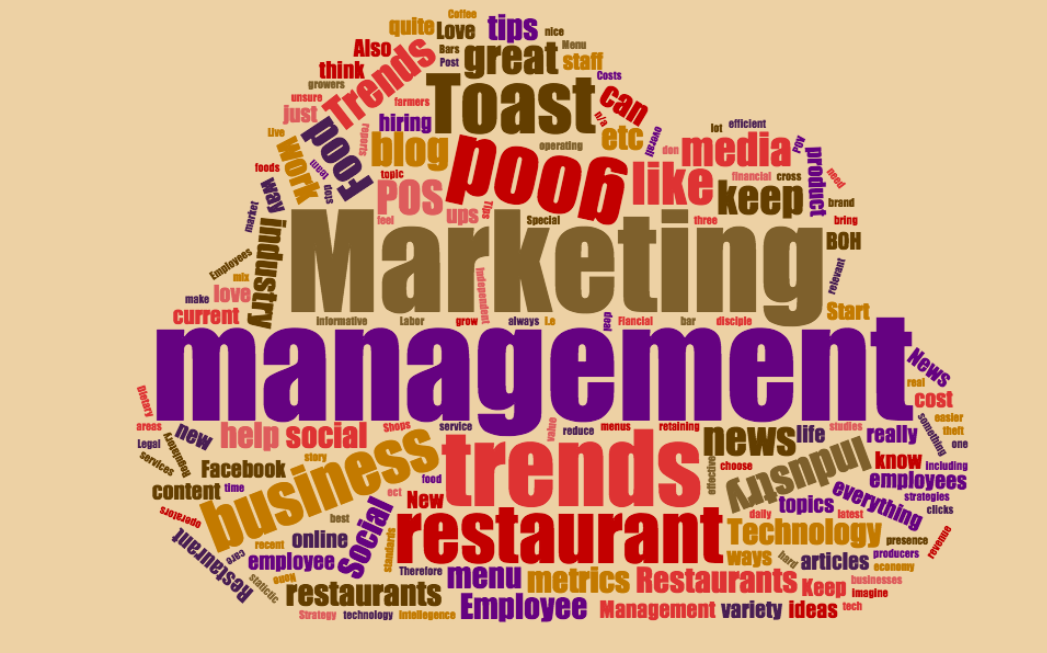 The results are pretty consistent with the question on most helpful topics. Those who took our survey apparently find management, marketing, and industry trends to be so helpful that they just can't get enough! Other standout terms include media, business, and employee(s).
The Toast Blog in 2017: What You Can Expect
More Blog Posting!
We've been providing you with blogs four times a week for the past few months. Moving forward, we'll be aiming to release blogs five or six times a week to connect you and your restaurant with more resources and endow you with more information. We want to be the ultimate resource for restaurant owners and more frequent publishing can help us accomplish that goal.
However, if you like to enjoy your Toast in moderation, you can always change your email preferences to see an email from us once a week instead of once a day, and follow us on Facebook and Twitter to see new posts on your feed/timeline as they come.
Working With New Partners
Another topic we explored in our survey was finding other websites and sources we could work with to publish our content. Our respondents supplied us with numerous different media outlets where they get their restaurant news and information from. We plan on reaching out to some of these outlets to see how we can work together to create outstanding content and resources for the restaurant community.
Shifting Focus
After seeing the results of our survey, we've come to understand how much restaurateurs care about industry trends. While we don't plan on making a full transition into a news source, we will be incorporating current restaurant news into our content more than we have done in the past. Having said that, our main priority will still be to create timeless and valuable resources that will benefit restaurateurs all over the country regardless of when they are reading.
Moving Forward: The Future of Toast
This year, we're thrilled with the performance of the Toast Restaurant Management Blog. Our monthly visitors and our subscribers have tripled since January, and all signs point to an even more successful 2017.
Thank you for continuing to read, share, and engage with our posts. Together, we've built a restaurant community and we're proud of what we've been able to accomplish this year. Here's to the Toast Blog in 2017!
P.S. - Did you know we do more than just write blogs here at Toast?
We also provide an all-in-one, award-winning restaurant point of sale system. Sign up for a free demo of Toast POS and learn how we can help revolutionize your restaurant!