With 1 billion monthly active users, Instagram is in the social media winner's circle. "As newer generations of guests are relying more heavily on sourcing information from digital platforms like Instagram," says Joel Montaniel, CEO and founder of SevenRooms, we'll continue to see a rise in this medium's influence."

That impact starts with the platform's maturing Gen Z users. SproutSocial reports that 72% of teenagers use Instagram. As these teens grow and develop, so too will the role this platform plays in society.

It's essential to keep your Instagram marketing strategy updated with the latest tips for using Instagram. But, who has the time to post consistently throughout the day or follow every algorithm change? Figuring out how to grow your social media presence without it turning into a full-time job is crucial.
Why Is Instagram for business so hard?
When you're knee deep in the day-to-day business in the restaurant industry, setting aside time to take photos or use a visual editing app isn't a top priority. Even coming up with a daily post feels daunting.

If you're already active on other social platforms, juggling one more network adds to your stress level. According to Blue Corona, 71% of small business owners do their own digital marketing, so you're not alone. A few of the biggest Instagram hurdles that small business owners face are lack of time, money, and focus, as well as:
Setting up the food, staff, and location for photo sessions can be time-consuming, and costly if using a professional photographer.
Locating, editing, and posting images aren't options for many solo restaurant owners.
Building a content strategy for ever-changing algorithms and fickle users increases stress levels.
The bottom line is that marketing takes time but a well rounded restaurant marketing strategy will do wonders for your customer acquisition and retention. A recent survey found that 22% of participants had gone to a restaurant based on what the food or atmosphere looked like on social media.

Social media sites and their various feature sets evolve by the day; on Instagram alone, you can post photos, videos, photo galleries, Instagram stories – it's easy to feel overwhelmed. However, you can't let this prevent you from accessing Instagram's 500 million daily users, 80% of whom follow a business.

How to create an Instagram content repository
Now, we all know it's a time consuming yet necessary part of your restaurant's social media marketing strategy, but there is a way to best the beast that is Instagram by planning ahead and creating a backlog of insta-worthy content also known as a content repository.

On Instagram, users crave authentic engagement which is why interacting and adding fresh content deserves your time but, let's be real: We all hit that point where we can't jump on Insta daily with witty words and mouth-watering lunch shots.

That's when having a library of extra content saves the day. You can repurpose older images in minutes or reschedule a quote or testimonial image from your content repository.
Follow these steps to create an instagram content repository for your restaurant:
Get comfortable with an image editing program.
Apps like Canva are user-friendly, so you don't need to be tech-savvy to create gorgeous, brand perfect photos. Find an editing program that works on your devices and learn the layout.
Choose a storage center to house your Instagram-ready images.
Whether you create a file on your phone, invest in some extra iCloud storage, or use a platform like DropBox for image storage and sharing, having one spot for all of your Instagram content will make it easier on your team when the time comes to post.
Name photos with intention.
Change your image filenames from the autogenerated IMG_0001 to a label that accurately describes the image using a consistent format. For example, use an abbreviation of the social network and the subject of the image in the title, like IGtomatobasilsoup or IGbirthdayparty.
Create a swipe file or spreadsheet of hashtags and copy.
Use one document or spreadsheet to pre-plan the hashtags, handles, and caption copy you want to post with content for upcoming promotions. During the photo editing and content scheduling processes, this document will act as an easy reference point and take the guess work out of posting.
Turn one photo into many to build your library.
The crop feature in an editing app like Instagram's Layout app allows you to take one broad image and turn it into several separate photos. Repurpose photos by adding filters, text, and graphics using apps like VSCO, Huji, and Afterlight.
Spend a couple of hours each month building your library, and it'll get easier to create a consistent style and maintain a regular posting schedule.
Stock your Instagram pantry with shareable photos
Now that you have a system for storing your pictures and can easily access them, you've removed one barrier to regular posting. The next step is to create enough images to fill your library in several different categories, like:
Filtered photos
Quotes
Advertisements
Testimonials
Promotions
About / Behind the scenes
Start with a standard stock photo like the one below. We named this free image from Pixabay I_tablespread.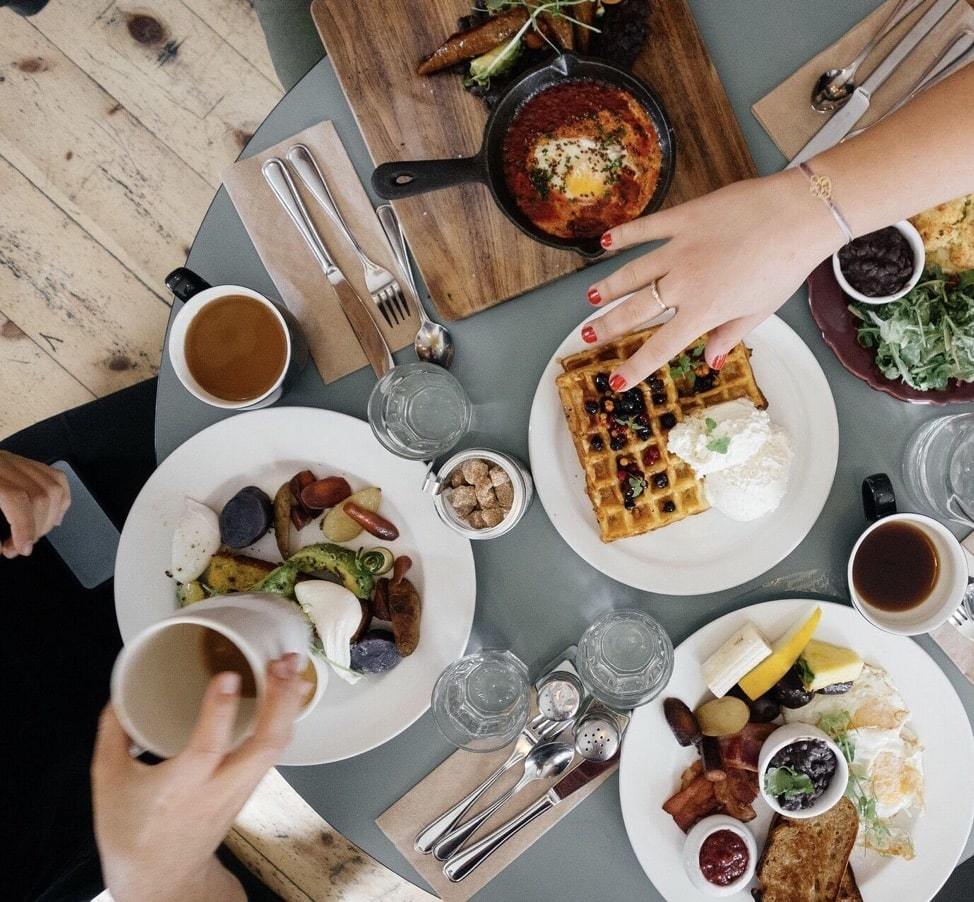 Duplicate the image and crop each one to pull out specific elements of the photo. Give each photo a unique subject file name. We'll be working with the file,I_handcoffee.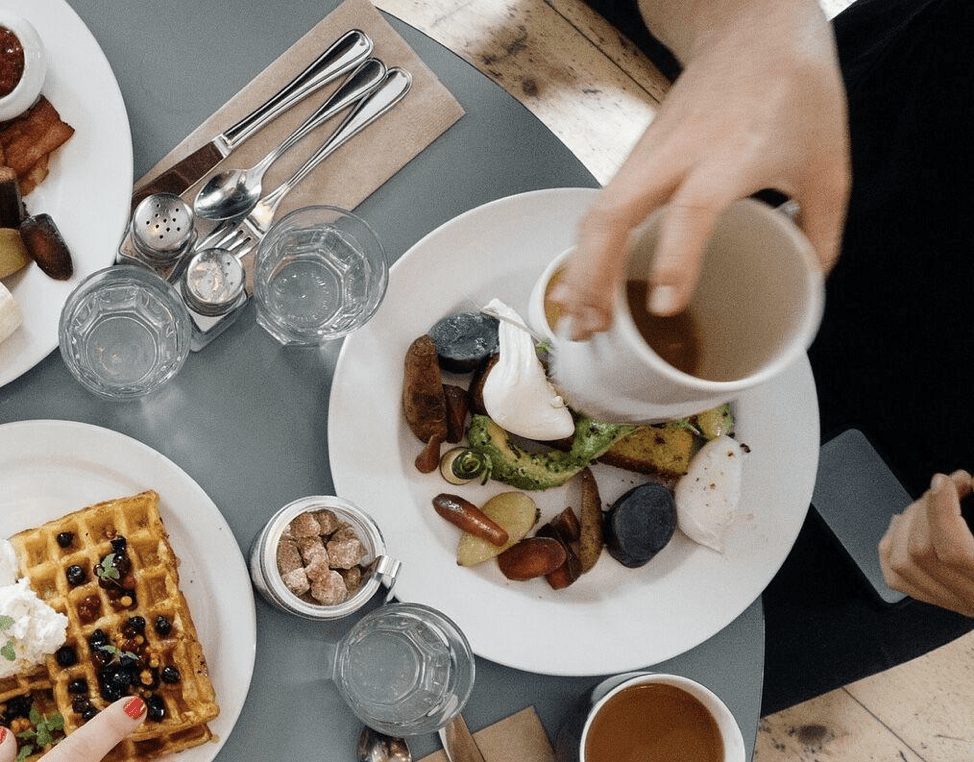 Open up your image editor. In our case, we use Canva. For each subject, we'll create 5-7 pictures using the same base image.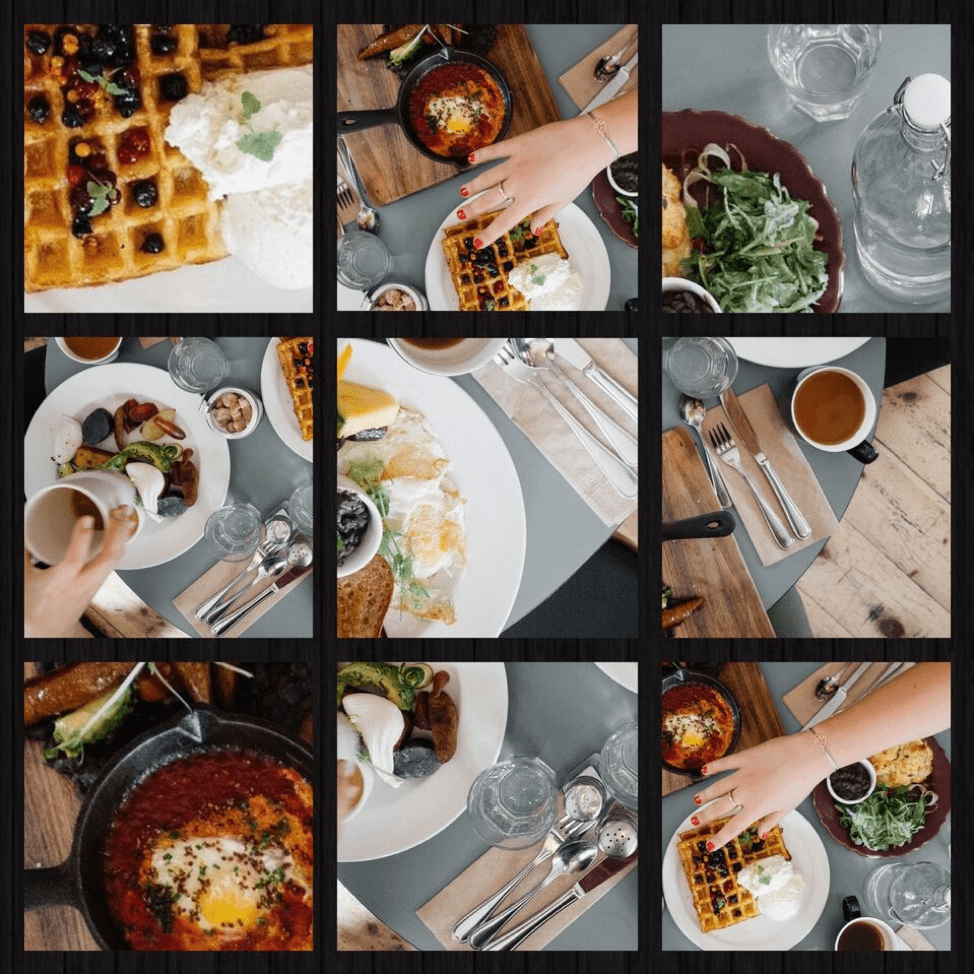 We'll slightly alter each photo by changing or adding various elements to turn one picture into several new images. Wordstream reports that 60% of the top brands on Instagram use the same filter for every post. Doing so promotes a consistent brand across your social feed. For example, we might:
Add a playful text overlay.
Turn the image into black and white.
Use it as a backdrop for a testimonial.
Cover up a portion of the photo with a graphic.
Add a filter or other brand elements, like a border.
Create a quote image.
Customize a promo or sales ad.
Flip the photo horizontally or vertically.
Here are a few images made from one original stock photo.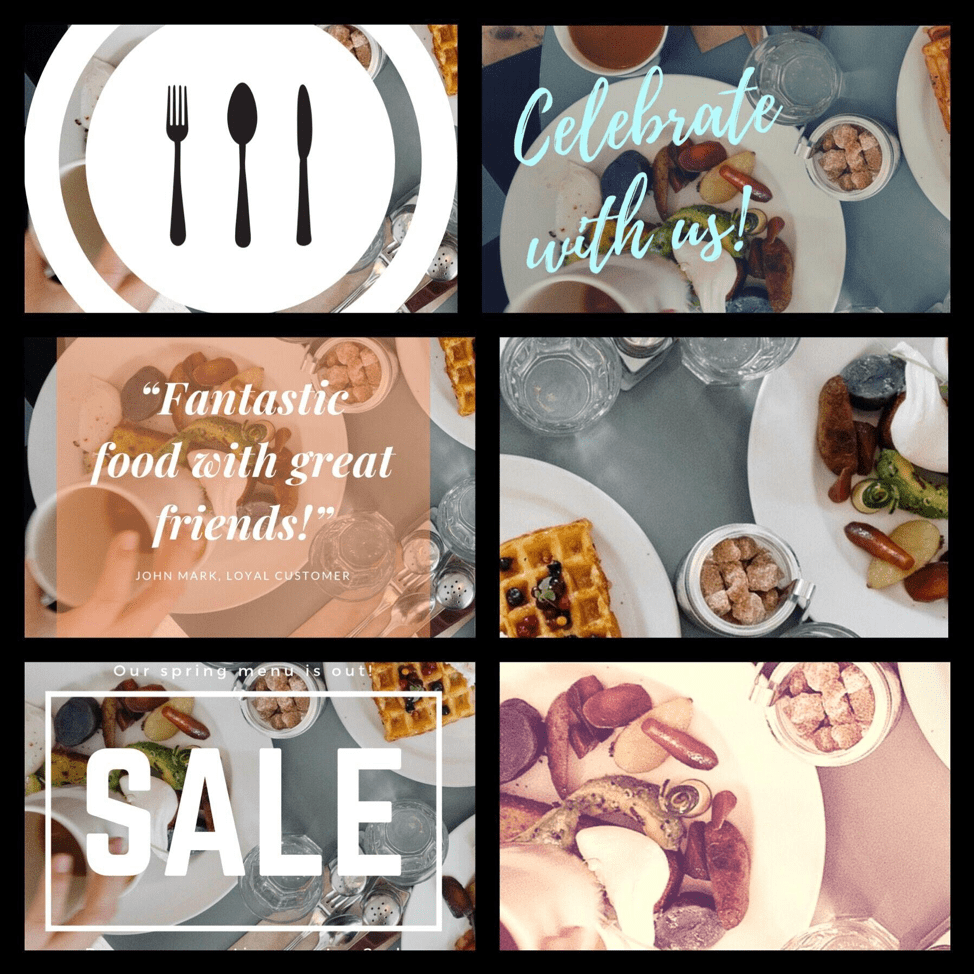 By keeping the subject in the file name, you'll ensure that you don't inadvertently schedule similar photos too often in your feed. Repeat these steps for each cropped image until you run out of time or content.
Do it for the 'gram
Restaurant owners struggle to fit in time for digital marketing. Make it easier on yourself by keeping copy and images available across your devices so that you can work from anywhere.
Not only does a content repository save you time, but you'll feel less stress. As a result, you'll be able to focus on responding to and interacting with customers. Instagram marketing doesn't need to feel like a dreaded task. A reliable process helps you flow with platform changes and stay consistent with your restaurant brand.