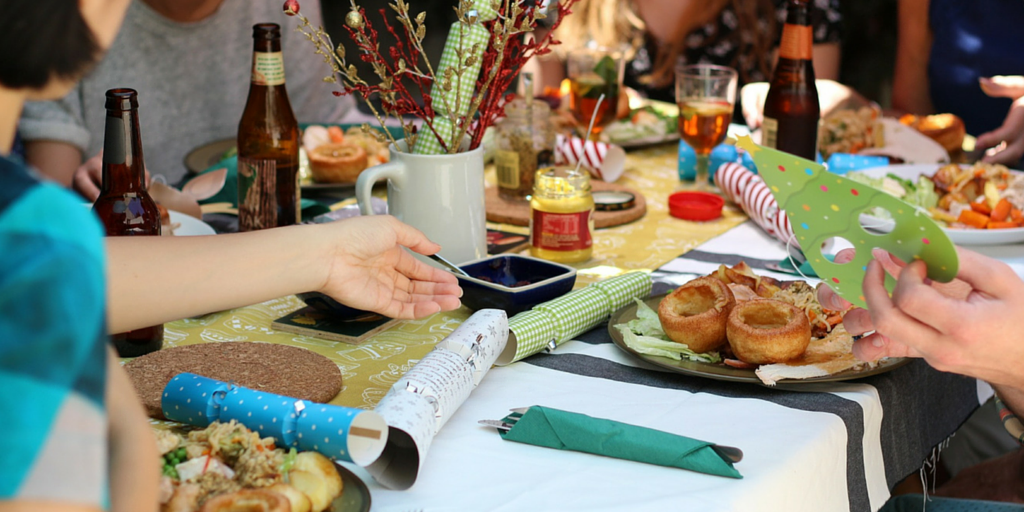 There's no question about it: the restaurant industry is evolving. Restaurant owners are adopting technology at a faster pace, and restaurant diners are redefining what it means to have an optimal guest experience.
If your restaurant is committed to providing quality service, it's important to stay tapped into recent consumer trends and evaluate what they may mean for the future of your restaurant.
Zagat recently surveyed 9,248 diners (40% of whom consider themselves foodies but hate the term) for a report on The State of American Dining in 2016. In this post, we'll summarize some of those diner trends, but also go one step further by analyzing how they could affect your restaurant operations and offering restaurant action items to prepare.
Let's get started!
How do guests tip, and how do they feel about no tipping?
Restaurant tipping was a hot issue in 2015 after Danny Meyer decided to implement a no-tipping model in all of his highly-rated New York restaurants. But how do restaurant guests feel about this model?
According to Zagat, 38% said they were "over it," 35% said they "don't mind" and 13% said they "love it." That's a lot of indifference, and a lot of resistance, to the model.
Meanwhile, the national average for people who do tip is 18.9%. The lowest reported is San Antonio, Texas at 17.1%. The highest reported is Toast's hometown, Boston, at 20%. Perhaps that's due to the hundreds of customers in Boston using Toast's tablet POS, which has been reported to increase tips by an average of 10%.
Your Restaurant Action Item
In my opinion, tipping is a terrible practice (I've written about why here), but following the data above, I wouldn't blame you if you continued to offer a regular tipping model in your restaurant. Guests may be turned off by higher menu prices, and you may want to wait for further data from restaurants who have implemented no-tipping to see if it's been successful from a revenue standpoint.
If you do want to increase your tips, look into mobile solutions that allow guests to tip with a simple tap of the button. Check out an example of how many Bostoners tip today by clicking on the image below.

How much does it cost for your guests to dine out?
One factor affected by the no-tipping model is the cost of dining out. If menu items go up in price, restaurant-goers may face "sticker shock" and decide to eat at home. New York City spends an average of $48.44 for a dinner out, $12.14 over the national average of $36.39. The least expensive U.S. dining cities are Detroit ($28.77) and Minneapolis ($29.67).
Your Restaurant Action Item
Ideally, all of your menu items are both profitable and popular. There are a few subtle ways to downplay prices on your menu, such as deleting dollar signs ($$$) and making price fonts smaller. If you can increase the popularity of a menu item by so much that guests don't care how much they're paying for it, you may be able to combat this very real objection to dining out. Menu engineering and constantly evaluating your inventory prices can help you develop more profitable items, while menu design based on psychology can help you entice guests towards certain items. Learn how in Menu Engineering Bootcamp.
What trendy foods do your restaurant guests love?
What would a restaurant dining survey be without diving into the most trendy foods that restaurant-goers love?
According to Zagat, 31% of those surveyed love sriracha. 35% are "over it" when it comes to healthy green juice. 40% were jonesing for bananas foster, and 44% are salivating for beef wellington.
Check out who's "over it" and who "loves it" when it comes to these food trends: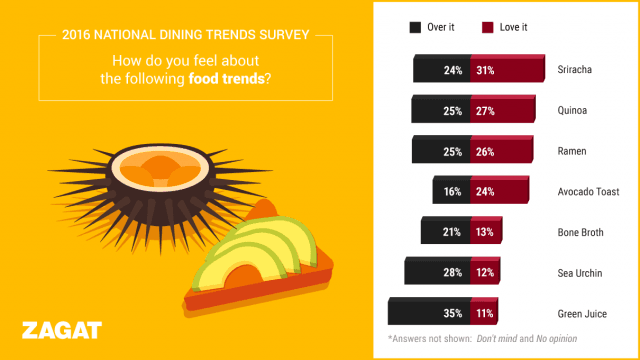 Your Restaurant Action Item
This is one of those "nice-to-know" survey results that may not be completely actionable. You may want to try to creatively design a dish with sriracha, quinoa, or ramen, but you may also not want to pander to these results. These are fads that may pass, and you don't need to upend your menu just for this reason.
What are your restaurant guests' dining pet peeves?
Now, this is where the survey gets juicy. There are many reasons why people may not want to eat out, and it's not just their wallet. In fact, prices came third in this list.
Service (28%)
Noise (25%)
Prices (13%)
Crowds (13%)
Your Restaurant Action Item
This is THE most actionable tidbit from this report. If 28% of the people who walk into your restaurant are disgusted by the service by the time they walk out, something is wrong with your hiring or training process. Create a learning culture, hire the best, know what to look for in a restaurant interview. Check out some advice from Eli Feldman, and how to build a restaurant culture around quality service.
How often do restaurant guests eat out?
The national average amount of times that restaurant guests go out to eat is 4.5 times per week, not counting breakfast. L.A. has the highest at 5.2 times per week, while the country's least frequent diners live in Boston, at 3.8 times per week. Some common dining out deal-breakers are cash-only policies and communal tables.
Many restaurant-goers are deciding to "splurge" rather than go out regularly. 85% of respondents reported they planned a getaway around dining at a certain restaurant (or that they would).
Your Restaurant Action Item
With a restaurant CRM system, you can use data from your restaurant to answer this question for your specific restaurant, pinpointing those who are regulars and those who are not. You may want to start swiping cards at your restaurant if you're cash-only, because you could be missing out on a lot of guests (like millennials such as myself) who never carry cash on them.
You can also make your restaurant a "destination spot" through menu promotions and restaurant marketing. Check out some ideas in Restaurant Marketing 101.
What are your guests' favorite restaurant cuisines?
Another interesting statistic: 22% of consumers surveyed love Italian food, an overwhelming majority. Next up was American food (16%) followed by seafood (11%), Mexican (9%), French (7%) and Japanese (7%). Personally, I side with the Italian-lovers, but Thai food would have been next on my list.
Regionally, Atlanta, Austin and Chicago love Italian and American food; New Orleans loves seafood; and Dallas-Fort Worth loves Mexican food.
Your Restaurant Action Item
I'm not going to suggest you change your restaurant cuisine. Rather, I'm going to suggest you change the way you market your cuisine. People love Italian food because they see ads that shape the way they think about that food. Olive Garden ads, for example, are not only about how gooey and yummy the food is, but also about the importance of eating around the table with family, sans cell phones. Bring your guests together around your food by learning what their motivation is for eating out at your restaurant. In your next email promotion, share the story of a particular guest who loves your restaurant so people can hear why from a credible source.
How are guests using technology?
Personally, I think this question should have been centered around online ordering systems, as more and more companies (such as Domino's, where 40% of domestic sales comes from online ordering) are investing in this area. However, reservations are another interesting technology fad that is growing rapidly. A majority of diners (52%) say they make reservations via the Internet, while 44% use the telephone. However, 71% said they would not pay extra for a reservation.
The trend towards mobile ordering and payments is also growing. 58% of diners surveyed reported that they have paid their bill via app or would do so. However, 40% think it's unacceptable to use cell phones at the table.
Your Restaurant Action Item
It may be time to start evaluating restaurant management systems that have a consumer focus as well as a restaurant owner focus. Restaurant-goers are becoming more and more comfortable with technology; your restaurant should match their enthusiasm. Use restaurant technology to opt guests into your loyalty program, gather feedback about their guest experience, and allow seamless online and in-person ordering and payments.
Over to You
What do you think about these trends? Are they accurate?
Is there anything you wish the Zagat report covered in the future?
P.S. Toast will be publishing our own dining trends survey in the fall. Subscribe to stay tuned for more restaurant industry trends!