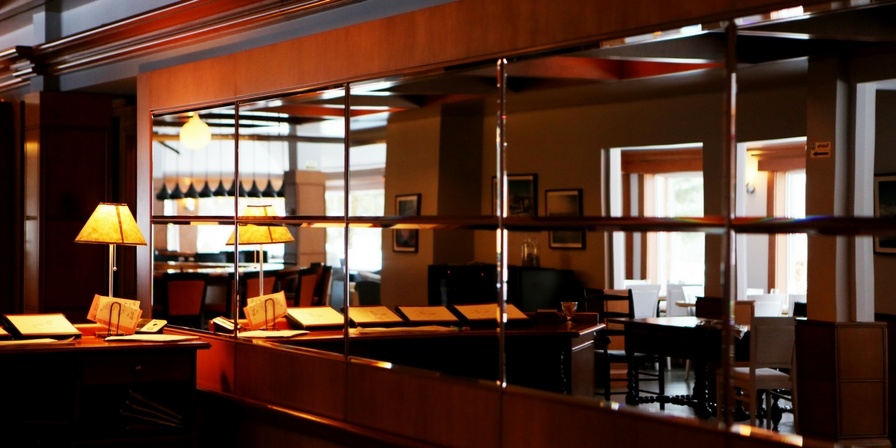 Human beings love an antagonist. It's a classic storyline of good versus evil. We love it in books and entertainment. We also see it throughout the restaurant industry.
Back of the house versus the front the house. The day staff versus the night staff. Your restaurant versus the one across the street. The list goes on and on.
Pointing out the bad guy gives most people an excuse for why they cannot achieve the level of success they desire. Maybe you have heard or even said some of the following:
"It's my customers. They just don't understand my concept."
"It's my location."
"It's my staff. I just don't seem to get good people."
And the grand prize winner goes to, "It is what it is."
No, it's not. It is what you allow it to be.
There is a classic African proverb that goes, "If there is no enemy within, the enemy outside can do us no harm."
Translation: You are your own worst enemy.
For some, that might be a hard pill to swallow. However, it's a great start. As Gloria Steinem so aptly pointed out in her famous quote, "The truth will set you free, but first it will piss you off."
The only thing really holding your restaurant back is you. Talent and skill can take you to the top , but it's your character and mindset that keeps you there.
Here are a few things about you that should adjust if you want to see positive change in your restaurant.
1. Character
Knowing your core values is a vital step to understanding who you are, what you believe in, and what you stand for. A lot of restaurants place most of their focus on systems. Checklists, processes, and standardized recipes are needed to maintain consistency and accuracy. However, if the people using the systems do not have the right character, then it's all for nothing.
As the leader, your main role is to set the standards high and reinforce them through your actions and words. Otherwise, people will quickly recognize when you're phoning it in.
Body language accounts for 55% of how we communicate. The old axiom, "It's not what you say, it's how you say it," is so true. We are hardwired to the clues that nonverbal actions provide. A good standard to set for your staff is "do as I do, not as I say." If you see slackers or negative attitudes, you'll know who's responsible.
2. Integrity
One of the most important character traits you can develop is that of integrity. Lack of integrity is one of the main causes of brand dilution and team destruction. To have integrity, you first have to be totally honest and true with yourself. You have to honor your commitments and your word.

"Lack of integrity is one of the main causes of brand dilution and team destruction." - @DonaldBurns
Let's say on your menu that you state that you use all organic ingredients and in reality you don't. What happens when your guests find out they've been lied to? You say your people are your most valuable asset, yet you call them names and degrade them in front of the team. Do you know why your turnover is so high? You are constantly on your team about keeping stations clean and organized, yet your office looks like an episode from "Hoarders."
If any of these are the case for you, do you now understand why your team does not follow direction?
Many people think that leading or managing is about saying the right things, or that being a great restaurant leader is just about inspiring and motivating the team. Words do have power. Used properly, words can have an impact on others… for a little while. It's when your words and your actions are in alignment that you will find the leader within.
3. Mindset
Think of your mindset as the lens you use to view the world. So if you want to change they way you see the world, just change the lens and everything will be great, right? Not so fast. While it's easy to make changes on the surface, the real challenge is those nasty things called habits that will trip you up.
Because your habits lie in your comfort zone, you have to break out of it if you want to change your mindset. Understand this: everything you want for your restaurant and your personal life is just beyond your comfort zone. It takes courage to change. It takes effort to change. Above all, it takes a commitment to change. Here are some wise words from Lincoln.

"Commitment is what transforms a promise into reality. It is the words that speak boldly of your intentions. And the actions which speak louder than the words. It is making the time when there is none. Coming through time after time after time, year after year after year. Commitment is the stuff character is made of; the power to change the face of things. It is the daily triumph of integrity over skepticism."
- Abraham Lincoln

4. Momentum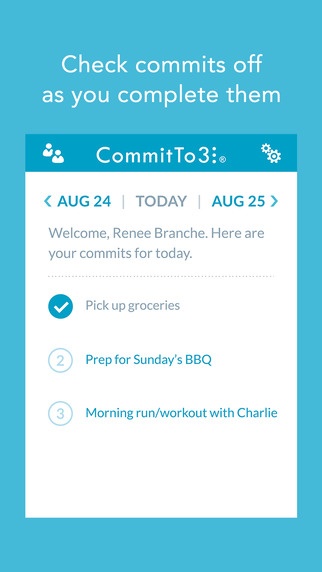 A body in motion stays in motion. A body in bed stays in bed until the alarm goes off for the 10th time.
The best way to build momentum is to take action. At first, start small. It takes time to change patterns of behavior and willpower. Small consistent actions everyday can help rewire your brain for success. There is a great app out there to help you use the power of momentum to build your success track. Two easy ones to start using today (because NOW is the best time to start) are CommitTo3 and Commit. You just make a commitment on something that will move your restaurant or life closer to your vision.
Unlike the common to-do lists (which are not very effective), making a solid commitment to just three things is the perfect way to build the momentum you need. The CommitTo3 app allows you to set up teams and have accountability partners, which might be the push you need to get going.
There is nothing quite like the sweet taste of success. Once you've had it, most want more. Success in anything is a series of small tasks and actions that done consistently will keep you out in front.
Remember that the restaurant business is about people. It's about knowing your core values. It's how your words and action work in congruence. Your restaurant is a living thing that you mold and shape by the actions you take every day. Good or bad, your restaurant is a reflection of you!
RELATED ARTICLE:
Defeating the Enemy Within
Your restaurant will only progress when there is a true leader at its helm - someone who can admit their flaws and work to better them for the sake of their staff, customers, and business. With the right character, integrity, mindset, and momentum of a true restaurant leader, you'll defeat the real enemy within your restaurant and see enormous improvement.