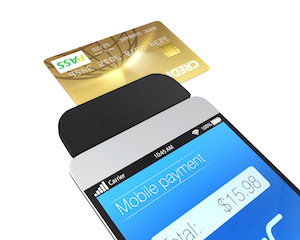 Credit card transactions in the US last year totalled more than two trillion dollars. The credit card processing industry is definitely not a small one - that pie gets bigger and tastier as time goes on and consumers move more and more of their transactions to non-cash options. And at the same time, this industry is rather new, with general purpose credit cards getting introduced just 75 years ago. In those 75 years, new businesses and technology have sprung up around credit card processing with only a few disruptions along the way; the biggest of which we may be seeing now.
Credit Card Processing: A Confusing and Opaque Industry
Let's rewind to the 1950s when all transactions were done in cash. General purpose credit cards were just getting introduced and now businesses needed to find a way to support them. At the time, a business's POS system was very basic - essentially a cash register, with no operational workflows such as integration with the kitchen for the hospitality industry. Credit card processing was a new and confusing system. Credit card processing companies popped up, building the infrastructure around this system and providing the devices to businesses to allow them to accept credit cards for payments.
The confusing and complicated nature of credit card processing - something that, to this day, is rather opaque - provided an opportunity for profit. No contract conversations were transparent or simple. The simple business owner question of "what's this going to cost me?" didn't have a straightforward answer because of the variation built into Interchange rates and the extra fees charged in a variety of situations. Very quickly, business owners working with processors recognized the profit they were losing to these companies and, because of the lack of transparency, began to rely completely on the relationship with specific sales representatives they had to trust wouldn't take advantage of them.
Enter partnerships between credit card processors and POS companies. Credit card processing remained separate from the POS system, but some companies started improving upon the interface between the two to make integration possible. Suddenly, credit card processors and POS companies were becoming partners. By preferring our services, the processors said, we'll give you a cut of the profits to make it worth your while. POS companies became a sales channel for credit card processors, encouraging their customers to choose one processor over another. This was the beginning of a relationship that would expand over time as more technology became available to business owners.
Disrupting the Industry with Transparency and Automation
A major change happened in 2009 with Square making credit card processing much more transparent and automated. The automation - the ability to self-purchase and self-setup - enabled them to reduce the cost to a business and reach a new audience that previously couldn't afford a POS. On top of that, the transparency they provided - just one flat rate instead of unpredictable fees - was welcomed by many businesses. In a few short years, they accumulated millions of customers worldwide.
This transparency had an interesting effect - no longer did you need to rely on a sales representative at a processing company to pick rates that will work best for your business. Instead, business owners could make a clear and informed decision on their own. After all, credit card processing is essentially the same, the only difference being the cost to the business. The relationship-dependent sale of the old processors became less and less common as business owners were armed with more information to make sound decisions themselves.
The Next Phase of the Credit Card Processing Industry: Technology Platforms
Credit card processing is now a commodity. Business owners can choose transparent, flat rates over a confusing contract, or even calculate their effective rate themselves. Credit card processors are like car dealerships - they all sell the same cars. You can choose one over the other based on its location or how they give you free coffee and pastries when you visit, or you can do research online and pick out the car you want and research a good price without relying on a particular sales representative. And the credit card processors recognize this shift. They still operate on the basis of their relationships and put down competitors based on the same factors - business practices or personal connections - rather than the product or service value they're getting. That's because credit card processing as a product/service is essentially the same from one company to the next.
And so we enter the next phase of the evolution of this industry: product platform over isolated services. In other words, rather than buying each service separately - credit card processing, POS, back of the house reporting, etc. - more and more businesses are buying a package of integrated tools. This transition happens not only because it's the POS or other business technology that provides the value-add to businesses, but also because this integration makes sense for the consumer and manager experience. When a consumer orders something for dinner at a restaurant, their reservation, their order, their exchange with their server, and their payment are all part of the same interaction. By integrating each step of that process, the customer experience is smoother and the business manager experience is smoother - for example, no longer do managers need to match sales reports with deposit slips because both sides of that process are handled by the same product. A lot of these common tasks - or tasks that are becoming more common - like confirming deposits or splitting checks become infinitely easier if you have a single system that handles sales and deposits, orders and payments, and everything in between.
The sales channel that was once the POS is now the business technology platform. Multiple credit card processors have been moving in this direction, acquiring, investing, or partnering with technology companies to become a technology platform for their customers. Heartland acquired a slew of POS companies: PC America, Dinerware, Xpient, and Leaf (now defunct), Chase invested in Square (in addition to creating their own Square-like product), and First Data acquired Clover. These are just a few examples of this trend, as more and more processing companies start to expand their scope and play in the technology space instead of the processing industry. Why? Because the credit card processing industry as it once stood - an isolated revenue stream - can't exist without the technology that enables business owners to grow and succeed.