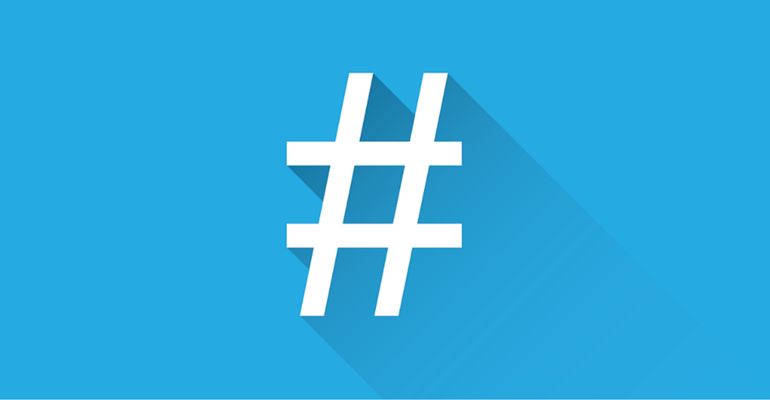 Toast is pleased to present a guest blog from Donald Burns, The Restaurant Coach™, a sought-out advisor in the areas of menu design & engineering, restaurant operations, social media marketing, and more.
The rise of the Internet brought with it radical changes to how restaurants are marketing themselves. While many have embraced the barrage of social media channels and drive traffic every day to their door through a strategic use of social media, there are sadly even more restaurants stuck in the past with outdated marketing efforts that are very costly and ineffective. Social media marketing is here, and if you want your restaurant to thrive and not just survive, you need to get online.
First, let's look at what social media you should post on. The 4 Horsemen of Restaurant Social Media are: Facebook, Twitter, Instagram and Pinterest. Yes, there are others. However, let's start we these four. You need to be on all of them. Today. Today as in now. Don't keep making the excuse that you'll start next week. In business coaching, we have a great question when love to ask clients: "When would now be a good time?"
So, you have an account on every listed social media channel and you're ready to stand out and drive people to your restaurant. Now the question is: How? Let's break down the elements of a killer social media post.
Time: Know When to Post
Just like radio stations have prime drive time, your social media posts also have prime viewing time. There are many tests and research you can do to plot out the ideal times to flood the Internet with your wicked cool posts.
Here's a quick outline to get you started:
Facebook: 1pm – 4pm
Twitter: 1pm – 3pm
Instagram: 9am – 5pm
Pinterest: 2pm – 4pm
Now for restaurants, it's a good idea to add in a window to post just before lunch or dinner, when people are looking for ideas. The ideal time is around 10 a.m. or 4 p.m. If you wait too close to lunch time, most people have already made their decision.
Content & Hierarchy of Posts
When you are thinking about what kinds of posts you want to create for social media, it's good to know how Google and the Internet rank the different types of social media content.
Here's the run down in order of their status:
Video
Picture with quotes
Pictures
Text
Video is above all the best for getting attention on social media. With the new video streaming apps like Periscope and Meerkat, you are going to see more and more video opportunities out there. If you like to be on camera, then this is a great vehicle to increase your brand awareness. Some restaurants have created awesome parodies of life in the restaurant business. Some have an off-the-wall character who ride through town saving the day with tacos like in this fun video for Taco John's.
After video comes picture posts with words on the picture. You surely have seen them around the Internet. The trick is to sell without being too much of a sales pitch. Humor is a great way to poke fun at your business. It shows the customer you can look at yourself in a frame besides just trying to sell your daily feature. Nothing is more boring than a social media post that has a bad picture of food with a straightforward sales pitch.
"Today's special is 2 tacos and a soft drink just $4.99"
This boring post is not going to move too many people to run down to your restaurant. Try something like this instead.
"Breaking News! Zombies Apocalypse is Real! These might be the last tacos you ever have! Get here now!"
Think of social media posts like dating. You have to build up trust and a relationship before you can pop the question. Most restaurants make this mistake and just promote themselves and their specials. You cannot just get online and scream, "Look at me!" This mentality gets very little social media activity besides all your closest friends and family liking your posts. You need to change your mindset to answer this question: "Why should your customers look at your social media posts?"
Here is the big secret to social media: it's about being social. Not such a big secret after all, yet many ignore that simple rule. To build a relationship with your guests you need to establish a two-way communication dialogue. Dialogues go back and forth. Lectures are one-sided. Look at the people who like or follow your posts and like some of theirs too! The entire framework of the social media construct is based on reciprocity. You do something for me, I feel more obligated to return the favor.
As mentioned earlier, have a little fun with your posts. Create a character that can say the things you want. Let that persona be your muse. There are many world class brands that have mascots or personas. How about Col. Sanders for KFC, the gnome for Travelocity, or the King at Burger King (even though he is a little creepy looking). Here is an example of using a character or persona for a pizza chain.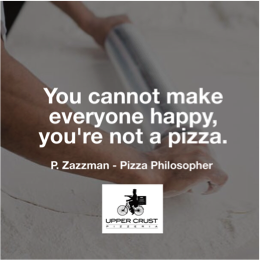 The trick is to not take yourself so seriously. It's impossible to truly convey the aroma and taste of your food through a social media post. The only real way to communication is by giving people a snapshot of who, what, and why your brand exists.
Here is a final example of a really good social media post. It's from a small café in Barcelona, Spain. They make and bottle their own sauces for the tacos and are hip and trendy with the younger crowd. They wanted to remind people of the upcoming taco night….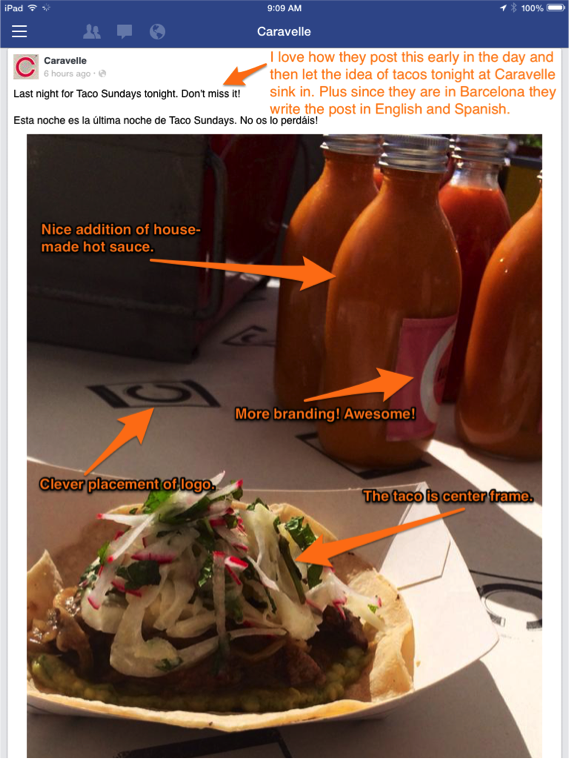 It's a smart post that is subtle in its sales approach because it offers more as a comprised post. All your posts should have a "call to action" if possible. You want them to do something. That is the real purpose of social media in the first place, to get people to move to action by sharing, liking or coming to your restaurant.
Craft it right, following the anatomy of a perfect social media post, and you'll reach more potential customers.
---
Special Offer! Fill out the form below for your free copy of

Social Media For Restaurants

to learn more about managing your brand online. Start reaching more customers today!