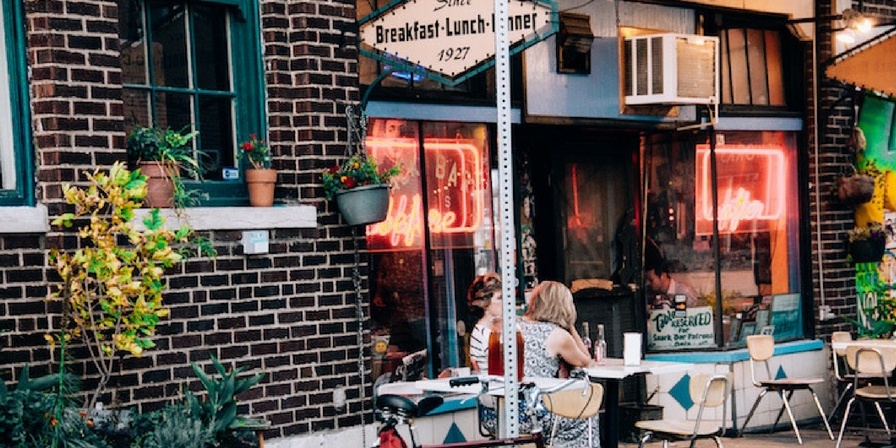 The customer experience has become the biggest differentiator among companies in the Digital Age, and technology is helping restaurants achieve a greater competitive advantage.
So, what does this mean for your restaurant?
For the first time in history, the majority of consumers are - arguably - more interested in how they buy instead of what they buy. Experience vs. quality is becoming increasingly relevant across all different industries, including restaurants and eateries.
The driving force behind the push for better customer experience is consumers' increasing dependence on and penchant for technology. Thanks to things like social media and mobile devices, we're more connected than ever before. That includes being more connected to our favorite brands, businesses, and - you guessed it! - restaurants.
Part of this heightened connectivity is that customers are more exposed to more brand experiences, both on their devices and social media platforms and in real life, which businesses are finding to be a significant driving force to generating new business.
The restaurant industry is no stranger to this trend. In the last two years, there's been a 50% increase in restaurants using technology, with popular platforms being:
All of these restaurant tech trends are allowing businesses to streamline the dining experience while satisfying their diners' need for technology and mobile integration.
To understand the modern diner's "tech-spectations" when it comes to visiting a restaurant in the Digital Age, here is a look at how each of these pieces of technology is enhancing the dining experience.
1) Online and Mobile Ordering
Online ordering has changed the dining experience for consumers and restaurants alike.

Many diners find it a better and sometimes more comfortable experience than the traditional method of ordering food over the telephone or even in person. You can see all of the menu options at once, your bill is immediately updated as you add (or remove) items, and there is no fear of miscommunication where your large pepperoni pizza turns into a large pepper and onion pizza.
On the business side, there are equally rewarding benefits for embracing these technology trends.
Fewer orders placed over the phone free up your staff to focus on expediting meals, keeping the kitchen clean, and other more crucial tasks. Additionally, it provides a better channel for upselling customers with additional food options.
Domino's Pizza has been famous for this; as customers go to check out, their online ordering platform prompts the diner if they want to add a dessert or to add a drink or breadsticks. While this was possible over the phone, the ability to put pictures of the food in front of the consumer is much more enticing.
Most restaurants have already accommodated to online ordering through a website. After all, nearly 70% of consumers reportedly find online ordering to be the most crucial piece of technology for restaurants that offer takeaway food. The next step for many restaurants is to move their online ordering to the next level with a mobile app.
2) Mobile Apps
Arguably, mobile app development is the next tech trend for restaurants to explore. Aside from offering another way for consumers to order their delivery and takeout food, an app tends to more user-intuitive than online ordering pages. This opens up your restaurant to a lot of exciting possibilities.
Many companies - restaurants included - have found an incredible opportunity with app-based loyalty programs. In the past, restaurants settled for the age-old stamp card reward system.
*Shudder*
Not only are these cards easy to misplace or forget at home, they also weren't very engaging. When we talk about the customer experience today, engagement is key; customers want to be interested in your restaurant, but only if you give them something to be interested in.
Mobile apps for restaurants are also a good channel to notify your customers about new deals, coupons, menu items, and events. These can draw added spending or more return visits. Mobile push notifications open up the door for inexpensive and efficient marketing.
If your restaurant takes reservations, mobile apps are a convenient method to quickly place or cancel a dinner reservation, which doesn't take your waitstaff or host station away from guests that are currently inside the restaurant.
Restaurants early to adopt the mobile tech trend are still exploring fresh ways to utilize apps to deliver a better dining experience. It is very likely that we will see more strategies develop over the next few months and years.
3) Mobile Payment
The final dimension of the mobile puzzle for restaurants is mobile payment options. Especially for quick service or fast casual restaurants, these new methods to pay are becoming increasingly vital towards delivering a better dining experience.
Part of the seemingly overnight boost in popularity is thanks to the new EMV chips that most new credit and debit cards have, where instead of just swiping a card, the shopper inserts their card into a reader until the end of the transaction. This system, while being more secure, is slower and has disenchanted many consumers from shopping with their card.
Thus, mobile payment options are becoming a new favorite among consumers.
In a world where giving the customer what they want reigns supreme, this should be reason enough to begin accepting mobile payment options, such as Samsung Pay or Google Wallet. But if you need any further proof, then consider that mobile pay options are often much quicker than paying with cash (and especially faster than today's EMV chipped cards). Faster checkout times mean shorter lines. Thus, dinners can go from hungry to fed much faster and you can serve more people.
Another side of mobile payment is the inclusion of mobile card readers, from Square and other similar providers. This creates the opportunity for customers to pay right from their table, instead of waiting for the waiter to return with the check. Again, this can help speed up the payment process and free up tables for guests that are waiting to be seated, which can be make-or-break during the lunch or dinner rush.
4) Tableside Tablets
On the topic of mobile card readers, one way these are being implemented is through tablets available right on the restaurant's tables. These devices provide eaters with an easier dining experience by allowing them to order, pay the bill and browse menu options without the need of a server's presence.
Many of these tabletop tablets have games and fun activities, like trivia and puzzles, that can keep tables distracted from their empty stomachs until the food arrives. For families with children (and the neighboring tables), this type of distraction can be the difference between an enjoyable meal and having to deal with a temper tantrum.
Alternatively, you may have recently seen sports-themed restaurants that use these tablet devices to allow each table to pick which game to watch during their meal.
It may be a while until we see tabletop tablets in fine dining restaurants, but for less formal eateries, they certainly add an interesting new layer to the dining experience. It is far from the first time that food and games have been put together; this is perhaps just a modern adaptation of a long-time favorite combination.
2017 Restaurant Tech Trends - Conclusions
No matter the size or type of restaurant you run, you should be aware of these emerging technology trends impacting the food and beverage industry. Start looking to implement these new tech trends that your customers and your business can benefit from the most.
This may be expanding your existing online ordering service to include a mobile app or enhancing the dining experience by adding better, more convenient pay options.
Whatever the trend that interests you the most is, all of these developments are hugely impactful on creating a better customer experience, while providing your restaurant with some major advantages.