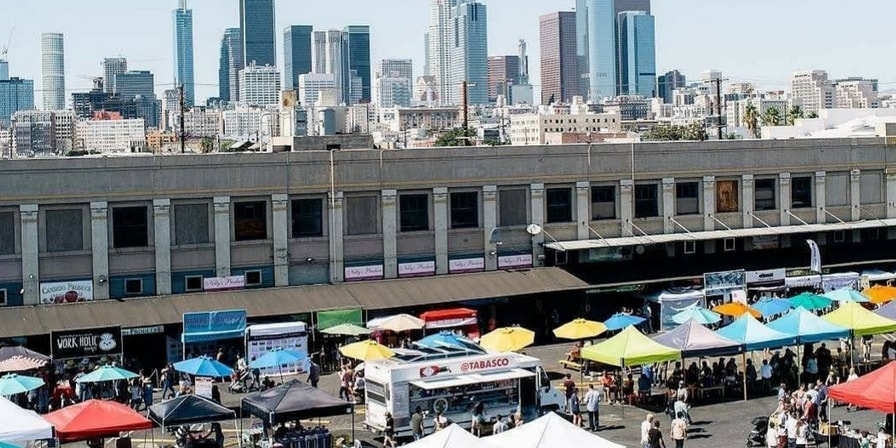 Imagine if you will: It's a warm, sunny day; you're wandering through an eclectic, vibrant, open-air market housed in a 100 year-old lot in downtown LA, pulsating with colorful sights, sounds, and smells.
The portrait I paint is that of Smorgasburg LA, the hip, free Sunday activity everyone in Los Angeles is talking about.
What is Smorgasburg?
Smorgasburg LA, founded in 2016 by Eric Demby as a cross-country cousin to Brooklyn's wildly popular Smorgasburg, is a bustling two acre open-air market that pops up each Sunday from 10 - 4 in LA's new DTLA development.
Smorgasburg LA is an incubator for the passionate and creative, loaded to the brim with vendors of all varieties selling flavorful food choices, artisan crafts, independent clothing brands, and other unique wares. Comprised mostly of mom-and-pop types, some vendors in attendance are so small, they only sell at Smorgasburg LA every Sunday.
Among the rows of 75+ vendors, you'll find seasoned veterans rubbing elbows with the bright-eyed new kids on the block. "Whether you've established a brand or just launched a passion project, we encourage you to join us in LA!" their website reads for hopeful vendors applying for a spot on the lot.
But what really gets people Instagramming is the restaurants and food vendors at Smorgasburg.
Food and Restaurants at Smorgasburg LA
Free to the public, eager patrons from all over come each Sunday to taste and see the latest the local LA food scene has to offer. Whether you're in the mood to try something new, or want to try a fresh take on an old favorite, Smorgasburg LA has got your palate's every possible desire covered.
A few cult-favorites have gotten their start at Smorgasburg, including the viral Ramen Burger, who took the stomachs of Smorgasburg Brooklyn by storm.
The fare you'll find at Smorgasburg LA is as diverse as the city that cooks it: BBQ ribs (both Korean & American), banh mi, tacos and street corn, dumplings, acai bowls, Laotian jerkey, foie-gras, fresh pressed juice blends, and my personal favorite, Shrimp Daddy's Hawaiian-style garlic butter fried shrimp in a pineapple boat. Drooling yet?

The creativity and passion exuding from the vendors at Smorgasburg LA are two traits you'll likewise find embodied by co-founder and vendor curator, Zach Brooks.
Back east, he's known as the founding father of the very popular Midtown Lunch food blog, providing "food adventures for your urban lunch hour" originally in New York City, then Philly, and now Los Angeles. "If these vendors are happy, then I'm happy. They are all my babies" he said in an interview for Vice Magazine's Munchies series. How's that for devotion?
Let's bite into a sample of the 75+ vendors keeping things interesting (and delicious) at Smorgasburg LA on Sundays.
1. Donut Friend
Website | Instagram
Donut Friend, based in LA, specializes in plant-based, made-to-order doughnuts and ice cream, with creations usually adhering to a music-theme.

2. Big Mozz
Website | Instagram
A successful product of Smorgasburg Brooklyn, Big Mozz has taken their creations west, serving award-winning mozzarella sticks to hungry New Yorkers and Californians alike.
3. Bumblecrumpets
Website | Instagram
Bumblecrumpets is not your Grandma's macaroon shop. Hand-made in Los Angeles, Bumblecrumpets' menu boasts a wide array of interesting flavors, including Earl Grey, Lavender, Lucky Charms, Funfetti, Blueberry Poptart, Black Liquorice, and Fruity Pebbles.
4. Workaholic



Website | Instagram
#manduyouwantadumplin? Workaholic creates all-natural Korean mandu, also known as dumplings.

5. Sweet n' Hollow
Website | Instagram
A taste of Eastern Europe in the West, LA based couple George and Sevana serve up hot, fresh traditionally inspired Slovenian Chimney Cakes filled with the ice-cream flavor of your choice.
6. Baohaus

Website | Instagram
Founded by Eddie Huang, an American Tawainese-Influenced Chef and Restaurateur turned Entrepreneur, widely recognized as the host of Viceland's Huang's World and Author of the New York Times Best-Selling memoir Fresh Off the Boat ( the basis of ABC's "Fresh Off The Boat" TV Show). BaoHaus serves up new takes on traditional Tawainese-Chinese fare, including their version of the popular Bao: A steamed, doughy bun Baohaus then fills with different meats and veggies.
7.

Kohk

&

Sahk
Website | Instagram
Ever heard of Laotian Jerky? You'll wish you had after taking one look at Kohk & Sahk's traditionally made Laotian Jerky bites. Born out of a lack of quality, authentic Laotian dishes on the market, the founders lean on their own families' recipes filled with the rich aromas and flavors typical of Laotian culture.

8. Young Bud (formerly known as Sip)
Website | Instagram
"Brewed with Love", Young Bud serves Matcha based tea drinks, breathing new life into the popular, ancient Japanese-Chinese powdered green tea. Add bobas for some chewy texture!

9. Yellow Business
Instagram
Egg based bubble waffles are a wildly popular street dish from Hong Kong; take one look at Yellow Business' Instagram, and you'll see why. Customers can pick from a variety of styles and flavor pairings, all involving a Hong Kong bubble waffle wrapped around some ice-cream and sprinkled with a healthy dose of toppings . Can't get enough? They also cater (◠‿◠✿) .
10. Cheezus
"Approachable, yet sophisticated, classic yet adventurous " Cheezus LA makes mouth watering grilled-cheeses that mix bold ingredients with the cheesy gooey goodness customers only dreamed possible. Still want more cheese? Try their Raclette!
11. Lobsterdamus
Website | Instagram
"We start with a 1.25 LB wild-caught live Maine lobster, blanched, drizzled with butter and seasoning then finished to perfection on a charcoal grill" Sign me up. Whether it's their Grilled Lobster, Lobster Fries, or Lobster Nachos, your stomach is guaranteed to thank you for crackin' into some Lobsterdamus.
12. Amazebowls
As beautiful as they are good for you, Amazebowls make healthy eating bright, fun, and yummy. Customers can choose from one of Amazebowls' signature bowls or choose to MYOB (make your own bowl). Since everything on the menu is nutrient packed and superfood based, you can feel good about ballin' out on a bowl.
What Restaurants Can Learn From Smorgasburg
The food scene at Smorgasburg is so successful for tons of reasons. The ones that come to mind first? Accessibility, creativity, quantity, quality, and ingenuity. All of these aspects of this open market dining and shopping experience keep tourists and locals flocking to it weekend after weekend.
Here's the official Smorgasburg LA address, to plug into your GPS:
ROW DTLA (785 Bay St, Los Angeles, CA 90021)
Enter at Alameda & Bay St.
Free entry. Free Parking for 2 hrs.
The full list of 2018's participating vendors can be found here.