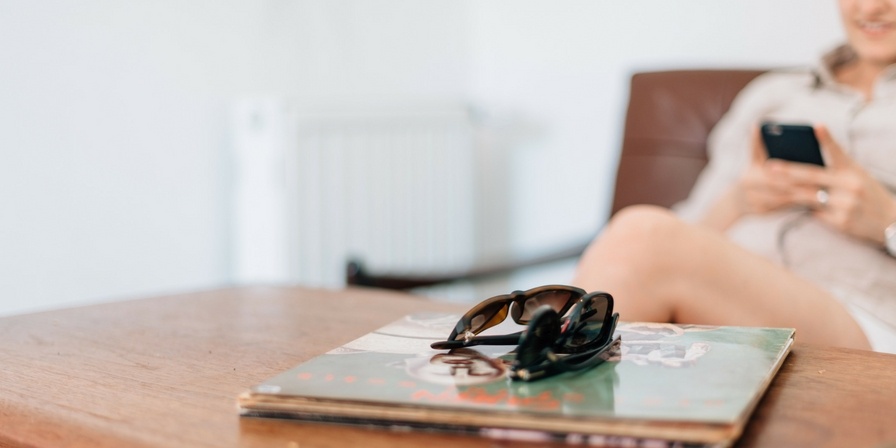 You're working a double, but your cat decided it was play-time at 2am last night, so you've hardly slept. While strolling in and sipping on your coffee, you realize your coworker was late for the start of the shift and did a terrible job opening the restaurant. The salt shakers are also still half empty from last night, your supply delivery is going to be two hours late, and to make matters worse, your first table is a family whose toddler just dumped her entire pasta dish on the carpet. The day is going great - and it's only 11am. Even so, you're still expected to be personable, remain quick on your feet, and put on your best smile.Don't get me wrong, working as a front-of-house employee (a server, cashier, bartender, or barista) can be really great, but it can be challenging to interact with people all day in such a changing and fast-paced environment.
If you aren't taking care of yourself, it's easy to get jaded or too burnt out. Working in a restaurant doesn't have to take a toll on a person's well-being; there are ways that you can practice self-care in the food service industry. Self-care is being sure to take care of our emotional, physical, and mental well-being.
Let's take a look at eight tips for promoting self-care and personal well-being while working in the restaurant industry.
1) Know Your Employee Rights
Did you know about the new overtime law going into effect on December 1st? Most salaried employees making under $38,000 will be entitled to overtime compensation. How about uniforms; does your employer make you pay for your uniform that includes their logo? They aren't allowed to do that! Advocate for yourself after reading up on state and federal labor laws. You're not asking for too much if you're simply asking for what you're legally entitled to.
2) Avoid Toxic Coworkers
Every workplace has a few employees who are always complaining about something or ruining others' days. Though we hate to admit it, these people drain our energy and sometimes make us dread going to work. Gallup surveys show that one in six employees at any given workplace are actively sabotaging the functioning of coworkers. It may not be anything personal, but you still have to worry about your emotional well-being.
There are a few possible ways to do this. Make a point to take a trip to the walk-in when they start droning on: "Sorry, gotta grab some pickles!" Use a different terminal (away from them) to ring in an order. Redirect the conversation. "SO, how about them Red Sox?" Or, confront them (kindly!), asking if they'd mind being more positive.
3) Be Sure to Eat

This should be simple, right? I wish!
Let's face it; customers don't care that you haven't eaten anything but bread in four hours. I don't recommend doing that because by the time you do have a break, chances are you're ready to eat everything in the restaurant. Instead, it helps to bring a protein-rich snack like cliff bars to work for in between meals. Take a second in the back to munch on them for sustenance through a shift. Snacking throughout the day keeps your blood sugar stable, which helps fight off irritability and forgetfulness- two effects that we want to stave off when we're trying to take care of ourselves.
4) Draw Good Boundaries
Restaurants are unpredictable and don't bode well with call-outs, staff turnover, or people needing to leave when they're sick. These things happen, though, as hospitality turnover was 72% in 2015. This doesn't mean it's your responsibility to save the day. If you aren't able to stay or are asked to cover a shift when you already had plans that day, say no. Know that the restaurant will not crumble without you, and that they won't be able to have you for future shifts if you burn out from saying yes too much. With this being said, say yes to helping out when you have the space and if you could benefit from the money. This places you nicely in the eyes of your managers, who will surely take notice and reward you for the effort in the long run.

5) Take Advantage of Breaks
It's so common in Western culture to work through breaks. Productivity is seen as the ultimate goal, steamrolling any idea of conserving our well-being. The flow of customers into restaurants can be fickle, but most places have down time, perhaps between 2-5pm, where you can make a phone call, take a deep breath, and get some fresh air. "Microbreaks" are between 30 seconds to 5 minutes and just ONE of them improves your mental sharpness by 13%. Take those breaks. Your employer legally has to give you a break, sometimes multiple, based on how long you're working that day.
6) Don't Always Say Yes to Shift Drinks
Sometimes, working at a place that serves alcohol means that employees get 1 or more free alcoholic beverages at the end of the shift. Sounds like a great perk in theory, but it often results in 3 mimosas at the end of a brunch shift, which can turn into 3 more.
After your first free drink, you may be spending your own hard-earned cash. Just say no so that you can say yes to leaving and getting home safely after your shift.
7) Have Fun!
Did you know that laughter lowers stress hormones? No wonder why some of the only ways that servers can get through a hard day at work is by joking around with coworkers and having fun. It's easy to get serious and disgruntled, but sneak back to chat with the kitchen staff and other servers when you can. Share a silly story about your pets, kids, or roommate, ask them about their weekend plans, and play music in the back if possible.
8) Remember What's Important
Mark O'Leary, a chef at Shojo, talked to the Boston Globe about work-life balance, which is crucial to remembering at the end of the day what is important. "At some point, you have to realize: It's your job. It's what allows you to pay your bills. You start to realize that your performance could be compromised if the rest of your life isn't fulfilled. So after a 10-hour day, take time for yourself," he says. "Go home and pet your cat."
Self-Care Takeaways
This is your job. It shouldn't be your whole life, even if you have a family to support and bills to pay. Take care of yourself while you're there, but remember to leave work at work and continue practicing self-care while at home.
How do you survive those rough days at work? Share your tips below!