Your website is the virtual front door of your restaurant, and you want to make a good first impression.
In fact, OpenTable has reported that 89% of guests search for a restaurant online before dining out.
How your restaurant looks online can make a huge impact on your bottom line, but evaluating your website on your own can be tough – especially if you don't have experience in website optimization.
There are several common website mistakes that you may not even be aware of. We've outlined some of the major ones in this post to open your eyes to some common restaurant website mistakes that, if addressed, could help your brand out a lot online.
You can also download our free Restaurant Website Checklist to learn what it takes to take your website from good to great. Update and optimize your website, so guests can easily find and order from you.
Mistake #1: Your Website Isn't Mobile Friendly
After evaluating thousands of restaurant websites, the team at BentoBox discovered that over 50% of guests are looking up restaurants through their mobile devices.
This means that at least half of your guests are coming to your website either through a phone or tablet. If you have a website that is not mobile-friendly – and it isn't easy for visitors to find important information like your contact info, location, and reservation options – it diminishes guests' experience online.
Without a mobile-friendly website, you could be missing out on connecting with 50% of potential guests that visit your website. The below before and after shots of Protein Bar & Kitchen show how having a mobile-friendly website really makes a difference.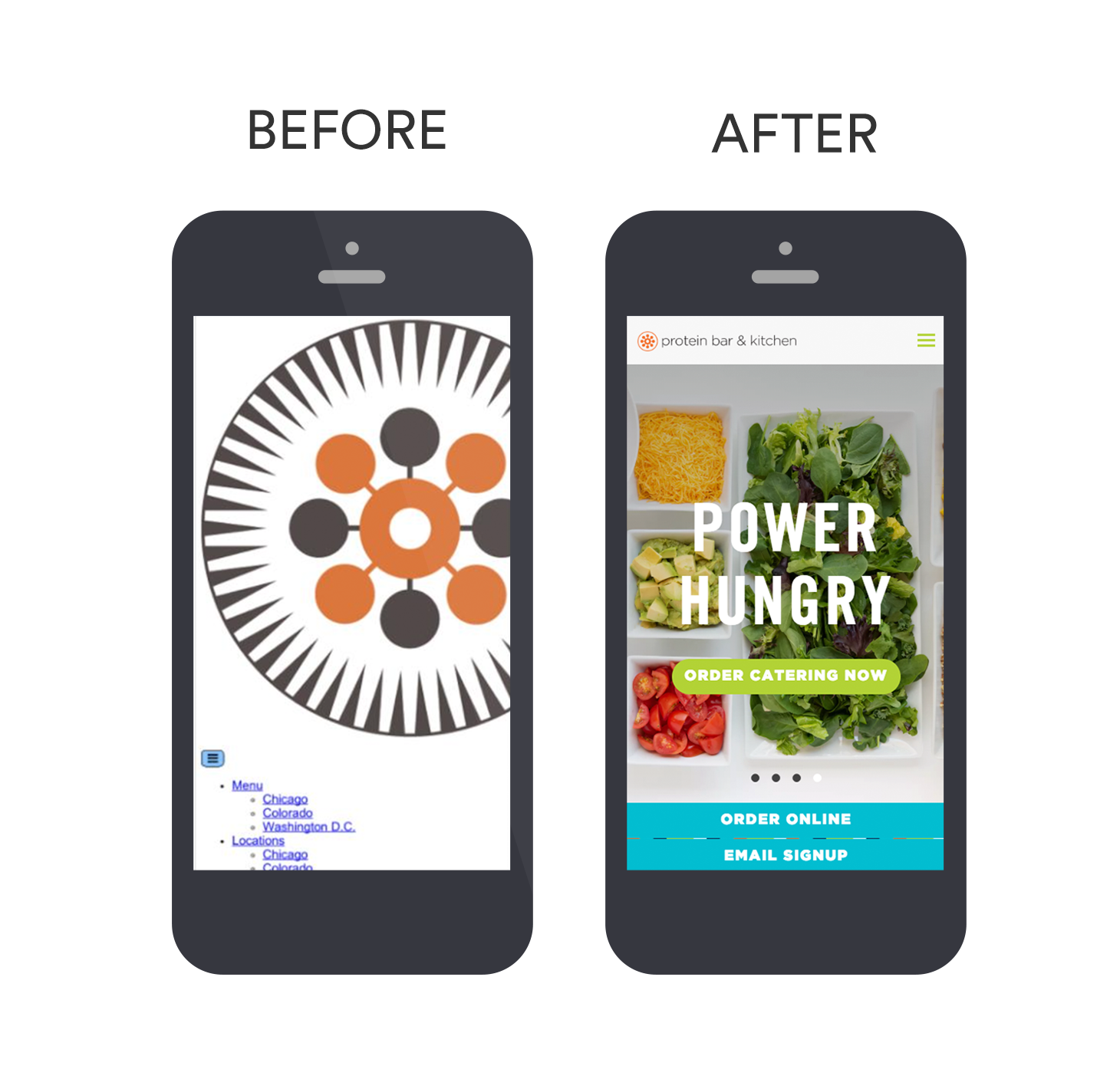 Mistake #2: PDF Menus
Another common website mistake for restaurants is the use of PDF menus.
Not only does listing your menu in this format take longer to load, but they are also a poor quality viewing experience. Since PDFs are not responsive on a mobile device – meaning they do not resize to fit the dimensions of a mobile device's screen – they can be difficult to read leaving your guest frustrated.
PDF menus are also not optimized for SEO, which means that search engines can't "read" them, creating a missed opportunity for your menu items to rank as search results.
In order to avoid all the pitfalls of PDF menus, format your online menus with texted-based HTML. Since the HTML is coded into your website, it will load much faster and optimize your opportunity for search ranking. It also offers your guest an infinitely better user experience, giving them more reason to come and dine with you.
Mistake #3: Important Info is Hard to Find
At BentoBox, we've found that location and contact info are two of the top five reasons guests visit restaurant websites. This includes key information like address, phone number, and hours.
If you aren't making this info easy for guests to find on your website, you're making another common website mistake. All location and contact info should be one click or less away, either listed clearly on your website's homepage or anchored in your website's navigation bar so your guests can quickly and easily find what they are looking for.
If you have more than one location, you can take it a step further by providing a store locator on your location page. This means formatting your location page with an intuitive map view of all your locations and providing search options within that page.
Your online visitors are then able to easily find your nearest restaurant, along with the specific hours and contacts that belong to each location. For example, Frutta Bowls uses a store locator page to clearly display information for all of its 38 locations.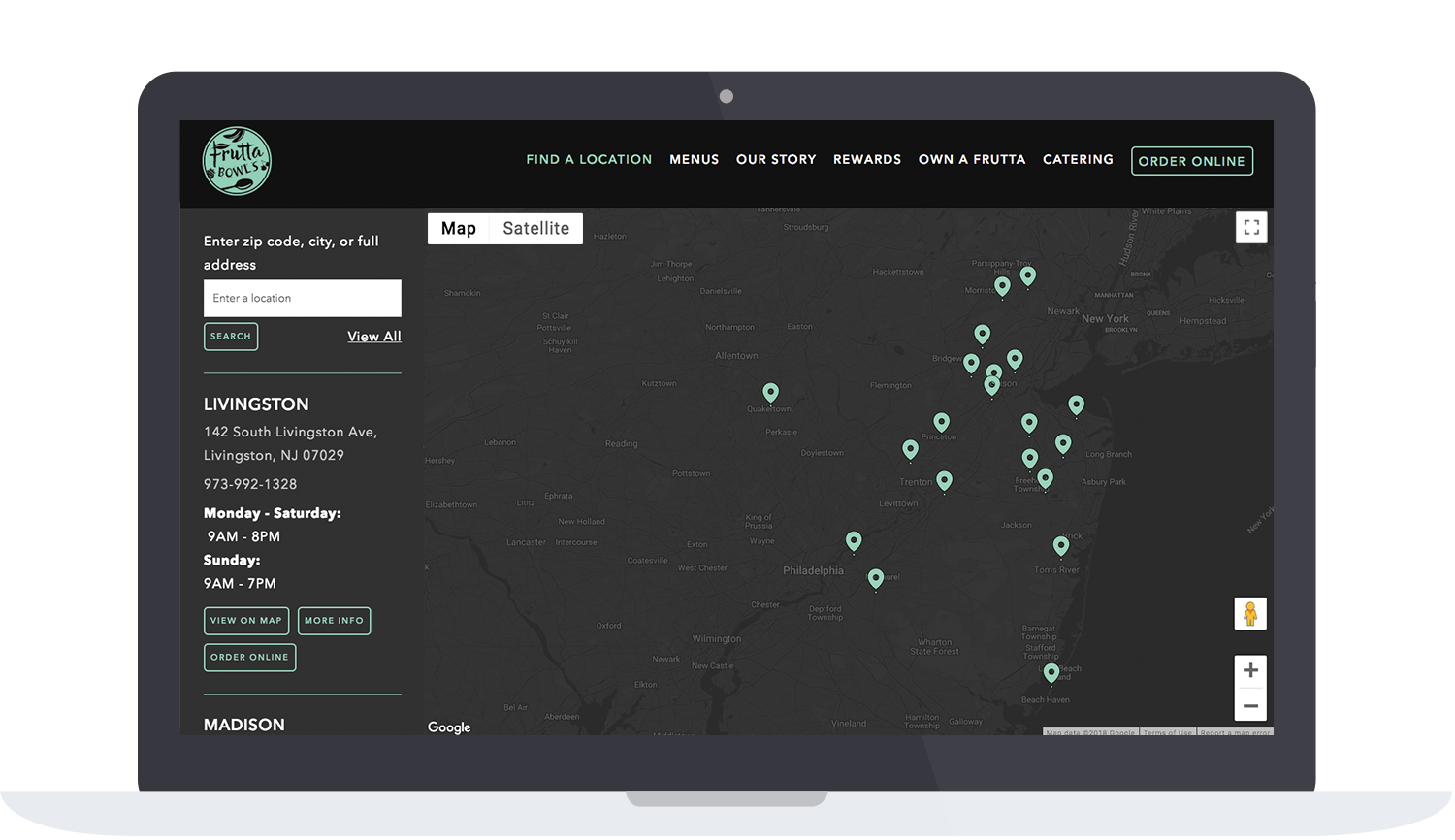 Mistake #4: No Reservations Listed
While not all restaurants take reservations, if yours does you'll want to list that information clearly and prominently.
Reservations are another one of the top 5 reasons guests visit a restaurant website, so not making it available or easy to find online means losing opportunities to get guests through your doors. In fact, Toast's 2017 Restaurant Technology Report found that 83% of diners say online reservations are very important to their dining experience.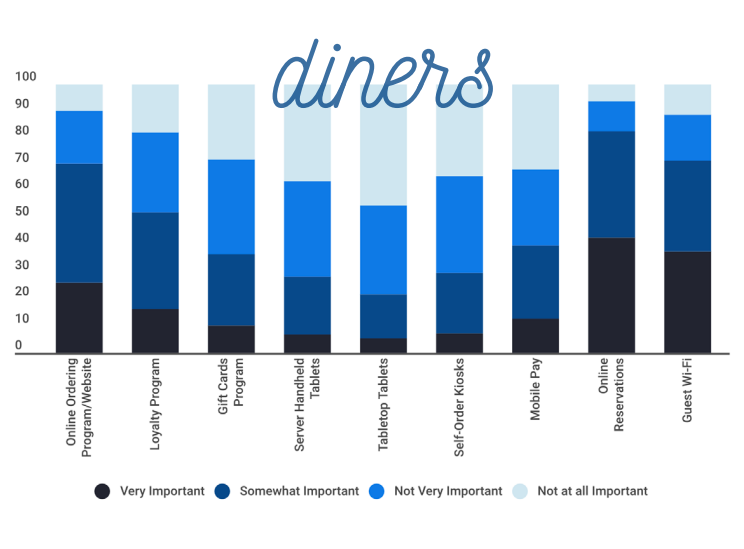 Make reservations part of your main website navigation, or accessible from every page to make it that much simpler for your website visitors.
Some website platforms, like BentoBox, integrate directly with your restaurant's reservation platform of choice, making it a smoother experience for guests to make reservations online and for you to accommodate them.
Mistake #5: Improperly Formatted or Missing Inquiry Forms
If your restaurant offers catering or private events, not having inquiry forms on your website for those areas of your business is another common mistake.
Guests aren't just looking to restaurants for dining in options anymore.
The National Restaurant Association says an estimated 70% of all restaurant transactions will be from off-premise sales by 2020; additionally, BentoBox has seen that restaurants catering events triple during the holidays. Having an inquiry form on your website allows guests to contact you directly about their catering or event needs.
If you do currently have inquiry forms available on your restaurant website, make sure that they are formatted correctly so you can efficiently collect the most valuable information from your guests. Along with the standard fields like name, email and phone number, inquiry forms for events and catering should ask for the desired date, time, number of people, and type of event.
Additional Restaurant Website Improvements
While these are a few of the most common website mistakes, there are still plenty of other ways you could be optimizing your restaurant online, including:
Outlining ways guests can directly communicate with your staff (telephone number, email address, 'follow us' links).
Applying ADA requirements to your website.
Providing online ordering.
Rather than researching and evaluating on your own, there are some great tools out there to help you get a bird's eye view of how your website is performing online, where its largest pain points are, and what steps you can take to rectify them. We recommend getting started with BentoBox's Restaurant Website Report, a website grader made specifically for restaurants.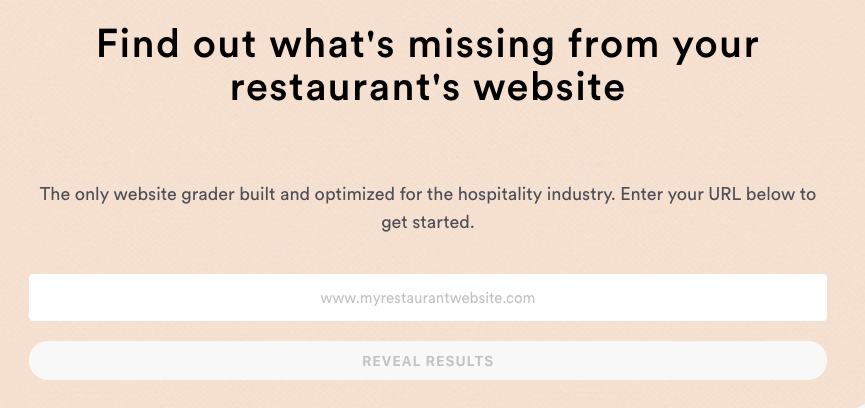 Just plug in your restaurant website URL and in a matter of seconds, The Restaurant Website Report will give you a full evaluation, pointing you towards the areas of your website that could use the most attention.
With so many guests looking online for crucial restaurant information, and restaurants making the shift to digital ordering and off-premise, it's more important than ever that your website is well-optimized. Download the free Restaurant Website Checklist to learn how to make it easy for guests to discover your restaurant online and find exactly what they're looking for.