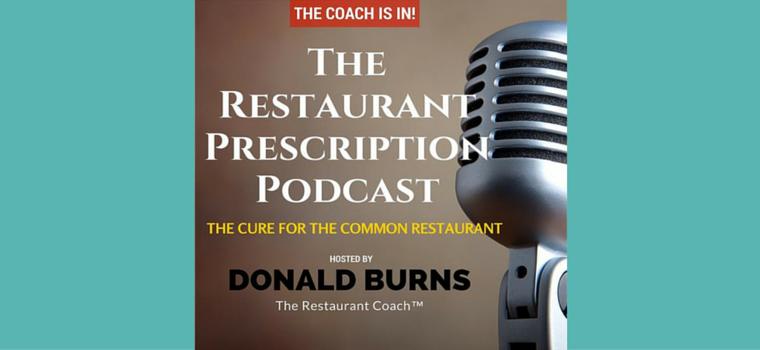 Recently, I was featured on The Restaurant Prescription™ Podcast by Donald Burns. In this podcast, Burns discusses pressing "ailments" that infect the restaurant industry and takes a look at the "prescription" or cure for these issues with key industry leaders. The Restaurant Prescription™ Podcast is, essentially, the cure for the common restaurant!
In my episode, I talked about the gold mine of information available in your point of sale system and other restaurant technology. Most restaurants do not take advantage of the reports and data that their system can offer, and have trouble turning that data into action that increases profits.
I've discussed this before in 10 Restaurant POS Reports You Should Have On Your POS Dashboard. If you want a refresher, check out that post first; otherwise, let's dive into my conversation with Donald Burns!


What is the effect of not using the real power of reporting from your POS system?
No matter how bad a day it was at your restaurant, you're always going to need to look at your restaurant reports. Most people, however, would just look at sales. If they don't have a POS system or are not using POS reporting, they might just have a giant Excel sheet, and be staring at numbers for hours on end, manually checking this data, That's extra hours added onto your day. And even then, you might have the numbers, but you don't have the insights right away.
Other restaurant owners do have a POS system with reporting, but they're not using it to its full potential. That could be for a number of reasons - they're not trained properly or they haven't had time to read through their manuals - but it's a big problem, because honestly, it's a waste of money. You're hemorrhaging the money you're paying for your POS system if you're not using the reporting functionality to make data-driven decisions. You're paying for this reporting functionality, so why not use it?
With reporting that's integrated into your POS software, using these reports can be very easy. Many restaurants are moving towards cloud-based POS reports; that means you can access these reports anytime, anywhere, on your mobile phone or tablet, and not only on your back-office system. You can also have these reports emailed to you daily or even texted to you; it all depends on what you prefer and how you want to actually see these reports.
What is a Restaurant CRM System?
CRM is basically customer engagement: it stands for customer relationship management. With Toast, what that means is that we can securely track your customers' behavior. When you pay for a bill at Toast, if you're using a credit card, you will be entered into the system. Then, restaurauteurs can see what this customer is ordering the most, when they tip the most, and what they enjoy the most. You can select individual guests, and view detailed information about their preferences, and from that you can develop very focused marketing campaigns to these people.
Competition for restaurants is getting tougher and tougher in this mobile world. Restaurants have to engage customers so much more. A great way to do that is with a restaurant loyalty program, rewarding your best customers. Many restaurant owners think "engagement" means being on Facebook and posting your special every day; however, it's really finding out what motivates people and what your guests are interested in, and giving them more than that.
As a marketer, that's something I focus on as well. Old marketing used to be about getting on a soapbox and broadcasting your message out there to anybody who will hear it. Today's marketing is more educational, and it's not a one-way street. For restaurants, that's why restaurant loyalty programs are great. It's great if you're posting your specials on Facebook, but what are you doing to get people through the door? Your guest may process things differently than you do, so how are you catering to these different viewpoints?
What are some key reports that a restaurant owner has to review?
I'll list my top 3 reports, but first of all, it's important that all of these reports are available online, via mobile or tablet or any device that can have access to the Internet. It's also important that they can be customized by timeframe, restaurant location, and specific menu items or people so that you can compare and contrast different reports. That'll make sense soon:
Restaurant Sales Reports - Obviously this is #1. Restaurant sales reports are the cornerstone of your business. You need to see an overview of all transactions completed, including net sales, gratuity, tips, total guests, table turn time, and all service types and payment methods.
Labor Reports - The labor report should provide a summary of each of your employees, including labor cost percentage. Run a report on her real-time productivity for you're employees. Export payroll reports, pool tips, edit time entries, and compare and contrast waiters and waitresses. You can also take a look at retention rate; according to Eli Feldman, data can actually be a big part of your hiring process. More on that later!
Inventory Management Reports - Track how your menu is performing with menu sales by menu type, specific item, modifiers, and more. For example, for a pizzeria restaurant this is super important so you can know which toppings are your most profitable. Inventory reports should help you determine not only which items are most popular, but which ones are making you the most money, based on food cost percentage.
How can a restaurant use that data?
Optimize Your Menu - With clear data through product mix reports, you can make decisions based on on individual items sold, sales by server, and more. I'm really excited about menu reporting, because I think it's a big game changer. Many restaurants are becoming more particular about how they design and engineer their menu, so they're featuring their "stars," or most popular and most profitable items, and hiding their "dogs," or their least popular and least profitable items.
For a beginner's course in menu engineering, click here.


Determine Hiring Strategy - Reporting can actually help you with restaurant hiring. A recent Toast report (available free here) found that hiring, recruiting and retaining employees was the #1 challenge for restaurateurs. However, data from your POS system can actually help you with retention rate. You can compare different servers' productivity, find out what areas they may be lacking in, and work with them to better train them to be more prepared. It's all about creating a restaurant culture where employees are inspired to succeed.
Read the full Restaurant Technology in 2017 Report here.


Make the Most of Your Investment in the POS System - As I mentioned earlier, restaurants are normally paying a large fee for their POS system. However, without using the reporting that's offered, you're actually hemorrhaging money. Track how much money your POS system system is making you in terms of ROI - it's an investment that should be paying you back. For example, according to the NRA, reporting from POS systems can help remove manual errors by 1% and decrease bottom-line food and drink costs by 2%... These are small numbers, but if you're making $500,000 annual sales, that's $10,000 in savings. We've also found at Toast that our handheld mobile tablets can increase throughput by 15-20%.
Learn more about how to calculate your point of sale ROI here.
What's one piece of advice you would tell your younger self?
Don't be afraid to take ownership and take responsibility. Your intuition is almost always right. Your gut is your most trusted adviser. Rather than focusing on stress - I used to work at Burger King and Subway, and stress was part of my life and actually the reason I got shingles at one point, but that's another story - visualize the future instead. Visualize the future you want.
If success were a recipe, what 3 ingredients would you say have to be in there?
Passion - We've all heard "follow your passions." While I wouldn't use that phrase, I do think that passion is important in anything that you do. Especially for the restaurant industry. And it's interesting, because with the right motivation, passion can be manifested. In fact, this is what great CEOs such as the one we have at Toast do. We're all working towards a common goal - and that's helping other people not ourselves - and that instills passion in everything we do.


Relationships - It's so easy to burn out if you're working alone. I've found that no matter what, it's the relationships you make along the way that help you reach success. For example, one of our first Toast customers was Mei Mei, a food truck and now brick and mortar restaurant in Boston. They've been with us through all of our updates, and we've really created a relationship, a partnership with them where we can help them succeed by adding feature updates that work for them, and they can help us succeed by sharing their experiences with the platform.
Data-Driven Goals & Ideas - Goals are so important. While I don't have a 5-year-plan necessarily, I do have goals for what to accomplish by the end of the year. I also have a to-do list that's constantly evolving based on the goals of the team. No matter what you do, you should create goals, write them down, and look at them every day. We have reports sent to us every night; you can do that with your POS reports too, to track your restaurant's success and set goals for annual sales numbers and other restaurant metrics.
Tell us about Toast POS and Restaurant Management System
The great thing about Toast is that it's not just a technology that you buy and forget - or worse, buy and regret. It's a restaurant management system that's constantly evolving with the changes and demands of the restaurant industry. At the moment, one Toast system could replace more than 6 other technology systems: along with tableside payments, we offer integrated online ordering, robust sales and labor reporting, customer behavior data, gift cards, restaurant loyalty, enterprise management, and we're adding even more customizability every day.
Any upcoming projects? Anything new happening over at Toast?
We're making headway on our platform, building out inventory and online ordering functionality even more. We're also integrating with various tools for labor management and accounting. There are always upcoming projects at Toast!
Check out the full podcast here, and subscribe on iTunes or BlogTalkRadio!