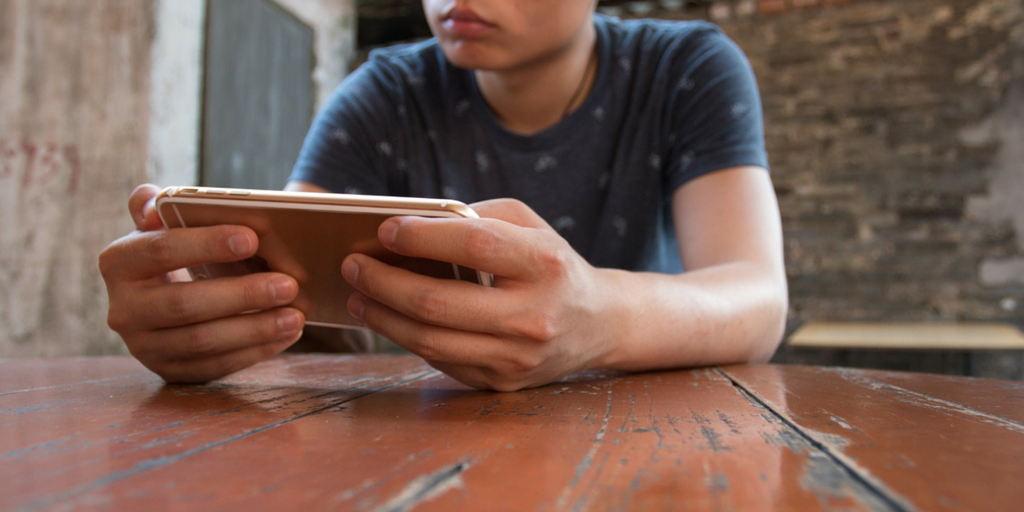 In my opinion, Facebook is by the far the most profitable marketing platform for attracting and retaining bar and restaurant customers. Facebook continues to create new ways to help business owners crank up the ROI on their marketing efforts. What I have to share with you today is groundbreaking for bar and restaurant owners and can't be ignored...
But first, I want to cover the importance of capturing "leads" on Facebook - that is, capturing people's personal contact information. It's critical to your success in the bar and restaurant business for several reasons.
Why Facebook Leads Are Important for Your Restaurant
1. These people are opting in.
Anyone who hands over their personal contact information to you in exchange for an offer to do business with you is telling you that they want to do business with you. Right? Or they wouldn't give you that information, would they?
With that said, these people are more profitable to market to for future promotions then anyone else. There's no denying that.
2. You can cut your marketing costs in half.
You can cut your marketing costs in half by emailing, texting, sending direct mail, and remarketing to this list of people rather then marketing to the masses and paying a fortune.
If you have just 500 to 1,000 people on your prospect list, you can easily get a 10% response with with just email alone. (That's if you have the right offers and messaging in place, not just promoting prices.)
3. You can run ads specifically to this list.
You can take those email addresses and phone numbers and upload those to Facebook as a custom audience where you can then run ads only to your customer list on Facebook. This brings a massive ROI, because now you're only marketing to people who've personally said they want to do business with you.
I could give you several more reasons, but I think you get the point. The most profitable people to market to are the ones who personally give you their information - not the people who've never heard of you or done business with you.
Facebook's Newest Secret Weapon: Lead Ads
One of the biggest problems bars and restaurants face when trying to collect email addresses is getting the correct email address from customers. Some people give fake information, which is why you should always make sure you do a double opt in online: after they give their email, ask them to click a link to confirm that you have the right email. After that, you can deliver the goods.
Good news: Facebook has made collecting email addresses even easier for us with a bulletproof way to capture information on autopilot without getting fake information.
Facebook has just recently launched Lead Ads. This is where you can target your perfect audience with an offer and when they click to receive, a second screen pops up with their first name, last name, and email address in a form. All they have to do is click submit and boom, that information is then sent to you.
Let's walk through how this would look.
Here are two different ads. One targets males and the other targets females. Notice the images, the headlines, and copy. Remember, there's no one size fits all offer. If you want to get the best results, you have to target specific groups with the right offers and the right messaging.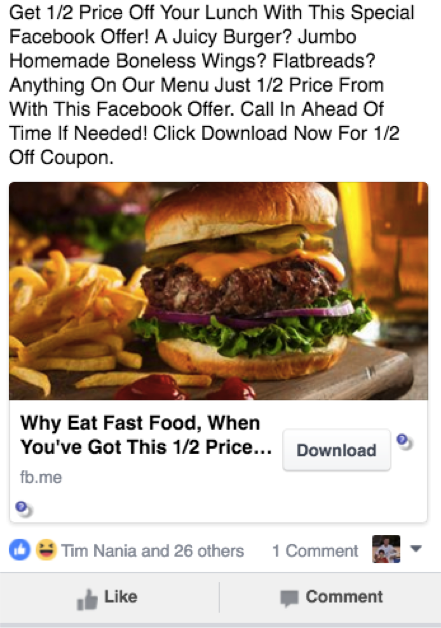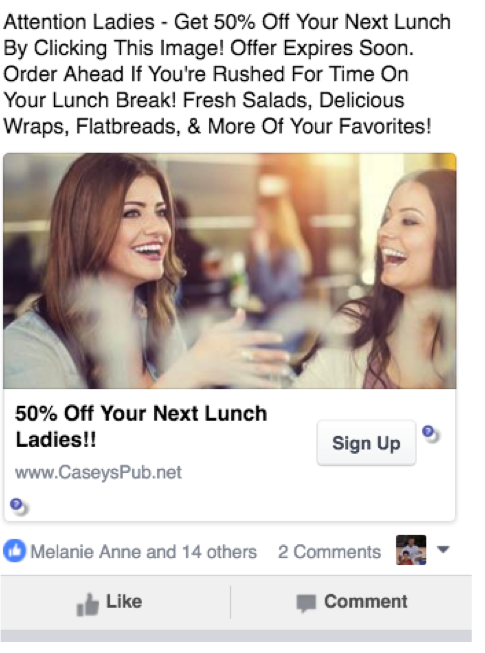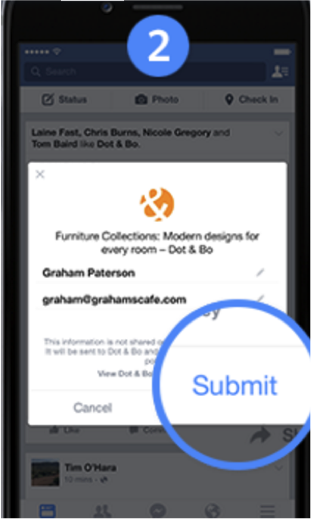 After a Facebook user clicks "download" or "sign up" - and you can choose various options for this button text - they are taken to a second screen similar to this one where all their Facebook information is autopopulated, making it easy for them to just click submit.
Facebook gives you the option to get more information as well, such as gender, age, phone number, occupation, and so much more!
Keep in mind, though, the amount of people who want to give you more detailed information about themselves is limited. A restaurant marketing best practice is to allow for 2-3 form fields, especially for mobile users. The example on the right includes only name and email.
You can then run a second campaign to these leads after you've built trust and relationship with them. That way they will be more then willing to give you that information.
How I Use This Restaurant Marketing Strategy to Boost Sales & Profits - And How You Should Too
When people fill out a lead ad on Facebook, they are automatically added to our marketing automation system through a custom feature that we built. (To get the leads otherwise, you have to download from Facebook and upload to your system yourself.) As they are added automatically, we send them a email or text (depending on the strategy we are using) with their offer and a unique offer code. We also include a 7-day expiration date to get them in the door fast. That's important!
When they come in to redeem that offer, the staff or manager enters that code into their phone or tablet. Then 24 hours later, we send a very personal email from the owner of the restaurant thanking them for their business and asking the customer about their visit and what they can improve for next time.
This personal touch really makes the brand and owner stand out from the rest of the market because very few owners put personalized systems like this into place. This type of system is gamechanging and the best part is, it's all automated and it builds trust with your customers.
What Kind Of Return Can I Get From Facebook Lead Ads?

Here are some stats from a $150 ad campaign we did for the first time. These were based on the ads you saw above. You'll see this only shows $139.20 spent so far and that it cost us on average $2.17 per lead. Think of the last time you spent $500 on advertising. How many customers came in and what did they spend?
Out of the 64 contacts who've signed up, we've seen 18 come in with this offer so far. There's still more time on the expiration, so we are expecting a few more to trickle in. So far, it's cost us $7.73 to get customers in the door for a 1/2 price meal. Not to mention, we targeted new customers: people who did NOT like our business page or were NOT already in our contact database.
I always use these stats, but Jon Taffer wrote in his book, Raise The Bar, that it cost on average $60-$70 to get a new customer in the door using traditional media strategies. And he's 100% spot on with those figures. So I'll take $7.73 all day.

"It costs $60 on average to get a new customer in the door, but only $7.73 with this strategy."
Follow Up Is the Secret To Success
What's important to remember though is that we all live very busy lives. We forget about things. We're human! Which means that a good percentage of people won't make it in with the offer. That's normal. However, we now have their contact information! So we can target them again with other offers and promotions for many months on end, which will increase the chances of them walking in at another time.
That's the difference the really successful owners have over others. They have systems in place for attracting and retaining customers to maximize the ROI on their marketing dollars.