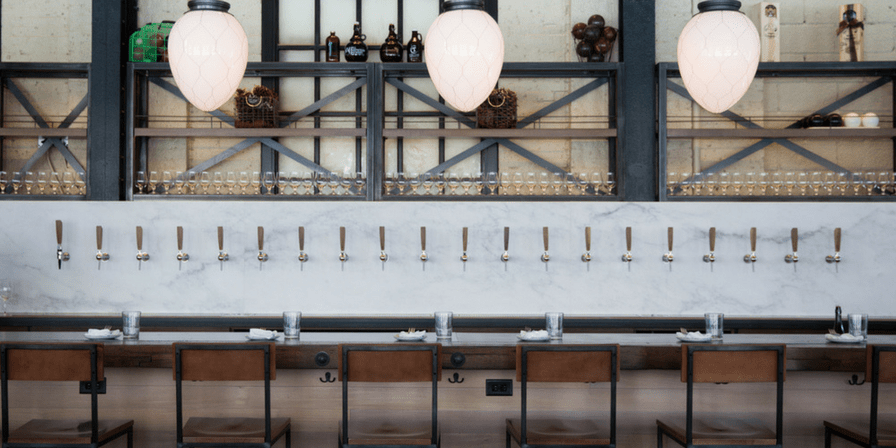 In the newest episode of The Garnish Podcast, we sat down with career restaurateur Deena Marlette, General Manager of Branch Line.
Located right outside of Boston, Branch Line is a neighborhood rotisserie that has been pleasing crowds for over a year. Helmed by legendary restaurateurs Garrett Harker and Andrew Holden, it has even been featured on Phantom Gourmet.
In our chat, we found out that Deena has been behind the scenes since the restaurant's inception, helping to build an encouraging team, a unique culture, and an emerging business.
Here are five restaurant management tips we learned from this highly successful restaurant manager. For all of Deena's insight, listen to our interview with her in latest episode of The Garnish Podcast!
1. Educate Yourself
Before diving in to a restaurant career, Deena was a teacher with her Master's in Education. It wasn't until working at Boston's Eastern Standard that she decided to embrace her calling and join the hospitality industry.
"I thought 'I'm gonna have to do this really well if I'm going to make a career out of this.' So I went to the Boston University Wine School and become a certified sommelier. After a couple of years of studying, I became a full-time front-of-house manager [at Eastern Standard]."
Two-and-a-half years later, when she asked Andrew Holden to help open Branch Line, she was offered a management position.
Deena is proof that going the extra mile to enrich your career through education - no matter the industry - leads to more opportunity for advancement.
While she's still paying back student loans from her higher education, the investment paid off, as she is still teaching to this day through mentorship.
2. Embrace Mentorship
Deena is a mentor in her current role. In our interview with her, she spoke highly of the relationships she has with her mentees and her personal mentor.
The ability to speak to her own mentor as an employee, a co-worker, and a friend has allowed Deena to gain more confidence and comfort in her role as manager. This has gone on to shape the way she mentors her staff.
Deena knows how to manage the business aspects of her restaurant with ease and offer advice to her eager-to-learn servers in the same shift. "It's all about being a sounding board," she said.
If you're in a restaurant leadership position, understand that people are looking to you as a mentor. That said, Deena encourages managers not to forge an unnatural mentor-mentee relationship. To be effective, it has to happen organically.
3. Offer Leadership Opportunities
Branch Line is unique in that much of the staff has no restaurant experience. This was an intentional choice made by Deena and it has brought in a workforce ready to try new things. To counter this lack of industry experience, Deena empowers employees throughout their tenure to make them restaurant experts over time.
In Branch Line's pre-shift meetings, servers take turns running beer tastings to prove their knowledge. New servers are encouraged to leverage the wine list and make the sale themselves rather than defer to a cheat sheet. These methods of empowerment can help strengthen a restaurant staff's confidence and knowledge.
4. Cater to Your Area
We recently covered the slow decline of run-of-the-mill casual dining chains. On this, Deena said that there are "a lot of great restaurants around the country, but a lot of them feel like replicas." To avoid this trend, Branch Line does its part to cater to the locals, thus building a loyal fanbase.
Located in the suburbs near a large company, Branch Line noticed the area's inhabitants were craft beer fans and two-parent families looking for quick, affordable meals to go. In response to this demand, the restaurant supplies a vast, ever-changing keg selection for the beer-loving office employees and convenient takeout options for families.
5. Use Restaurant Technology
This industry is changing. Thanks to the shift from the pen-and-paper ordering method she first used at Outback Steakhouse to the modern POS system her restaurant is using now, Deena's job has been both simplified and enriched. "I think [technology] has had a huge impact," she said.
A restaurant point of sale lets restaurateurs check sales reports and data immediately from anywhere. Additionally, modern POS systems are built for enhanced ease-of-use for managers and servers alike. In the interview, Deena stressed the importance of the invaluable insight she has gained from using modern restaurant technology.
To hear the rest of Deena's restaurant management tips, listen to her interview on The Garnish below!