2016 was a weird and jam-packed year, full of self-driving cars, elections, and no audio jack. As the year is now concluded, let's look ahead, start anew, and see what's in store for us in 2017.
The Kimpton Hotels & Restaurant Group created this infographic based on the collective input of chefs and bartenders from over 70 Kimpton restaurants and bars.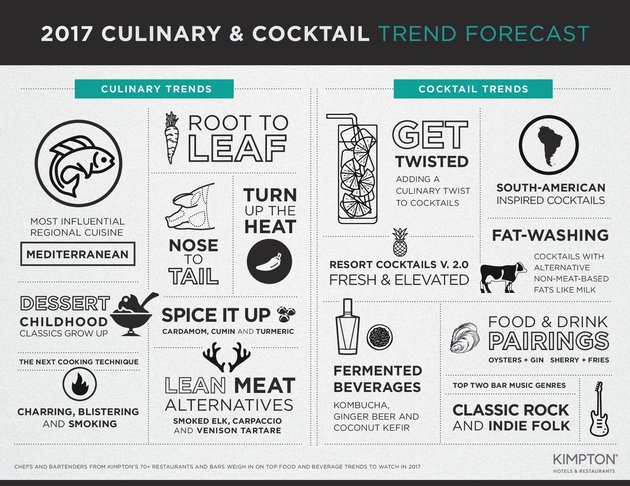 Here's a closer look at some of the 2017 food trends to look out for in the restaurant industry.
1) The Regional Influence of Mediterranean Cuisine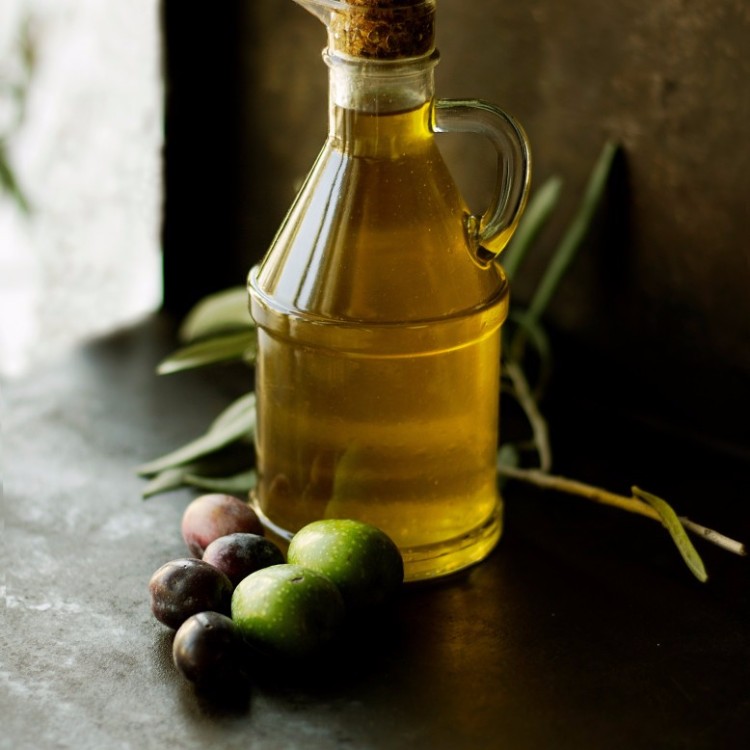 The diverse region surrounding the Mediterranean Sea is highly characterized by its distinct food flavors. The cuisine seems to be based on the cultural worship for the olive tree, and its influence branches out similar to that of an olive tree.
Renowned British cookery writer, Elizabeth David, wrote a book on the Mediterranean cuisine called A Book of Mediterranean Food, where she concluded that the three main building blocks of the cuisine are:
According to the infographic, Mediterranean Cuisine is the most influential cuisine to take note of. Since there's an increase in demand, your restaurant may want to take note of it and - if it fits with the concept or theme of your restaurant's menu - consider adding some Mediterranean-influenced cuisine.
2) Charring, Blistering, and Smoking
The practice of charring, blistering, and smoking are cooking techniques forecasted to make it into the mainstream in 2017.
Roasted green chiles, for example, are highly demanded in southwestern cooking because they are prepared through the methods of charring and blistering. To char is to partially burn, and to blister makes it easy for the chile pepper's skin to peel right off. Eggplants can also be given a vivid smoky flavor through the technique of charring over a gas stove.
Some of your guests prefer things to be on the soft and smooth side, but if you'd like to appeal to more guests, offering this option and seeing how it fits in your restaurant is a good way to test if this trend is applicable to you.
3) Minimizing Waste With Root to Leaf and Nose to Tail
Proper food waste management is of utmost importance in 2017. We're seeing a rapid population growth and an increasing scarcity of food supplies. Award-winning chefs have incorporated 'root to leaf' and 'nose to tail' cooking practices to cut down on food waste.
Steven Satterfield, chef of the Miller Union restaurant in Atlanta, vividly illustrates creative uses of all the edible parts of plants and animals in his cookbook called Root to Leaf: A Southern Chef Cooks Through the Seasons.
Another way to curb wastage is to leverage inventory reporting systems to keep track of food costs, recipe costs, and over-portioning. Restaurant inventory software helps decrease waste by allowing restaurateurs to monitor inventory variance reports.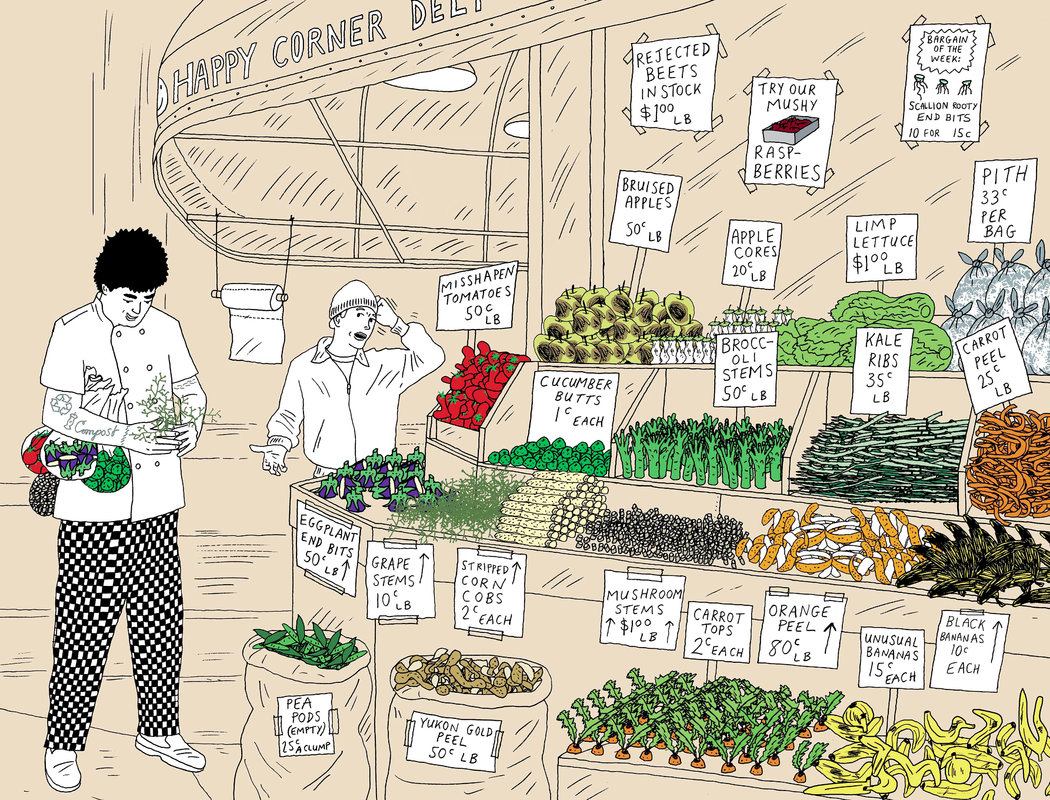 To read more about using the most of your food supplies, check out or blog article on how ugly produce can revamp your menu.
4) Curry Pow(d)er - Variety is the Spice of Life
Cardamon, cumin, and turmeric will spice up your lives in 2017 - and even moreso the lives of your restaurant's guests.
All three of these spices are included in curry powder to create pungent flavors on the tip of your tongue.
These spices not only emphasize the flavors in your food but also provide health benefits. Turmeric has been quoted to help with cough and cold when mixed with warm milk.
Trust me. I've tried this. It actually works.
Cumin possesses an abundance of iron and helps boost the digestive and immune system. Black cardamon can alleviate respiratory issues and chest congestion.
Have you gotten feedback that some of your menu items are, well, a little bland? Spice things up with curry powder, introduce your customers to a taste of the world, and revitalize your dishes.
5) Lean Meat Alternatives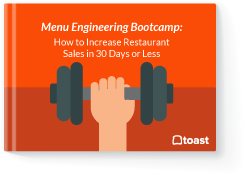 Lean meat alternatives, where the visible fat is trimmed off, are predicted to make waves in the food industry in 2017. This protein group provides us with a wide variety of nutrients and vitamins. Think thin cuts of meat like elk, venison, and carpaccio.
Move over beef and pork, it's time for these new items to snag a spot on your menu.
One of the most fascinating similarities in all of these food trends is the introduction of new foods to the norm. 20 years ago, in 1997 (is that seriously 20 years ago?), would anyone have imagined that elk and venison would be cementing their place onto restaurant menus in 2017?
6) Rise of Kombucha Lovers
Kombucha is made up of fermented sweet tea accompanied by a culture of yeast and bacteria. These fermented beverages provide ample health benefits and are certainly gaining traction.
These fermented teas can boost your energy, improve your digestive system, and help with detoxification. Some of my fellow Toast employees like Cameret Bannister and Sean Eckelman have already explored the world of homebrewed kombucha tea.
Are you running a cafe or coffee shop? Do your guests order coffee with dessert? Offer kombucha on your menu and see if your customers are embracing the trend they way the rest of the country is.
Honorable Mention - Poke
Poke, which is a raw fish salad and the Hawaiian word for "section" or to "to slice," is a trend to watch out for, forecasted by many in the restaurant industry and Toast's own Nicole L'Ecuyer.
Hawaiian restaurants are coming up and embracing the poke craze. New poke locations have been opened up in major cities like New York City, Las Vegas, and Chicago in late 2016. At this rate, Foursquare indicates that there could be 1,000 Hawaiian restaurants nationwide by 2020.
Some restaurants, like The Poke Shack, are basing their entire concept around this food.
Restaurant Food Trends in 2017
Which food trends are you most looking forward to next year? Did we miss any? Comment below and let us know!