Article
8 Innovative Ways to Use Your Restaurant Analytics Platform
78% of restaurateurs check their metrics every day. Learn how you can use your restaurant analytics platform to run your business more effectively.
Terms like "analytics," "metrics," and "reporting" in the restaurant industry usually don't induce a feeling of excitement for restaurateurs.
Diving into sales, menu, and labor reporting can be intimidating even if you have the right tools in place – not to mention extremely difficult if you don't.
As we recently shared in The Future of the Restaurant Industry, it's likely that every aspect of a restaurant's operations will continue to be enhanced by data and analytics.
"Restaurant staff will need to develop new skill sets; they'll be expected to understand analytics and how it impacts their jobs and their businesses," said Brad Gillis, co-founder and CEO from Homegrown.
To thrive, restaurateurs need to be able to answer questions like:
How can my menu adjust?
What time of the day is best for my sales?
Which of my restaurant locations is the most profitable?
Let's dive into why these data points are so imperative for operations and how a deft use of your restaurant analytics tool can result in.
To help you evaluate the tools along the way, you can download the POS comparison guide and check out the Toast vs competitors compare guide.
RESOURCE
Find the right POS for your restaurant's unique needs
We'll handle your info according to our privacy statement.
What Are Restaurant Analytics?
78% of restaurateurs check their business metrics every day – but what does this actually mean?
First off, we need to distinguish restaurant reporting from restaurant analytics.
Restaurant reporting involves looking at your data for a short and specific period of time. Reporting might be used to compare sales and profits between this week and last week, or yesterday and today.
In other words – it's simply a data readout of the day's happenings with no major consideration to what insight could be derived.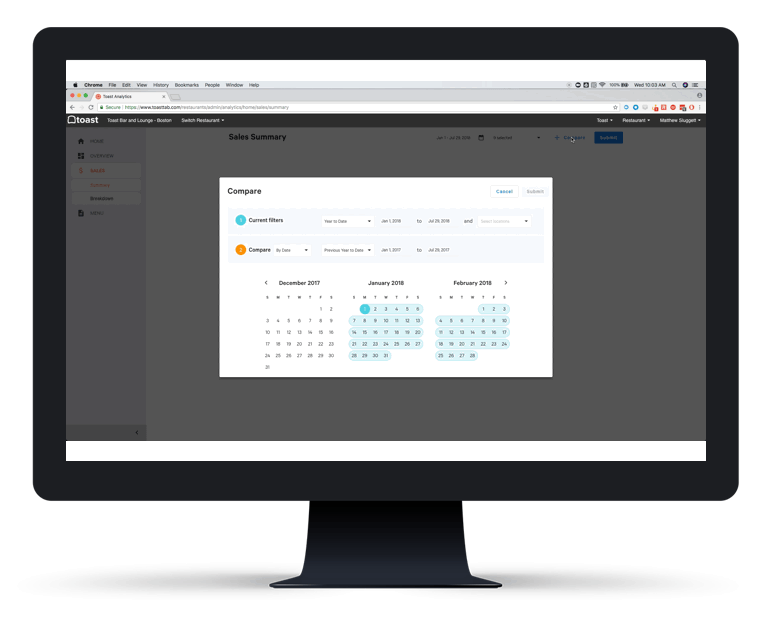 Restaurant analytics goes a bit deeper than that and forces you to ask questions like "Why?", "So what?", and "What does this mean?" Restaurant analytics often combines multiple sets of data to answer deeper questions about your restaurant's performance. If you want to know why a certain day of the week or which hour of the day – in general – drives profit, look to your restaurant analytics.
From here, you can draw insights on how to improve your restaurant's operations as a whole.
ChartMogul draws the distinction like this: "Reporting provides you with information; analytics gives you insights. Reporting raises questions; analytics attempts to answer them."
Now that we've made that distinction, let's look at some questions you can answer using restaurant analytics.
1. Which sales category is the most popular?
Let's talk about restaurant inventory for a second.
Looking at your inventory depletion isn't always the most effective way to determine which food item is most popular. It's not always a one-to-one matchup, as theft, waste, and spillage can impact these numbers.
With restaurant analytics, you can catch a glimpse into which sales categories – from pizzas, to drinks, to lunch combo specials – are most popular, what the profit margins are, and what the gross revenue is.
This information can help you build catering menus, readjust price points, and connect with guests by providing them the food they love most often.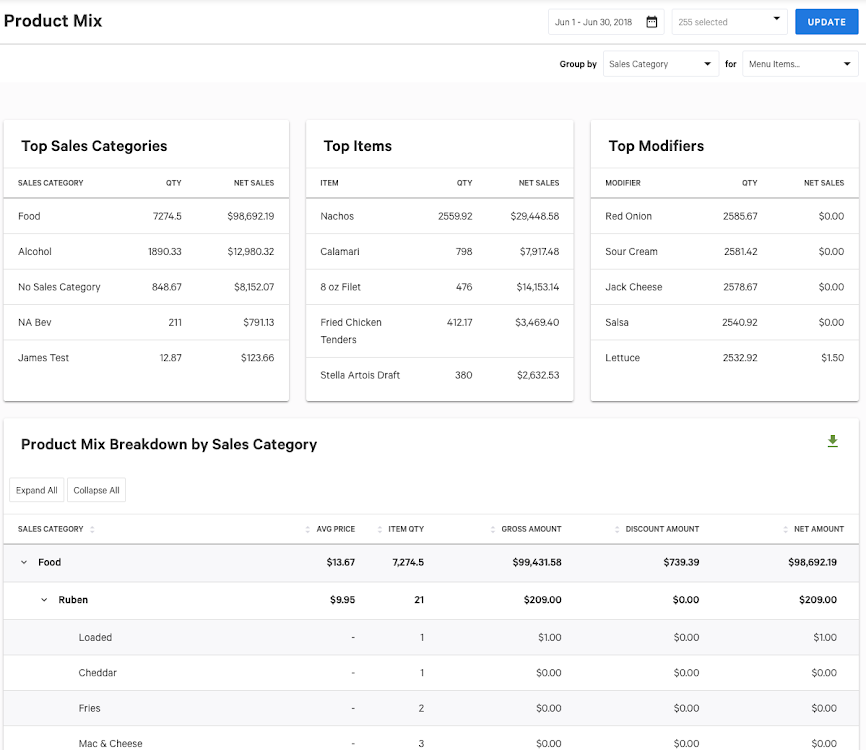 2. What's the best day for restaurant sales?
It's an age-old question for restaurateurs: Should we be open on Mondays? Friday feels like our busiest day, but is it, really?
Restaurant analytics can give you visibility into how busy you are on each day, but also into how each weekday compares on average to others.
In other words, you can see how busy you are on any old Wednesday to get a standard inventory order and staff schedule prepared, but on the Wednesday before Thanksgiving, you might look back at that specific Wednesday and realize you need to refill your kegs.
Example: Let's say your Tuesday sales are slumping. You decide to introduce Taco Tuesday with half-off tacos to get more seats filled, and want to see how this impacts your revenue after two months. The GIF below illustrates how an owner might compare the spike in sales following this promotion, and if he or she might choose to continue the promotion, pending on the change in sales and profit.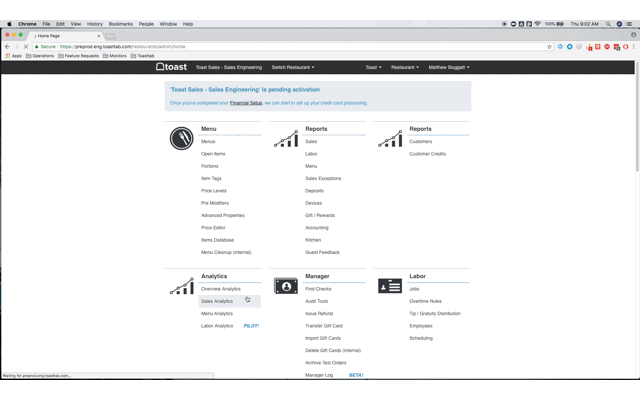 3. What should I change about my menu?
One feature of restaurant analytics is the ability to look at special requests on the POS system over time.
Owners can see how often servers have used to add in modifiers like "extra pickles" or "well done." When these special requests come in too often, it might be a sign to tell your chefs to keep food on the grill a bit longer and stop skimping on the garnishes. When they take too long, it might be a sign that your restaurant POS system's design is hindering server productivity.
Clearly, these changes impact your bottom line, so use the data to engineer your menu and adjust prices accordingly.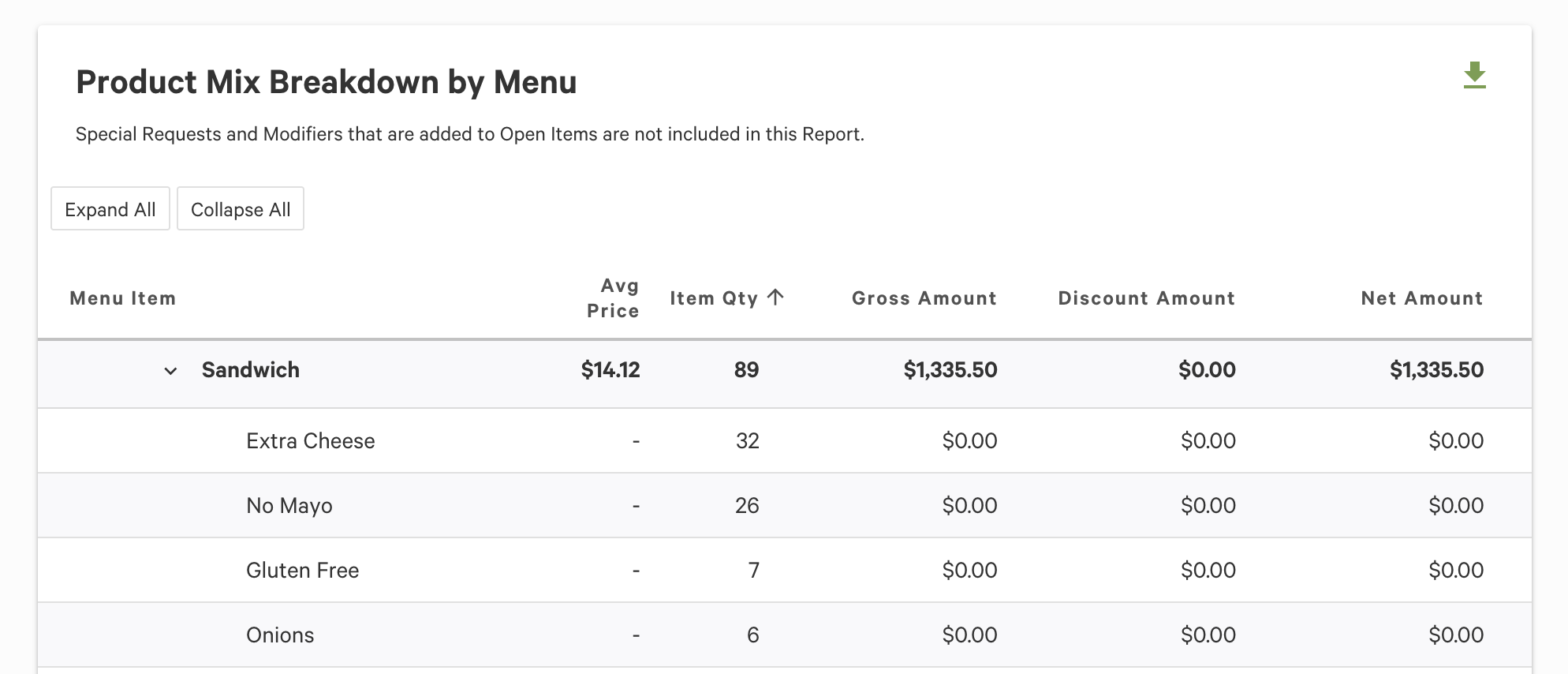 4. Which of my restaurant locations is the most or least profitable?
Multi-unit restaurant groups shouldn't have to drive to all of their locations to see which is performing best.
From a macro standpoint, restaurant analytics can grant owners access to a multi-location summary report to see how each location is tracking year to date. See which locations may need more staff scheduled on busy hours, or might need to change hours of operation for higher profitability.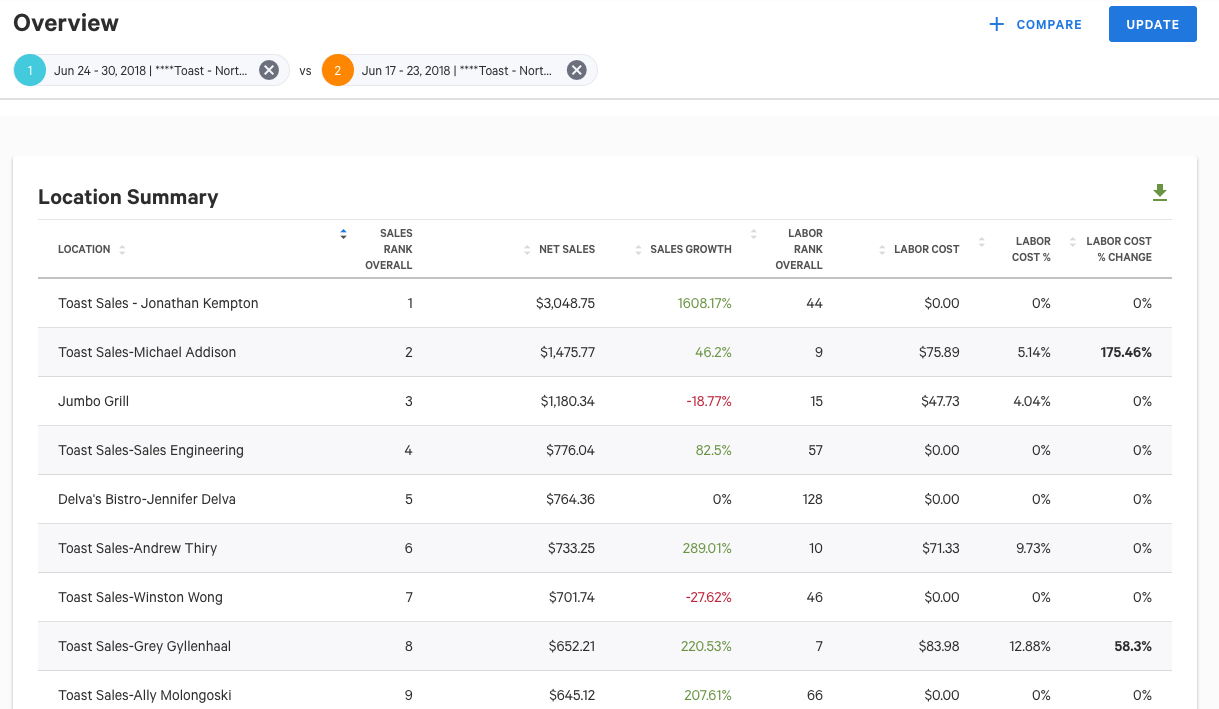 On a micro level, you can also compare one location to another with a cross-location comparison.
Knowing your most profitable location, your least profitable location, and everything in between can empower you to easily analyze the data and take action.
5. Which server is driving the most revenue?
Is that "All-Star" server all talk and flair, or are they actually your restaurant's secret weapon?
Restaurant analytics from a data-rich restaurant management platform allows managers to see how effective their servers are at upselling certain menu items.
To drive profitability in your restaurant, start a competition based on these data points to motivate employees. Employee gamification can improve morale and profit. Task servers to sell a certain item (wine, dessert, the new app, etc.) in exchange for a small reward, like an extra vacation day or a gift card.
To get the most accurate data about a competition like this, use the analytics function on your cloud-based POS system.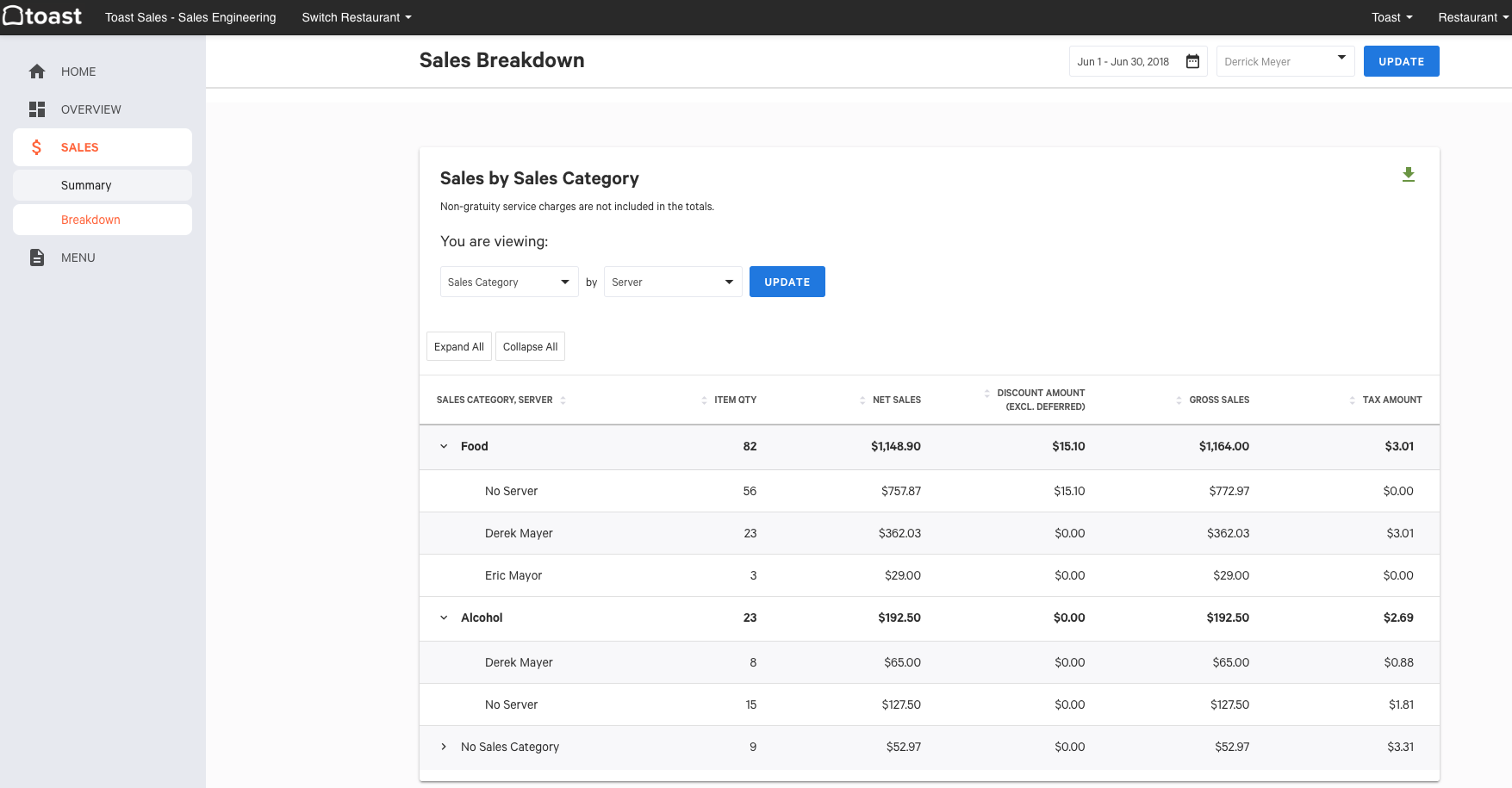 6. What should I forecast for sales next month?
Sales forecasting can be difficult for restaurants, due to factors like seasonality and business growth. However, accurate sales forecasting can be very helpful, especially when it comes to scheduling and food orders.
To answer this question, look at your sales by month over time, which will show what the average change in sales from one month to the next is over the years.
For example, you might find that over for the past two years, your sales increased 3% between July and August. You might expect sales to follow a similar trajectory and reflect your food supply ordering and staff scheduling as well.
Restaurant management software solutions like Avero (pictured below) are a big help in forecasting sales through restaurant analytics.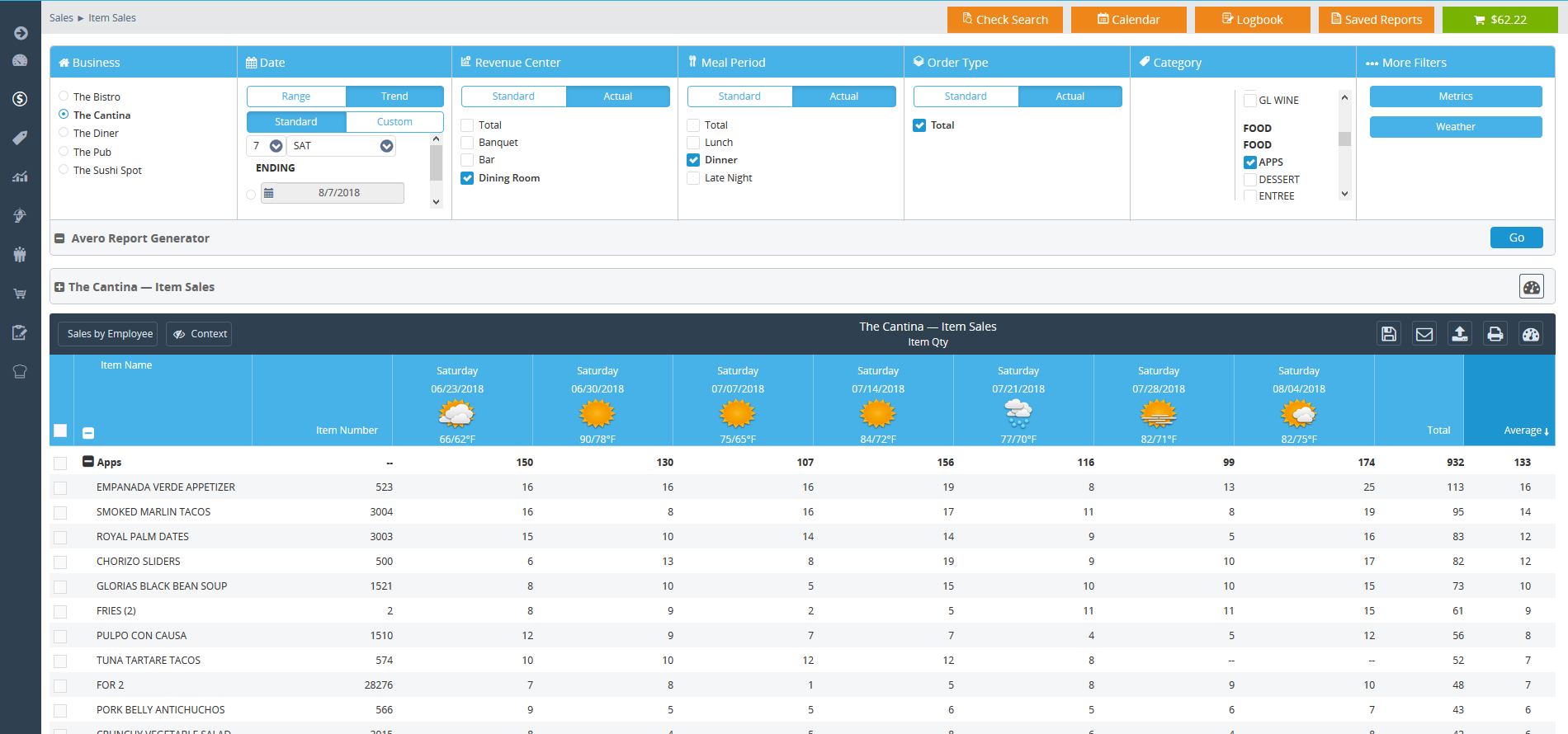 7. How should I be scheduling my staff?
Analytics shows a restaurant's busiest days over time and for specific periods.
You can use this data to build out your schedule with more accuracy and avoid the pitfalls of blanket staff coverage at all times. Otherwise, you risk being over- or understaffed – both of which cost you profit and sacrifice efficiency. Take solace in your historical data and make the right predictions for your schedule.
Restaurant365, pictured below, is a software that uses analytics to forecast and schedule staff.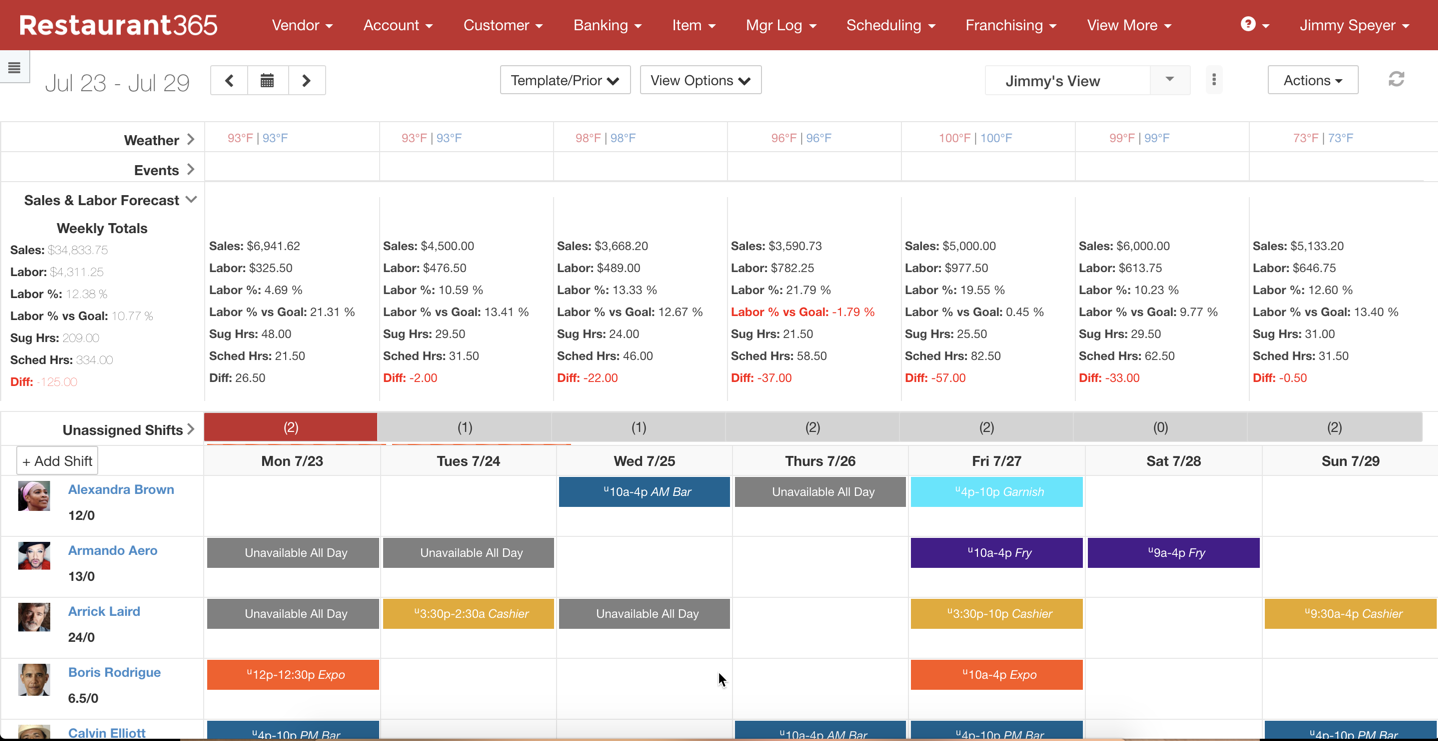 8. When is the best time to lease out my space for events?
Restaurant events are a huge opportunity for extra revenue on weekends or at slower times of the day. When large parties ask to lease out your space, you'll need to know how much revenue you're potentially passing up and if the cost of the lease will exceed that average revenue.
Otherwise, it's uneconomical to lease out space.
Restaurant analytics can show you the times of operation that tend to drive smaller sums of revenue and profit. It's at those times you may want to make your restaurant space available for lease or for larger events – say, if your average revenue for a three-hour time window is $900 and you're able to lease the space for $1,200.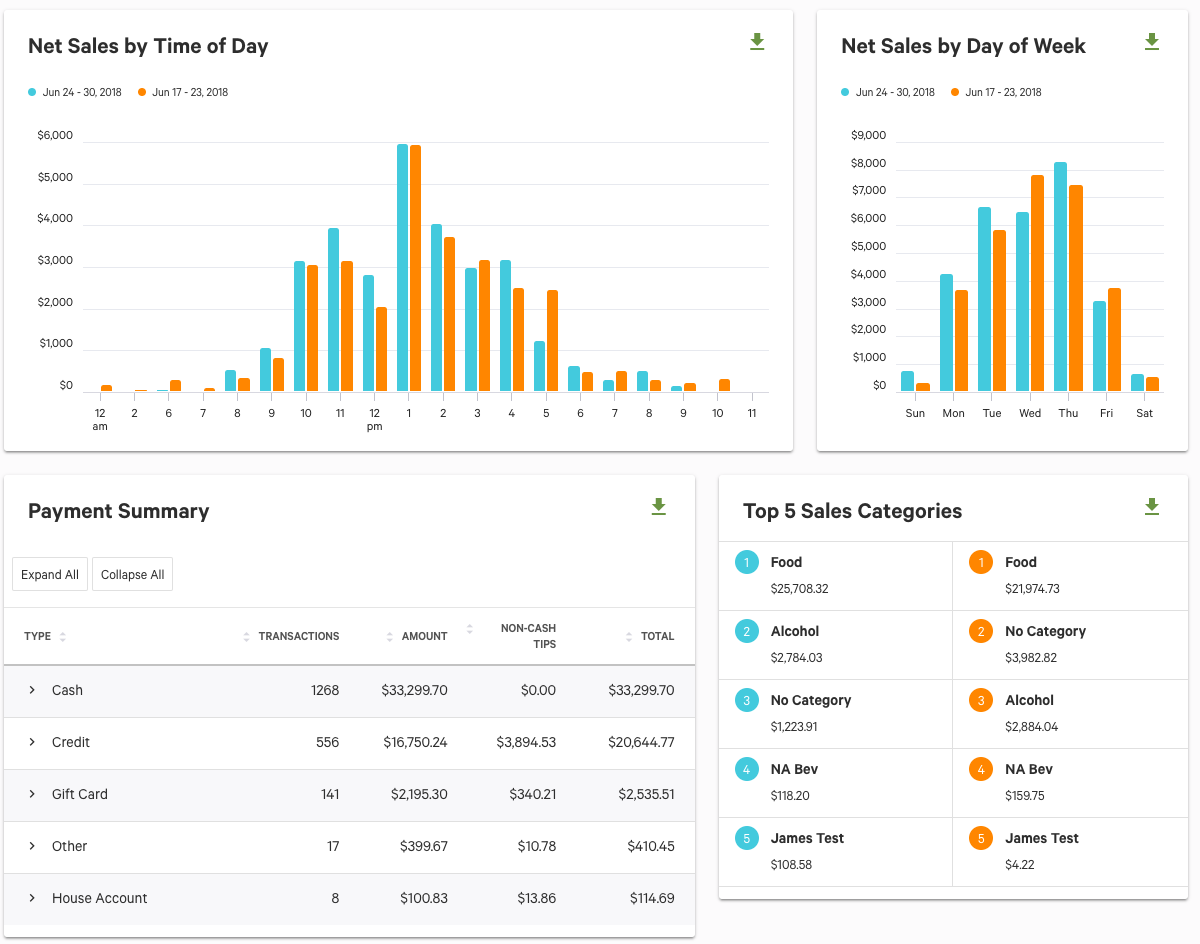 Dive Into Restaurant Analytics
While the very idea of data mining can be intimidating, knowing how to navigate your restaurant's numbers is incredibly helpful for your operational and financial literacy as a restaurant owner.
Learn more about Toast's restaurant analytics and POS reporting, and schedule a demo to set up your platform today.
Related Restaurant Resources
DISCLAIMER: This information is provided for general informational purposes only, and publication does not constitute an endorsement. Toast does not warrant the accuracy or completeness of any information, text, graphics, links, or other items contained within this content. Toast does not guarantee you will achieve any specific results if you follow any advice herein. It may be advisable for you to consult with a professional such as a lawyer, accountant, or business advisor for advice specific to your situation.