Article
35 Restaurant Management Tools and Apps to Help Supercharge Productivity
35 restaurant management tools and apps designed to improve productivity. Streamline front- and back-of-house operations so you can focus on what really matters.
Restaurant technology should empower restaurateurs to succeed and do what they love ‒ not create unnecessary headaches. Fortunately, great strides are being made every day in the software, technology, and services available to restaurateurs.
According to Toast's 2019 Restaurant Success Report:
Restaurants use an average of three technology vendors to manage back-office operations.

50% of restaurant professionals say accounting, payroll, and business intelligence software are extremely important to their restaurants.

68% of restaurant professionals review sales reports on a regular basis, 45% regularly review labor reports, and 32% regularly review menu reports.
To help you stay up-to-date with the latest and greatest, we've compiled a list of some of the top restaurant productivity tools and apps out there. These resources should help you streamline operations, so you can focus on what really matters: spending time with your guests, food, and team.
35 Essential Restaurant Productivity Tools and Apps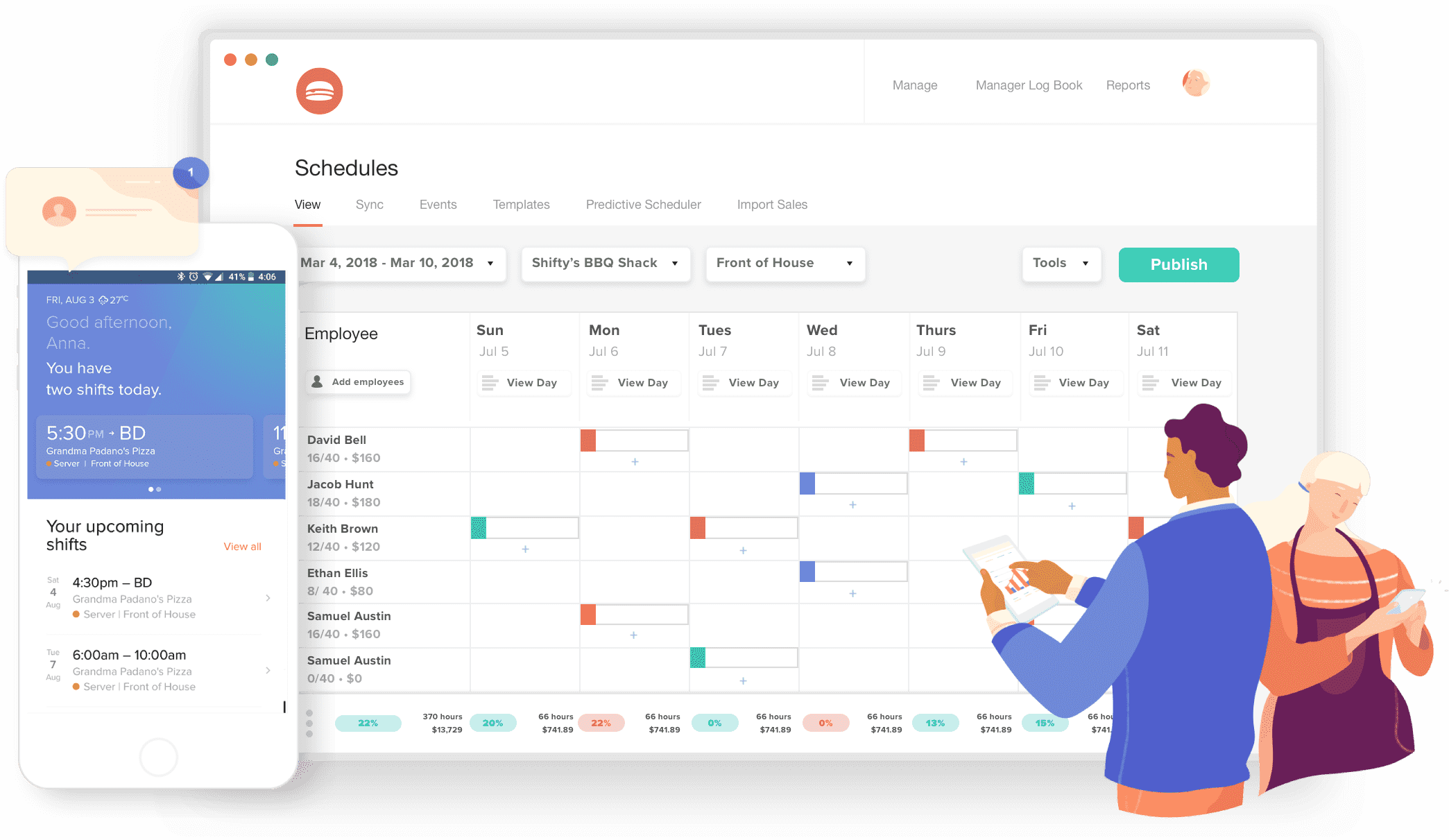 7shifts is a mobile, cloud-based scheduling and labor management platform trusted by 250,000 restaurant professionals. It helps you save time with scheduling, effectively manage your labor costs, and streamline workforce communications from anywhere.
Available on Android and iOS | Learn More
Avero gives restaurateurs invaluable insights into business operations and sales. It delivers a powerful solution that gives you the answers you need about your restaurant's performance so you can get out of the back office and out onto the floor to connect with guests. When integrated with your restaurant pos, you can access a full suite of solutions like server performance tracking, inventory management, labor and food cost tracking, revenue management, and more.
Available on Android, iOS, and Web | Learn More
Want to make tracking kitchen and bar inventory effortless? BevSpot is a food and beverage program management software that lets you take kitchen and bar inventory on any device and place orders with ease. With BevSpot, you can also gain sales performance insights, helping you make better purchasing decisions and improving your profit margin.
Available on Android, iOS, and Web | Learn More
BlueCart is a web and mobile platform that allows you to order inventory management from all your suppliers right from your phone. BlueCart's tools work to streamline the ordering process: You can browse their featured network of suppliers (or add your own), do shelf-to-sheet ordering and inventory, and return extra or damaged products.
Available on Android, iOS, and Web | Learn More
A tool that helps management recognize restaurant staff and combat turnover, Bonusly is a platform that encourages employees to do their best so co-workers and managers will send them "points" that they can redeem for prizes and gift cards. This app helps inspire your employees to be more productive, so your restaurant can do the same.
Available on Android, iOS, and Web | Start a Free Trial
Buffer is an app that helps you manage all your restaurant social media accounts in one single place. You can plan and schedule posts ahead of time, measure social media performance, and more right from your phone or laptop.
Available on Android, iOS, and Web | Learn More
Chowly seamlessly combines your third-party online ordering platforms – like GrubHub, UberEats, DoorDash, and others – with your restaurant's point of sale. Reduce errors and the time spent manually entering orders so your team can focus on doing what they love.
Available on Android, iOS, and Web | Learn More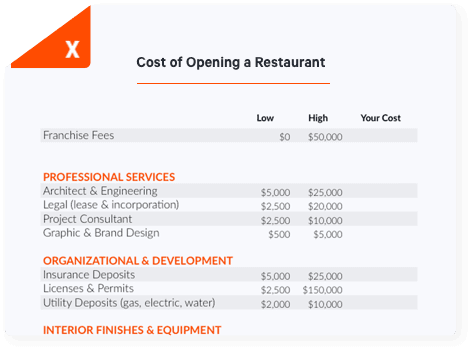 Getting ready to open a new restaurant? This free calculator from Toast helps you break down the many restaurant startup costs new owners need to consider ‒ from professional services to interior finishes and equipment ‒ in a single place.
Available on Web | Try It Now
Do you ever have an idea and just have to write it down? Don't go scrambling for a notebook or even the notes app on your phone ‒ try Evernote. Evernote organizes all your notes into folders and notebooks, so you can easily see what's most important to you at any given time. Plus, it allows you to attach photos, PDFs, to-do lists, checklists, and more to each note, so you can more productively manage your restaurant.
Available on Android, iOS, and Web | Get Started for Free
There's never enough time when you're working in a restaurant. When you finally have a spare minute – whether you're hiding in a bathroom stall or the walk-in – but you have a backlog of blog posts and articles you want to read, it can be frustrating and overwhelming. Feedly consolidates all of the publications you read ‒ from Forbes to Nation's Restaurant News to the Toast Restaurant Blog ‒ into one easy-to-read format. Because Feedly is connected to millions of feeds and publications, you can find the restaurant-related content you care about in a single place.
Available on Android, iOS, and Web | Learn More
Calculating food cost percentage can be time-consuming and a little confusing, but it doesn't have to be. To help you get to the bottom of your food cost percentage, Toast developed a free Food Cost Calculator.
This calculator shares the five most popular items (and their price breakdown) on similar restaurants' menus in your state, then it allows you to dive into those menu items and calculate each item's food cost, plus cost per pound and/or cost per cup for each ingredient. It also gives you the ability to create your own custom menu items and determine the ideal price.
Available on Web | Try It Now
Hootsuite is another social media management app and platform, an alternative to the previously mentioned Buffer. It allows you to manage all of your restaurant social media accounts in one place. You can schedule posts, monitor trending topics, measure performance, and more.
Available on Android, iOS, and Web | Start a Free Trial
HotSchedules provides a mobile-friendly, cloud-based solution that helps reduce the time it takes for managers to create, communicate, and manage employee work schedules. It helps you schedule the right people at the right time to reduce labor costs by as much as two percent. In a time when labor is such a pressing issue, a scheduling tool like HotSchedules is a must for productivity.
Available on Android, iOS, and Web | Learn More
IFTTT – If This Then That – connects all the apps you know and love and creates "recipes" that help these individual apps seamlessly talk to each other and share valuable information. For example, you can set up a recipe that instantly posts your Instagram photos as native photos on Twitter (rather than links) or one that automatically shares your Facebook status updates on LinkedIn.
Available on Android, iOS, and Web | Learn More
Incentivio is a cloud-based, mobile-first engagement platform that helps restaurants acquire new customers, drive visits, increase customer spend, and increase customer loyalty and engagement. It allows you to launch online ordering, native mobile apps, and digital loyalty programs in a matter of weeks.
Available on Android, iOS, and Web | Learn More
The more tools you add to your restaurant's arsenal, the more passwords you'll have and all of those passwords will be hard to remember and protect. LastPass is a convenient password manager designed around data privacy. The app gives you access to your passwords when you need them and makes it easy to generate a unique password for each account so you're always protected against hacking.
Available on Android, iOS, and Web | Get It for Free
Never worry about calling in or scheduling a conference call with restaurant stakeholders again. MobileDay syncs with your smartphone calendar, notifies you of upcoming meetings, and allows you to connect to your calls with one touch. Even if you're on the road, you won't need to scramble for a conference line pin or access code.
Available on Android and iOS | Learn More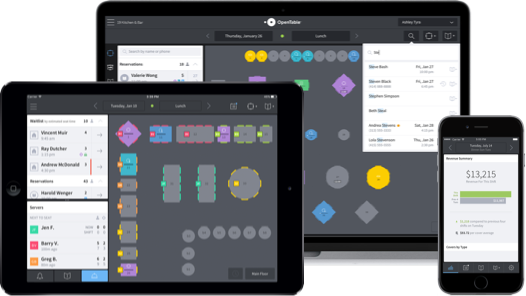 Want to manage your restaurant reservations from anywhere? GuestCenter by OpenTable provides reservation and guest management whether you're in the office or on your phone. It automates table status updates, allows you to access real-time shift revenue and average guest spend, and more.
Available on Android, iOS, and Web | Learn More
Outlook and Gmail are two of the biggest email apps on the market. They allow you to manage all of your email communications on the go. You can also schedule appointments and stay attuned to your calendar using the apps.
Available on Android, iOS, and Web | Learn More
Instead of guests waiting to order and get their pints of beer, give them the opportunity to pour it themselves. With PourMyBeer's self-serve bar tap system, you'll need fewer staff to run your bar and you'll improve the experience for your guests by getting them their drinks quicker and easier. They'll wait less and feel encouraged to buy more.
Available on Web | Learn More
Restaurant365 is a consolidated back office solution built for restaurants that helps manage your accounting, inventory, and labor scheduling. It helps you forecast sales, better control your food costs, and optimize your staff's scheduling based on your sales history, timing, and even the weather.
Available on Android, iOS, and Web | Learn More
This free resource from Toast lets restaurant owners and managers find the gaps in their day and see where they stack up against the average restaurateur.
All you have to do is enter how many hours per week you spend on tasks like inventory tracking, accounting and reporting, and menu work. The template then adds up your time so you can see just how long you spend in the restaurant each week and where you can make changes in your schedule to become more productive.
Available on Web | Try It Now
Have you ever had an employee miss a shift, or come in at the wrong time, because they didn't look at the schedule posted in the break room before leaving their last shift? That's why Toast created this free, simple restaurant scheduling solution. The Restaurant Scheduling Template allows you to easily schedule your restaurant staff's shifts. Plus, it's responsive, can be updated on the go, and employees can access it from home or on their phones.
Available on Web | Try It Now
Make sure you're getting the most out of your restaurant technology with Toast's free Restaurant Technology ROI Calculator. It's an easy guide to analyzing the success of your restaurant POS system. It also helps you calculate ROI down to the dollar and presents unique ways your point of sale system can pay you back, based on industry statistics.
Available on Web | Try It Now
Opening a new restaurant? You may want to download the Restaurateur app to sketch out your restaurant business plan and financial plan. Enter the size of your space, average check amount, cost ratios, and monthly expenses and Restaurateur will instantly build a profit and loss statement for you by calculating your breakeven in sales and checks. Plus, the app alerts you when your ratios fall outside industry guidelines.
Take your results to your potential landlord to negotiate lower rent or export them into your favorite business planning software to prepare for conversations with banks, lenders, and investors.
Available on iOS | Download It Now
ReviewTrackers' review management software allows you to use customer feedback to act today and predict tomorrow. Collect reviews from your happiest guests, and use data to gain insights to improve your business, all in one easy-to-use dashboard. This app consolidates reviews from Google+, TripAdvisor, Facebook, Yelp, and more.
Available on Android, iOS, and Web | Sign Up for a Free Trial
With over 16 million songs licensed for your restaurant, Rockbot lets you play the best background music to achieve the mood you want. Your tea can easily manage and change the what's being played in your restaurant and control the app from a mobile device. You can also surprise your guests and create an amazing guest experience by letting them see the music playing, request songs from your pre-approved library, and discover your promotions.
The music is customized to your business so you can set playlists to automatically play throughout the day and stop worrying about ambiance and even restaurant music licensing fees.
Available on Android, iOS, and Web | Sign Up for a Free Trial

Want a new way to enhance the guest experience? Rooam allows guests to pay their bar tab or restaurant bill remotely from their phones. They also offer chargeback protection and you can drive customer acquisition and re-engage customers with in-app events, targeted digital promotions, and segmented email campaigns.
Available on Android, iOS, and Web | Learn More
Want to make it easy for your guests to order from you on their preferred channels? Say2eat offers a white-labelled tool that allows your audience to discover your restaurant, connect, and order all within popular marketing and communication channels like Facebook Messenger, Twitter, Slack, and more.
Available on Web | Learn More
Protect and monitor your business with Solink's video surveillance service, linking your security footage with your sales transactions. Have complete visibility into every action and transaction for every location from any device. Solink also offers the tools your team needs to identify coaching opportunities, compliance issues, and security concerns.
Available on Android, iOS, and Web | Learn More
SpeedETab is an industry leader in native mobile ordering, mobile payment, and analytics solutions for restaurants. They help you design branded ordering experiences – whether that's an app, a landing page, or an online-ordering site – that target the technology and channels your guests use the most, making ordering and payment easy to navigate.
Available on Android and iOS | Learn More
Another social media management tool, Sprout Social allows you to see all your messages in one place, easily view conversation history, and assign certain tasks or to-do lists from messages. It acts as a social inbox so you can quickly post, monitor, and schedule content across Twitter, Facebook, Google+, and LinkedIn.
Available on Android, iOS, and Web | Sign Up for a Free Trial
Do you find yourself inundated with emails that you don't have the time to unsubscribe from? That's what makes Unroll.Me a lifesaver. With Unroll.Me, you can instantly see a list of all your subscription emails. It then allows you to unsubscribe from unwanted emails and consolidate the emails you want to keep ‒ all with a simple swipe.
Available on Android and iOS | Learn More
xtraCHEF is an automated accounts payable processing and cost management platform built for restaurants. It helps you automate invoice management, eliminating manual accounting and inventory management tasks. In addition, you can analyze your food costs and improve your purchasing decisions with less effort.
Available on Android, iOS, and Web | Learn More
Toast is a single platform to manage your restaurant. It combines point of sale, hardware, software, and payment processing with a suite of third-party integrations to help you improve operations, grow revenue, and delight your guests.
Available on Android and Web | Request a Demo