How Thanksgiving Eve and Thanksgiving Impacted Restaurants in 2019
On Thanksgiving Day, only 30.8% of Toast restaurants stayed open in 2019. Restaurants also increased Wednesday profits by 34.6% the day before Thanksgiving, or Thanksgiving Eve.
Staying open around the holidays might be the key to meeting your monthly goals. Optimizing your operations for the wintertime pays off, especially around Thanksgiving, when food is on everyone's mind.
Restaurateurs have come to treat Thanksgiving Eve as it's own dedicated holiday, knowing that weary travellers will be flooding their businesses.
We published exclusive data from Toast restaurants last year, and we're back this year with a short update.
Thanksgiving Restaurant Data
In 2018, restaurants saw a 33% increase in sales on Thanksgiving Eve compared to other Wednesdays in November. This year, sales increased 34.6% on the day before Thanksgiving.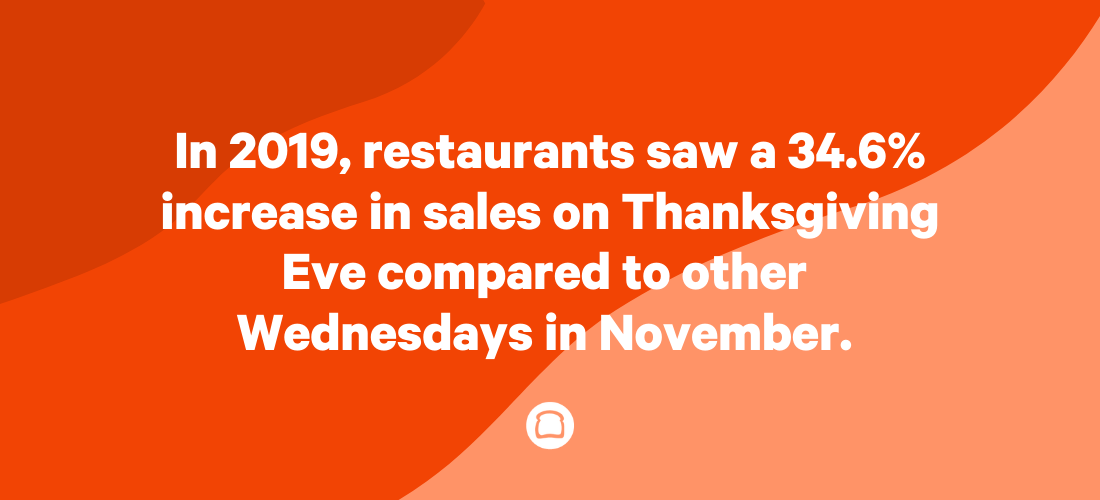 The percentage of restaurants that stayed open on Thanksgiving remained about the same. 30.8% of restaurants stayed open on Thanksgiving in 2019, and 30% were open in 2018.
Thanksgiving Staffing
Be Prepared for the Madness
Thanksgiving Eve is the heaviest drinking day of the year. Many travelers are home for the holidays, and rather than cook the day before Thanksgiving — an all-day cooking bonanza — they venture to local bars and restaurants.
You should expect that your patrons are there to have fun, but be ready for the rowdiness at a moment's notice. Amanda McNamara, server turned Content Marketing Manager, recalled her time at Jake & Joe's. "Our restaurant staffed bouncers at the door on Thanksgiving Eve, just in case the night started to get out of hand."
Empathetic and Efficient Staffing
"All hands on deck, expectations that everyone is cooking for Thanksgiving and they don't want to cook the night before. Many people have family in town visiting, and pizza and pizzeria dishes are a great way to feed the troops," says Vincent Caminiti of 90 Novanta Pizzeria.
Your staff, like anyone else, probably wants to celebrate the holidays with their family and loved ones. Staffing for any holiday should be done well in advance. Some restaurants give employees the option to choose between working Thanksgiving, Christmas, New Year's Eve, and New Year's Day, requiring employees to work at least two holidays. Others reward employees with double-time as well as a bottle of wine to go home at the end of the shift for working a holiday. Whatever the case is, make sure your staff knows how thankful you are that they're willing to come in on the biggest days of the year.
Along the lines of empathetic staffing, make sure to keep your employees happy during and after the holidays. How you treat your employees affects every part of your business. An unhappy employee is unlikely to treat your customers with warm hospitality, especially after being in the weeds all day.
Susan MacDonald of The Gin Mill closes for service on Thanksgiving day but hosts a free Thanksgiving dinner for the less fortunate. This offers a chance for employees to bring their families into the restaurant for a meal to volunteer, with no stress of working a shift on the holiday.
Plan Using Previous Years' Data
Using historical data from your POS can help you with inventory, staffing, and deciding whether or not to stay open during the holidays. These data-driven business decisions will guide you in the right direction if you're in a panic this time of year.
Some POS systems will even allow you to determine which menu items will be the most popular during the holidays. If more people are ordering appetizers than entrees, it might be useful to double down on those nachos and cheese when ordering inventory.
If the profits you made on a slow Christmas Day didn't match your overhead costs last year, consider closing up shop for the day. If anything, your staff will be grateful for the day off.
Happy Holidays
Restaurant operation is stressful, and the holidays can be too. It's important to remember that the good things about the holidays are reminders of why you got into this business in the first place. What is a restaurant without food, family, friends, and good times?
Resource
Restaurant Scheduling Template
Use the Restaurant Scheduling Template to easily schedule your restaurant staff's shifts.
DISCLAIMER: This information is provided for general informational purposes only, and publication does not constitute an endorsement. Toast does not warrant the accuracy or completeness of any information, text, graphics, links, or other items contained within this content. Toast does not guarantee you will achieve any specific results if you follow any advice herein. It may be advisable for you to consult with a professional such as a lawyer, accountant, or business advisor for advice specific to your situation.