"I wish I would have known that before I started…" is a phrase I hear all too often when speaking with restaurateurs, particularly those who are designing or building their first restaurant.
There's a lot that goes into creating a new restaurant – from the menu, to assembling your team, to charming investors – and restaurateurs' minds are expected to be in a million places at once.
When it comes to building and designing a memorable restaurant concept, there are lots of different designers, contractors, consultants, and specialists that will all contribute. So, how are you supposed to know who to pick, and why?
The Restaurant Expansion Checklist
Learn how to expand into your second, fifth, or tenth restaurant location.
Download
What Is A Restaurant Architect?
A restaurant architect's main role is to create a set of documents that shows the design intent, – how your restaurant concept should be built – according to all applicable codes, including building, accessibility, and egress.
Restaurant architects work through every phase of the restaurant construction process. From initial conception through completion of construction, a restaurant architect should be one of the first people you bring onboard your team.
A restaurant architect interacts closely with every vendor and consultant on the team – construction or not – throughout the life of the project; a restaurant architect is the only one who can provide the design perspective across a range of categories, make recommendations, and even suggest specific consultants or vendors that you, the restaurateur, aren't even aware of.
There's a lot to consider when it comes to restaurant design and construction; how're you supposed to know what you don't already know?
Here are 7 ways a restaurant architect can transform your restaurant vision from dream to reality.
1. Manage Your Construction Team
According to Cornell University, 26.16% of restaurants fail within the first year of opening.
It doesn't get too much better in the years following: the second-year failure rate for restaurants is 19.23% and the third-year failure rate is 14.35%.
How can you avoid becoming a part of the 26, 19, or 14 percent? It begins with assembling the best team possible to physically build your restaurant.
The diverse backgrounds and areas of expertise each member of your design and construction team brings to the table will help you execute on every aspect involved in creating a successful restaurant, from the moment the first shovel strikes the ground.
Besides designing the layout of your space, a restaurant architect can also be a great project manager. As your project develops, you may need to loop in specialized consultants and designers to assist you and your team.
When looking to create the ultimate design team, the following are some you may add along with your architect, engineers and general contractor:
Commercial Kitchen Consultant - a Commercial Kitchen Consultant designs, and assists in the implementation of all the equipment in your restaurant's kitchen
Interior Designer -an interior designer will help you bring the vision you have for your restaurant's design to life; they're especially adept at weighing out a restaurateurs wants and what customers want
Commercial Furniture Vendor - Commercial Furniture Vendors, consults on which furniture is best for your restaurant concept and implements your agreed upon design
Lighting Consultant - a commercial lighting consultant helps you decide and design which restaurant lighting is best for your space.
Acoustical Consultant - an acoustical consultant specializes in installing acoustical ceilings, walls, and the like to make sound travel best in your space
Millworker - Different from a carpenter or contractor, a millworker specializes in designing and installing any wood products that come from a mill – doors, molding, trim, wood paneling, crown molding, etc.
Graphic Designer - a Graphic Designer will create all of the design assets you need to market your restaurant, including your logo, promotional materials, content for your social channels, and the like
Web Developer - a Web Developer will consult on, design, and code your website.
Though some of these consultants may never interact with each other, they will work together using their understanding of your vision to create a unified and cohesive concept and design.
A restaurant architect is the glue that holds them all together, coordinating their outputs and ensuring they keep the overall vision in mind at all times.
2. Pick The Perfect Location
With rent prices what they are these days, you better understand the building, the site, and the neighborhood before you make the hefty investment.
There are many factors that go into selection of a space: the address, the area around the location, the building's aesthetics, the space's size and shape, etc.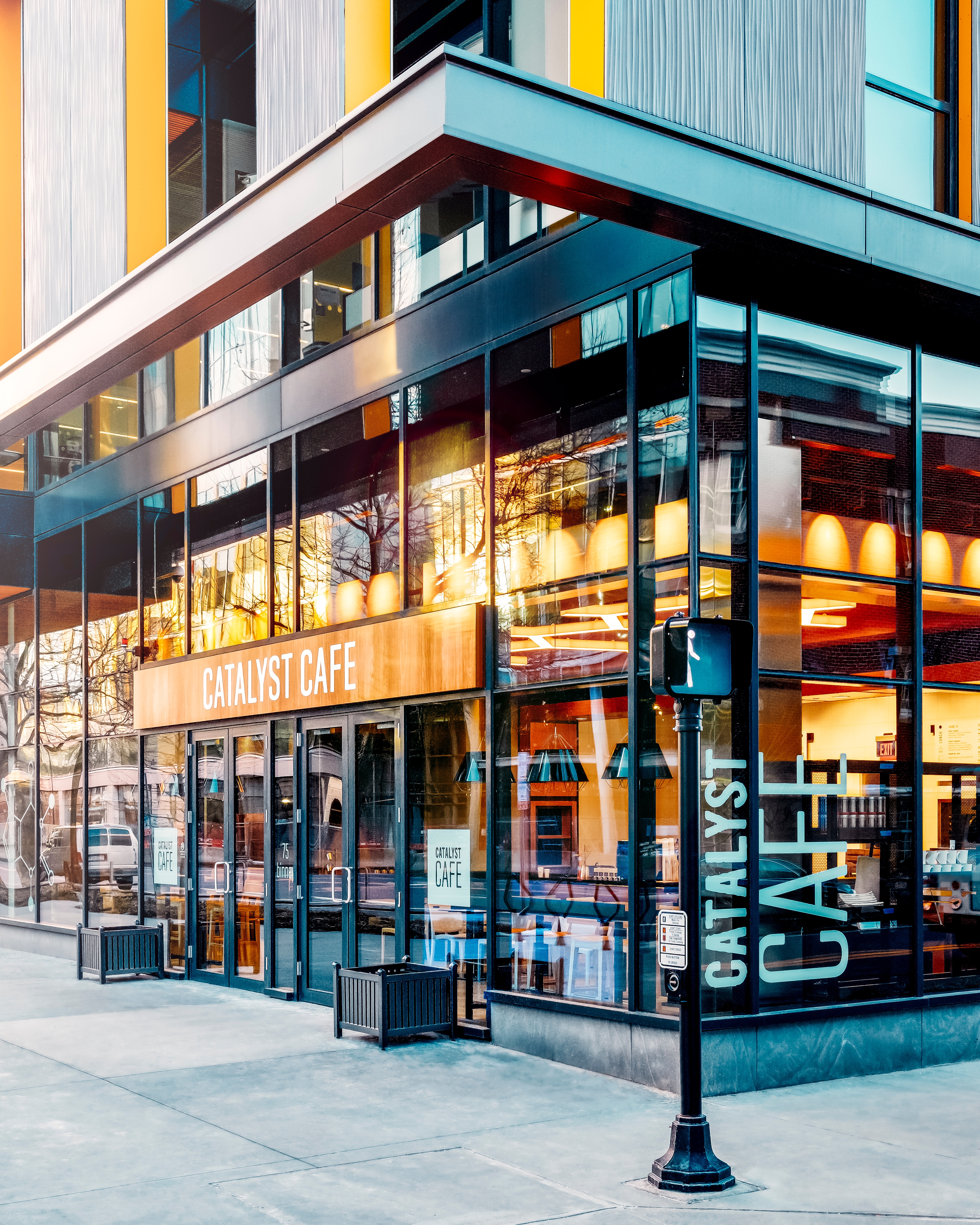 You may fall in love with a space because of its tall ceilings, natural light, and adjacency to a university and public transportation, but what if the space has no provisions to exhaust the hood from your cook line?
Some concepts may thrive in a dense urban area where local workers and students walk over for lunch, yet the same concept would fail as a pad site at a suburban mall.
A restaurant architect will work with you to determine which aspects of a site or location will or won't make sense for your restaurant.
3. Utilities & Services
Does the building have sufficient utilities to run the equipment you need for your restaurant concept?
Once an engineer is hired they can calculate and engineer the exact utility requirements your restaurant concept will need to be successful; this doesn't help you, though, while you are still looking at a space and trying to evaluate whether it will be suitable for your restaurant.
In the early planning stages, a restaurant architect will work closely with engineers to review their sketches and plans and have a sense of what your restaurant will need to operate successfully, helping you and the restaurant architect make informed decisions when considering potential sites and locations.
When touring locations, a restaurant architect can walk the space and help identify the size and location of each of the utilities. Some of the items to look at are:
Electrical Power
Water
Sanitary and Grease Waste
Gas Service
HVAC
Hood ducting, venting, make up air
Fire Alarm System
Sprinkler System
It is crucial to understand upfront what your restaurant concept's utility requirements are, whether the space you're considering has all of it, and if not, who is paying to bring it to the space.
If any utilities needed to run your business – electric, sewage, water, etc. – are not present when you sign the lease and are required to be brought to the tenant space, a landlord will sometimes pay for it or cover a portion of the costs if the utility in question could be useful for future tenants.
Typically any distribution or addition of services – like WiFi, cable, etc. – within the tenant space would be covered by the tenant, as these additions will be unique to your layout and you are the one modifying the space.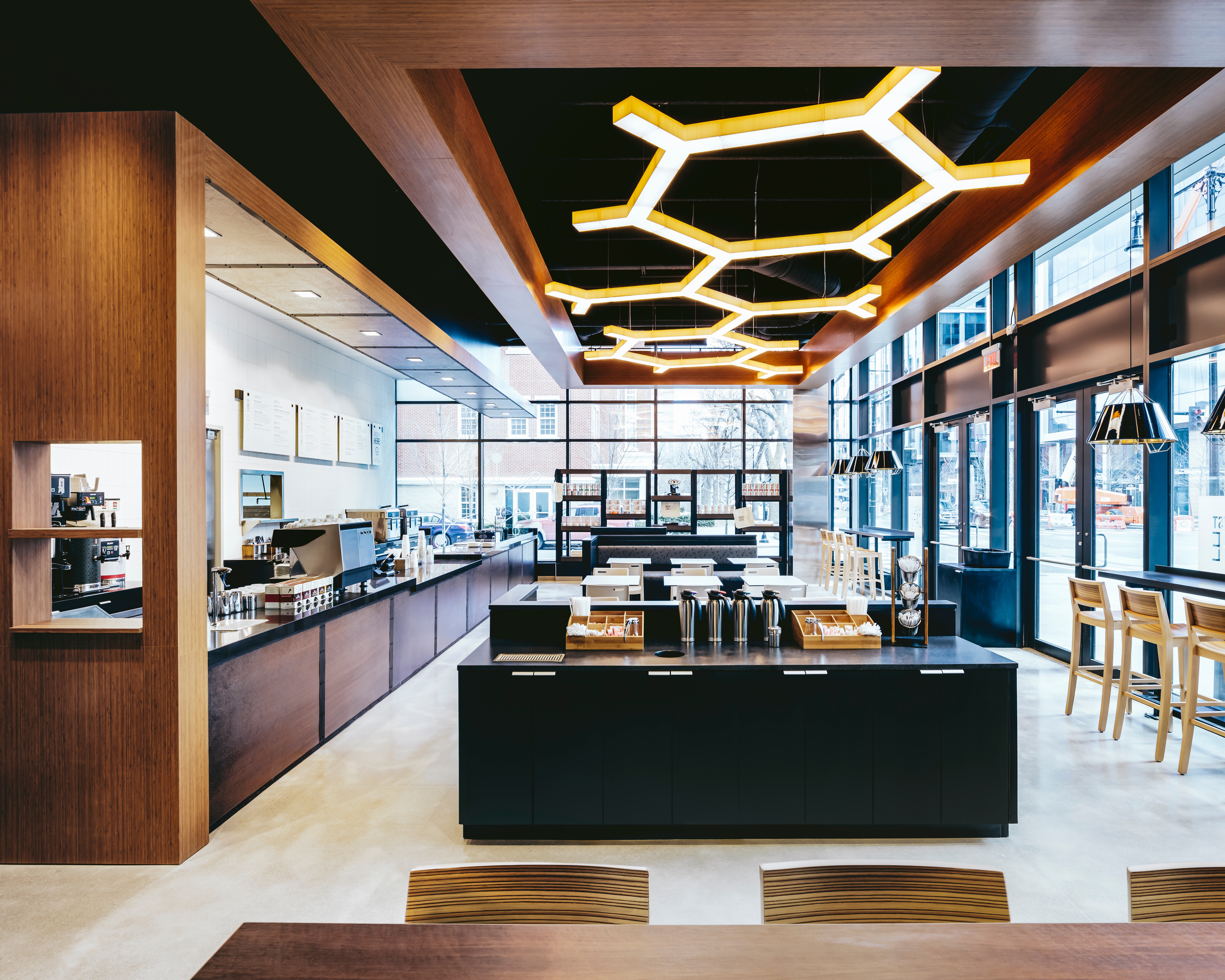 Once you decide on a location, a restaurant architect will use the engineer's insights to compile a list of missing, necessary utilities and put a plan together to make them a reality.
4. The Lease
Like architects, lawyers have different specialities, sometimes even specialties within a specialty. Such is the case with real estate lawyers.
You should not sign a lease without having a real estate lawyer review it, but I'd also recommend having your restaurant architect review as well. Why? When reviewing a lease, a real-estate lawyer will be looking for ways to minimize risk; a restaurant architect will be looking for all the ways your lease could impact the intended design.
For example, within your lease there should be the following two exhibits: a lease outline drawing (LOD) and a work letter.
A lease outline drawing is a mapped out floor plan of the space and will show the "lease line;" the lease line determines your leasable square footage, which is what your rent should be calculated on. Having a lease outline drawing will also help you anticipate any zoning or licensing laws you may come up against when building your restaurant.
The work letter is a written statement that is signed by both the landlord and the tenant detailing the issues related to the fit-out of a tenant's space. The Watchdog, a popular real-estate project management resource site, defines a work letter as,
"... a written statement that is signed by both the landlord and the tenant detailing the issues related to the fit-out of a tenant's space. It will define the building's standards and break down details such as the number of light fixtures, doors, the size of partitions and all other interior elements that the landlord will install for a tenant. The work letter may come as a separate letter or it is sometimes an exhibit to the lease. Typically, the lease is signed before all items on the work letter are negotiated and agreed to."
Restaurant architects will review your lease looking specifically for line items that could hinder production or progress, and will make suggestions for any addendum that maximizes what you're allowed to do within your space.
5. Building Codes
You don't want to mess around or skirt building codes, especially egress codes and accessibility codes.
Egress codes outline how many 'means of egress' – ways of exiting – a building must have for those inside to use in the event of a fire. There need to be a certain number of means of egress in a room, which is based on the room's square footage; these means of egress will also need to be a specific size, based on the room's dimensions.
A restaurant architect will have a good handle on what the state egress codes are for commercial spaces (hint: they're different than residential egress codes!)
Accessibility codes are the requirements a space must fulfill to be considered wheelchair compliant; examples include installing a ramp adjacent to any customer-facing stairs, making hallways a certain width, and ensuring flooring materials don't impede wheelchair wheels.
Seriously, don't cut corners when it comes to building codes – it could cost you some BIG bucks.
Here's an example: "If can we squeeze that corridor down to three feet wide and reduce the restrooms to six feet by six feet, we can gain some extra space for the kitchen and seating."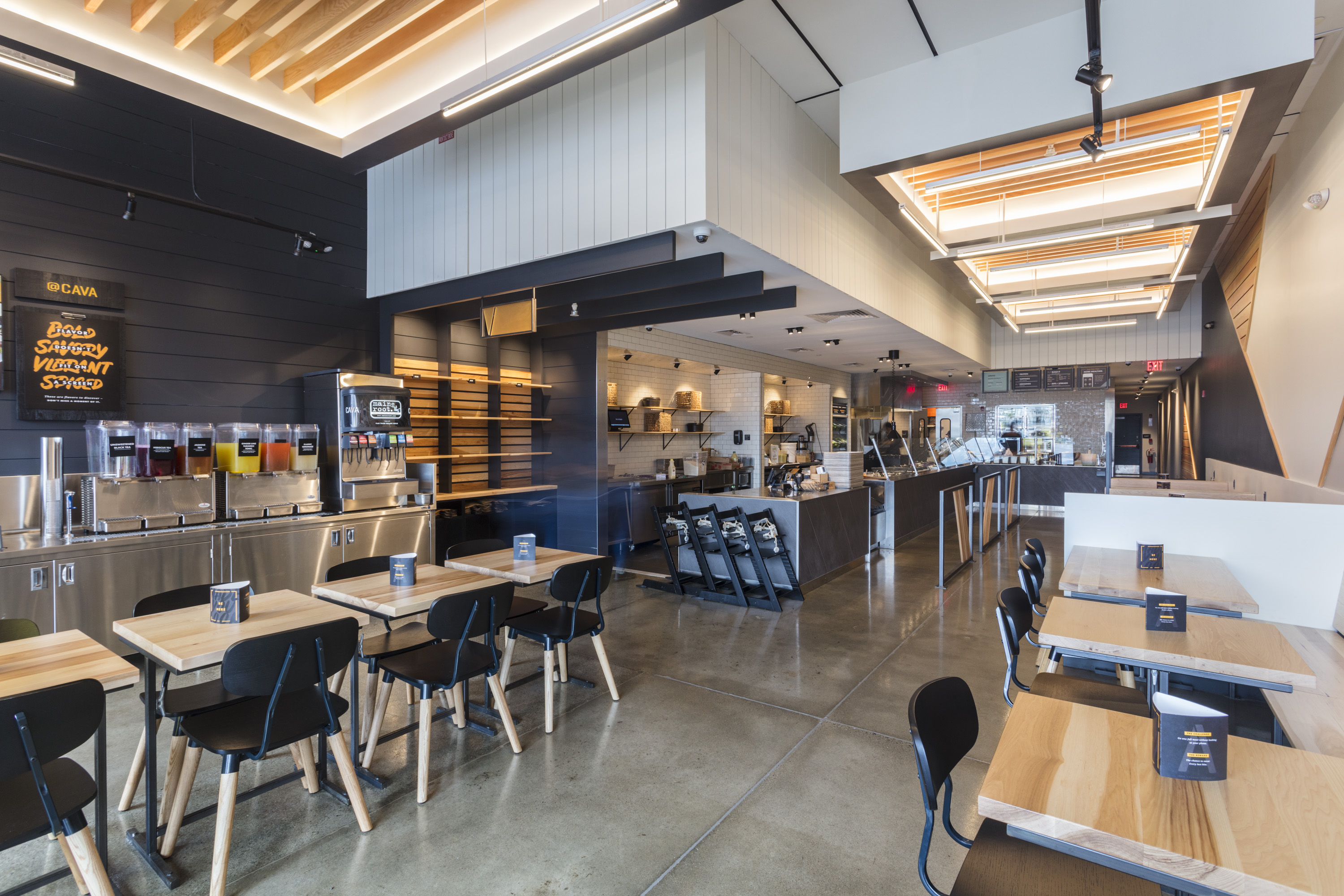 Sure, sounds easy enough, who will know? Here's what could go wrong: two years down the road, you're being sued for discrimination by a patron who is physically challenged and can't make it down the hallway to the restroom. Kiss your beautiful business goodbye.
There is real danger in skirting building codes. A restaurant architect will make sure you are meeting and exceeding standards in order to avoid future loss.
6. Equipment Layout
Operational efficiency isn't the only factor to weigh when visualizing and planning your kitchen equipment layout.
There's a bit of a chicken-and-the-egg scenario between kitchen layout – covered by your kitchen equipment vendor– and the balance of the design of the layout – the restaurant architect's domain. You have an open space, who designs first?
Ultimately, it doesn't matter, so long as your kitchen equipment vendor and restaurant architect are coordinating and communicating openly.
There are a lot of cooks in the kitchen when designing and building a restaurant; fostering an open and frequent dialog will create the perfect balance between your various vendors and your restaurant architect, ensuring the many moving parts will stay true to the original vision you had for your restaurant.
Here's an example: you work with a kitchen equipment company to come up with the perfect layout, then they hand it over to your restaurant architect.
As the potential layout stands, the different kitchen stations and their proximity to prep, storage, and warewashing may be ideal, but your restaurant architect points out that the BOH still needs a manager's office, employee lockers, and space for a water heater. They also find that the layout has noncompliant dead ends and egress paths that are too narrow.
Back to the drawing board? No way. Leaning on the kitchen equipment vendor's expertise and the restaurant architect's expertise, together you'll be able to create a layout that meets every requirement in the book, from all corners of the business.
To find the perfect balanced layout, an open and frequent dialogue is key.
7. Create A Design That Suits Your Restaurant Type
Here's a multiple choice question. Is your restaurant a:
A) Fast Casual Restaurant

B) Quick Service Restaurant

C) Fine Dining Establishment

D) Other
Your restaurant type will greatly affect your restaurant design. There are design features inherent and unique to a fast casual restaurant versus a quick service restaurant versus a full-service restaurant, causing the layouts to be drastically different.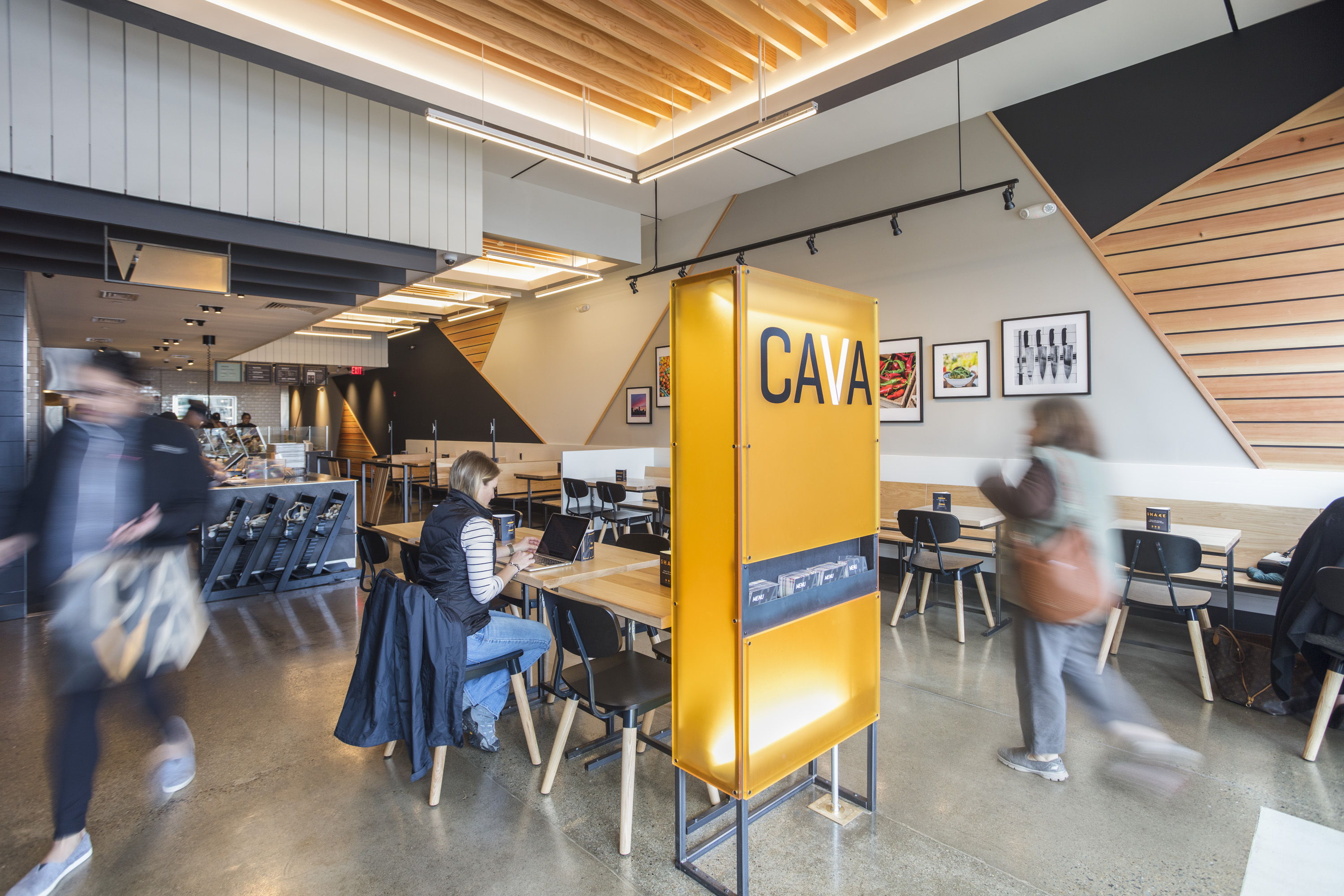 Fast casual restaurants should be designed to promote a natural revolve customer flow. Create a space where your customers will naturally progress from the door, to the service counter, down the service line as their order is completed, then on to payment, to beverages and seating.
Quick service restaurants – or QSRs – can operate with a smaller footprint overall, which drastically reduces real-estate overhead. When designing a quick service restaurant, you'll need to create a kitchen layout that maximizes the amount of kitchen equipment you can fit within a smaller amount of square footage. You'll likewise need to do the same for the customer-facing seating area: most amount of seats in the smallest area possible, without feeling cramped.
Full service restaurants do not have a service counter or an area where the service line forms; the floor plan in a full service restaurant devotes the majority of the space to customer seating with server stations placed in close proximity. Prominent walkways should run throughout the floor plan – including to and from the kitchen – so servers can quickly and easily run food and drinks to their tables.
Working with your restaurant architect, create a floor plan that's suitable for your restaurant type. Ask yourself: "When someone enters my restaurant, what's the first action I want them to take? Where's the first place I want them to go?" Your restaurant architect will design your space in such a way that your customers will naturally flow through the different points of service in your restaurant.
If You Build It, They Will Come
The entire design and construction process when building a restaurant can be long and arduous, but having the right team in place will make the experience of watching your vision come to life unforgettable.
Though you may be the brains behind the operation, the most important thing is to understand that you can't do it all when creating a restaurant.
Rome wasn't built and designed by one person, nor was Gramercy Tavern, Jaleo, or Toro; it takes a village.
Do your research, talk to people in the industry, find the restaurant architect who is right for you and your project, trust in your team, and you'll put your restaurant in the best position to succeed before it even opens.