DISCLAIMER: This content is provided for informational purposes only and is not intended as legal, accounting, tax, HR, or other professional advice. You are responsible for your own compliance with laws and regulations. You should contact your attorney or other relevant advisor for advice specific to your circumstances.
Let's say you're opening a new restaurant. Or maybe you've already been there. You've done your research on the market and local competition. You've found the perfect location. You've got the liquor licence. The concept is strong and ready to take off. Everything seems to be coming together.
It's time to hire a chef to bring your culinary vision to life.
Well, finding the right chef for your restaurant — whether you're opening a new concept or replacing a chef at your existing business — is easier said than done.
The Rising Demand for Restaurant Chefs
According to the U.S. Bureau of Labor Statistics, there were 139,000 chefs and head cooks employed in the restaurant industry in the United States in 2018. At the same time, there were 660,755 restaurants in the U.S. in Spring of 2018.
With that many available jobs, the competition and demand for chefs and head cooks is heating up. But that doesn't mean you should hire the first person you find to fill the role.
The same could be said about hiring for any job in your restaurant — no chef is created equal. Every chef you encounter brings something different to the table, from personality and technical skills to work ethic and artistic ability. There are, though, definite similarities to look out for when evaluating candidates.
And one thing's for sure: The kitchen is a fast-paced, high-stress, hot, sweaty, and dangerous work environment. Whoever you choose to be your restaurant chef needs to be able to withstand the heat. Heh.
In this article, we'll cover the steps to hiring a restaurant chef, including necessary skills and responsibilities, how to write a chef job description, chef interview questions to ask, and more.
Skills and Responsibilities of a Restaurant Chef
As the person in charge of what (and who) comes in and out of your kitchen, your chef holds the keys to your restaurant's reputation. They conceptualize and create your restaurant's menu, oversee daily food prep, and direct your back-of-house team. It's a hefty role.
With this level of responsibility, you need someone with experience and vision. Most chef positions require five-plus years of experience. Some of the ideal traits of a restaurant chef include familiarity with flavors and ingredients, passion and imagination, strong management skills, and the ability to merge creativity with math and data.
A restaurant chef needs to merge these traits with an understanding of how ingredients relate to one another and the ability to create recipes that not only capture the minds and taste buds of guests but also keep your budget in check.
Here are some high-level versions of the responsibilities you might find on a restaurant chef job description:
Develop new recipes
Plan menus
Train and lead back-of-house staff
Manage inventory
Ensure quality control
Monitor safety standards
Being a chef is a balancing act between creative ability and managerial expertise. We're talking about someone who's business-minded but can come up with unique seasonal specials and respond to the chaos of the kitchen on the fly.
Keep that balance in mind when evaluating the right chef for your restaurant.
Average Restaurant Chef Salary
According to data from Indeed, the average chef salary is $15.37 per hour in the U.S. The Bureau of Labor Statistics says chefs earned a median salary of $48,460 per year in 2018. A chef's salary depends on a number of factors, including restaurant concept, restaurant size, revenue, and city and location. Here's a quick look at the average chef salary in a few major U.S. cities:
New York, NY: $17.60 per hour
Los Angeles, CA: $18.21 per hour
Atlanta, GA: $12.47 per hour
Miami, FL: $17.63 per hour
San Francisco, CA: $20.57 per hour
If you're trying to understand how much you should pay a chef in your city or town, get out there and do some research of your own. A Google search like "average chef salary in [YOUR CITY OR TOWN]" is a good start. Indeed and Glassdoor also offer tools to help you search average chef salaries in your area.
You can also talk to other restaurateurs at non-competitive businesses in your area. It couldn't hurt to see if they'd be comfortable chatting and be willing to share how much they pay their chefs.
Writing a Restaurant Chef Job Description
When writing the job description for your restaurant's open chef position, follow the basic rules and guidelines you'd follow with any job description for your restaurant.
First thing's first: Your job description has to be engaging and capture candidates' attention from the get-go. People won't respond to an uninteresting job description lacking flavor or personality anymore — video is a great way to capture attention in job postings.
Here are some components of a strong job description, chef or otherwise:
Job title and details
About the restaurant / core values
A day in the life / daily duties
Qualifications
Compensation and perks
These parts are at the heart of any good job description, but let's take a look at an example job description for a chef position. Here's one for an open executive chef position at Dig Inn, a fast casual restaurant chain in the Northeast, from the careers page on its website.
Here's the position overview Dig Inn provides:
"You will work with a team that is driven by culinary excellence, and lead them to new skills in a high volume scratch-based kitchen. You are a dynamic leader who loves to train, mentor, and develop your teams into future leaders by working side by side with them each day. You're an achiever who has a maniacal sense for operations and is driven by results. You will create dishes from local farms that supply us with seasonal vegetables. Giving back to the farmers who grow our produce gives you the drive to serve our local communities while making a change by impacting the food system."
Here are some of the daily responsibilities Dig Inn lists for the position:
Be responsible for the entire culinary and restaurant operation, as well as financial responsibilities such as food cost management, labor efficiency, and building top-line sales
Develop all team members and keep retention rates high and promotions frequent
Handle daily P&L responsibility - accountability for all food and labor costs
Be the face of hospitality and be a central force by interacting with guests to deliver exceptional service
Oversee inventory, supply & scheduling
Hire and interview candidates while properly managing recruiting needs
Here are some of the experience requirements Dig Inn looks for in an executive chef:
3-5 years minimum kitchen management experience
A passion for real, good food, and the leadership skills to operate a high volume restaurant
The willingness to roll up your sleeves and pitch in whenever necessary
The demonstrated skills to motivate and develop a high performing team
The discipline and desire to create systems and organization within fast changing environments
Ability to learn technological platforms and work systematically with them
Familiarity with restaurant costing and inventory software
The desire for professional improvement and the process of learning
The specific responsibilities and experience requirements you list in your chef job description will be different — no restaurant is the same. But this should give you a jumping off point.
Research open chef positions in your area, specifically at those for restaurants with similar concepts. It'll give you an idea of what to look for in a restaurant chef, from a more technical and skills-based perspective. At the end of the day, tie your job description back to your restaurant's brand and core values so you find a person who adds to the team.
Chef Interview Questions to Ask
Once your job listing is out in the world and you've started hearing from qualified candidates, it's time to kickstart the interview process.
Come prepared for an interview having done research on the candidate and with a list of questions you'd like to ask. Ask as many questions as it takes to get the info you'll need to make an informed decision.
One thing to note: It's best to keep your list of questions the same for each candidate. This way, it'll be easier for you to make accurate comparisons between candidates. Unless you feel you missed out on an important opportunity in a previous interview.
Here are a few chef interview questions you can ask candidates:
What led you down this career path? Why did you decide to become a chef?
Where and how were you trained? Did you go to culinary school? Did you work your way up through other kitchen positions?
Have you dined at our restaurant before? If you have, what was your experience like? What would you do differently?
How do you adapt to sudden change and competing priorities?
What's your favorite dish to cook and why? What kind of cuisine do you excel in?
What skills do you bring to the table that you believe will help us run an effective, efficient kitchen?
Even in the face of long, 8-10 hour shifts, how do you ensure the quality of your work? How do you maintain your love of cooking in the face of stress?
What made you want to apply here and not another restaurant?
How would you go about preparing a seasonal menu? Walk me through your process.
Tell me what you know about food safety standards and best practices.
How would you go about making alterations to a dish if a guest had allergies or dietary restrictions? How would you ensure quality despite having to make changes?
How many employees have you had work under you? What would your previous employees say about you?
How would you describe your management style?
Tell me about a difficult situation you experienced in the kitchen and how you handled it.
How have you worked in the past to build and maintain a positive relationship between back of house and front of house?
Are there chefs you've looked up to in your career? What do you admire about them?
How do you stay on top of the latest industry news and trends? What do you think are the two to three biggest trends likely to have an impact on the restaurant industry in the next five years?
How do you determine which dishes are not profitable? How do you know when to cut certain dishes, even if they're a personal favorite?
If we saw that food cost was high, what would you look at first? How would you identify the problem and recommend we fix it?
Tell me about your experience with budgeting, purchasing, and inventory management.
You'll be running through a bunch of questions with candidates to gauge their experience and team fit. But don't forget to leave room for them to ask you questions. A prepared candidate will always come ready with questions — they're interviewing you as much as you're interviewing them.
Evaluating Restaurant Chef Candidates
Now you've interviewed a few candidates for the open chef position in your restaurant. Some good, some bad. But what matters is that you've identified a few strong candidates. Now it's time to do your due diligence to make sure you choose the right person. Here are a few things you should do before you make an offer to a new restaurant chef.
1. Do your online research.
For better and for worse, you can find a bunch of information on anyone online these days.
Google candidates by name. Add location and the word "chef" to your search, too. If they've been a chef for any number of years, something will show up. With your search, you'll be able to find any press and additional info on the candidate.
The candidate's social media profiles will also likely show up in search results, if they're not private. If you can access them, look out for any red flags. Are they sharing offensive content? Are they sharing anything on their social profiles that doesn't align with your establishment's brand and core values? If that's the case, they're not a good fit.
2. Talk to their references.
When the interview is said and done, ask candidates for references. These references can't be personal references. They need to be real work references with people they've worked with in the past, whether they're former managers or colleagues. A mix of both is good.
Then, give those references a call. Try to go deep and suss out information on their personality, work ethic, culinary ability, and managerial skills. Here are some sample questions you can cover during your reference calls:
"What was the best dish they made? What was the worst?"
"Did they ever mention chefs they admire? What inspires them?"
"What did they do to learn and stay ahead of trends and technology?"
"How are they at training others? Did people who worked under them see them as inspirational?"
"How do they deal with stress? Did they take care of themselves?"
"How do they handle negative guest complaints?"
"What do you think their greatest strength is?"
"What do you think their greatest weakness is?"
"Did they have any negative experiences with colleagues? If so, could you give me an example? How did they deal with it?"
If these calls go as planned, your conversations with your candidate's references should be enlightening and help you make a well-informed decision on whether or not to hire.
3. Make sure they have business skills.
Your candidate might be able to cook up a storm, but business skills are just as important for a chef. The person you hire needs to be able to lead a team and earn the restaurant money while still maintaining their craft.
As a kind of case study, have the candidate create a brief menu for your restaurant. You'll obviously need to give them the info they need on your restaurant brand, concept, and customers. But once you've done that, let them run with it. Does the sample menu they create align with your restaurant's concept and brand? They need to be able to create dishes that accent and build on your identity.
Next, dig more into their financial knowledge. Give them a sample recipe and a sample spreadsheet of what the items cost and have them calculate the food cost for that recipe. The person you hire needs to be able to help you understand food costs and where your restaurant could be saving cash. Inventory management and menu engineering are also key here.
Even if a candidate has incredible skill and whips up amazing culinary creations, it won't matter if they're not able to bring in revenue and efficiently manage the kitchen budget.
4. Observation and tasting time.
Last, but definitely not least, you need to taste candidates' food to see if they can really back up their resume and references. This is also a great time to see how they work in the kitchen. Ask questions while they work. See how they respond.
Using your restaurant's kitchen, ask them to make you a dish they see as an embodiment of their talent and ability. Observe them to get a better understanding of how they operate. If you already own an established business, ask them to recreate a dish from your existing menu or create a dish they think would work nicely on your menu.
Once they've finished, see how they've plated the dish. Would it develop your restaurant's concept and brand?
Then comes the final test: tasting time. You should be able to tell if the candidate is a winner after the first bite.
Finding the right chef for your restaurant can be a challenge. Make sure you go through the entire process to vet candidates properly. If you find yourself panicking to fill the position, take a deep breath and remember how important this chef is to your restaurant's success and reputation. You'll find the right person soon enough — you got this.
Related Restaurant Operation Resources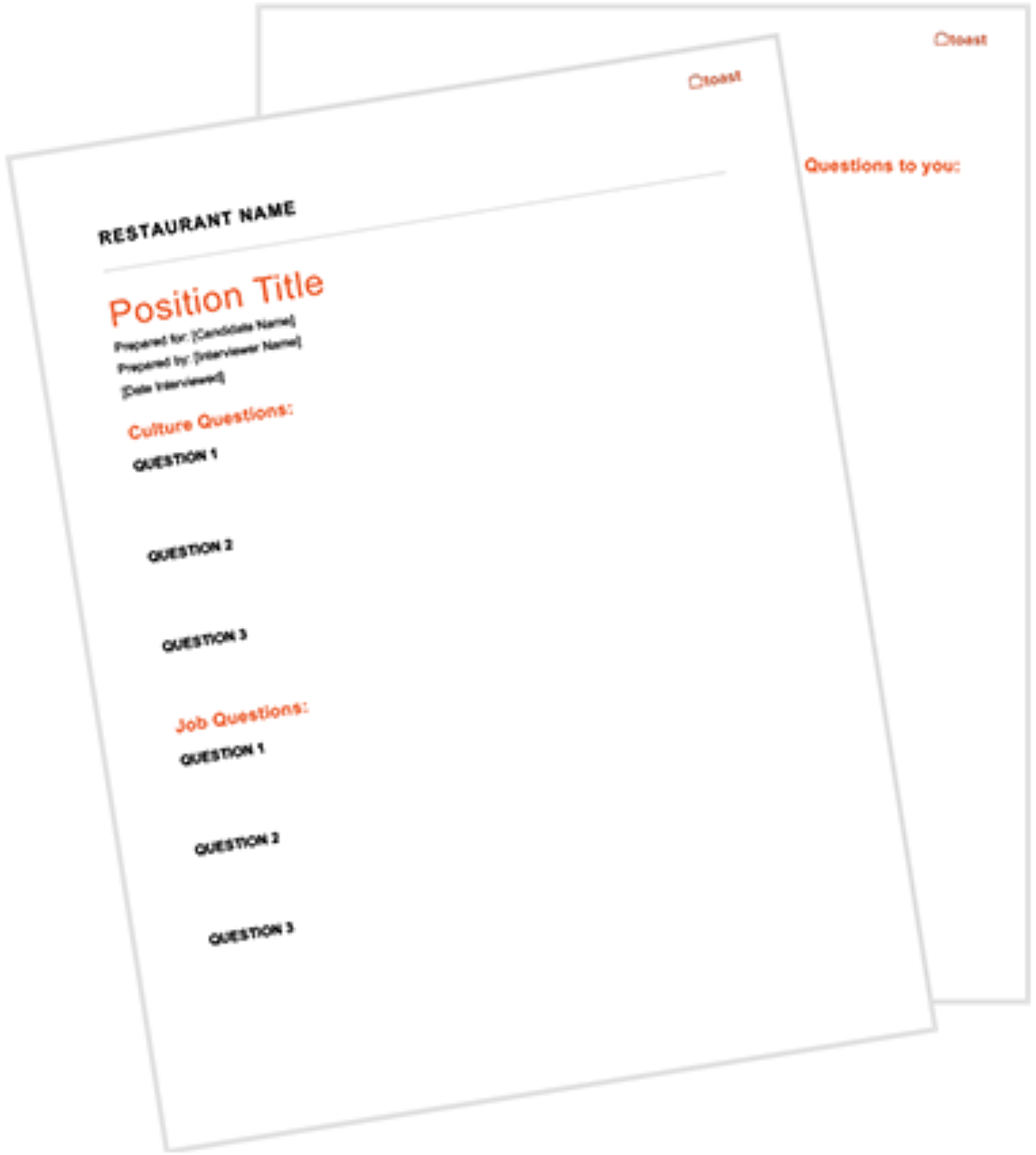 Job Description Template
Write great restaurant job descriptions with this job description template, a customizable Word doc that outlines responsibilities, requirements, and more.
Download