Hour by hour, the world as we know it is changing. People are trying to adjust to their new normal among constant updates on the COVID-19 outbreak. No industry has gone unscathed by this pandemic, but the food service industry has been hit especially hard.
Restaurants in many states are legally restricted from offering dine-in services, causing very serious questions to arise around how to keep businesses open, the economy intact, and staff employed. This virus has affected life as we know it for everyone, including restaurant owners, managers, and front- and back-of-house staff.
Restaurant sales have now declined by nearly 70% nationwide. The National Restaurant Association has predicted $225 billion in sales will be lost over the next three months, resulting in more than 7 million lost industry jobs.
The states impacted most by COVID-19 are those with major metropolitan areas that are densely populated such as Washington, New York, Illinois, and California, all of which have over 1000 confirmed cases. Washington State, DC, Vermont, and LA are seeing more than 75% decline in sales. Major cities like New York, San Francisco, Philadelphia, Seattle, and Denver are now showing more than 80% declines in sales. 34 states have now seen more than 50% declines in sales.
The government, on both a state and national level, is working to halt the spread of COVID-19: Travel restrictions have been put in place, bans on large gatherings have been implemented, social distancing is thoroughly encouraged, and a vaccine is being worked on. The government is also working on plans to assist with the burden that small businesses are facing, such as loans, rent deferments, direct payments, and emergency child care. Though these are helpful offerings, they have not yet gone into effect, and there are millions of businesses that will inevitably slip through the cracks, due to strict guidelines around company size, revenue, and other qualifiers.
While many states originally ordered a two-week halt on restaurants, schools, and public gatherings, more announcements have been made extending this time frame, and even going as far as to lock down entire cities. There's not a clear end in sight, which means relief for restaurants is essential right this minute and well into the future.
As restaurant owners grapple with their next steps, there are ways to help the industry survive. Here's how you can help the restaurant industry today.

What Restaurants Need to Make Ends Meet
Restaurants run their business on extremely small margins. It's hard enough for restaurants to recover from a bad night or slow week. Considering that many restaurants have had to close their doors altogether, the restaurants that are running solely on takeout and delivery are still dramatically missing their expected sales goals.
With an estimated 128 million households in the US and $833.1 billion in restaurant industry sales in 2018, it's estimated that the average household in the United States spends around $525 a month at restaurants.
Not surprisingly, households aren't spending much, if anything, on dining out at the moment, resulting in devastating loss for restaurants. In order to get through this in the short term, they're going to need two months of funding from the whole country, or eight months of funding from 25% of the country, and the long term burden could be much greater.
Some scientists predict the isolation period could last anywhere from several months to more than a year. There's been no official statement saying just what is needed for quarantine regulations to end, so it's likely to be a long and tough journey for restaurants to stay afloat.
Because the foodservice industry is worth so much, there's a lot at stake. The graph below displays the enormous size of the restaurant industry compared to other industries that are currently affected by COVID-19. Comparably, the restaurant industry revenue makes up more than all eight industries combined — meaning there's much more to lose.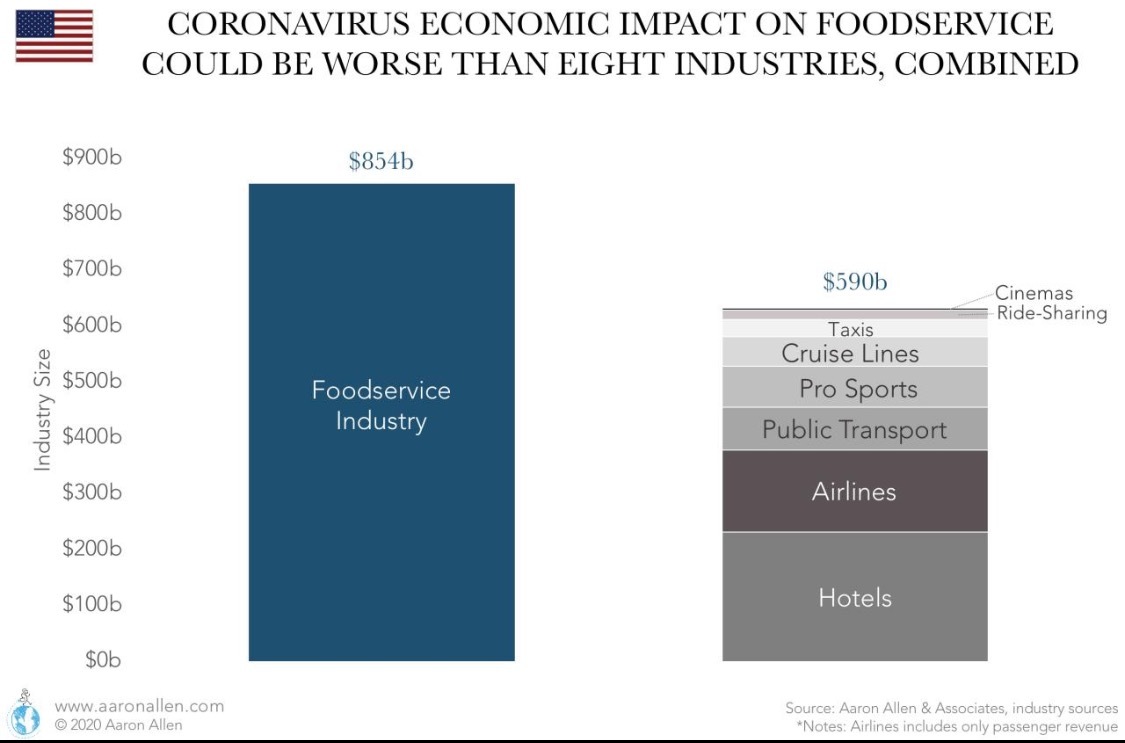 On an anecdotal level, it's impossible to picture our cities and towns without the restaurants that function as community gathering spaces, places to meet friends, and places to just eat a fantastic meal and feel welcome.
Without a clear picture of when quarantine will end, this requires a much more comprehensive and expensive action plan. Restaurants will need to figure out how to pay rent, employ their staff, and sell food. This could require a reinvention of the restaurant industry, and restaurants are up for the challenge.
How You Can Help
Rather than waiting for government aid, many restaurant owners are taking matters into their own hands. Some have transformed their kitchens into relief centers for out-of-work restaurant workers, providing food, cleaning supplies, and toiletries to those in need.
Other restaurants have started GoFundMe accounts to help their staff. All Together Now, an eatery and wine shop in Chicago, has started a social distance gratuity campaign to take care of their cooks, servers, and dishwashers as their operations have drastically slowed. The Lettuce Entertain You restaurant group has set up an emergency relief fund to contribute to the financial support of their team members, in addition to a $1 million contribution from the Melman family.
Jack's Abby told us about how supportive their community has been, and also requested that diners use this time to support restaurants that are a great partner to the community and exemplify what it means to be a neighbor.
It's at times like these that we ask our community to vote with your wallet. Vote for the people and businesses who you think, when times are good, are supporting your community and are great partners. When times are tough, they're going to need your support to the other side of this. For us, that means buying our beer at your local liquor store, ordering takeout or buying a gift card so you can enjoy a few pints once this has passed.
If you're wanting to see more creative initiatives that restaurants are taking to feed the community and keep their doors from closing, check out this article.
National relief efforts are in place to help restaurants all around the US. One Fair Wage is working to give sub-minimum wage employees no-strings-attached cash assistance, with a goal of $213,000, since the federal tipped minimum wage is still $2.13 an hour.
Toast has launched Rally for Restaurants, a campaign to help restaurants through this unprecedented time with the purchase of gift cards. This essentially is a micro-loan to your favorite eatery, and a promise that you'll dine in as soon as you're able to. Plus, Toast is donating $1 to organizations that are supporting the restaurant community for every gift card purchase shared on social media.
CORE Gives grants support to children of food and beverage service employees navigating life-altering circumstances.
United Way offers a 211 call service and encourages folks to reach out if they are unable to pay critical bills, access childcare, or other essential needs.
Regional efforts have popped up as well to help support local restaurants.
Chicago Hospitality United has launched a line of merchandise where all proceeds go to hospitality workers around the city.
Behind You, a Boston-based program, is taking donations for hospitality workers in need on Boston's North Shore.
Rethink Food will provide 30 New York restaurants with $40,000 to change their operation model into a food distribution center.
Hook Hall Helps is working with Washington, D.C. Costco stores to fill open roles with restaurant workers that are out of work. They are also distributing care kits and family meals daily for industry workers in Washington D.C., and have implemented the Worker's Relief Fund in partnership with Restaurant Association Metropolitan Washington to receive donations to support industry worker relief measures.
9 in 10 restaurants have fewer than 50 employees, meaning they don't qualify for certain government assistance loans and bail-outs. It's such an important time to rally behind the restaurants that love and serve your community and this country. If you're looking for other helpful restaurant-related guidance for navigating the COVID-19 outbreak, check out this resource.