How to Survive the Restaurant Industry Labor Shortage
Dive into the data to see how to help boost employee retention for your restaurant operation — even amidst the ongoing labor shortage.
Great food and service are at the core of successful restaurants. Each requires skilled employees in the front and back of house — skilled workers that are hard to find and can be even harder to retain in the ongoing restaurant labor shortage.
These turbulent times, with persistent food inflation and economic uncertainties, certainly aren't helping the restaurant worker shortage and hiring crisis.
However, record employee churn within the restaurant industry is impacting this staffing shortage as much as anything else.
New data from Toast highlights tactics that may help operators combat churn and place a greater emphasis on restaurant employee retention. We surveyed restaurant employees to understand why they quit their restaurant jobs.
Read on to see these insights and actions operators can take to help boost employee retention. You'll also learn systems and tactics that can help with hiring and further encourage greater retention.
Top restaurant labor shortage takeaways from our employee research
Low pay, bad managers, and limited growth are primary drivers of employee attrition, with bad managers having a particularly significant impact on restaurant lifers
Most employees receive foundational on-the-job training, though employees do wish they received more career advancement training
BOH employees care slightly more about career progression, FOH prioritizes pay
Finding a job isn't difficult for most, regardless of restaurant role
RESOURCE
The Restaurant Industry Outlook Report: 2023 Edition
Download the report to get key learnings from 2022 and learn what operators expect to see in 2023. The insights cover opportunities, challenges, and tactics for restaurant success.
Decreasing churn to help mitigate the restaurant staffing shortage
There are definitely layers to unpack with the restaurant industry labor shortage.
As of January 2023, the restaurant labor force is still over 450,000 jobs below pre-pandemic levels — marking the largest employment deficit among all U.S. industries, according to the Bureau of Labor Statistics.
And a November 2022 study by the National Restaurant Association found that 63% of full-service restaurants and 61% of limited-service places are operating with fewer employees than are needed to accommodate guests.
This growing but still shrunken talent pool and the costs of hiring makes employee retention a critical metric for restaurant labor resiliency.
Inadequate wages drive churn, compounding staffing shortages
Our research shows that nearly a quarter of restaurant employees list not being paid enough as a top reason why they left their last restaurant job.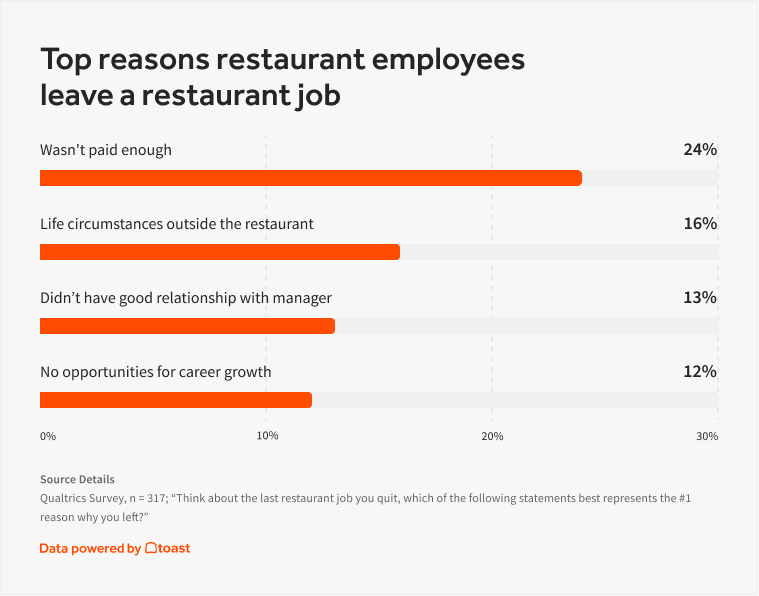 It's not easy to determine how much restaurants should pay their employees. Operators and managers must offer competitive wages that attract skilled, reliable job candidates, even though rising food costs may be hurting the margins used to supply that wage.
Minimum wage hikes continue to be a big driver and topic when it comes to restaurant wages.. As of January 1, 2023, 23 states and Washington D.C. increased their minimum wage.
Minimum wage aside, restaurant operators need to consider and plan around the different segments of laborers they're hiring. Our research breaks restaurant workers into three categories:
Lifers — Intend to work in the restaurant industry for their entire career

Mid-termers — Intend to work in the restaurant industry for the next few years

Short-termers — Intend to work in the restaurant industry for the next few months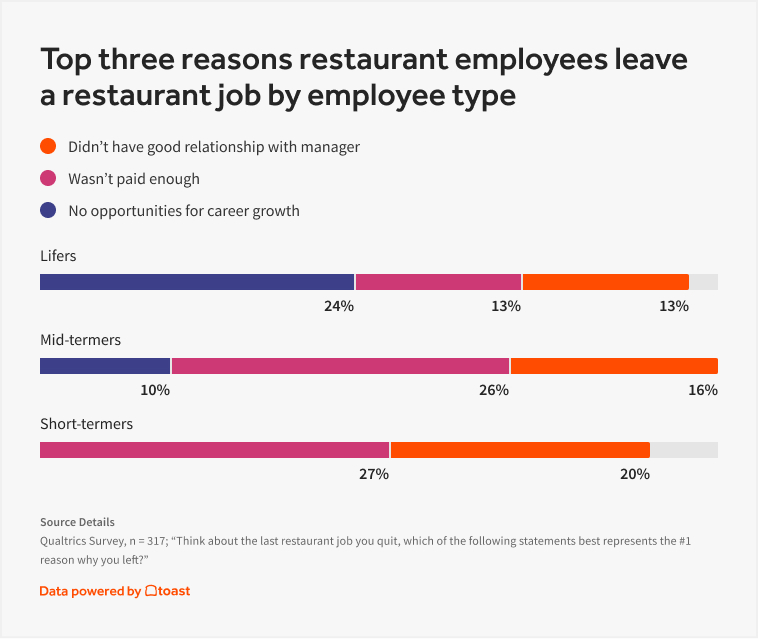 Our research showed that meeting employee wage thresholds is more important for mid- and short-term restaurant employees. We found that 28% of mid-termers and 27% of short-termers listed not being paid enough as the reason they quit their latest restaurant job.
This highlights the transitory nature of the restaurant labor supply. Short-term labor, such as seasonal employees, want to maximize their income during their stint in the restaurant. This makes sense for mid-term employees too, as anyone looking to pick up a couple of restaurant shifts a week to make extra income may attest.
Inadequate wages was also listed by more prior front-of-house employees (34%) than back-of-house employees (23%). For back-of-house, career advancement was the primary driver for attrition (31%).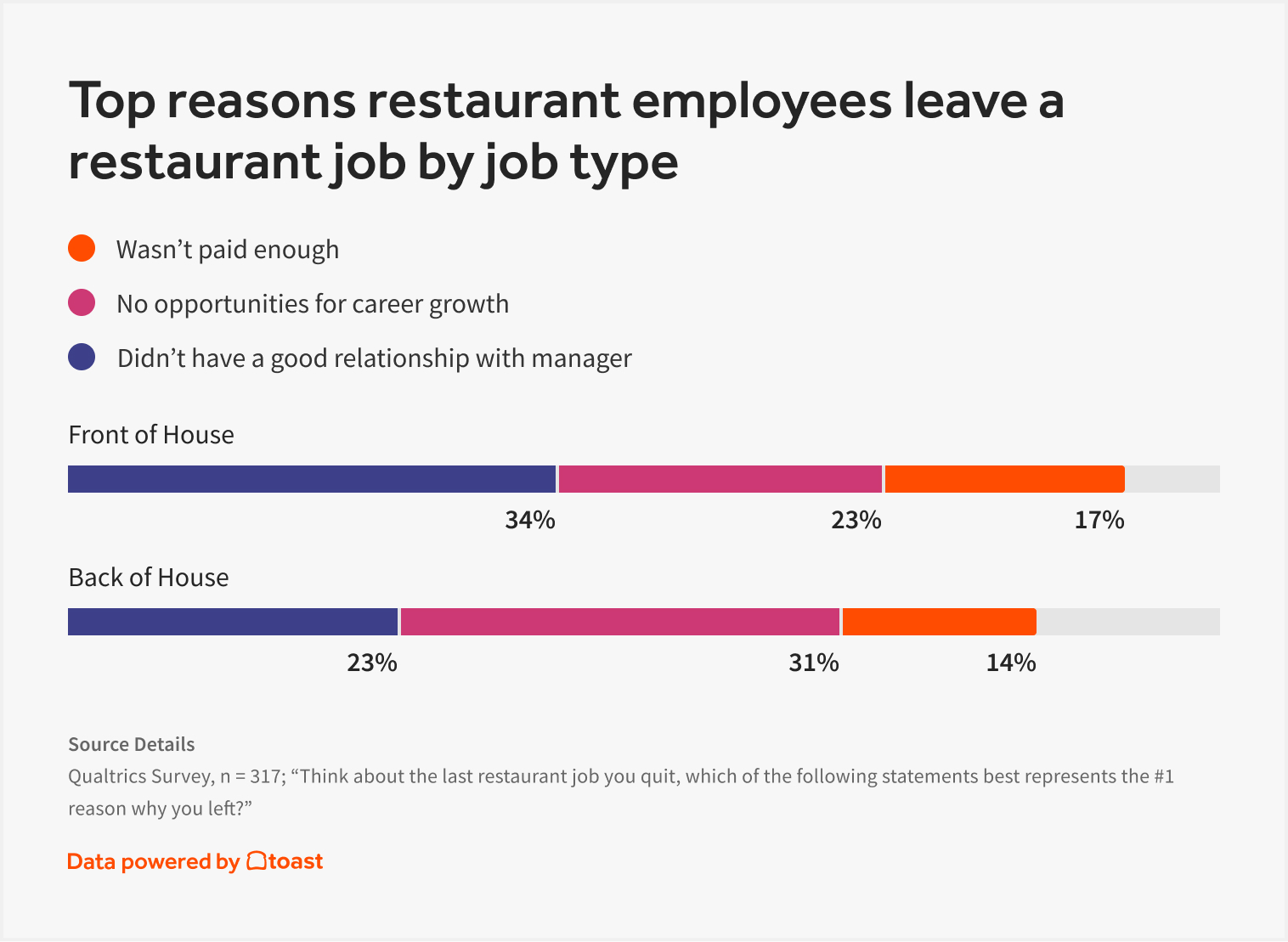 These findings may be explained by back-of-house wages traditionally being higher than front-of-house — as their total take-home pay is dependent on tips.
The back-of-house traditionally has a more well-defined and robust hierarchy of roles and responsibilities, from porter and dishwasher, to line cooks that work a certain station, all the way up to executive chef.
Bad managers can cause churn for skilled, life-time restaurant employees
Many restaurants are prioritizing managers in their hiring and retention strategies — and rightfully so. It's critical that restaurants attract and retain talented managers that vibe with the rest of the staff.
Our research shows 13% of restaurant employees surveyed left their last job because they didn't have a good relationship with their manager.
Ideally, a good manager can cut through and at least create a tolerable working relationship with all restaurant staff. Then again, it's possible that 13% of restaurant employees simply won't get along with any manager.
Manager relationships are especially important for long-term employees, as 24% of restaurant lifer employees listed their relationship with the manager as the reason for churning from their most recent restaurant role.
Once restaurants find a great manager, the priority must switch to retaining them.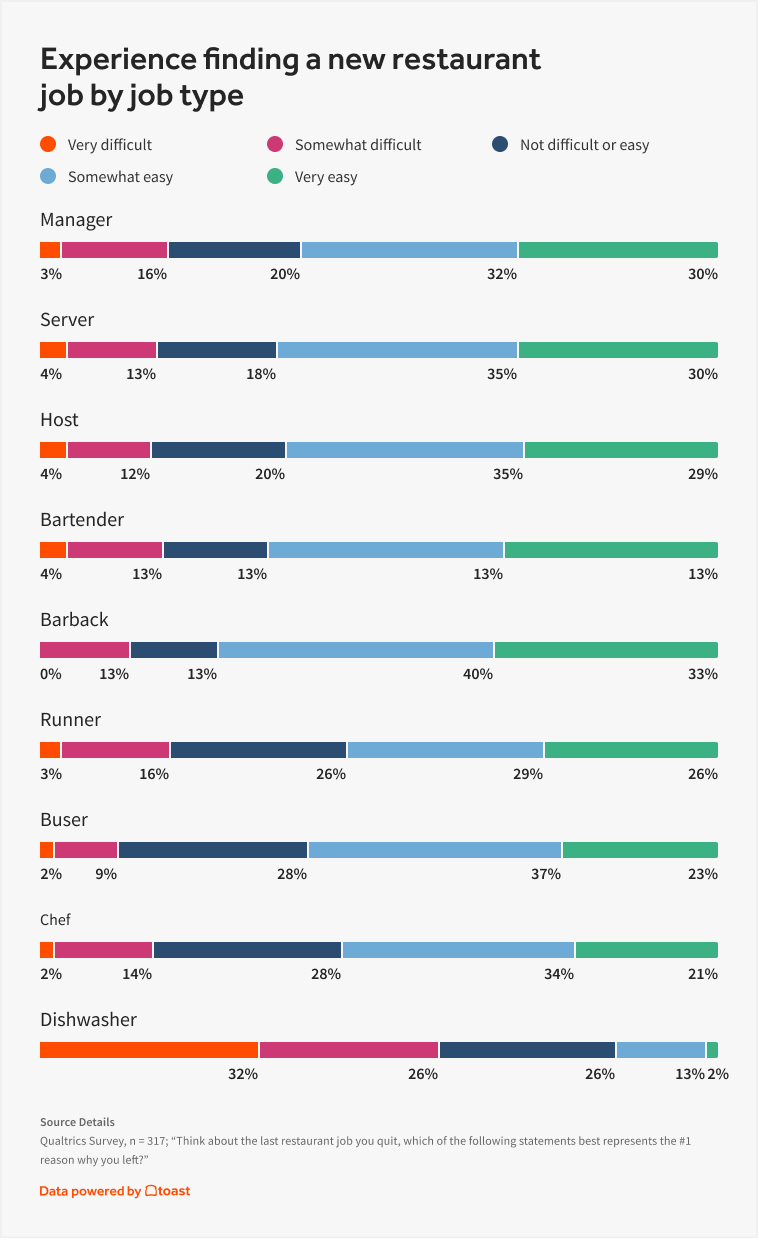 Our research shows that 62% of managers have a somewhat easy or very easy time finding a new job. A striking number no doubt, though it's just 3% higher than the average for all roles.
It's truly a job seekers market in the restaurant industry.
Restaurant tech and strategies that boost efficiency, can help limit negative impacts of the worker shortage
The reality is that the restaurant labor force is growing but still well off pre-pandemic levels — and there's no secret trove of labor somewhere to help ease the issue.
The negative impacts have become increasingly apparent for those restaurants that can control their churn.
Here are some ways the current restaurant industry worker shortage is affecting operations and how the right restaurant tech could help you overcome them.
Restaurant labor shortages can lead to longer wait times — which proper tech can help mitigate
Fewer staff members in the front of house can require servers to take on larger sections, increase line sizes, and add to wait times.
Fewer back-of-house staff available can prolong prep times, slow down table turns, and limit overall fulfillment capacity for on- and off-premise orders.
Restaurants can help eliminate wait times and empower staff members by adopting a new, tech-enabled service model. Toast's New Steps of Service helps boost front-of-house efficiency, cut lines and reduce wait times, and give guests the power to order and pay as they please.
With the New Steps of Service, guests can order food and drinks whenever they're craving them, not having to wait for a server to come over before ordering another round.
Popmenu found that 71% of diners say restaurant technology online and on-premises improve their restaurant experiences. And a 2021 report from Deloitte found that 64% of customers prefer to order digitally on-premises at a quick-service restaurant, with 57% of customers prefer to use a digital app to order food for off-premises dining.
RESOURCE
Menu Engineering Course
Take this course to make the most of your menu. Learn about menu psychology and design, managing your menu online, and adapting your menu to increase sales.
Menu optimization and cost control mechanisms can help mitigate staffing and hiring crisis margins
Fewer staff members and a slower pace of business could decrease the number of checks you do in a night — leaving you with a falling cash flow that can substantially affect your operational hours, purchasing decisions, and more.
The average restaurant profit margin falls somewhere between 3 to 5 percent. The labor shortage may shrink labor costs due to working short-handed and paying fewer staff. On the flip side, you will have to keep a close eye on any overtime pay. And sustained worker shortages over time may lead to fewer hours open each week.
We're already seeing this in the NRA data, as 48% of restaurants have trimmed hours on days when they are open and 32% are now closing on days they were formerly open.
If hiring more folks isn't an option in the short term, operators can try optimizing their menus and taking control of food costs as a means to carve out margin to offset labor increases and lost revenue.
Menu engineering can help ensure operators are getting the most from each ticket, customer, and menu item. It can be an effective and scalable practice that helps to balance menus between popularity and profitability. The end goal is to strike a harmony between costing and pricing information with your restaurant vibes and brand.
Controlling food cost starts with recording and analyzing ingredient pricing data — and that starts with invoice automation. Restaurant operators can equip their back-of-house staff to all digitize invoices with the simple snap of a photo. From there, the data can be categorized, attributed to recipe and plate costs, and passed through to accounting systems to keep your general ledger updated.
RESOURCE
Restaurant Cost Control Guide
Use this guide to learn more about your restaurant costs, how to track them, and steps you can take to help maximize your profitability.
Adopt transparency into your management and compensation models
From gratuity-free and restaurant co-ops to open-book management and profit-sharing, there are several non-traditional employment models available to restaurateurs who are finding their existing staff management model isn't attractive for potential employees.
Open-book management, for example, is popular among restaurateurs and staff because it engenders a culture of ownership and empowers your employees by showing them exactly how the restaurant is doing and how their work impacts results.
But does it work? Henry Patterson, CEO, and founder of ReThink Restaurants, trains restaurants in implementing open-book management and profit-sharing model through hands-on, financial literacy training. While the average restaurant profit margin falls around 5%, ReThink Restaurants considers 10% basic health, with the majority of their clients hovering somewhere in the mid-20's. A business model that increases profitability, employee retention, and workplace satisfaction? Sign me up.
Take a hard look at your restaurant employee benefits and ask yourself: Are these benefits enough to make my restaurant a top choice for prospective employees?
Though it might seem like just another operational expense, employee benefits are worth their weight in gold for the substantial impact they have on employee retention and recruitment. With the cost of replacing one hourly restaurant employee running around $2,000, finding room in the budget for benefits seems like a no-brainer.
Health insurance, profit-sharing, on-the-job hospitality skills training, the flexibility to pick up on-call shifts, year-end bonuses, and free-shift meals are just a few ideas worth considering. If you're unsure about whether an employee benefits package is worth the investment or if potential and existing staff will think it meaningful, try out a performance-based incentive first.
When restaurant employees feel supported by their employer through great pay and benefits, they're happier and can do their best work.
How to Create an Employee Benefits Program
Benefits make your team happy and help your bottom line.
Get Access
Reconfigure your hiring practices and look for new amplification tactics
Because we're in the middle of a restaurant staffing shortage, you can't just rely on your usual hiring tactics to attract new talent.
Here are some outside-the-box hiring tactics to consider:
Reach out to your community. If you have friends with working age kids, see if they're looking for part-time work or a summer job.
Create an employee referral program that motivates your staff with rewards for successfully referring their friends, family, and greater networks to open staff positions. You could also consider opening this to the public: Put a small print out in checkbooks, on tables, and in takeout orders offering a reward – like a free meal – for any referred candidates you successfully hire.
Host a hospitality networking night where you invite front- and back-of-house staff from restaurants in the area to meet. By tying your brand to an event centered around community building and career growth opportunities, you're bound to get a resume or two.
From hospitality job boards to ads on social media, cast a wide net to ensure you're getting a larger pool of candidates to choose from. Many job sites and social media sites allow you to target your ads to people within a certain geographical area; this could help you get in front of job seekers who would have manageable commutes to your restaurant.
Labor Shortage? You got this.
A labor shortage isn't easy for any business owner or operator to fight — especially in an industry like ours. Recruiting and retaining quality employees is tough to do, but not impossible.
The key is making your team feel valued, compensated well, and well taken care of, and with some time, attention, and the above tips in your back pocket, your restaurant will continue to get through it and prepare for the future.
---
Methodology
This report is based on a blinded survey conducted from October 19 to November 1, 2022, with a base sample size of 317 United State citizens 18 years of age and older that have worked in a restaurant for at least six months in the past five years though are not an owner or operator. Survey respondents were not made aware that Toast was fielding the study. Panel providers granted incentives to restaurant respondents for participation. Using a standard margin of error calculation, at a confidence interval of 95%, the margin of error on average is +/- 3%.
Related Restaurant Resources
DISCLAIMER: This information is provided for general informational purposes only, and publication does not constitute an endorsement. Toast does not warrant the accuracy or completeness of any information, text, graphics, links, or other items contained within this content. Toast does not guarantee you will achieve any specific results if you follow any advice herein. It may be advisable for you to consult with a professional such as a lawyer, accountant, or business advisor for advice specific to your situation.