DISCLAIMER: This content is provided for informational purposes only and is not intended as legal, accounting, tax, HR, or other professional advice. You are responsible for your own compliance with laws and regulations. You should contact your attorney or other relevant advisor for advice specific to your circumstances.
There are so many reasons why food trucks are popular. They're convenient: they bring the food to places where there's always business, like high-traffic office parks, events of all types, farmer's markets, and public parks. They provide delicious food at a price point that's often a little more affordable than a brick-and-mortar restaurant. And from the owner's perspective, it's a much safer investment — but you've got to make sure all the bureaucratic paperwork is taken care of before you dive in.
In order to be compliant with local laws, food trucks in California will need to get many of the same permits as restaurants, including a business license, food handlers permits for every employee, and a seller's permit.
In addition to these, they'll also need to get a food truck license (also known as a mobile food facility permit). And unfortunately, food trucks in California are not able to obtain full liquor licenses — more on all these nuances below.
Many permits are administered by local government agencies at the city or county level, so food trucks (and food carts) will need to consult with CalGOLD as well as their industry peers in their area to ensure they've applied for every permit they need.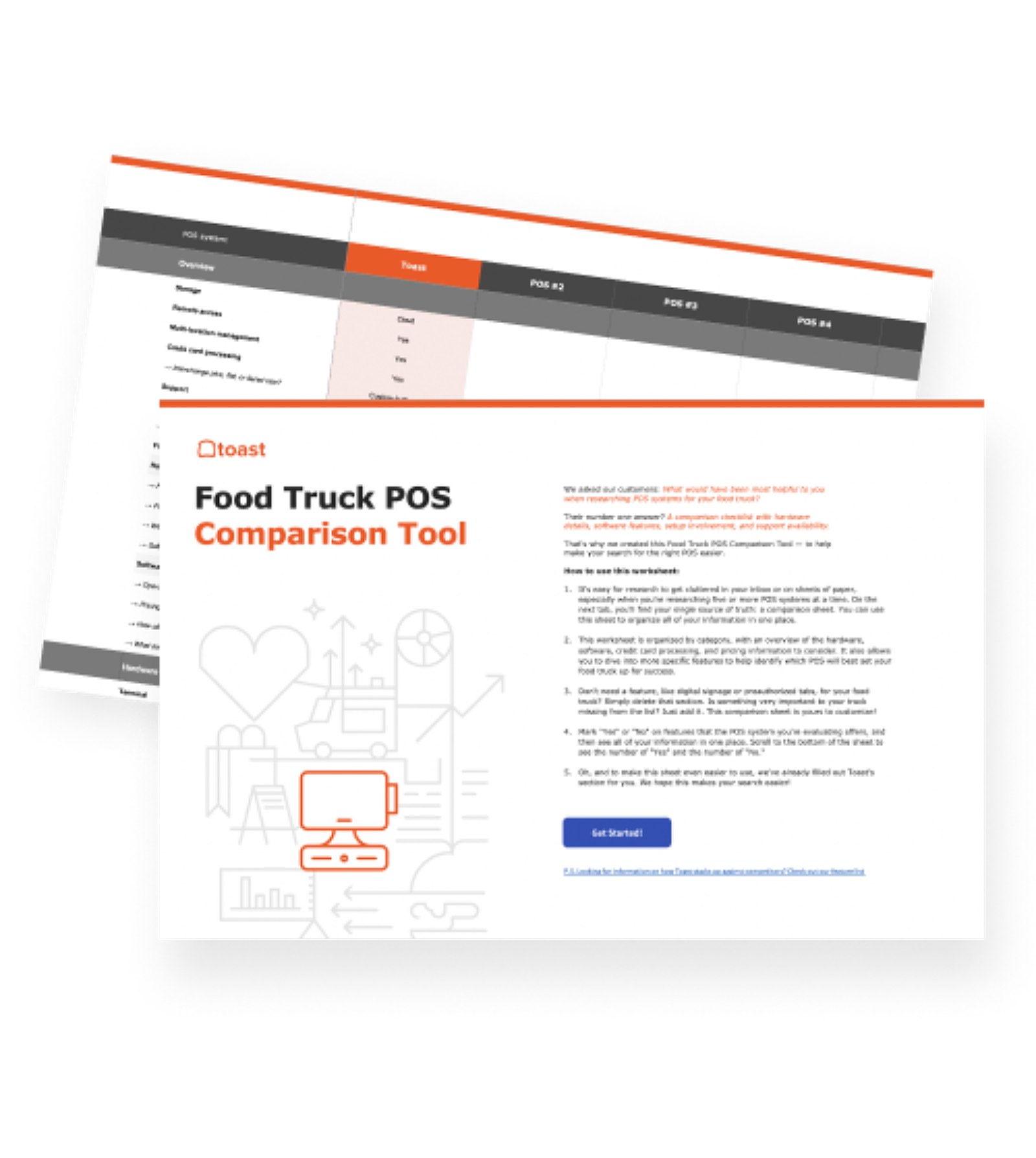 Food Truck POS Comparison Tool
A free, customizable Food Truck POS Comparison Tool to research and compare point of sale systems in one Excel spreadsheet or editable PDF.
Download
How to start a food truck business in California
Starting a food truck in California can take many months to over a year.
The process involves building a strong food truck business plan, applying for all your licenses and permits, finding food truck funding, choosing a vehicle and ensuring it's ready to prepare and serve food, renting an additional prep space, planning your ideal parking locations, building a food truck marketing strategy, finding and hiring a great team, creating your menu, stocking the ingredients you'll need, receiving your permits, and finally, opening your (figurative) doors.
If you're savvy about your costs and you deeply research the market you want to reach, making sure you're in high-traffic areas on each day that you operate, food truck businesses can reach the top end of the average restaurant profit margin range, which is 3-5%, or even exceed it. Food trucks have lower startup costs, smaller teams, and lower operational costs, so they can be more easily profitable than typical restaurants.
And once you're open, success can look different for various types of food truck businesses. Some restaurateurs aim to open just one food truck and keep their local community fed. Others aim to open a fleet of trucks to operate across the city or even across a whole region, or specialize in event catering. Others still use a food truck as a way to test their concept before opening a restaurant.
No matter your ultimate goal, every food truck in California will need specific licenses and permits to operate. Check out our guide to food truck opening and operation, and then read on for details on how to start a food truck in California.
Business License in California
What is it and why do you need it?
A business license is exactly what it sounds like: it allows businesses to legally operate within their jurisdiction. They are administered by a business's city or county.
How to get a business license
Search [your city or county] + "business license" to find the exact instructions for your food truck to get its business license in your area.
Some areas have helpful online search tools that help businesses figure out which office they will be dealing with while they obtain their business license. You'll need to prepare plenty of paperwork related to your business to get a business license, which can include a food truck business plan, a Doing Business As (if relevant), a Federal Tax ID and/or Social Security Number, a Secretary of State Corporate or LLC Entity Number, a Seller's Permit, and many more.
Business licenses will need to be renewed, generally on a yearly basis. Find out from your local office what the date of renewal for your area is.
How much does a business license cost?
To get a California business license, food trucks will have to pay anywhere between $15 and hundreds of dollars, depending on the type of business and jurisdiction.


Mobile Food Facility Permit in California
What is it and why do you need it?
A mobile food facility permit ensures that the space where you plan to prepare and/or serve food is compliant with local food safety and worker safety standards. You cannot operate a food truck, food cart, or any other kind of mobile food business without one.
How do you get a mobile food facility permit license?
The process varies county to county and city to city, so Google [your city] + "mobile food facility" to find the online application form (if available) and to see the requirements.
Different counties will dictate the factors that need to be considered, including what types of foods are prepared on the truck vs. at an offsite prep kitchen, what types of foods are sold (and how high-risk they are in terms of potential to cause food-borne illness), what kind of cooking will be done on the truck (Deep frying? Griddle only? Microwaving?), and how much preparation will need to be done at all (very little for ice cream vs. a lot for burritos).
In order to be approved, a mobile food facility will need to be able to show they are creating a safe and nonhazardous work environment for their workers, providing safe food for their customers, and following safe protocols for disposal of grease and other waste.
How much does a mobile food facility permit cost?
It varies across cities and counties, and even within a city depending on the type of operation. For example, in LA County, the fee currently ranges from around $100 to $1,000, and in Sonoma County, the range is $149 - $841.
Public Health Permit in California
What is it and why do you need it?
In some counties, like LA County, food trucks need to fill out a Public Health Permit/License application as food vendors, or risk being shut down per California's Health and Safety Code.
How do you get a public health permit/license?
Fill out the application from your local public health department, prepare your facility for inspection, and review all food safety requirements. Once you've passed inspection, you can obtain your public health permit.
How much does a public health license cost?
It depends on your risk level — selling prepackaged food is cheaper, and less risky, than preparing meats and other foods on your premises. These license costs vary by county and can range from $100 to over $1,000.
Food Seller's Permit in California
What is it and why do you need it?
In California, any business that sells tangible goods needs a seller's permit in order to be able to charge sales tax on their goods. Food trucks sell food and drinks, which are tangible goods, so they need this permit.
How do you get a seller's permit?
The state of California issues this permit, so food trucks should register for their seller's permit online through the California Department of Tax and Fee Administration.
How much does a seller's permit cost?
There are no fees charged for this license, but food truck owners may need to pay a security deposit to the California Department of Tax and Fee Administration.
Liquor License in California
What is it and why do you need it?
In California, food trucks cannot obtain a full liquor license. The best they can do is to get short-term liquor licenses for special events, but selling alcohol regularly should not be part of your California food truck business plan.
How do you get a liquor license?
California liquor licenses are state-issued licenses, administered by the California Department of Alcohol Beverage Control, but they are not available to food trucks.
How much does a liquor license cost?
A liquor license in California can cost from $105 to over $16,000, but food trucks cannot get a full liquor license. See the full fee schedule for a California liquor license for the different types of liquor licenses.
Employee Health Permit (also known as a Food Handlers License)
What is it and why do you need it?
A food handlers license, employee health permit, or California Food Handler Card, is a must-have for every employee of your food truck. It shows that each employee has been trained in food safety, including temperature control, potentially hazardous food handling and cooking, proper handwashing, safe storage, and more. It ensures you've done your due diligence to prevent foodborne illness in your patrons (and staff).
How do you get an employee health permit?
When a new employee is hired, they must either already have their California food handler card, or they must complete the training and the test to get one within 30 days of their date of hire. They're valid for three years and will then need to be renewed.
Most counties in California fall under the general California Food Handlers Permit system, which involves an online or in-person course and test that must be passed with 70% or higher. However, San Diego, Riverside, and San Bernardino counties have their own courses and tests, and their own score requirements.
How much does an employee health permit cost?
Thanks to California state law SB602, the food handlers test and permit cannot cost more than $15.
Food Truck Laws, Requirements and Regulations in California
In addition to all the above permits and licenses, food trucks will need to comply with food safety ordinances, OSHA regulations, proper waste disposal regulations, driving regulations, public health laws, tax laws, regulations about temperature control for food (as well as for running water), parking regulations, drivers license laws, liquor laws, and many more.
Get ready to bring your food to whenever your customers are
Opening a food truck is a process that takes many months. You'll need to start with a thorough food truck business plan, and then, one of the most important tasks to tackle early is the licenses and permits process. Some permits will require you to have a different permit ready to submit with your application, so use the CalGOLD website to determine exactly which permits your business needs. Map out the requirements for all of them, and go through them in cascading order.
Once your permits are in progress, you can move onto other tasks that will require your attention, including finding a great team, planning your pay structures, finding food truck funding, figuring out your menu and testing recipes, and choosing ingredient vendors.
Finally, you can compare your options for the best food truck point of sale system. Ensure the platform you choose has capabilities that will help you grow sustainably for years to come, like online ordering (and order-ahead), email marketing to let your customers know where you'll be and when, payroll, and inventory.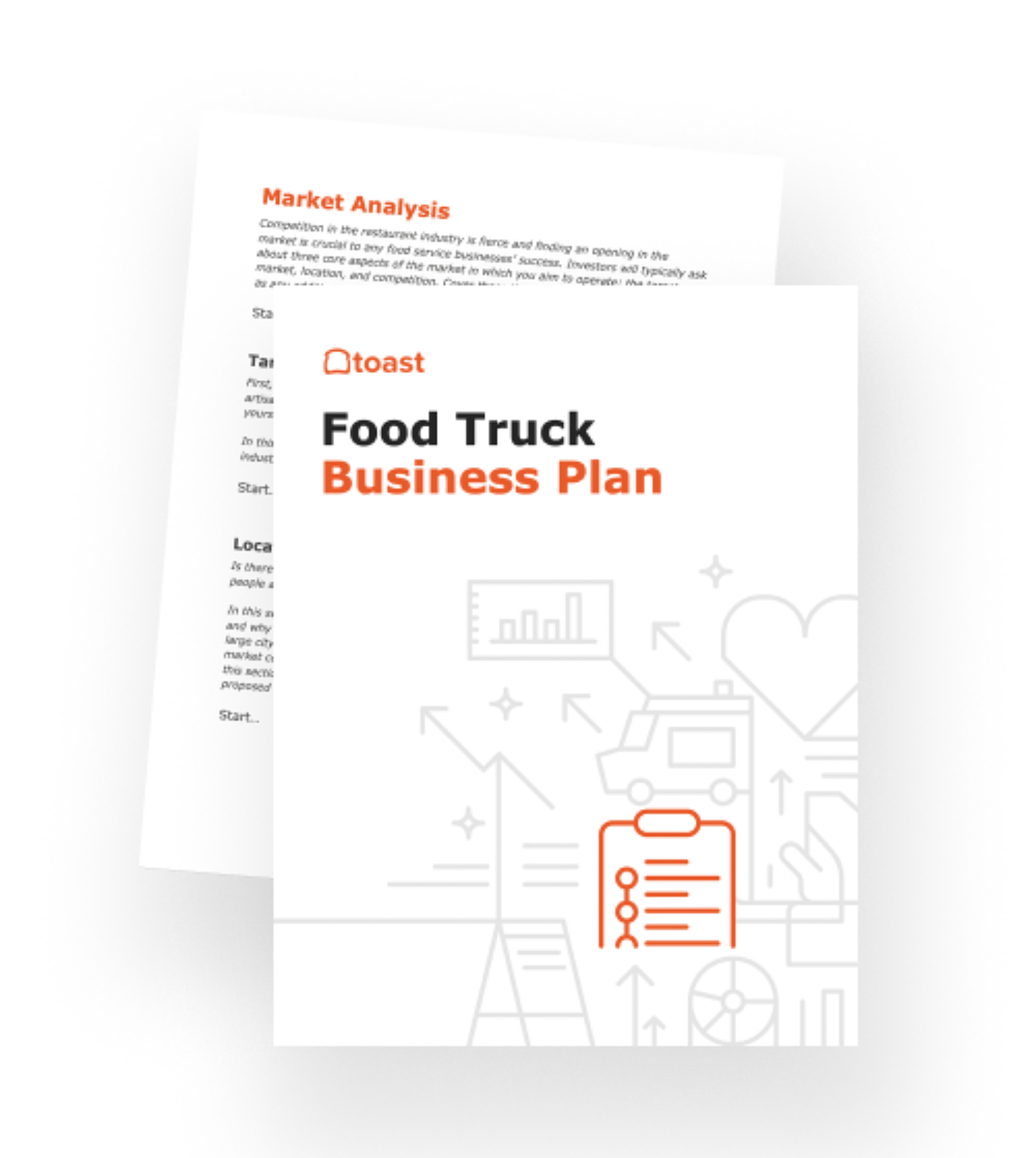 Food Truck Business Plan Template
Use this free food truck business plan template to easily create a great business plan that organizes your vision and helps you start, grow, or raise funding for your food truck.
Download